Out For Dinner At 4550 Miles From Delhi, Nottingham
---
Published On Thursday 19 Jul 2018 by Sticky Beak
See Recent Dining Out Reviews | See All Recent Reviews


One thing I love about my little blog is the sheer diversity of experiences it affords The Man Bird and I. Even within genres of food there is a huge range of difference, and our visit to 4550 miles from Delhi was certainly a great example of this. Back in April we visited another Indian restaurant just near to 4550 Miles from Delhi, and the two venues are completely different but exceptionally good at what they offer.
As soon as we walked in the door we were greeted with huge smiles and taken to our table by a very smartly attired gent named Hamed, who got us settled in before handing us over to the beautiful, charming Vaishali who took our drinks and poppadom order.

The interior of 4550 Miles from Delhi is very modern and bright, something you will appreciate as soon as you step inside and see the sleek bar. As you go up some stairs you can see the square tables and deep brown padded leather-effect chairs, which carry on around the L-shaped restaurant. Accents of red added a pop of colour to the otherwise neutral tones of the space, and the "Mentos" shaped lights were real attention grabbers. His Nibs and I were seated at one of the tables around the corner, straight in front of the open kitchen!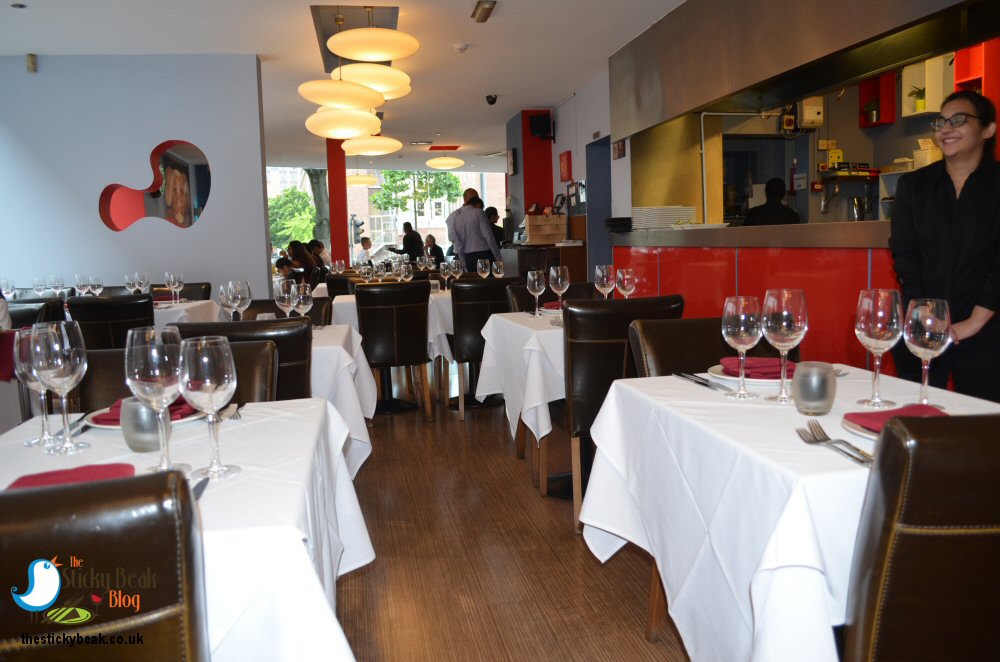 Several Chefs were hard at work creating all manner of delights for the customers already seated and eating. There was an incredible energy and bustle in the restaurant, and it's easy to imagine that you're in Delhi with the sights and smells that surround you. With our unobstructed view of the kitchen we saw breads being made and cooked in one Tandoor oven, and huge skewers of chicken and other meats being cooked in another. At another station, sauces were being prepared from scratch with Chef adding all kinds of exotic spices and herbs to his pan; yet another Chef was preparing varieties of rice and Biryani dishes.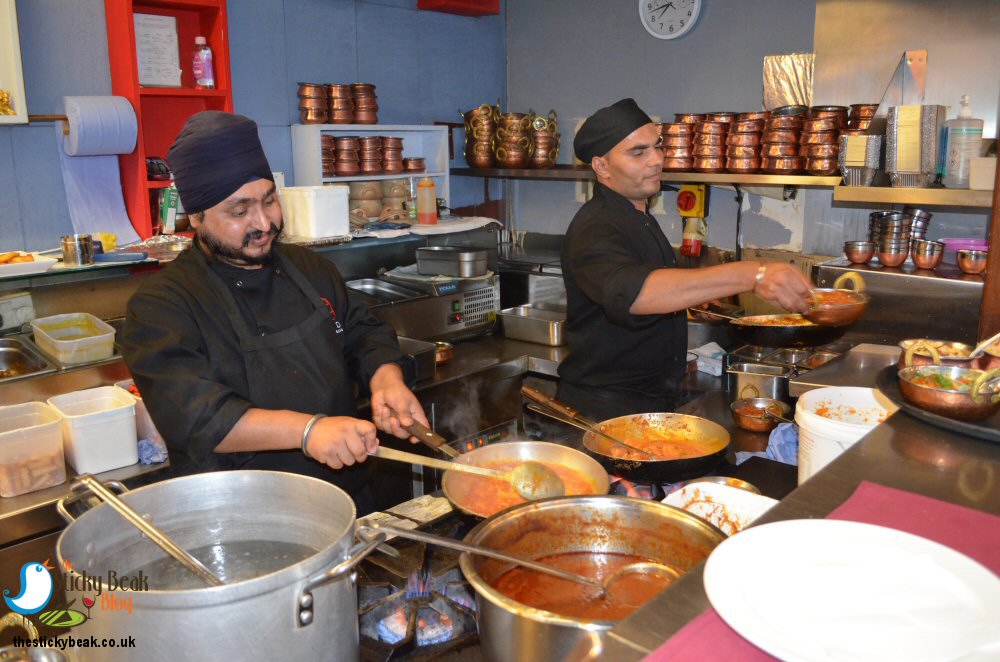 As you know, I love a bit of theatre when I'm dining, so you can imagine my delight as I watched plumes of fire dance up from Chef's pan of sauce as the liquid was being reduced and evaporated to intensify the flavours held within. Despite trying his best to remain cool and collected, Chef couldn't help but give a little smile at my unbridled joy and enthusiasm for his craft!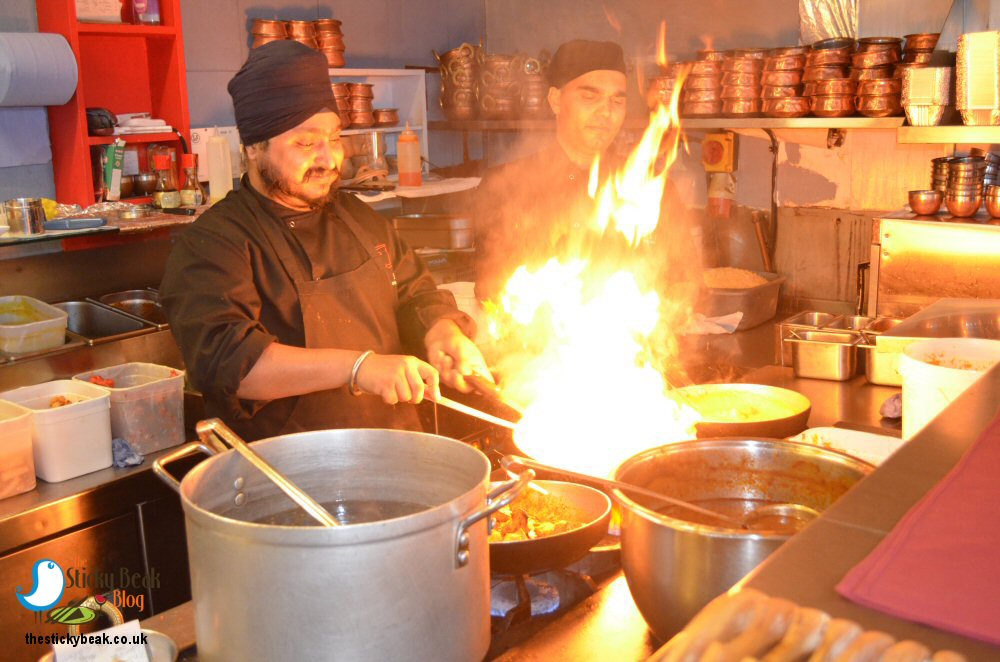 Vaishali brought over our drinks and Poppadoms and pickles whilst we looked at the extensive menu of dishes that 4550 Miles from Delhi offer. The Poppadoms were delicious; light, crispy, and not at all greasy, and the trio of pickles that came with them were just as lovely. His Nibs was particularly enamoured with the onion and tomato pickle, loving the spiciness that it had but saying how the inclusion of Mint kept it light and fresh in the mouth. I liked the smooth Mango chutney, it wasn't overly sweet as can sometimes be the case, and the lightly herbed yoghurt was clean to taste and very welcome on a hot summer evening.




To begin our culinary journey at 4550 Miles from Delhi we had the Tandoori Mix Sizzler platter, a sharing dish for two people that contains Lasooni Chicken, Gilafi Seekh Kebab, Tandoori Chicken, and Salmon Tikka. We had been given white rectangular plates with chopped Iceberg lettuce, Cucumber slices, and two pots of chutneys – one green, one red – on them, simply placing what meats we wanted on them as and when required.

The mixed sizzler fish and meats had all been placed on a deep bed of sliced cooked onion, which still had a good amount of bite to it, and a great smoky flavour rather than being caramelised as most venues serve it.




I dived straight into the Salmon Tikka; a good sized fillet had been cooked to crisp the spice-crusted skin up whilst preserving the moistness of the fish itself. The taste was simply superb, so good in fact that I persuaded The Man to try a bit; he went back for seconds, so impressed was he by its flavour. I paired it with the verdant chutney and its Coriander herbiness went beautifully well with the delicate Salmon.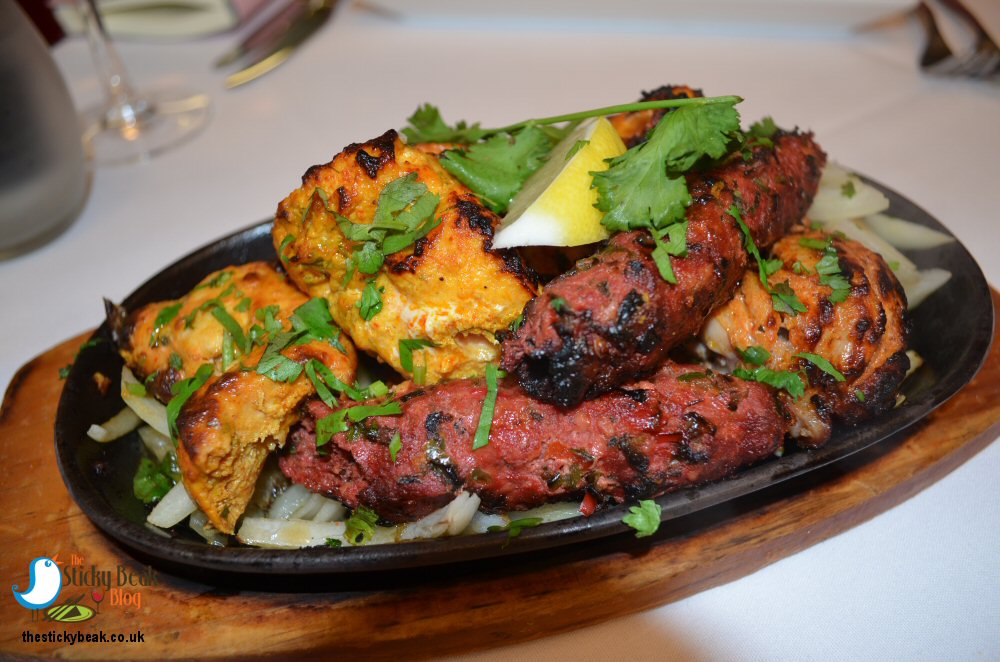 Whilst I'd started with the fish, His Nibs had tucked into the Gilafi Seekh Kebab – he's a sucker for this sausage-shaped morsel as you know. I tried a bit – normally I don't go for Kebab-style food, but it had a beautiful rounded flavour; it still had a proper kick to it, but there was no harshness on the palate.

The characteristically coloured Tandoori Chicken was on our radars next and we both loved the succulence of the on-bone flesh; this went particularly well with the spicier red-toned chutney. No hint of dryness was to be found in this delicious item from the Tandoori Mix Sizzler, every mouthful was soft and luscious.
In the same way that Tandoori Chicken is marinated in yoghurt, so is the Lasooni Chicken; except the spices used to flavour the marinade are different. The Garlic and Ginger in particular came through with this chicken morsel, giving a lovely warmth in the mouth. Again, the chicken was moist and juicy; in fact every item on the sizzler platter was fantastic.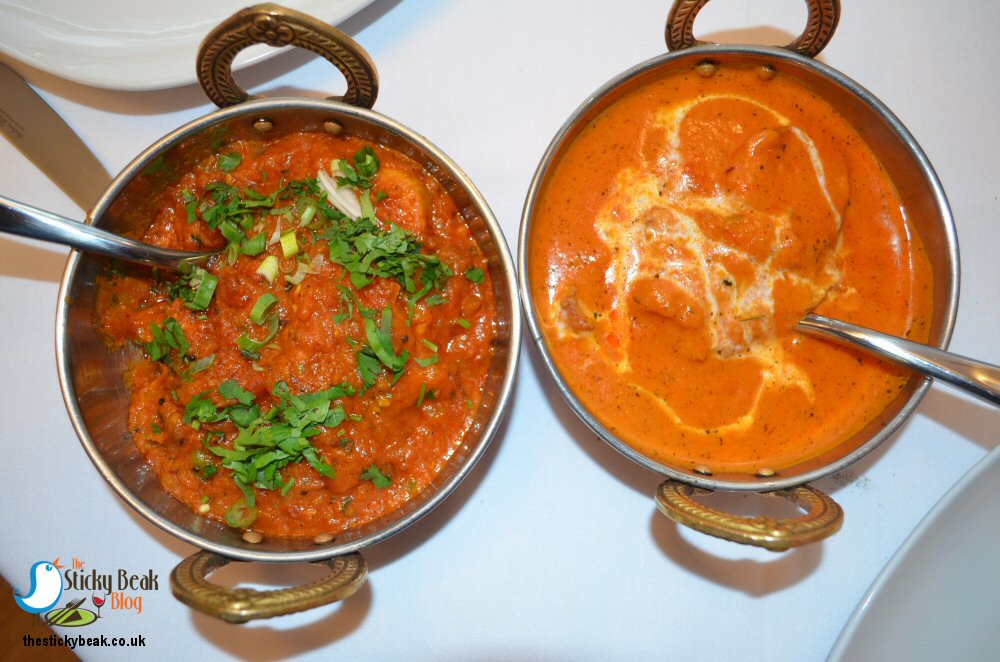 Very often, when it's our maiden visit to a venue, we will try out the signature or Chef's specials to try and really get a feel for the place. And that's exactly what we did at 4550 Miles from Delhi. I chose Fish Makhan Wala from the signature dishes, and The Boy Wonder had the exotically named Milagu Kozhi Chettinand which is from the Chef's special section. To accompany the meals we had Lemon rice, Garlic and Coriander Naan, and Pudina Paratha.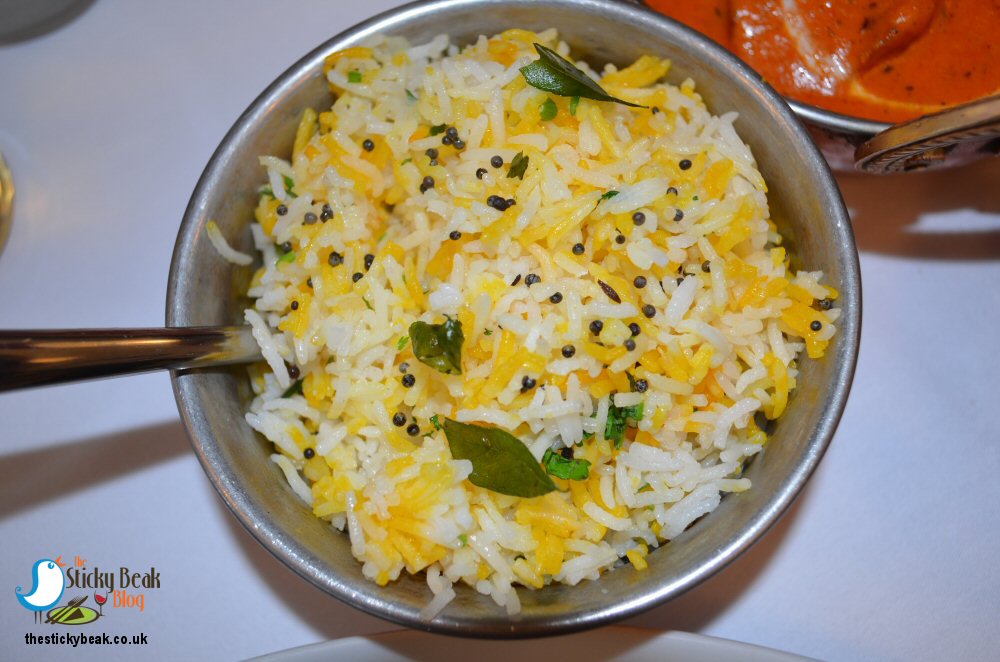 For my dish, Tilapia fillets are marinated and then cooked with Kasoori Methi spices and a silky smooth tomato sauce/gravy; the resulting dish is quite mild (one chilli rating) but absolutely bursting with flavour. There were several fillets of Tilapia to tuck into, and they easily pulled apart with my cutlery. What I really liked was the delicate balance that had been struck between the spices and sauce and the delicate flavoured fish – both elements could be clearly discerned as neither dominated the other. There were no vegetables within the sauce, the dish literally was the fish fillets and the tomato gravy; in all honesty though, nothing else was necessary. In fact, thinking about it, any other ingredients would've impacted on the divine harmony of the Makhan Wala.




His Nibs was also high on praise for his three chilli rated Milagu Kozhi Chettinand. Within the heat-packing, Black Pepper-rich sauce was a multitude of large chunks of chicken breast meat that were moist and juicy when eaten. The deep red hued sauce also contained finely diced onion that gave a lovely textural touch to the dish as well as adding more flavour. I dipped some of my Pudina Paratha into the sauce to try and was really impressed by just how tasty it was; sure, there was no escaping the heat held within the sauce, but the flavour to it was beautiful too.

The team at 4550 Miles from Delhi are confident in their ability and do things their own way; with great results may I say! The Lemon rice is a case in point; the norm with Lemon rice is to utilise fine shreds of the rind, but Chef actually cooks the rice with Lemon juice at this venue. We thought that it gives the rice a softer, more constant citrus edge throughout. Visually the rice was appealing too, having been given a delicate scattering of colour so that it wasn't a uniform tone; the addition of seeds and herbs only added to its impact.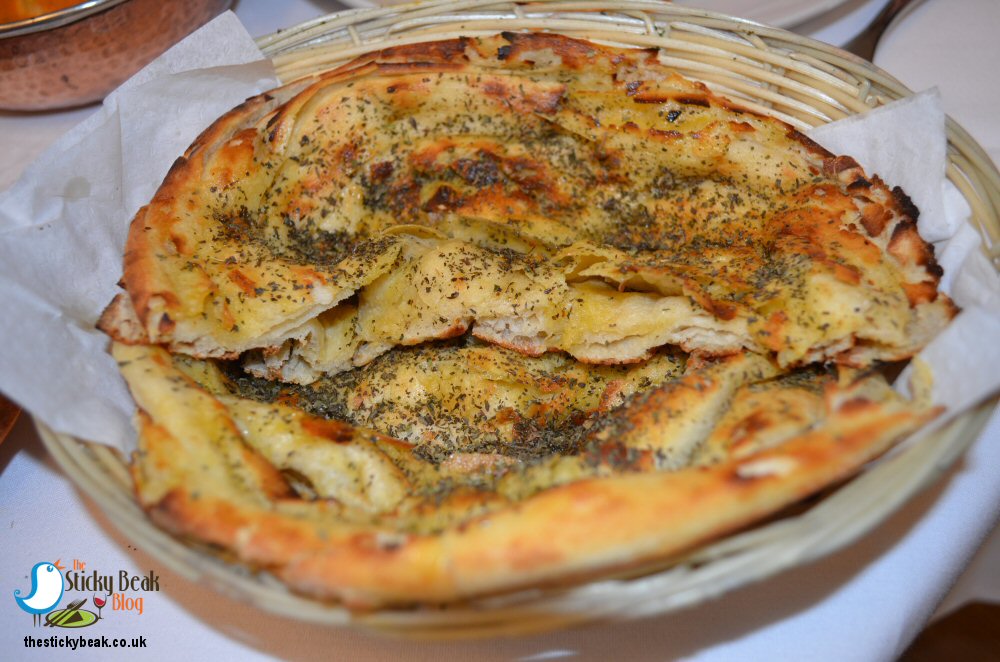 I'd never heard of Pudina Paratha before this visit, and it is a whole wheat bread stuffed with Mint; nothing more, nothing less. The Paratha bread that was presented to me resembled Mille Feuille with its multitude of layers, and it was the best Indian bread I have ever had the pleasure to eat; buttery, indulgent and my latest addiction! The dried Mint was vibrant on the palate and kept things nice and light so that despite its richness, the Paratha didn't lay heavy on the tummy. Just exquisite.

Naan breads are widely eaten up and down this great country of ours, but the Garlic and Coriander one at 4550 Miles from Delhi in Nottingham is a thing of beauty (according to The Man!). As with my Pudina Paratha, it had a fantastically light texture which you really appreciated when you bit into the thin crust and got that utterly brilliant pillowy softness inside. Ultra fine pieces of Garlic – not puree, but about as close as you can cut it with a knife- and a superbly generous amount of fresh Coriander gave it a really great flavour in the mouth.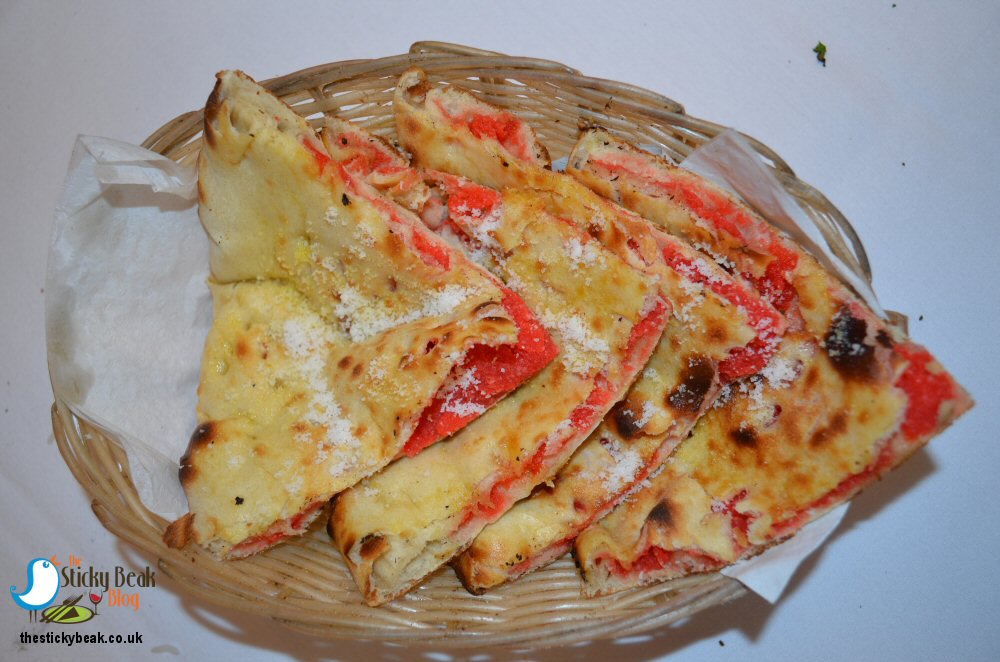 Having extolled the virtue of the breads to Vaishali, Hamed, Aftab and restaurant owner, Prashant, the next thing we knew there was a literally-just-come-out of-the-Tandoor, Peshwari Naan placed before us. Again the Chef had put his personal stamp on it and instead of plain white coconut and sultanas inside, this morsel had a paste of Cherry and Coconut within it. It was really nice and looked a bit different thanks to the pinky-red cherry influence; what surprised us was that it wasn't overly sweet, as some Peshwari Naan breads can be. And there's nothing better than trying something when it's fresher than fresh!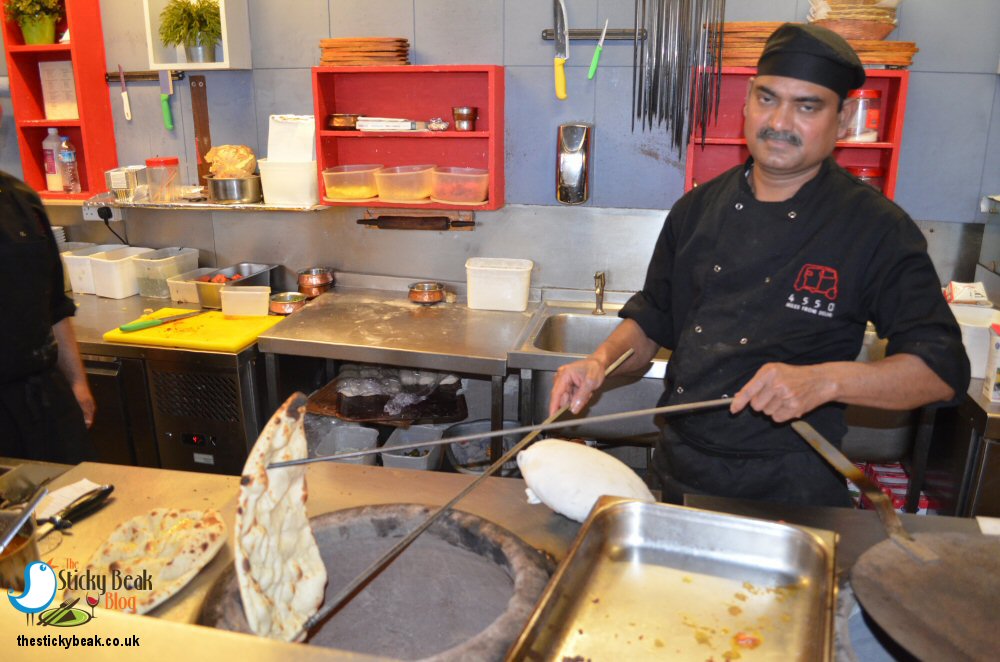 It isn't unusual for Chefs to be held in high esteem, but I really love the name they have for the Head Chef at 4550 Miles from Delhi; Prince! Clearly it shows how much he means to the team, and his 14 years work in 4550's kitchen certainly shows – I think I might rename him "King"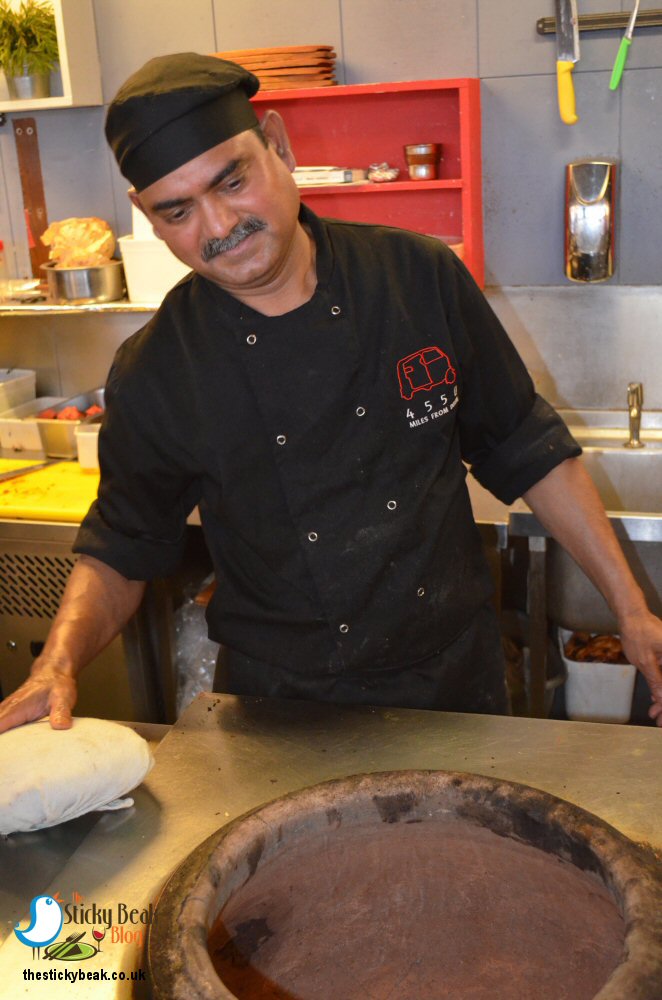 By this point in the evening – and having had extra bread, bear in mind – our tummies were stuffed (not to put too fine a point on it!). Imagine our surprise then when dessert was gently put on the table - I hope I have got the name right guys, excuse me if I haven't; Gajar (Carrot) Ka Halwa was awaiting our verdict, so we tucked straight in.

For those that don't know what this dessert is (and I didn't!) it is finely shredded Carrot cooked in Ghee, with ground nuts –Almonds were used here – and Cardamom. It really isn't what you would expect at all, and I mean that in a good way. Texturally, it was nice and light and wasn't overly sweet either so you got the fragrant Cardamom coming through and the natural sweetness of the Carrot. Finely ground Pistachio nuts and a scoop of Vanilla Ice Cream were all that this delicious dessert required to set it off.




Having already had a couple of surprises and a marvellous dining experience courtesy of the 4550 Miles from Delhi team, we thought that our evening had come to its conclusion. How wrong we were! Remember I mentioned the bar at the beginning of this Blog? Well, a couple of cocktails were waiting for us, courtesy of Aftab – one called Red Dragon, which isn't on the drinks menu, and the wonderfully named Mango Groove.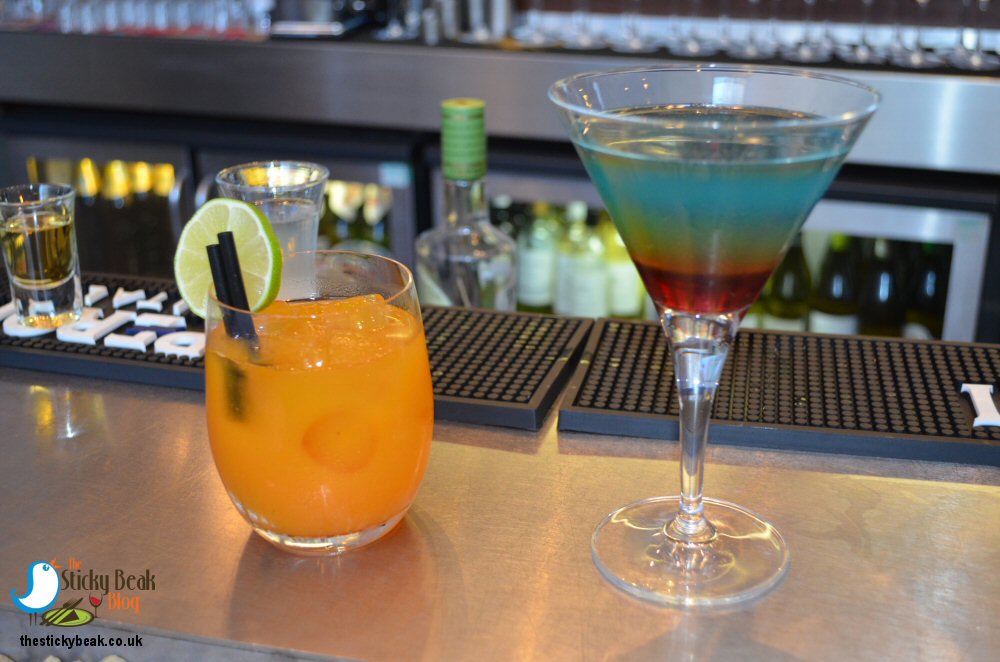 The Mango Groove is a gorgeously refreshing tipple made with Havana club rum, Malibu, Passoa, Mango puree, Lime juice and sugar that is shaken and served over ice; perfect for this particularly warm summer evening.




My Red Dragon certainly was a fiery beast – not in terms of spice, but in terms of spirit strength! As well as strength though, it had beauty; multi coloured, layered beauty to be exact. At the bottom of the Martini glass was Strawberry syrup, with Cointreau, Orange Water, Blue Curacao, and Vodka all on top in delicate stripes. Pretty and Potent is perhaps the best description! Thank goodness I wasn't driving is all I can say!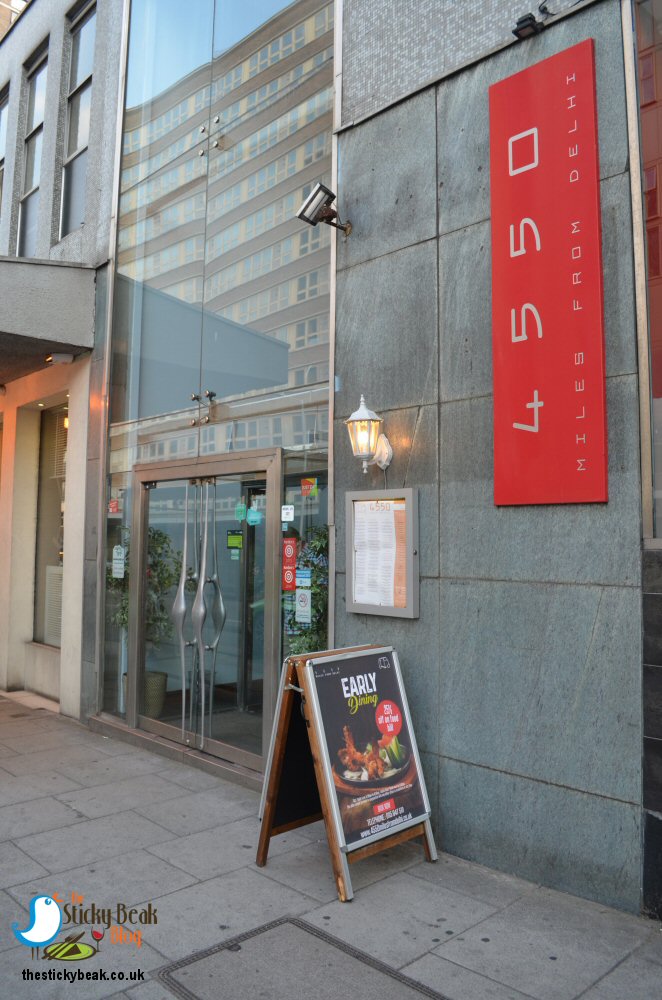 We had a wonderful evening at 4550 Miles from Delhi, and I'm more than happy to award Hot Wings to this great team. We couldn't fault a single thing; service, food, premises and drinks were all top notch. If you haven't been before, now is the time to go and sample the delights on offer! If you go early evening, arriving between 5.30-6.30pm and vacating the table by 8pm you can also get a jolly nice 25% discount on your food bill.
Some form of incentive was provided to visit this venue
read more