A Personal Chef Experience From Chef Karl Tyler
---
Published On Sunday 21 Jan 2018 by Sticky Beak
See Recent Experience Reviews | See All Recent Reviews


If a girl can't have a private Chef over to cook dinner for her to celebrate her birthday, when can she have one? You may recall that we hosted a dinner party before Christmas in collaboration with La Belle Assiette, and were lucky enough to meet the superb Chef that is Mr Karl Tyler. Well as luck would have it he wanted to showcase his own personal menus and offered to come and cook for mine, and my friends', birthdays - wasn't going to turn that down!!
What is they say,"Boys and their toys?" Karl's latest gadget is a Sous Vide machine (Google it) and he was eager to use it for our meal. The results on the main course were incredible I have to say; before those however, were the starters.

The entire group had Chorizo dusted Monkfish, spiced bean Ragu and Pea shoots to kick things off except for one person who had a Sweetcorn Panna cotta with Chicken and Sweetcorn beignet and Truffle popcorn. Presentation wise the starters looked top-notch and we all dug straight in.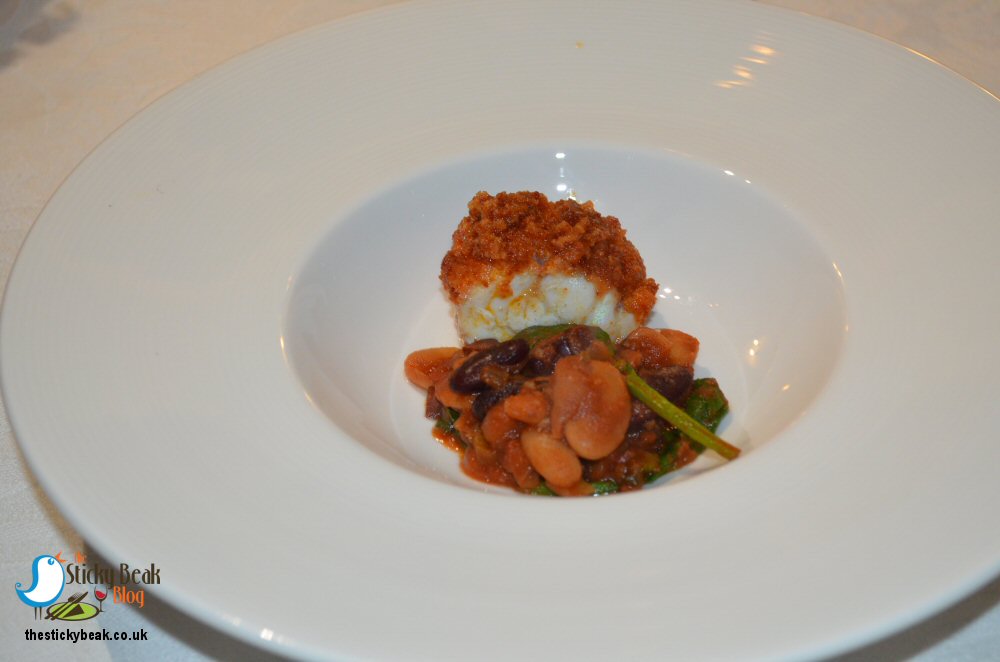 The Monkfish was superb; wonderfully moist and very meaty in texture, so it was very satisfying to chew. I was slightly apprehensive that the Chorizo would over-power the fish, but I needn't have worried; Chef Karl Tyler had only used a small amount so that the spicy notes were discernible, but they didn't dominate completely. The warm mixed bean ragu was delicious; the tomato base worked really nicely with the Chorizo and the Monkfish, and we all loved it.


Equally well received was the Sweetcorn Panna Cotta; it had a lovely smooth creamy taste to it that contrasted well with the crispy Chicken and Sweetcorn beignets. Truffle Popcorn pieces provided another textural element to my friends' starter; I couldn't help but pinch a couple of them!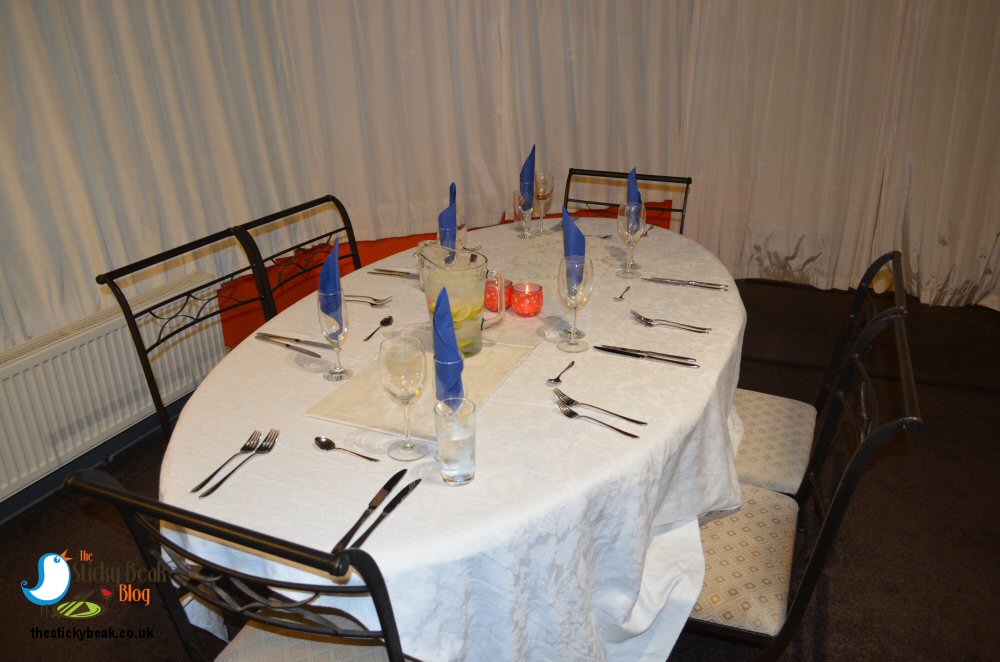 At the previous dinner party another guest hadn't had Duck before, and really enjoyed it so she was pleased to see that glazed Duck breast was to be our main course served with Celeriac puree, Duck pastilles, Fondant Potato, five spice jus, Bok Choi, and baby Carrots. This time the meat was considerably pinker, and you could see that there was a slight amount of consternation in the group.




His Nibs and I have had meat cooked "sous vide" before so we were expecting the rarer looking meat; despite its raw appearance the meat is actually uniformly cooked, far more so than traditionally pan fried flesh. There wasn't a speck of blood to be seen on any of the plates, and the thick duck breasts were ridiculously moist and tender; needless to say the flavour of the bird shone through brilliantly.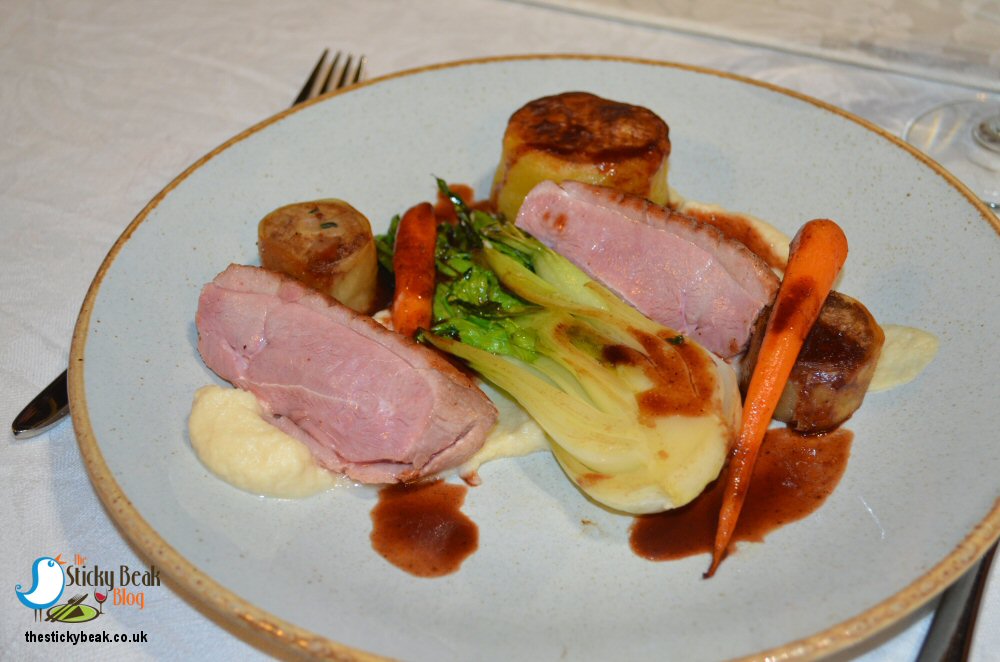 The Duck Pastilles were richer and earthier in flavour, and the shredded meat was a pure joy to eat, encased as it was in a thin layer of filo pastry. Delicate oriental spice notes were provided in the jus, and the crunch from the carrots and charred Bok Choi was most welcome. The fondant Potato rounds were as smooth as glass when their gossamer thin crust was penetrated. Our pooch was fed too; he received the caramel coloured Duck skin as a treat when everyone had finished eating :)
Glasses were clinking as we toasted birthdays, and our friendships in general, the award-winning Lindway White 2016 vintage from local wine producers Amber Valley Wines was slipping down jolly nicely. It held up really well against the Duck, perhaps because there weren't any particularly powerful flavours in the dish; normally I would have red wine with this meat.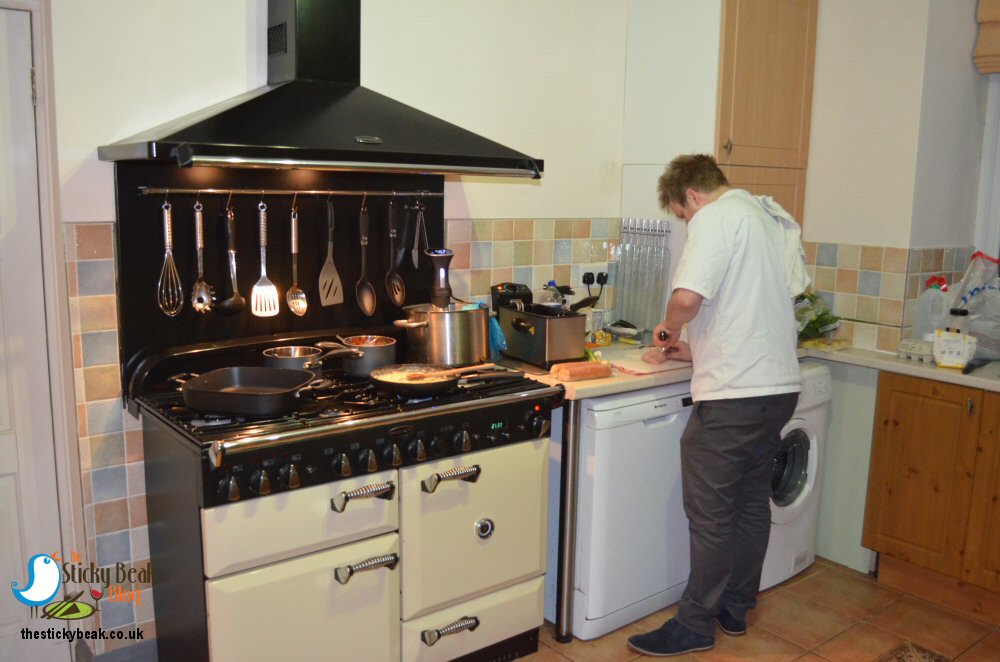 Chef Karl Tyler was pleased to see the clean plates again as he took them back to the kitchen and began to prepare our puddings. Last time there had been a slight mishap with the Creme Brulees in that there wasn't much Creme left to Brulee as it had spilled! Second time lucky :)

The wickedly rich Creme had a quite delightful sugar top that yielded that satisfying "crack" when thwacked with a spoon; several faces had grins of happiness on them when they heard that wondrous sound.




Plums had been halved and de-stoned and delicately spiced, so they were a gorgeous partner to the velvety, rich Creme, and superbly buttery, vanilla shortbread fingers gave a lovely texture in the mouth. Decorum had bitten the bullet by this point in the proceedings and fingers were being dipped into the pots to get every last bit of the Creme out of them!

Our dear friend Mr James Pogson of Chesterfields' Northern Tea Merchants kindly provided us with several coffees to end the meal with; this time we decided to have the Ethiopian Yirgacheffe variety. It was an inspired choice; beautifully smooth and rounded, it provided the perfect close to the meal (along with a Champagne truffle or two!). We had also got some of our beloved Tiger Stripes coffee too; it will always be special as this was the variety we got to roast on our visit to the Northern Tea Merchants premises. As a token of our appreciation we gave this coffee to Chef Karl; as a fellow coffee lover we thought he would savour it.


Hot Wings 110% deserved by Chef Karl Tyler; not only is he a lovely person and a talented Chef, but he literally leaves you with nothing to do afterwards! All we provided was the venue, and the glass ware - everything else was brought by Karl. I really cannot recommend him enough, and you'd be surprised by how little it can cost; prices start from £40 per head for a 3 course meal (cheaper than going out to a lot of places and the food is superior too!). Karl is based in Nottingham, so fairly local; if you want to know more here's how to contact him.
Some form of incentive was provided to visit this venue
read more
Read Some Of Our Recent Reviews
---

A Summer BBQ At Melbourne Hall Gardens With Gennaro Contaldo And Matt Pritchard A few weeks ago we were approached to see if we'd like to go to a Summer BBQ in Melbourne Hall's famous walled garden; of course, we said yes Read The Article

---

Classic Dishes Made Vegan at Coghlans Cookery School There must be something in the air to do with me and Vegan food at the minute because His Nibs and I have recently visited the Vegan Revelation cafe, and then I received an invite to the Read The Article

---

The Summer Picnic Class at Coghlans Cookery School I'm just going to come right out and say it; I made some goddamn sexy food at Coghlans Cookery School the other day! Yes, me. I did it! Ok, so it wasn't a solo effort Read The Article

---

Easter Egg and Chocolate Truffle making at Coghlans Cookery School You all know that I love attending the classes at Coghlans Cookery School, so I was very excited to get an invite to the Easter Egg and Chocolate Truffle making Read The Article

---

Portuguese Cooking at Coghlans Cookery School, Stancliffe Hall There's nothing I love more than spending a few hours at Coghlans School of Wine, Food and Dining at the beautiful Stancliffe Hall. Jordan North has Turf Moor as his Read The Article

---

A Day Of Tuscan Cooking At Coghlans Cookery School I was, once again, back in my happy place; Coghlans School of Wine, Food and Dining. This time I was here to do a full day cookery course, something I have Read The Article

---

A Sunny Afternoon At The Fuddy Duck Brewery, Boston, Lincolnshire The Man Bird and I had gone to visit friends in Lincolnshire and they wanted to show us the local brewery where our Christmas present from them (Gin) had been made. Read The Article

---

Trying Out The New Moroccan Cookery Course At Coghlans Cookery School Once again, the lovely team at Coghlans School of Wine, Food and Dining had kindly invited me along to one of their fab half-day cookery classes; this time it was Read The Article

---

An Indian Cookery Class at Coghlans School of Wine, Food and Dining Both The Man Bird and I have had our first Covid vaccinations and been out to eat, so when the invitation to attend a half-day Indian Cookery class at Coghlans. Read The Article

---

Chocolate Truffle Workshop At Coghlans Cookery School, Darley Dale Clearly my mischief battery needs recharging, as I got asked back to Coghlans Cookery School in the grounds of Stancliffe Hall!! I'd been in the swanky all-singing, Read The Article

---