A Sunny Afternoon At The Fuddy Duck Brewery, Boston, Lincolnshire
---
Published On Thursday 22 Jul 2021 by Sticky Beak
See Recent Experience Reviews | See All Recent Reviews


The Man Bird and I had gone to visit friends in Lincolnshire and they wanted to show us the local brewery where our Christmas present from them (Gin) had been made. After a leisurely 10 minute stroll we arrived in the middle of a smallish industrial estate and, tucked away in the far corner, was the Fuddy Duck Brewery. Fans of American-style beers will think they've died and gone to heaven here; there are IPAs, NEIPAs, Dark Beers and American pale Ales on offer, and the odd one or two (or three and more!) Gins and Rums to partake of if that's more your slant.
The weather was playing ball - the sun was shining without it being too hot – so we moseyed over to the outdoor seating area, complete with its beer barrel tables and bar stools, and plonked our bums down. The chaps had soon polished off their first beer, a guest ale by the name of Cloudwater DDH - that's double dry-hopped to you and me! - and Bestie's Hubby (now named The Bolton wander /TBW) ordered another whilst Bestie, His Nibs and I checked out the Gins on offer. I had the #11 Gin (quite a floral number) with Fever Tree original tonic, The Man opted for #9 Gin (a drier tipple) and Bestie had her favourite: Fruit Salad Gin with Lemonade.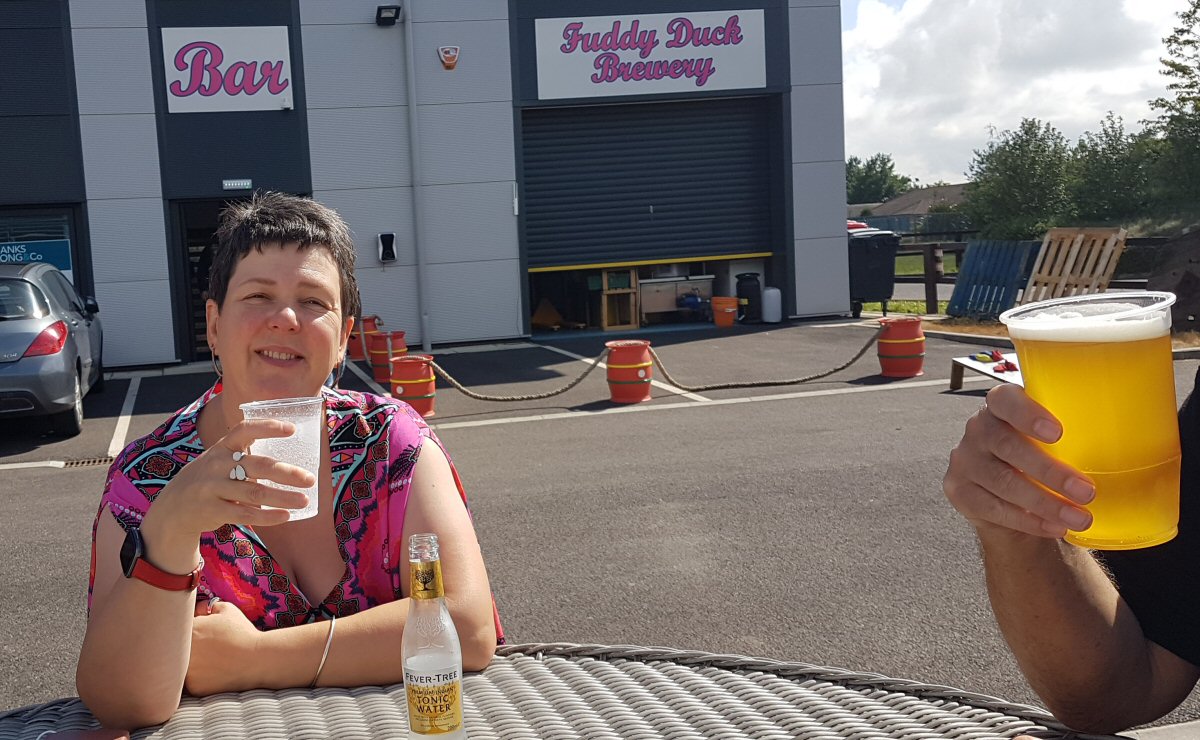 Just as we were coming to the end of that amazing first drink a group of bikers from Guildford in Surrey, The Hogsback Chapter UK, pulled up in need of refreshment on their travels. I'm not an expert on motorcycles, but let me tell you, there were some bloody gorgeous Harley-Davidson's in Boston that day! They were a super-friendly bunch of ladies and gents and when the owner of The Fuddy Duck Brewery offered to give them a tour round they generously let me tag along.




I made my way back downstairs and across the car park to the outdoor seating area, just in time to decide on my next Gin; Elderflower and Pomegranate, paired with Fever Tree Mediterranean tonic. The Man fancied trying another guest ale, Duration IPA, as did TBW and The Best One stuck with Fruit Salad Gin and Lemonade (although she nearly had another of her faves, Peaches and Cream). On the table next to us a group of four friends set up Jenga and things soon got lively; their sense of competitiveness was heightened by our enthusiastic cheering on and commentary!




The Fuddy Duck Brewery also offer a small menu, and 'Chef' was in the shipping container aka kitchen cooking up a storm whilst blasting out some bangin' old-school dance tunes – it was turning into a marvellous Saturday afternoon!! Having consumed a bit of alcohol by now (one of the Fuddy team brought out shots of Toffee Vodka for us to enjoy, which is ruddy, or should that be Fuddy (?!) marvellous) we inevitably got the 'alcohol munchies' and ordered a sharing platter between the four of us; normally we'd have ordered a couple but we were booked in for an Italian meal later in the evening and didn't want to ruin our appetites.

In addition to the items in the sharing platter: Chicken Wings, BBQ Ribs, Nachos and Potato Swirls, The Fuddy Duck kitchen also produces Panini's, a variety of Dirty Nacho options and Pizzas, all priced between £6 and £10. The Potato swirls are a measly £1.50 each and make the ideal partner to nibble at whilst chatting with friends – simple but effective, and really, really tasty actually! The lads dived into the dirty nachos that had been piled high with salsa, smoky pulled pork, melted cheese and sour cream, whilst we ladies grabbed one of the BBQ Wings each. I love the sauce they use at The Fuddy Duck kitchen; it's smoky and rich with a gentle sweetness to balance it on the palate. The potato swirls got pulled apart and pieces popped into appreciative mouths and I got stuck into the rack of BBQ Ribs; these were lovely and meaty and slathered in more of that irresistible sauce. If we hadn't already made dinner plans, I think we'd all happily have stayed here into the evening just grazing and drinking.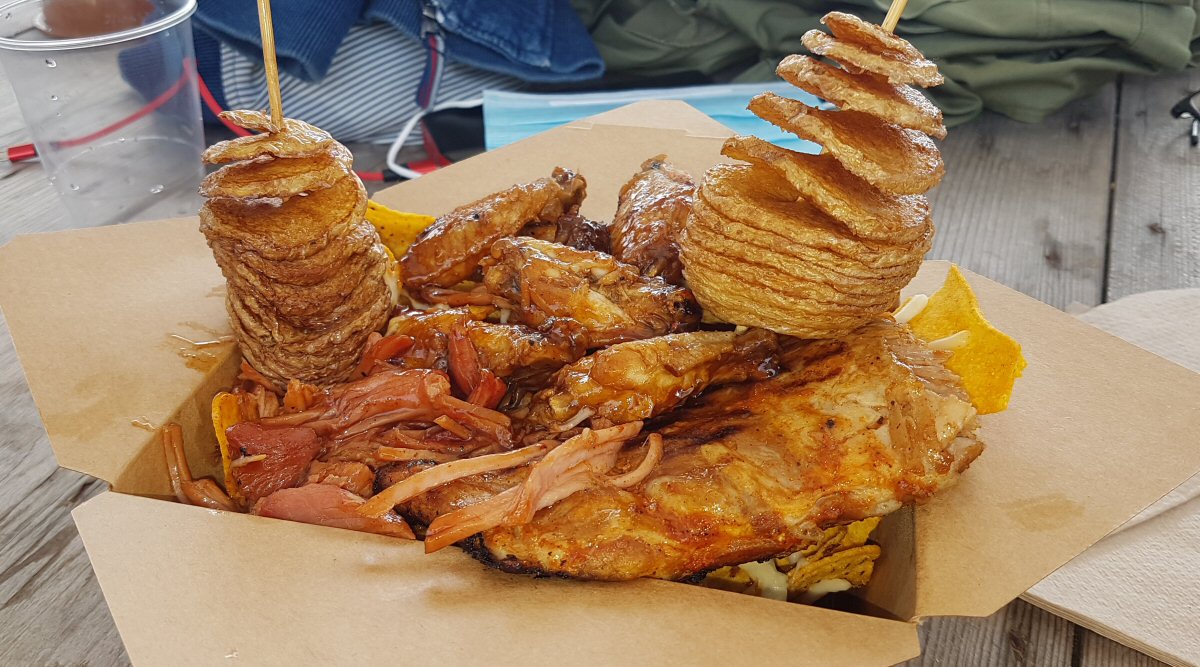 All too soon it was time to grab a taxi and head into town, but not before I purchased a bottle of Rhubarb Gin to bring back to The Nest, having been given a cheeky sample of it earlier when I went on the brewery tour, which His Nibs didn't know about!

If ever you find yourselves in Lincolnshire (Boston, to be precise) look up The Fuddy Duck Brewery and pop in; if the weather is a bit chilly or wet then head over into the inside space, it has four large Chesterfield sofas to lounge in and plenty of regular tables and chairs. Hot Wings awarded here; we'll definitely be returning next time we visit Bestie and TBW! For more info, check out www.thefuddyduckbrewery.co.uk