A Summer BBQ At Melbourne Hall Gardens With Gennaro Contaldo And Matt Pritchard
---
Published On Monday 4 Jul 2022 by Sticky Beak
See Recent Experience Reviews | See All Recent Reviews


A few weeks ago we were approached to see if we'd like to go to a Summer BBQ in Melbourne Hall's famous walled garden; of course, we said yes – who wouldn't want to go to such a wonderful venue?
We easily found our way there and parked up in the sign-posted field, and that's when the drama began! A pair of dogs came lolloping over the field and we expected to see their 'pawrents' following behind them shortly; nope, these pair had clearly done a runner from wherever they were meant to be and were heading straight towards the road. Quicker than a piece of chicken disappearing into our pooch's mouth, I dived out of the car and did my best 'ooooh look guys, it's much more interesting in this bit of the field' impression, gaining their attention. Long story short; dogs had contact deets on their collars and were soon reunited with their dad; move over Alan Davies, there's a new dog rescuer in town!!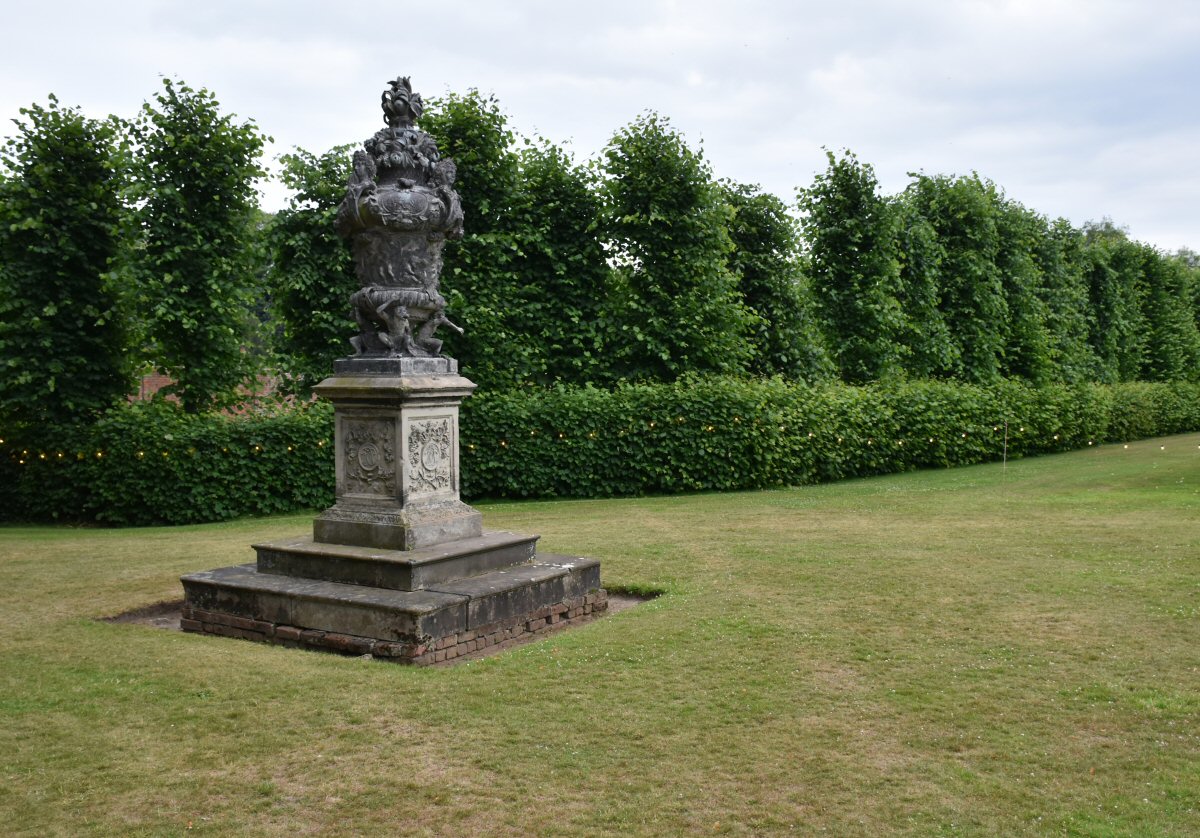 With the unexpected excitement behind us, we made our way along the road and an usher guided us to the path along the pond and said that one of his colleagues would check us off the guest list at the grounds' entrance. I have to say, everything ran like clockwork; we soon had our wristbands on and were walking along beautifully manicured lawns adorned with fairy lights, past statues and water features, and then into the gorgeous walled garden with its plethora of fragrant, rambling roses.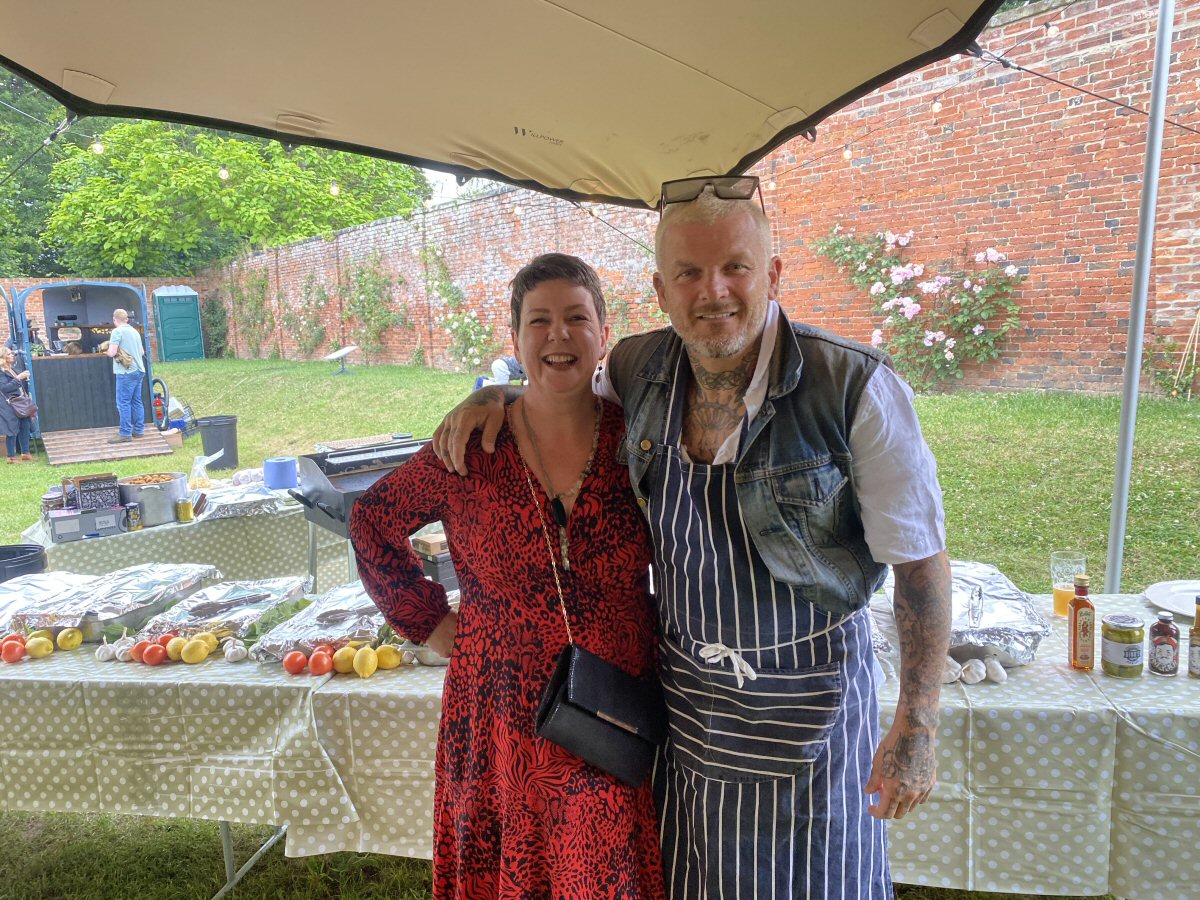 Those of you who have been fortunate enough to attend other events at Melbourne Hall (such as the 'Just The Tonic' comedy evenings) will know that they don't do things by halves, and the BBQ was no different: our chefs were Gennaro Contaldo (Saturday Kitchen, Two Greedy Italians, Jamie Cooks Italy with Mr Oliver) and Matt Pritchard (aka Dirty Vegan), and the host was Joe Hurd from Melbourne Halls very own eaterie, The Brewhouse. A couple of converted horse boxes were serving all manner of tipples and, having availed ourselves of one, The Man Bird and I made our way over to our wooden picnic bench underneath the massive, open-sided marquee. It's always nice to put a name to a face, so to speak, and joining us at the table was my lovely fellow blogger 'Emily etc.' and her husband.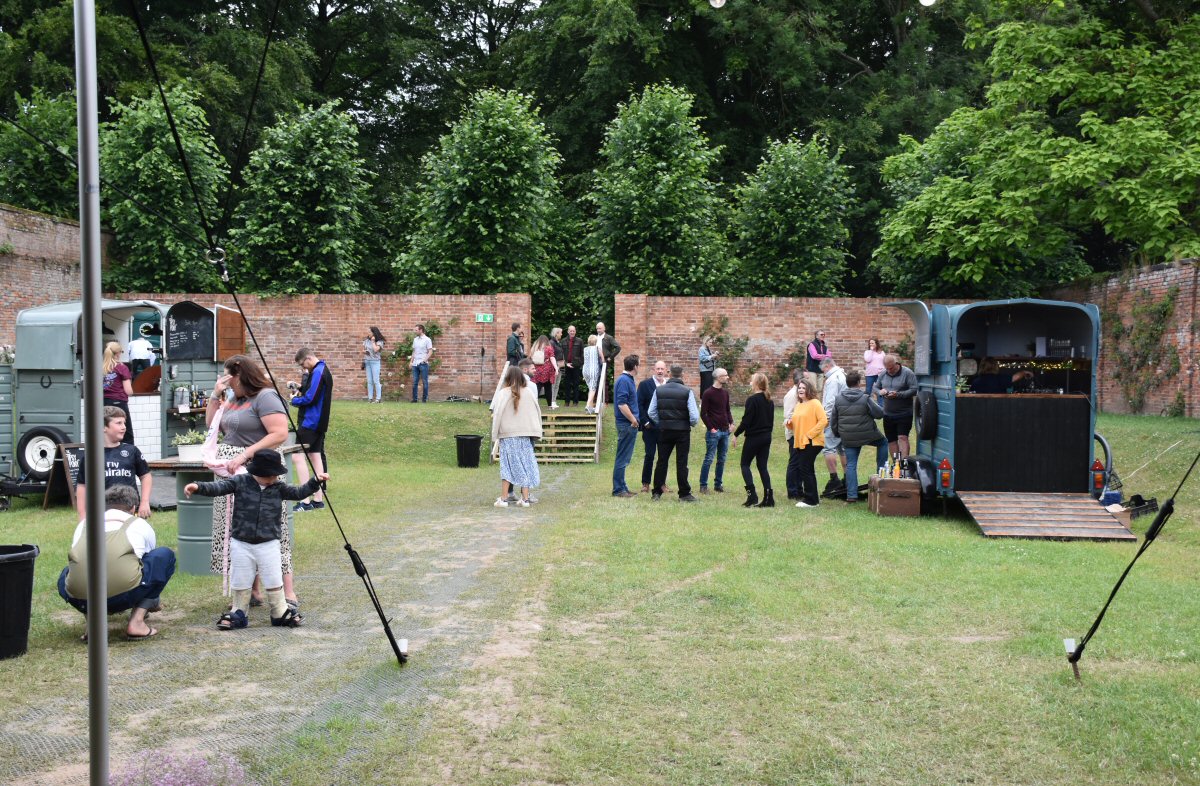 With all the guests assembled, it wasn't long until we were being invited up for our first courses; cue a mouth-watering selection of fresh salads and breads. Before service got under way I'd managed to snag time and get a photo with Matt, so I was looking forward to trying the Watermelon salad he'd described to me – it sounded super scrummy (and it was!). At Matt's BBQ bench there was also Pea and Mint Salad, Cous Cous with Chestnut and Oyster Mushrooms, Pasta with Vegetables and Tofu, and Roasted Cauliflower with Harissa and Pomegranate Seeds. On the other side of the marquee was Gennaro, ably assisted by Joe Hurd; the banter between the two gents was lovely to witness, and hilarious to hear! Gennaro had prepared a Panzanella (I absolutely adore this rustic salad), Courgette Salad, Cornichons and Olives, Pasta Salad, a selection of Salamis and Hams, and (of course!) Garlic Bread.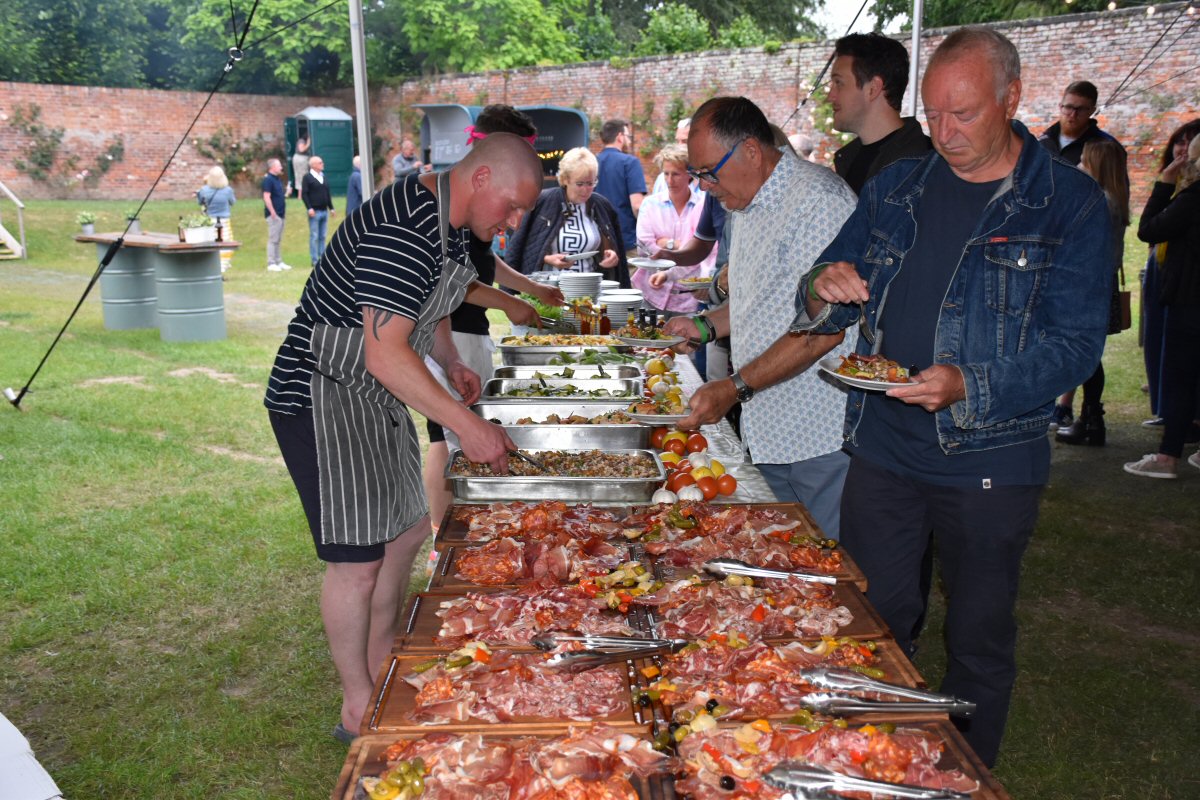 His Nibs and I had got wrist bands for Gennaro's BBQ so we went there first and brought our feast back to the table. As you would expect, each dish was bursting with flavour and, sitting in a warm summer evening, it was easy to imagine that we were indeed in the Mediterranean region on holiday. Each element had been chosen to compliment its neighbour, so our palates were savouring the full gamut of tastes: sweet, umami, sour, salty and bitter. The Pasta Salad was also served still-warm, meaning that we had warm and cool sensations in our mouths too.
Matt had told me to come and sample his dishes when I'd been chewing the cud with him so when our starter plates were empty we went up to try the delights Mr D. Vegan had brought to the (BBQ) table. Nestled within the jewel tones of the Watermelon and the verdant flecks of fresh Herbs were chunks of Vegan Cheese; whilst I can't deny that it did partner the other elements well, I still think it tastes of Dairy Lea (which I can't stand!), so The Man Bird found himself the lucky recipient of a non-dairy bonus. In our house, luck swings both ways, so I picked up the slack with the Mushroom Cous Cous. I think my personal favourite from the entire starter range was Matt's Roasted Cauliflower dish; this was just glorious and very satisfying appetite-wise, which you perhaps wouldn't necessarily expect.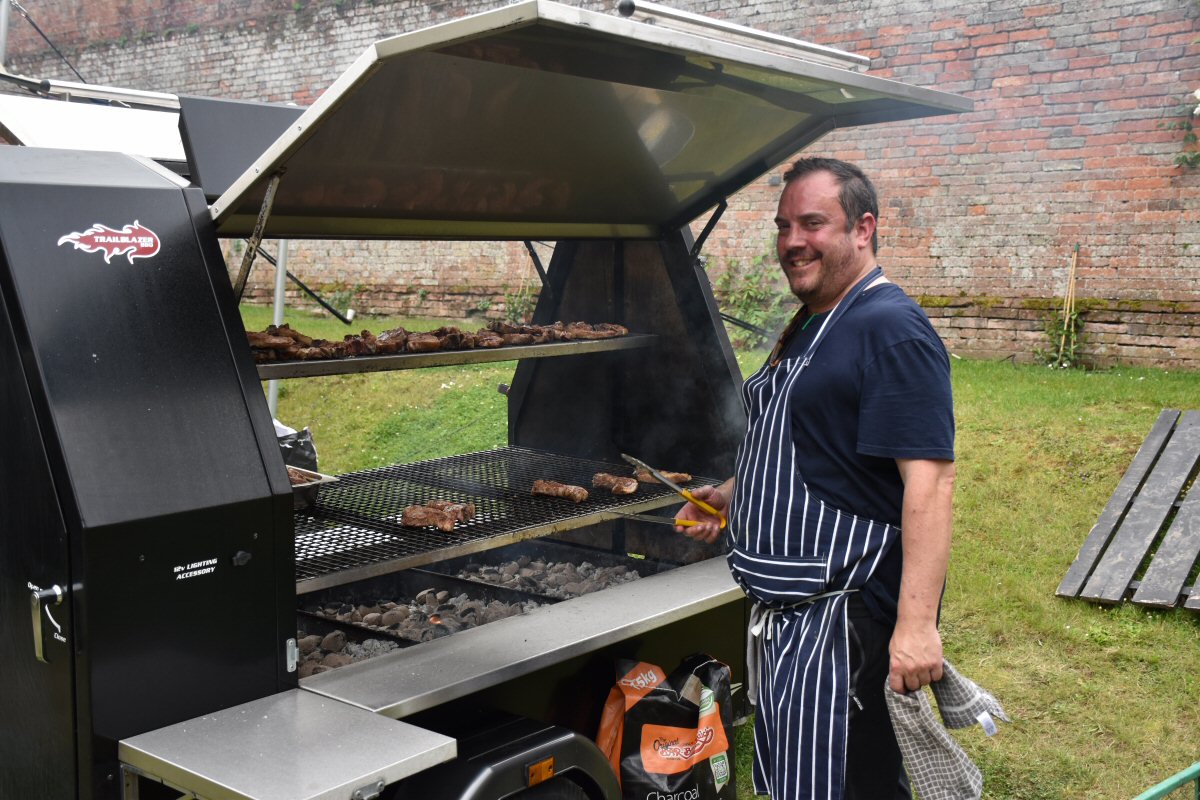 Full ticket holders got to have Derbyshire Lamb and King Prawn Skewers from Gennaro, but our ticket entitled us to the Italian Sausage and Aubergine Parmigiana. Many folks steer away from Aubergine (thinking it to be soggy when cooked), which is a real shame because it adds a lovely substance to a meal and soaks up any other flavours that it's cooked with. The hearty Cheese and Tomato sauce filled our mouths with taste and we smiled happily at each other. Sausage is my Achilles heel and I didn't get along with the Italian one here, so yet again His Nibs was the recipient of extra food! To add insult to injury, Matt's smashed Burgers had gone down so well that he hadn't got any left for me to have; that, my friends, is what you call a double disappointment whammy. Oh well....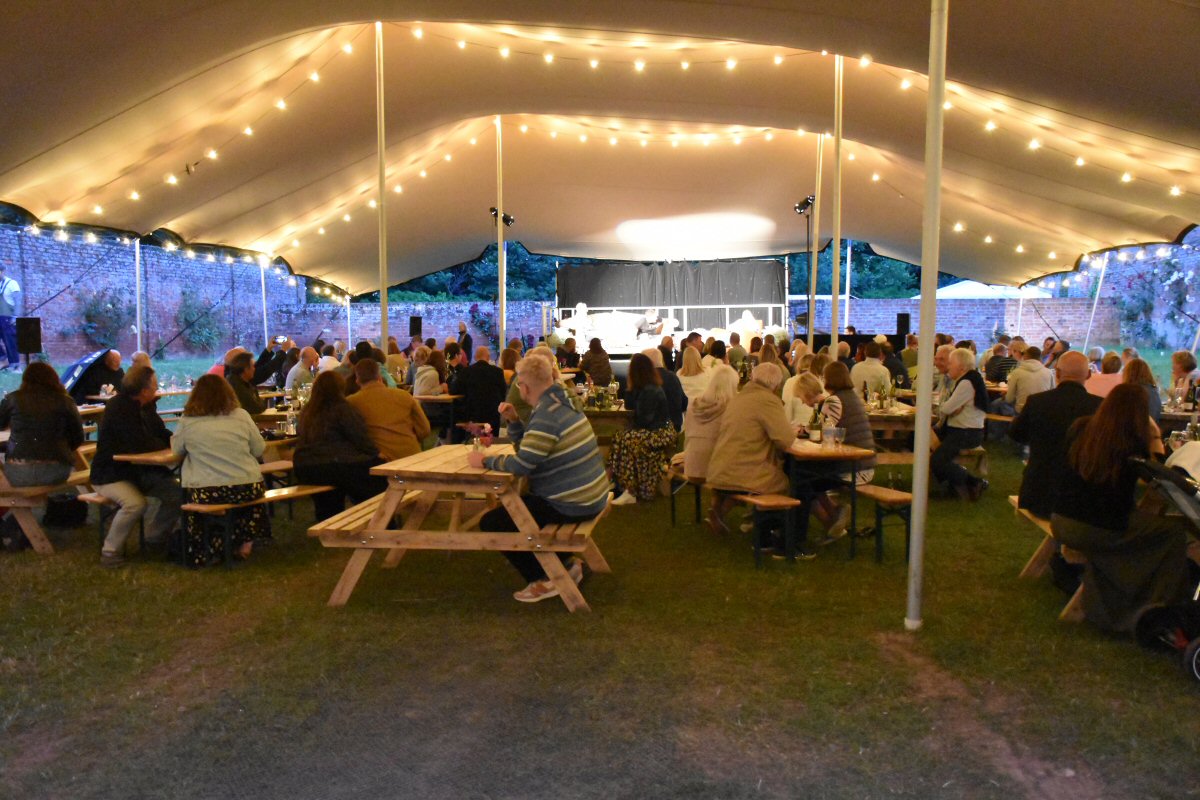 We had been entertained during our meals by a very talented singer, Tom Martin [insta @tommartinmusic] who played a range of covers spanning the decades, and when the BBQ was concluded, it was time for the Chefs to take to the sofa on the stage for an informal chat with host Joe Hurd and a Q&A session with us all. There was even a marriage proposal (!!!!!!!!) that I'm glad to report had a positive response.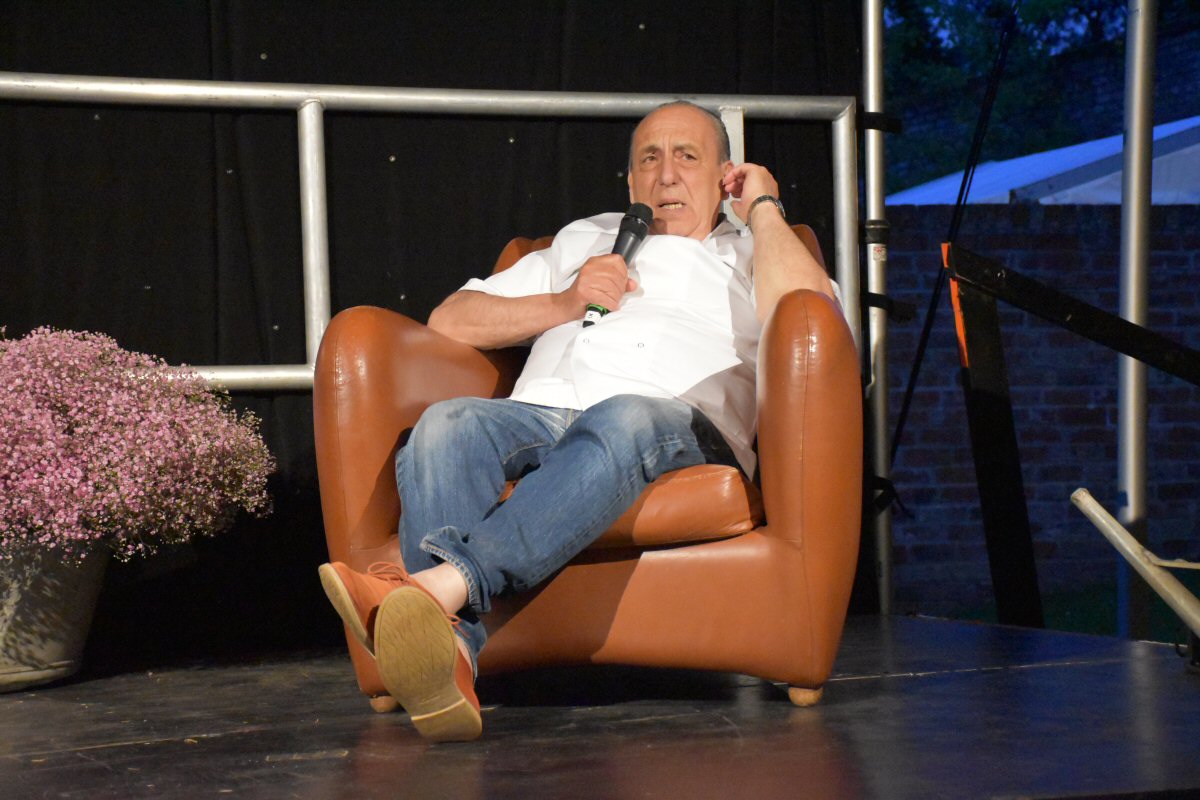 All too soon the evening drew to a close and The Man and I linked arms as we strolled back past the lake. I noticed a quick, darting movement above me when His Nibs bent to re-tie his shoelace, and watched from under the Cedar tree as a squadron of Bats dived and swooped around the darkening skies, themselves searching for some dinner. Thankfully there was no sign of any wayward canines back at the car park/field, so we made a slick exit out onto the road and it wasn't long before the trusty jalopy delivered us safely back at The Nest. We'd had a superb evening at Melbourne Hall and it really is a stunning setting for outdoor events, so visit the website for details of upcoming happenings. His Nibs and I plan on going back to walk around the estate properly and, who knows, we might pay Joe a visit at The Brewhouse whilst we're there!
Some form of incentive was provided to visit this venue
read more
Read Some Of Our Recent Reviews
---

Classic Dishes Made Vegan at Coghlans Cookery School There must be something in the air to do with me and Vegan food at the minute because His Nibs and I have recently visited the Vegan Revelation cafe, and then I received an invite to the Read The Article

---

The Summer Picnic Class at Coghlans Cookery School I'm just going to come right out and say it; I made some goddamn sexy food at Coghlans Cookery School the other day! Yes, me. I did it! Ok, so it wasn't a solo effort Read The Article

---

Easter Egg and Chocolate Truffle making at Coghlans Cookery School You all know that I love attending the classes at Coghlans Cookery School, so I was very excited to get an invite to the Easter Egg and Chocolate Truffle making Read The Article

---

Portuguese Cooking at Coghlans Cookery School, Stancliffe Hall There's nothing I love more than spending a few hours at Coghlans School of Wine, Food and Dining at the beautiful Stancliffe Hall. Jordan North has Turf Moor as his Read The Article

---

A Day Of Tuscan Cooking At Coghlans Cookery School I was, once again, back in my happy place; Coghlans School of Wine, Food and Dining. This time I was here to do a full day cookery course, something I have Read The Article

---

A Sunny Afternoon At The Fuddy Duck Brewery, Boston, Lincolnshire The Man Bird and I had gone to visit friends in Lincolnshire and they wanted to show us the local brewery where our Christmas present from them (Gin) had been made. Read The Article

---

Trying Out The New Moroccan Cookery Course At Coghlans Cookery School Once again, the lovely team at Coghlans School of Wine, Food and Dining had kindly invited me along to one of their fab half-day cookery classes; this time it was Read The Article

---

An Indian Cookery Class at Coghlans School of Wine, Food and Dining Both The Man Bird and I have had our first Covid vaccinations and been out to eat, so when the invitation to attend a half-day Indian Cookery class at Coghlans. Read The Article

---

Chocolate Truffle Workshop At Coghlans Cookery School, Darley Dale Clearly my mischief battery needs recharging, as I got asked back to Coghlans Cookery School in the grounds of Stancliffe Hall!! I'd been in the swanky all-singing, Read The Article

---