Sampling Prosecco From Premier Estates Wines
---
Published On Tuesday 25 Apr 2017 by Sticky Beak
See Recent Food Producer Reviews | See All Recent Reviews


The lovely peeps at Premier Estate Wines got in touch a couple of weeks ago to ask if I would like to review a couple of their Prosecco wines. After a lot of persuasion (ok, none at all!) I said that I would do it and a date was arranged for the bottles to be delivered.
As The Man Bird undid the packaging I was hopping up and down with glee, eager to feast my eyes on the delights inside. Premier Estates had sent a full size (750cl) bottle each of the Prosecco DOC and the Grand Rose sparkling wine, as well as two miniature (20cl) bottles of the Prosecco DOC.
With it being midweek we decided to keep them until the weekend and purchase some Charcuterie and Antipasti to accompany them. Now that our Chick is 16 we allow her to have some wine at mealtimes if she wishes, so she couldn't wait to swipe one of the mini bottles for herself!
Having laid out the plates, cutlery, glasses and food all that remained was for His Nibs to pop the cork, and what a pop it was! I love to hear a cork popping; it's just one of those sounds that make you instantly happy. The Prosecco DOC had a symphony of fine bubbles streaming through it, and this gave it a superb feeling on the tongue and in the mouth; not to mention the fact that it looked beautiful in the glass too. Chickadee had opened one of the mini bottles and loved how it looked like there was cork closure but it was in fact a screw top bottle, she thought it made it look a bit "classier" having a faux cork silhouette.


The Prosecco DOC itself was deliciously crisp to taste, although not quite as dry as Champagne; I think this will increase its universal appeal as a lot of people cannot enjoy the bone dryness of traditional Champagnes. To my little flock it had the perfect balance of sweetness and dryness to it, and went with the selection of meats, olives and cheeses really well. I can imagine that it will partner fish and chicken jolly well too.
If you go on Premier Estates Wine website this little beauty can be bought in a case of 6 bottles which works out about a measly £8* a bottle; for a multi award winning tipple I think this is cracking value. I should at this point mention two of its most recent competition successes. When entered into the International Wine Challenge this year (2017) it came away with a bronze medal and at 2016's International Wine and Spirit Competition it scooped up another bronze medal.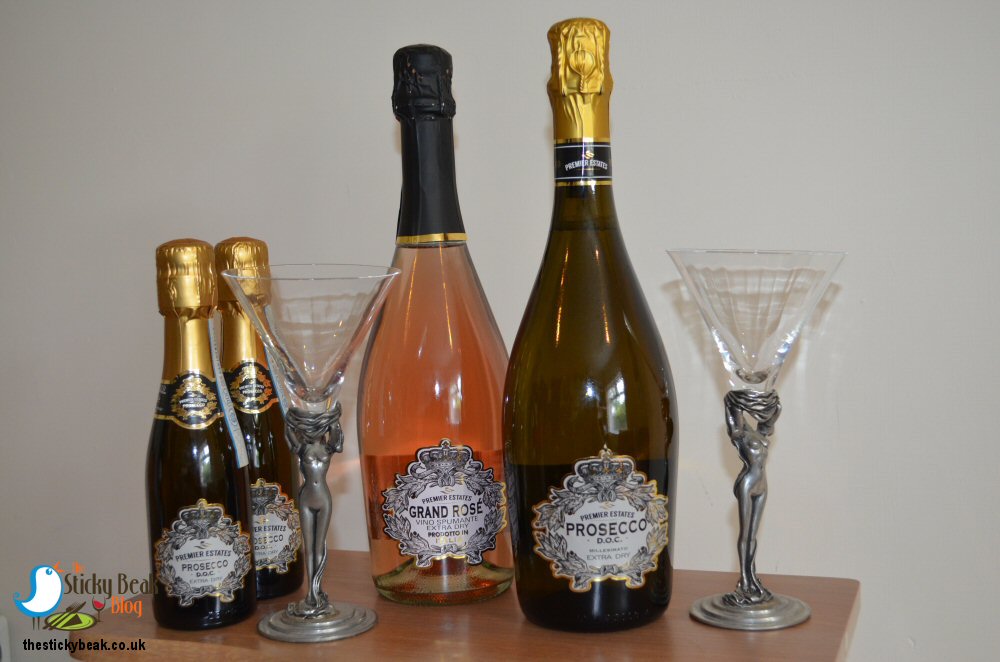 Now I must confess to liking a tipple or two, but we decided to keep the Grand Rose a.k.a "Pink Prosecco" for the next day and let The Tribal Elders join in the sampling (well, they have been well behaved lately!). Again, there was that joyous pop to be heard loud and clear as The Boy Wonder uncorked the bottle, and large smiles filled our faces.
The Grand Rose has plenty of bubbles dancing in it, although to my eye they looked slightly larger than those in the Prosecco DOC. These bubbles carried the delightful Strawberry notes in the Rose quickly onto the palate, eliciting murmurs of appreciation from us all. I really loved the delicate hue of the "Pink Prosecco" too; I know it sounds totally girly, but it just looked so pretty in its crystal flute. Currently the Grand Rose stands just outside of Premier Estates' top 5 best sellers, but it's nipping at the heels of its multi award winning Cava so watch this space!
This gem can also be purchased in a case of six for roughly £8* a bottle, and next day UK delivery is free too. If you fancy having the miniature bottles of Prosecco DOC rather than the standard size bottles, these come in a case of twelve and work out at approximately £3.50* each. Bargain if you ask me.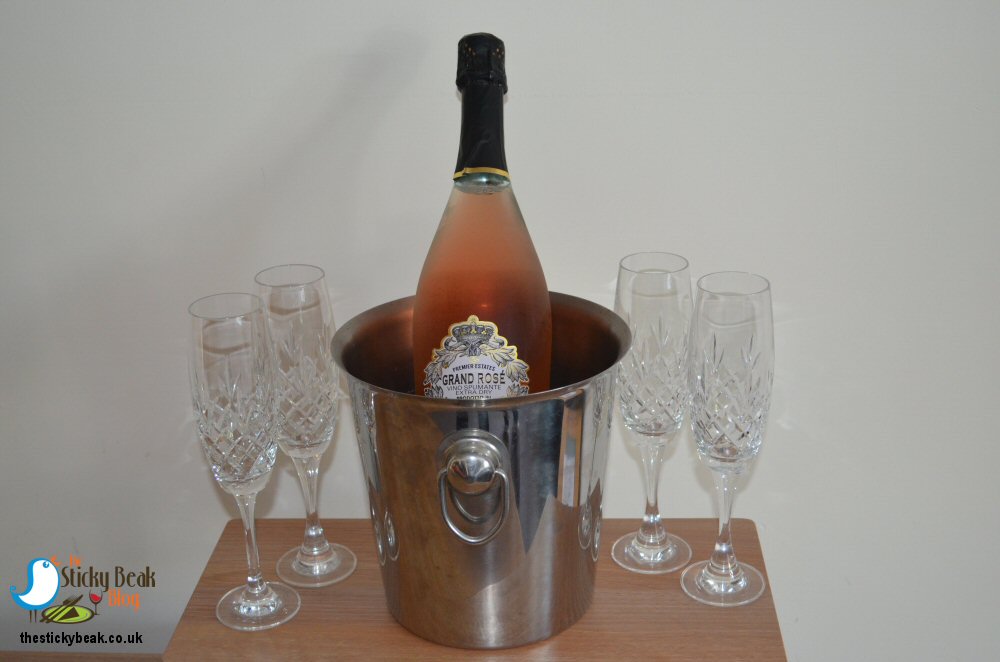 Both of the wines we were sent to taste were absolute belters. They both had that easy drinking style that appeals to us Brits; you could just as simply drink them in your garden on a summer evening as you could toast a marriage or celebrate Christmas with them.
I lived up to my name and went and had a good old sticky beak on Premier Estates Wines' website and I tell you what, they don't half have some fab wines available. A lot of them come directly from the vineyards themselves, which means the costs are kept to a minimum so that the end customer (you and I) get to have top-notch tipples at a high-street price. Yes please, I'll have a slice of that deal; especially seeing as next day delivery is free, you can mix-and-match wines in cases and the offers change regularly!
The only downside is that I think I could've done with a mixed case of these two utter marvels to really appreciate their detail :) :) :) Well, you can't blame a bird for trying can you ?!

* The prices quoted were based on web site prices as of 24/04/2017 which includes a 20% discount offer.