Whisky Tasting With Great Drams
---
Published On Wednesday 17 Nov 2021 by Sticky Beak
See Recent Food Producer Reviews | See All Recent Reviews


Great Drams is the brain-child of husband and wife team, Greg and Kirsty Dillon, who I had the pleasure of meeting at the Fine Food North Show in Harrogate. What Greg doesn't know about Whisky isn't worth knowing, and I learned a very interesting fact from him; there are two types of whisky: Malt (made with only malted Barley) and Grain (made with any type of grain, but commonly Rye, Wheat or Corn), both very different in character. I never knew, either, that a 'single' malt whisky (widely regarded as better than 'blended' ones) doesn't mean that the whisky is one, pure whisky; it can still be a blend but the whiskies come from a single [origin] distillery and are malt ONLY, whereas blended is a blend of grain AND malt and from multiple distilleries. Interesting stuff, no?
Whilst we stood chatting, Greg offered me a taste of the Lockdown, Lock-In 12 year old blended malt whisky, 48.2% ABV, that he had produced during the pandemic when we were all confined to barracks, so to speak. Which reminds me, the age you see on whiskies corresponds to the youngest component of it, so even if there are two elements in the whisky, one 3 years old and one 25 years old, it can only be described and sold as a 3 year old whisky!

The Lockdown Lock-In whisky proves that out of adversity come great things; this is beautifully smooth on the palate with its honeyed, vanilla tones and it really warms the cockles without burning your throat as it goes down. This is most certainly one to sip and savour rather than glug down willy-nilly, and Greg kindly gave me some to take home to the nest and enjoy with The Man Bird; we sat and sipped it on a chilly night and let its warmth cocoon us.

I also had two more whiskies to try and the first one we got to was the Islay 7 year old single cask, single malt, 48.2% ABV. This one split the nest's opinion right in half! I have always said that taste buds are highly individual and this whisky proved the point; you won't believe what I experienced... I remarked that this was 'an altogether different beast' as I sniffed at it in the glass. There was an unmistakeable smoky note to this, as well as a leather aroma too, which was pleasing to us both, but that's where the harmony ended. I took a sip and instantly got the smoky, peaty taste; but then I got a completely different taste, one not dissimilar to antiseptic – yes, really! It's long been demonstrated that taste and memory are intertwined and an image popped into my head, of a pink ointment in a tin: Germolene! As I declared this, His Nibs looked at me as if to say "you need committing, dear!" and said that this was his favourite so far, as he got beautiful hints of Cinnamon on his tongue and a citrus bounce. Id got absolutely none of these, which just goes to prove that there's nowt so queer as taste buds!!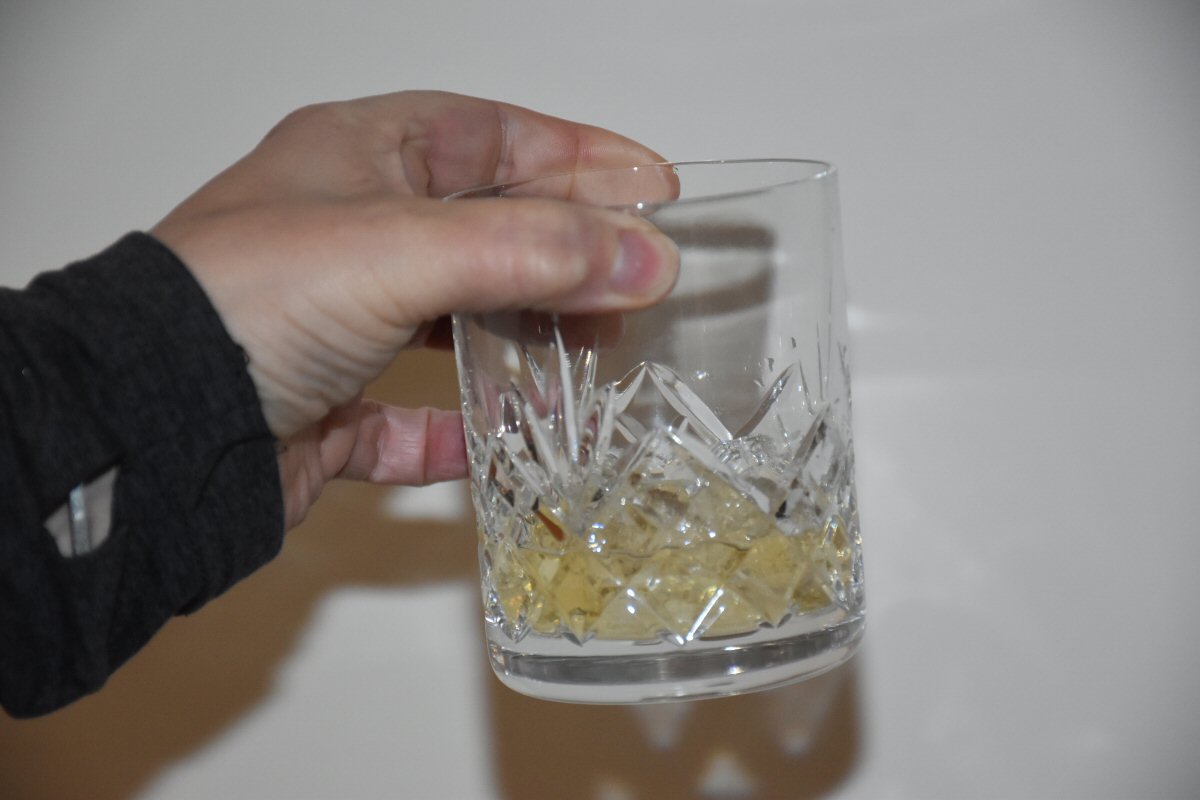 Our final tipple was the Deanston 11 year old whisky, a single cask, single malt that is 48.2% ABV. This particular whisky has a gorgeous pale gold colour to it and tasted beautifully honeyed in my mouth. I also got Vanilla's rounded warmth coming through and a touch of fruitiness, making this a lovely creamy, mellow tipple that delighted me with its heat in my belly and absence of burn as I swallowed it. Of the three samples, this was my favourite; hands down. The Man Bird said that this was his least favourite and he found it the least interesting on his palate! As I said, we all interpret tastes differently and lean towards certain notes depending on the composition of taste buds on our tongues. That's what makes food and drink blogging so interesting.

Greg and Kirsty have a wide selection of single- and blended-, multi award winning scotch whiskies on offer on their website, many of which are limited to very low numbers globally, making them a thoughtful gift for whisky aficionados. One thing that they also offer, which I think is brilliant, is the virtual whisky tasting sessions – how fab is this idea?! For more information, and to order any of the whiskies, head to the website www.greatdrams.com
Some form of incentive was provided to review this product
read more
Read Some Of Our Recent Reviews
---

Sampling The Ras Malai Cake For Ca.ake Aisha of Ca.ake and her husband were one of the first stands I sought out at the Fine Food North show in Harrogate, as I couldn't wait to try her Ras Malai Cake.I like Ras Malai anyway Read The Article

---

Trying Out The Brownies From Woods Brownie Co. Kenneth and Ashleigh from Woods Brownie Co. tempted me with their wares at the Fine Food North show who can resist a Brownie? Not me, for sure!! I couldnt resist Kenny's Read The Article

---

Sampling Coffee From Frazer's Coffee Roasters I first met Frazer at Fine Food North literally a couple of weeks before lockdown 1.0 and he gave me some of their 'Steel City' blend to try back then which, by the way, is an absolute bobby dazzler! Read The Article

---

Sampling The Biltong From Biltong Boss Having never tasted Biltong before I have to admit I was expecting it to be a bit like Jerky which, let's be honest, has a bit of a rep as being tough, doesn't it? Clive and Sharlene of Read The Article

---

Sampling Kampot Pepper From .pepper..field I'm sure I'm not alone in thinking that 'pepper is just pepper', right? Wrong! Kampot pepper is the only type of peppercorn in the world to have Geographic Indication protection Read The Article

---

Chutney, Relish & Piccalilli From The Northumbrian Pantry Northumbrian Pantry is husband and wife team, Alice and David Murray; David does the marketing stuff which leaves Alice to cook up the magic! The thing I love Read The Article

---

Sampling The Range Of Crisps From Listers Crisps Crisps are pretty much ingrained in the British psyche, right? They feature at kids parties, in bowls at gatherings and buffets, on bars in pubs...the list goes on and on, but you get the Read The Article

---

Trying Out The Range Of Granolas from Jemima's Deli Despite my best efforts, I didn't manage to visit all the traders I'd been in contact with prior to the Fine Food North Show, which left me feeling a bit glum as you can imagine. The Man Bird and I know Read The Article

---

Jams & Honey From Pen Y Bryn Apiary, Dolgellau I'm not great at accents, as has previously been proven by my describing a Scotsman as Irish (yes, really!) but there was no mistaking the lovely Welsh lilt coming out of Carys Edwards mouth, Read The Article

---