Sticky Beak Makes A Flock Visit To York #LoveYork
---
Published On Wednesday 18 Jan 2023 by Sticky Beak
See Recent Holiday Reviews | See All Recent Reviews


The Man Bird and I, and Mummy and Daddy Bird (when he was still with us) have all visited York previously, but we've never visited together so we decided that it was time to rectify that situation. Even the best laid plans sometimes go awry and poor Mummy ended up with a mobility issue that meant, as well as her customary stick, she needed a wheelchair if she was to be able to visit any attractions. Thankfully, I have a wonderful friend who lent me one, so that wasn't a problem for long.
We'd booked to stay at the DoubleTree by Hilton on St. Maurice's Road because it has a premium location, being in the city centre (literally just outside the iconic walls) and close to several restaurants. When we made the original booking we weren't too fussed about adjacent rooms or even close rooms, but obviously the situation had changed and we needed to be in near proximity to Mummy. His Nibs rang the hotel reception team, and they put a note on their system to facilitate our request as far as possible. Once we'd parked the car, luckily managing to grab one of the few spaces at the hotel itself (free for disabled Blue Badge holders), we went inside and Darina really couldn't have been more helpful – massive thanks go out to you, Darina!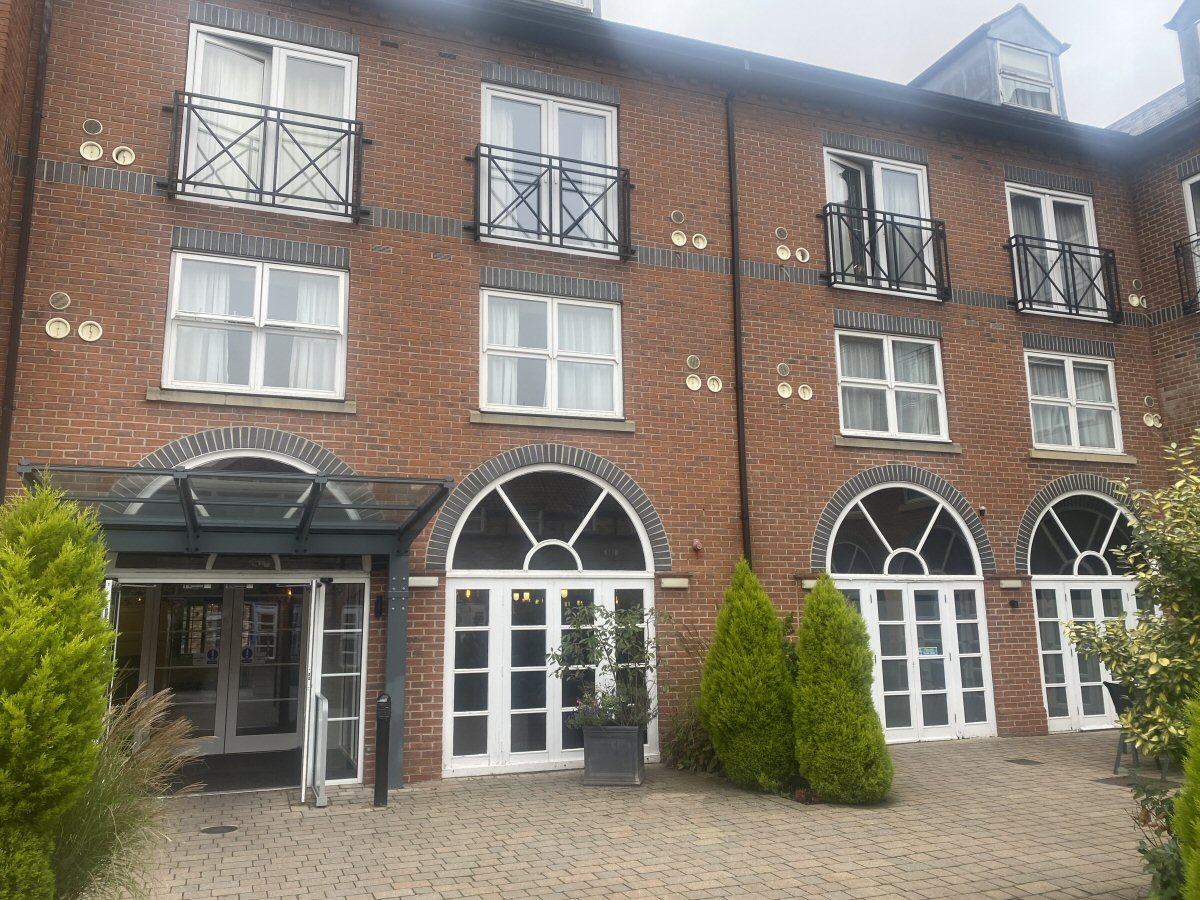 One of the best things, from our foodie perspective, about the DoubleTree by Hilton hotels is their custom of presenting you with a warm, gooey Choc Chip cookie for guests as they check-in. After a fair journey from The Nest, we were extremely grateful to tuck into these morsels. Mine and The Man's room was available for us to put our stuff into, but Mummy's wasn't so His Nibs literally popped all the bags and clothes into our room. We went into the sitting area and ordered a light lunch from the restaurant: Panini's for The Man and me, Potato and Leek soup for Mummy Bird, all of which were hot and filling. Whilst we finished off our pot of tea, His Nibs had a wander to the Visit York (aka Tourist Information) office at 1, Museum Street YO1 7DT, to pick up the pair of York Passes that they had very kindly gifted to The Sticky Beak Blog, and then we all went out to explore our first attraction in York, The Castle Museum.




If you are planning a visit to York, or know someone who is, then I really can't recommend getting a York Pass enough. They're dead simple to use and eliminate the need to carry cash around to pay for entry at attractions (with the added bonus that pass holders actually save ££ on tickets at participating venues). For those who want to see the maximum amount of the city, but can't - or don't want to - walk, then the York Pass also includes a city sightseeing bus ticket that's valid for an entire 24 hours! And if you fancy spreading your wings even further than York itself then the York Pass has a whole host of attractions to whet your adventurous appetite.




Just the outside of the Castle Museum looks stunning enough, but inside there is so much to do! Those with limited mobility are entitled to a reduced price ticket, which reflects the fact that not all the exhibitions are accessible to them. Undeterred, we wheeled Mummy around where we could, taking in the 'The Tiger Who Came to Tea', 'The Sixties' (which got Mummy reminiscing about when her and Daddy were courting), '1914: When the World Changed Forever', and Kirkgate – The Victorian Street. Each exhibition encourages interaction and Mummy and I tried on some bonnets in one of the 'shops' in Kirkgate. We spent so much time in The Castle Museum that we missed the cafe opening (!), but that was perhaps no bad thing as we needed to go back to the hotel and get ready to go out for dinner at Ambiente. (Read The Review)




After a superb evening meal what do you do? Yep, that's right; you head to the hotel bar for a night cap...or two! Fantastic service from the DoubleTree bar team, you brought our first day in York to a very pleasant conclusion.

There is no shortage of excellent cafes in the city to avail yourselves of breakfast in, but we went with the easy option of having it in the hotel, conscious of our circumstances. The breakfast team couldn't do enough for us and got us settled at a table with plenty of space for Mummy Bird, and whatever type of meal you like in the morning (cereal, pastries, toast, continental, fruit and Yoghurt, or full English) you'll find it here. Looking outside, we could see a sea of umbrellas, so Mummy said she would happily stay in the hotel, with a good book, at one of the window chairs and indulge in a spot of people watching whilst we headed over to the York Dungeon. If you've never visited this historical take on varying aspects of York's past then you really need to.




The actors that perform the stories at York Dungeon are brilliant, bringing them very much to life (or death, in parts!) and you, the visitor, are an integral part of the story! Both me and The Man became involved in trials, and I don't think there was a single member of our particular group that escaped participation. Memories will certainly be made here, let me tell you.




At St. Marys Church on Castlegate (next to the Jorvik Centre), currently, there is an 'Immersive Van Gogh Experience' and, even if art isn't really your bag, I would urge you to go and check it out. The entire church 'body' is host to the music-accompanied story of this significant artist and his many paintings and sketches are virtually-projected around all the walls. You don't have to wait to go in and see it, it's on a continuous loop and there were plenty of seats and deck-chairs arranged on both sides and in the centre of the space. Once we'd seen this part of the exhibition we went around and donned VR headsets (£3 each) to hear a more in-depth perspective of some of Van Gogh's more famous pieces. I don't think I've ever heard His Nibs so enthused about the arts!!




We headed back to collect Mummy Bird (after having a light lunch at the hotel again) because we were off to 'York's Chocolate Story' located at 3-4 King's Square, YO1 7LD. Wheelchair users can enjoy the full tour here and even get their creative Chocolatier hats on to make their own decorated chocolate lollipop. During the tour there is no shortage of cocoa-laden treats to munch on either; as well as Quality Street goodies and chocolate truffles, you get given your own bag: ours contained Kit-Kat, Cocoa Nib chocolate and a Mint Humbug (don't worry, all becomes clear on the tour about why the non-chocolate Humbug is included).When we'd finished our tour with the very lovely Gina, we headed down into the cafe for a well deserved Hot Chocolate – scrummy.




Despite the weather's best efforts to literally put a dampener on our plans, we'd had a full-on day exploring this beautiful city, so we were ready for our dinner at Los Moros! (Read The Review)




We had breakfast again at the hotel, followed by a very smooth checking-out experience (thank you again to this brilliant team), before making our way over to the historic, breath-taking, York Minster. As you would expect with a building of its size and age, there are works going on, but it didn't hinder our access, or experience, at the Minster in any way. Part of the lower levels were not available to us as wheelchair users, but there is a very nifty little open lift that lets those with mobility issues explore as much as is practically doable. Wherever we went in here, the staff were all so accommodating and friendly; I'd certainly recommend going to York Minster if you're in a wheelchair.




His Nibs and I had lunched at The Ivy on St Helen's Square YO1 8QP before, and really enjoyed it (Read Our Previous Review) so we had rung ahead and reserved a table, eager for Mummy Bird to experience it too. The floral blazer-adorned Maitre D'hôtel accompanied us to our table and saw that Mummy was comfortably settled before handing us over to our server, Alice. A pleasant lunch was had by all; Mummy had the famous Ivy Shepherd's Pie, the Man went for the Ivy Hamburger, and I opted for the Fishcake - we can heartily recommend all three dishes!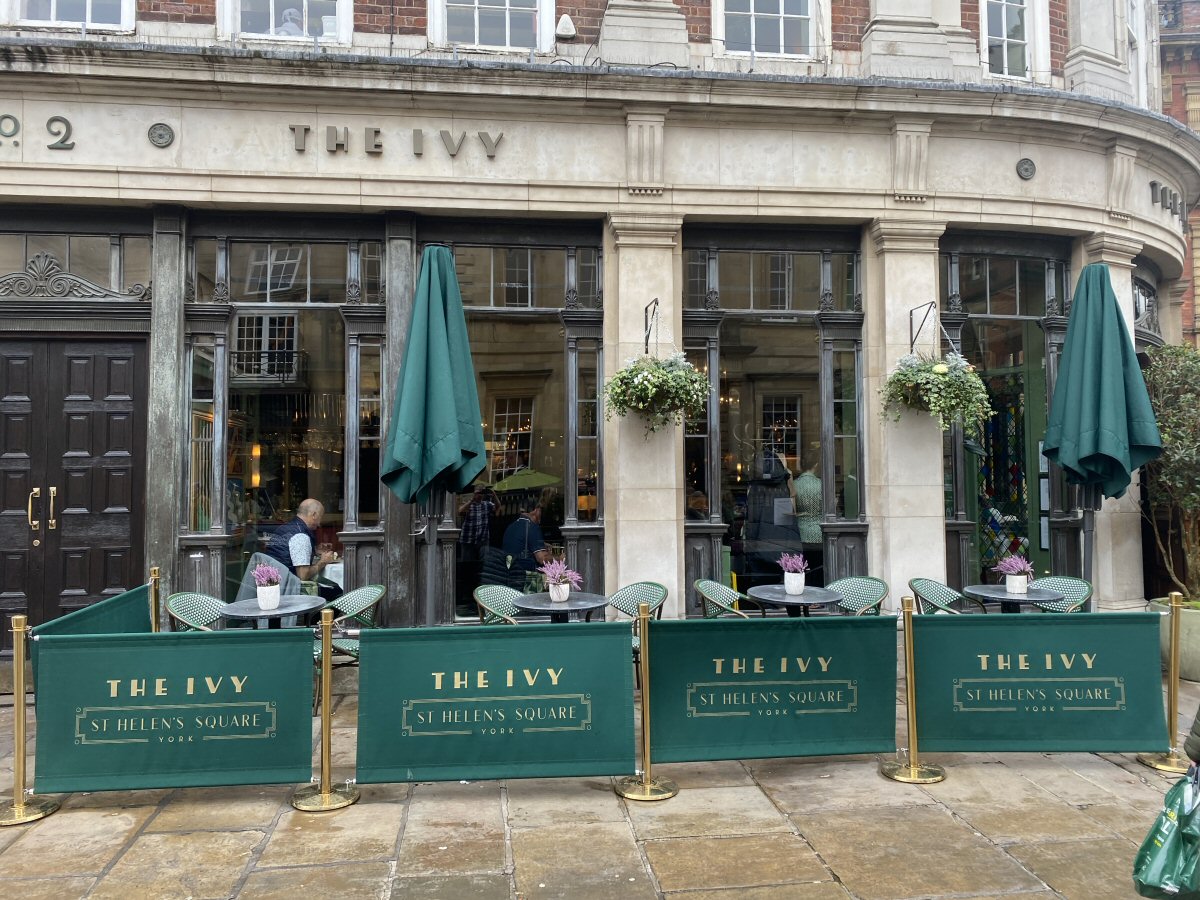 Our final stop on this mini-break was The Yorkshire Outlet, for a spot of retail therapy; well it would've been rude not to, don't you agree? The Man Birds' poor arms had stretched a couple of inches with the weight of the bags, but he couldn't wallow in his pity-party for one too long – he'd got to get us home safely back to the 'Shire!!

It's easy to see why York is such a popular location for day-trippers, short-breakers and holiday makers - domestic and foreign alike – because there's just so much to do and see! Many thanks for Visit York (don't forget to tag your social media posts! #loveyork) for arranging York Passes for His Nibs and me, it was much appreciated. Huge thanks also to everyone we encountered, you left us with a mega-positive impression of York and its residents; this flock will definitely be returning and we'll be telling our friends about our visit too.
No incentive was provided to visit this venue
read more
Read Some Of Our Recent Reviews
---

#NC500 Day 15 - Our Final Day Was Spent In Northumberland Normally I moan like heck about GB's ruddy bed; honest to goodness, it's impossibly soft and I've never managed to get a solid nights' sleep in it ever....until now!! Read The Article

---

#NC500 Day 14 - Edinburgh to Northumberland Via Holy Island Ooooooh, my poor tootsies had been sore from all the walking in Edinburgh - thank the lord for Palmer's Cocoa Butter Foot Relief and a superbly comfy bed that had afforded Read The Article

---

#NC500 Day 13 - Blair Atholl to Edinburgh And The Kelpies His Nibs and I both awoke refreshed and ready to get going for another days activity, thanks to the comfy bed at Ptarmigan House. Gordon (Lin's husband) was already sorting Read The Article

---

#NC500 Day 12 - From Inverness to Blair Atholl Via The Highland Folk Museum Aaaaah, that was better! Shame the traffic started in earnest about 6am though; wouldn't have been so bad if we hadn't got the windows open to help cool the room down. Mind you Read The Article

---

NC500 Day 11 - From Kinlochewe to Inverness With A Visit To Culloden Oooh, the bed at The Kinlochewe Hotel is a fibber! You sit on it and it tells you that you'll get a nice nights sleep in it, but you don't; instead it suddenly becomes very Read The Article

---

#NC500 Day 10 - From Gairloch to Kinlochewe (Via Bealach Na Ba - The Applecross Pass) Both of us had had a superb slumber at the Gairloch Hotel, and I'd had a relaxing soak in the large bathtub before bedtime as well, so I was definitely Read The Article

---

#NC500 Day 9 - From Lochinver To Gairloch Kirsteen (our host at Bonnie Haven) was up bright and early to ensure that we had a selection of cheeses, crackers and Ham on our table when we came down, and directed us Read The Article

---

#NC500 Day 8 - From Tongue to Lochinver With Caves, Bridges & A Zipwire Blimey, that was the best nights kip so far! If I could take the bed at Tigh-Nan-Ubhal back to the shire with me, I would. For once, when the alarm Read The Article

---

#NC500 Day 7 - From Scrabster to Tongue With A Detour Back To John O Groats What should've been a straight-forward onward journey to Tongue, actually had a bit of Deja-vu to it! Thanks to us not realising the Castle of Mey and Gardens is Read The Article

---

#NC500 Day 6 - Helmsdale To Scrabster Via John O Groats Warm Croissants, Blueberry Muffins, a Full Fry-Up (Him), and Avocado, Cherry Tomato, Poached Egg and Mushroom on Toast (me) got The Man Bird and I off to a flying start on what was Read The Article

---