Making Gin At The 45 Gin School
---
Published On Wednesday 5 Aug 2015 by Sticky Beak
See Recent Experience Reviews | See All Recent Reviews


Regular readers of this blog know just how much I love food, but I also quite enjoy a cheeky tipple or two as well. Part of the fun of doing this blog is getting to try a huge variety of different foods in different locations, as well as receiving produce to review from food and drink producers. Lindsey's Still Rooms kindly sent us some of their products to try a while back ( utterly fantastic by the way dear reader ), and then the other week we received a totally amazing email from Lucy at the 45 Gin School inviting us to a bloggers evening to make our own unique Gin. Of course The Boy Wonder and myself were hopping round our little nest with glee as I'm sure you can imagine, and I think it only took 0.00000001 of a second to accept the kind invitation!
Anticipation was growing as the days passed until yesterday, when the day arrived and we set off on the flight to their location in the glorious Leicester countryside. When we arrived we were greeted with huge smiles and warm handshakes from the Gin School team and handed a Tom Collins cocktail made with their own Burleighs Gin (which contains no less than 11 botanicals to create its flavour). It wasn't long before we were joined by the other equally enthusiastic bloggers invited along that evening.
Jamie Baxter (the Master Distiller at 45 Gin School) introduced us all to " Messy Bessy", their copper still where all the magic is made before going on to explain what makes Gin Gin and all the various regulations surrounding it. There are 3 portions to a distillation; Heads (methanol), Hearts (the good stuff) and Tails (lower % alcohol that goes back into the still for the next distilled batch). The bit I remember is that there are 3 grades of Gin: Compounded (the lowest grade), Distilled, and finally London/London Dry Gin (the highest grade). I paid very close attention however when we were talked through all the characteristics and properties of the various botanicals and what quantities to use them in. There are a plethora of gins on the market suiting all tastes/taste buds, but Jamie impressed on us that the finest ones all have Juniper in (which is a requirement of gin and it must be the predominant flavour) and also Coriander seed. Everything else (apart from the fixatives of Angelica root and/or Orris powder) is very much down to interpretation and personal preference.
So without much more ado it was into the still room and taking our seats at our work benches. In front of each seat was a mini copper still and condenser unit, along with a Pyrex beaker in which to collect the infused distillate. We could easily have been back in the Chemistry labs of our school days, but with a much, much cooler Teacher. Apparently the Methanol (which evaporates first in the process) tastes very nice but too much will make you blind. As the name of this blog suggests though, I have a very sticky beak and couldn't resist just trying a tiny bit of the Methanol! The Boy Wonder went to collect the botanicals that he wanted in his Gin, Jamie advised us that most Gins contain 20g of Juniper berries and normally 3g of Coriander Seeds and then whatever amounts (varying from a pinch to ½ teaspoon) of the other ingredients you select. He advised caution with Sage and Star Anise as they are very overpowering. His Nibs wanted to produce a spicy, smoky tasting Gin whereas I wanted my final product to have a sweeter floral, honeyed flavour so we both chose differing botanicals.
When we had collected 400ml of distillate we all turned our stills off and then added 300ml of purified water to produce the 700ml required for a standard bottle of Gin. A quick mix of the water and alcohol allowed us to measure the alcohol by volume produced; my Gin was 42.5% abv, The Man Birds was just slightly higher at 42.9% abv. After we bottled our Gin it was into the back room to seal the bottle and put our own labels on them.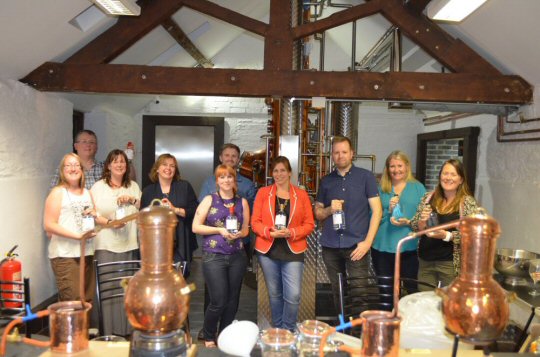 Throughout the evening Lucy kept coming round enquiring if we would like Gin and Tonics, and it would've been rude to refuse wouldn't it?. We had a group photo taken of us all proudly clutching our creations and thanked our hosts profusely for such a wonderful evening. Jamie had talked all evening regaling us with Gins rich history as well as furnishing us with tales of his career in the various distilleries, and had the most fantastic sense of humour.
They do run "The ultimate experience for Gin lovers" that costs £90 per person (discounts for group bookings), which is what we experienced and I have to say it's really good value for money. It would make a great present for friends or family that enjoy Gin or Chemistry, and I think it would a great thing to do for a Hen Party or maybe a small wedding party as you get your individual labels to commemorate your experience.
It was a marvellous way to spend an evening, one that I can whole-heartedly recommend. For further details please visit their website, or tweet them or get in touch via Facebook. Get in Touch
Some form of incentive was provided to visit this venue
read more
Read Some Of Our Recent Reviews
---

A Summer BBQ At Melbourne Hall Gardens With Gennaro Contaldo And Matt Pritchard A few weeks ago we were approached to see if we'd like to go to a Summer BBQ in Melbourne Hall's famous walled garden; of course, we said yes Read The Article

---

Classic Dishes Made Vegan at Coghlans Cookery School There must be something in the air to do with me and Vegan food at the minute because His Nibs and I have recently visited the Vegan Revelation cafe, and then I received an invite to the Read The Article

---

The Summer Picnic Class at Coghlans Cookery School I'm just going to come right out and say it; I made some goddamn sexy food at Coghlans Cookery School the other day! Yes, me. I did it! Ok, so it wasn't a solo effort Read The Article

---

Easter Egg and Chocolate Truffle making at Coghlans Cookery School You all know that I love attending the classes at Coghlans Cookery School, so I was very excited to get an invite to the Easter Egg and Chocolate Truffle making Read The Article

---

Portuguese Cooking at Coghlans Cookery School, Stancliffe Hall There's nothing I love more than spending a few hours at Coghlans School of Wine, Food and Dining at the beautiful Stancliffe Hall. Jordan North has Turf Moor as his Read The Article

---

A Day Of Tuscan Cooking At Coghlans Cookery School I was, once again, back in my happy place; Coghlans School of Wine, Food and Dining. This time I was here to do a full day cookery course, something I have Read The Article

---

A Sunny Afternoon At The Fuddy Duck Brewery, Boston, Lincolnshire The Man Bird and I had gone to visit friends in Lincolnshire and they wanted to show us the local brewery where our Christmas present from them (Gin) had been made. Read The Article

---

Trying Out The New Moroccan Cookery Course At Coghlans Cookery School Once again, the lovely team at Coghlans School of Wine, Food and Dining had kindly invited me along to one of their fab half-day cookery classes; this time it was Read The Article

---

An Indian Cookery Class at Coghlans School of Wine, Food and Dining Both The Man Bird and I have had our first Covid vaccinations and been out to eat, so when the invitation to attend a half-day Indian Cookery class at Coghlans. Read The Article

---

Chocolate Truffle Workshop At Coghlans Cookery School, Darley Dale Clearly my mischief battery needs recharging, as I got asked back to Coghlans Cookery School in the grounds of Stancliffe Hall!! I'd been in the swanky all-singing, Read The Article

---