Jams & Honey From Pen Y Bryn Apiary, Dolgellau
---
Published On Monday 1 Nov 2021 by Sticky Beak
See Recent Food Producer Reviews | See All Recent Reviews


I'm not great at accents, as has previously been proven by my describing a Scotsman as Irish (yes, really!) but there was no mistaking the lovely Welsh lilt coming out of Carys Edwards mouth, it was as sweet as the honey produced by her bees. As well as farming, Carys has 120 (!!!!) bee hives to look after – she would like to double that number too! In addition to producing raw honey, Carys also makes a range of jams, preserves and marmalade with honey in, and very kindly gave me a jar each of the marmalade, Strawberry jam, and Gooseberry jam to take home and sample.
Whilst I was stood nattering away to her and taking in the atmosphere at the Fine Food North show I tried some of the Gooseberry jam on a piece of Welshcake and it was delicious; the smoothness of the honey came through first and then the cleaner, tarter notes of the fruit crept up on my palate. I thought the balance of the two elements was perfect and couldn't wait to see what the marmalade was like. I was planning on combining this with some Peanut Butter on my croissant, but thought I'd best try some on its own for the purpose of the blog review...any excuse to eat another croissant. This food reviewing malarkey is such hard work – not!! Personally I like my marmalade to have some 'chunk' to it, so I was a very happy birdie to see that Carys includes plenty of peel from the Seville bitter Oranges she uses in this beautiful item. As with the Gooseberry jam, there was a superb balance between the fruits' zing and the rounded mellowness of the honey; sometimes mass-produced jams and marmalades make my teeth 'chatter' because they're overly sweet, but this morsel didn't – it did make my taste buds dance with glee though.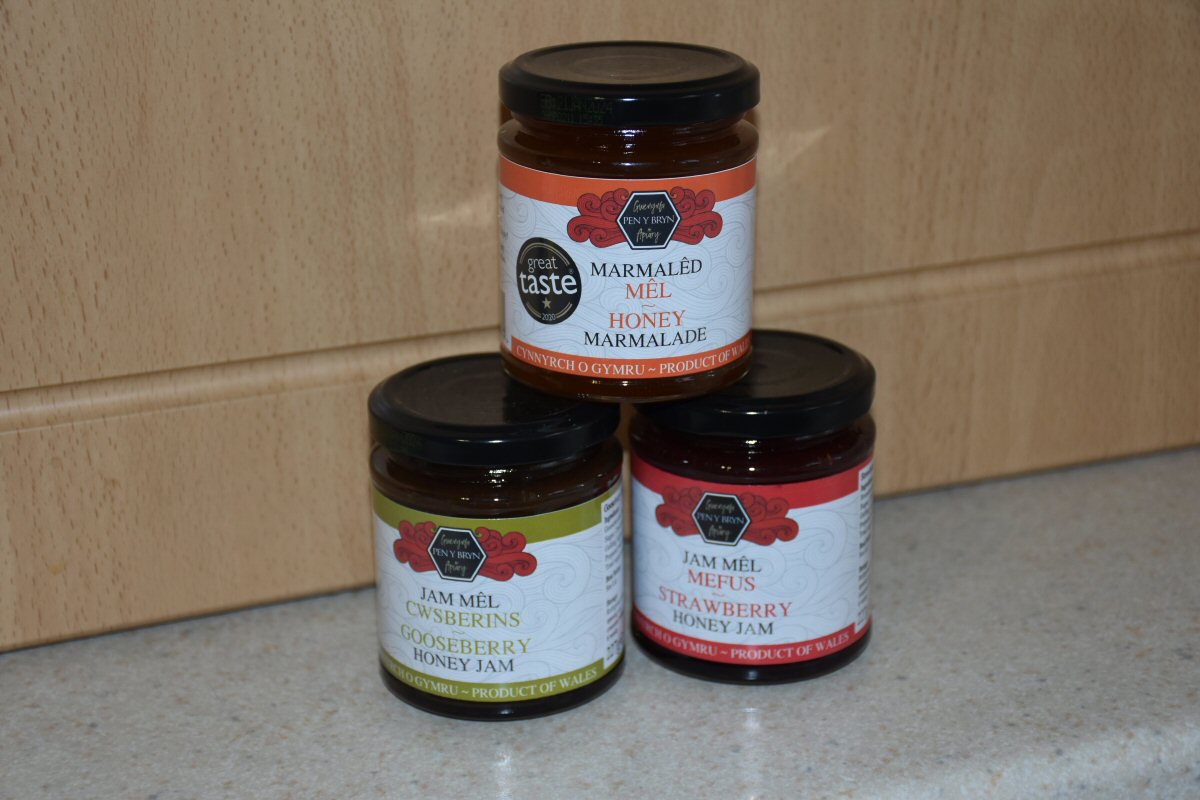 After the deliciousness of the marmalade and Gooseberry jam, I couldn't resist having some of the Strawberry jam on a slice of toast for a mid-afternoon snack – purely to keep my energy levels up whilst I was working, you understand! The Man Bird joined me and we both said how fruity this was; the honeys' natural character seemed to intensify the bounce of the Strawberry. This was far superior to anything we'd tasted before, and has certainly gone into our 'favourite' pile. Another thing we really liked was the amount of fruit you could actually see in the jam – way more than even the 'best' extra fruit, mass produced ones. I suppose I ought to confess at this point to my extra bit of sneaky gluttony... when His Nibs had gone back to his desk I popped a slice of sourdough into the toaster and slathered some of the Gooseberry jam on it. It's a hard life sometimes!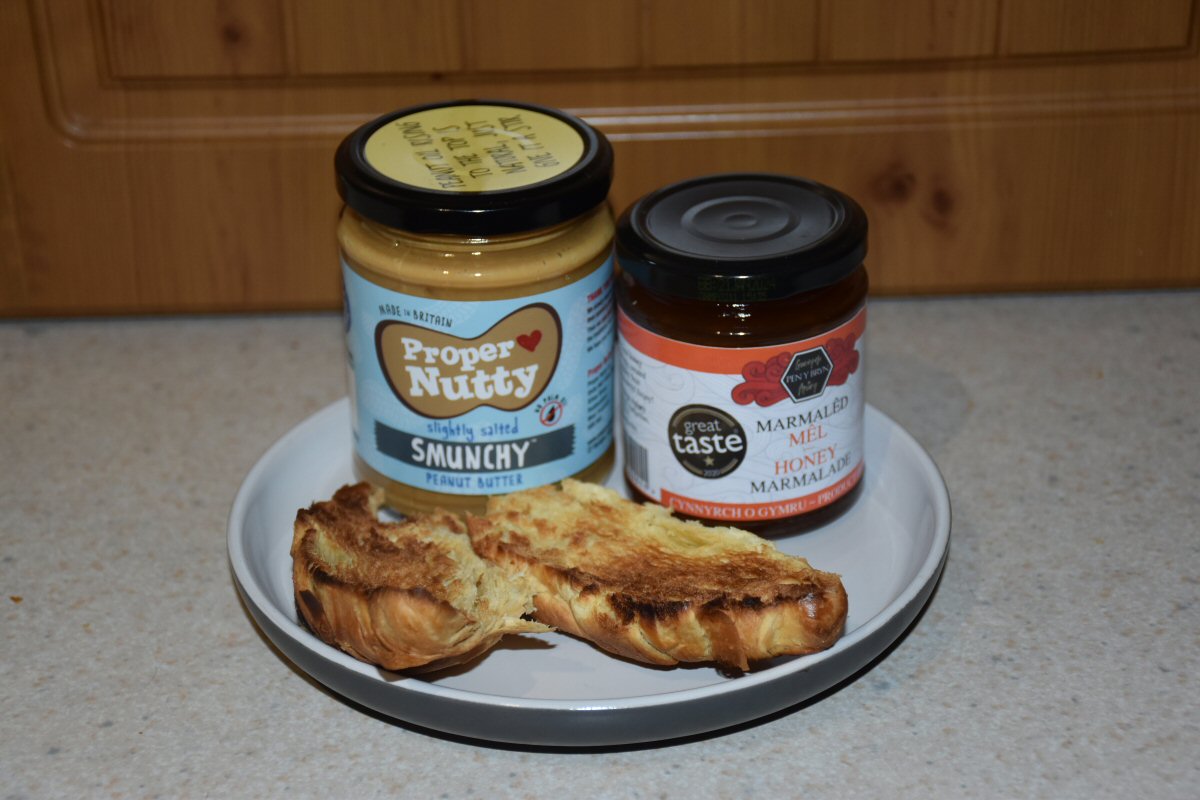 For more information, head to www.penybrynhoney.com or check out the Facebook page: pen y bryn apiary.
Kat and Sophie are the producers of Proper Nutty, the UK's only 'Smunchy' Peanut Butter. It's not completely smooth, it's not coarsely crunchy, it's Smunchy: somewhere in the middle, with a fine texture to it. Best of all, there are no nasties in this morsel; just nuts in the 'nowt but nuts' type and peanuts and sea salt in the slightly salted version.Smunchy is Gluten free, Palm oil free, vegan friendly and great taste award winning – not bad, eh?. When you haven't got all manner of chemicals and preservatives in you really get the full flavour of the peanuts coming through, which means you don't need to use as much of it; not that this made me anymore restrained in the amount I slathered on to my Croissant! Now, if you're like me, standard jars of PB don't last 5 minutes ( I like to blame the dog and his PB treat habit, but really it's me being a little PB piggy!) so rejoice fellow ' peanut butter nutters' when I tell you that you can also get your greedy little paws on 1kg tins of this glorious stuff. Hallelujah! For more info contact them at hello@propernutty.co.uk
Some form of incentive was provided to review this product
read more
Read Some Of Our Recent Reviews
---

Sampling The Ras Malai Cake For Ca.ake Aisha of Ca.ake and her husband were one of the first stands I sought out at the Fine Food North show in Harrogate, as I couldn't wait to try her Ras Malai Cake.I like Ras Malai anyway Read The Article

---

Trying Out The Brownies From Woods Brownie Co. Kenneth and Ashleigh from Woods Brownie Co. tempted me with their wares at the Fine Food North show who can resist a Brownie? Not me, for sure!! I couldnt resist Kenny's Read The Article

---

Sampling Coffee From Frazer's Coffee Roasters I first met Frazer at Fine Food North literally a couple of weeks before lockdown 1.0 and he gave me some of their 'Steel City' blend to try back then which, by the way, is an absolute bobby dazzler! Read The Article

---

Whisky Tasting With Great Drams Great Drams is the brain-child of husband and wife team, Greg and Kirsty Dillon, who I had the pleasure of meeting at the Fine Food North Show in Harrogate. What Greg doesn't know about Whisky Read The Article

---

Sampling The Biltong From Biltong Boss Having never tasted Biltong before I have to admit I was expecting it to be a bit like Jerky which, let's be honest, has a bit of a rep as being tough, doesn't it? Clive and Sharlene of Read The Article

---

Sampling Kampot Pepper From .pepper..field I'm sure I'm not alone in thinking that 'pepper is just pepper', right? Wrong! Kampot pepper is the only type of peppercorn in the world to have Geographic Indication protection Read The Article

---

Chutney, Relish & Piccalilli From The Northumbrian Pantry Northumbrian Pantry is husband and wife team, Alice and David Murray; David does the marketing stuff which leaves Alice to cook up the magic! The thing I love Read The Article

---

Sampling The Range Of Crisps From Listers Crisps Crisps are pretty much ingrained in the British psyche, right? They feature at kids parties, in bowls at gatherings and buffets, on bars in pubs...the list goes on and on, but you get the Read The Article

---

Trying Out The Range Of Granolas from Jemima's Deli Despite my best efforts, I didn't manage to visit all the traders I'd been in contact with prior to the Fine Food North Show, which left me feeling a bit glum as you can imagine. The Man Bird and I know Read The Article

---