A BBQ Pack By Post From Birds Bakery In Derby
---
Published On Friday 30 Jul 2021 by Sticky Beak
See Recent Food Producer Reviews | See All Recent Reviews


A hot (Beak) summer means only one thing: BBQ time!!! Our friends at Birds Bakery in Derby are all over this, folks, with their much-loved butchery department recently launching all sorts of fab morsels, and they kindly sent us an assortment to try out.
Now I know this might seem stupid to some, but I was really impressed with the packaging that our treats arrived in; the pair of sturdy cardboard boxes had swanky 'Birds Bakery' logo tape to seal them and then inside there was some fab space-blanket type insulation and dinky freezer pockets to keep it all the items in tip-top chilled delivery condition. Perfect.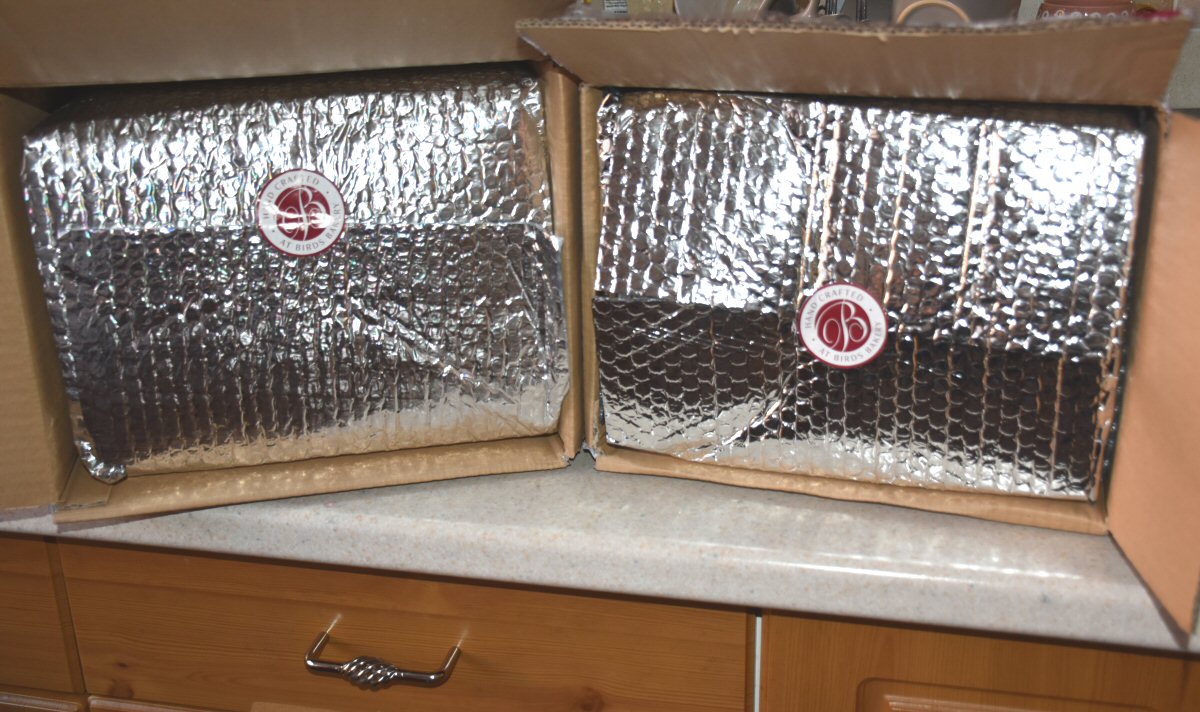 In one box there were some burger rolls, hot dog rolls, a whole Pork Pie and a quartet of savoury jams and chutneys to accompany the selection of burgers and sausages that were contained in the other box. Close inspection revealed that we were the very lucky recipients of Beef-, Lamb and Mint-, and Pork and Apple burgers, as well as a large pack of huge Pork sausages. It's no secret that The Man Bird and I have voracious appetites but even we were going to be hard-pressed to finish all this yumminess, so we called in reinforcements i.e. Mummy Bird and Fledge!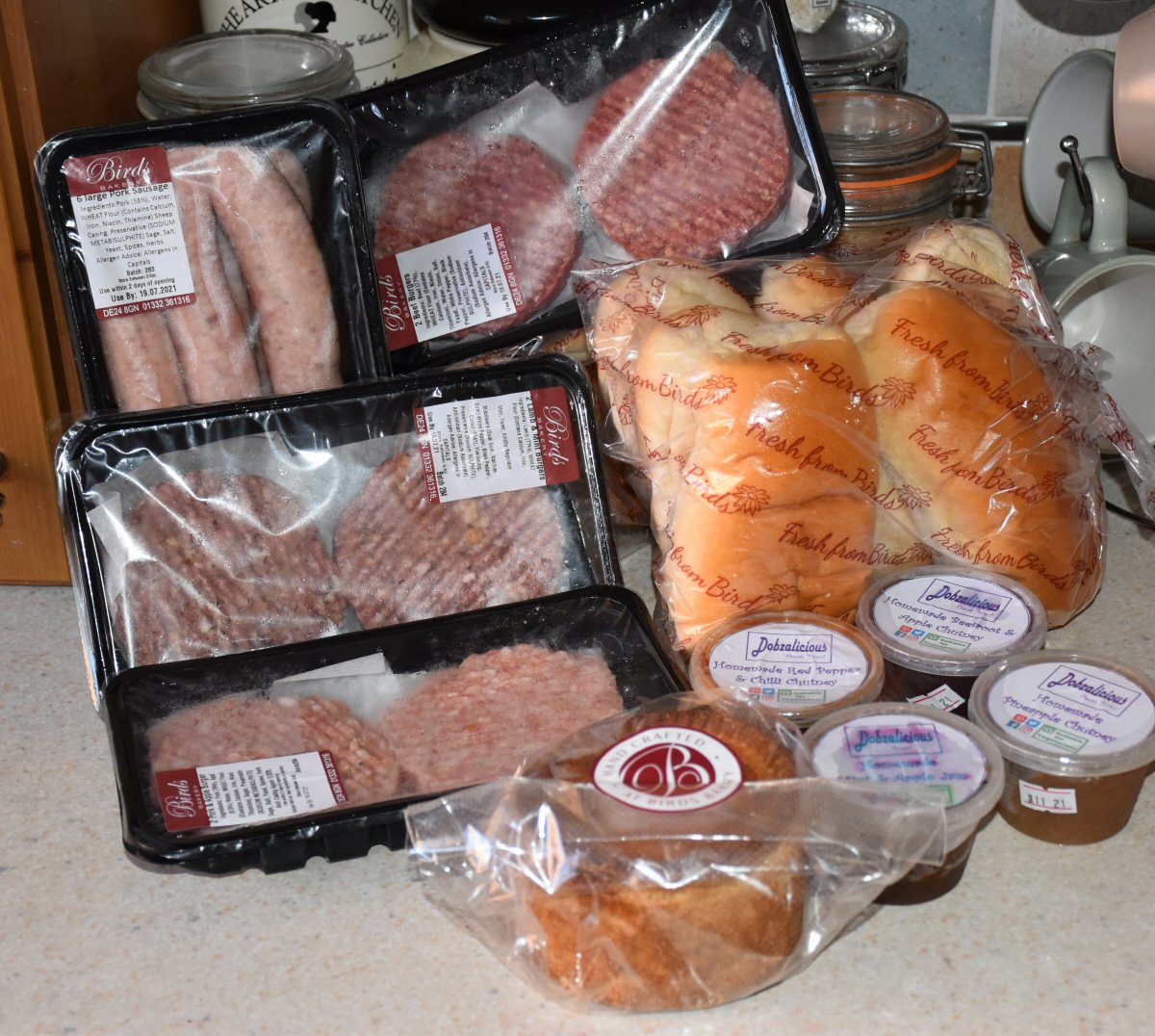 Modelling his 'License to Grill', Bond-inspired apron, His Nibs stood majestically at the helm of his beloved BBQ, donning all the tools of his trade and carefully placed all the burgers and sausage on the metal racks to cook. Meantime, I busied myself with slicing the bread and decanting the dips from their individual pots into our serving vessels; there was Pineapple Chutney, Beetroot and Apple Chutney, Red pepper and Chilli Chutney, and Mint and Apple Jam to savour, all of which are homemade and provided a gorgeous assortment of colour on the table.




Whilst the meats were sizzling away (and making our mouths water and tummies grumble with their intoxicating aroma!), I sliced the Pork Pie into segments and passed them around the table so that we could begin the fun. I spooned a good dollop of the Beetroot and Apple Chutney on my wedge and tucked in; the nicely chunky chutney's colour popped against the paler pie and I liked how its earthy notes and sharper tones partnered the seasoned pork pie. Now I 'm a bit fussy when it comes to Pork Pies; I don't like too much jelly, but neither do I like it completely dry, and I like drier pastry surrounding it all, but not rock hard, sawdust dry – just right: a hint of moisture, not soggy. I'm pleased to say that the Birds Bakery morsel was hitting the spot for me, and Mummy Bird was in agreement. The Man Bird had walloped some of the Red Pepper and Chilli Chutney on his Pork Pie and loved the spiciness it brought; a good kick but not enough to have the lips tingling was how he described it, and when I tried a bit I thought that was perfect description.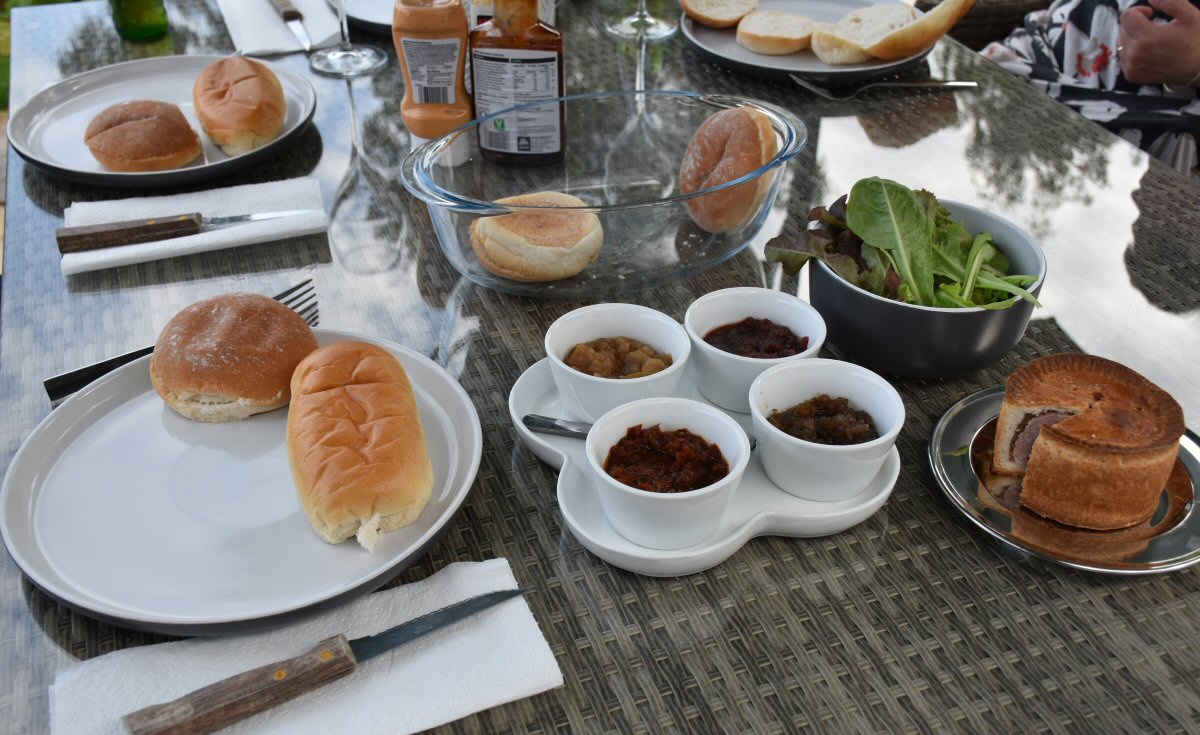 A short while later, His Nibs was swooping over to the table like some food-providing deity, master of all he dished out and we quickly housed the burgers and sausage in their respective bread buns. Fledge is a classics lover, so she homed in on the meaty Beef Burger, sighing happily as she took her first bite into it; this minx had a superb depth of flavour to it and a pleasingly dense texture that gave it a high score on the bite-o-meter. Equally fab was the Lamb and Mint version that I was busying myself with! This sweetheart had a sublime sweetness to it (courtesy of the succulent Lamb), but there was a fresh, clean note to it as well from the Mint which was lovely in the mouth. I decided to enhance the herb edge by popping some Mint and Apple Jam on top of the patty; what I loved about this condiment was its thickness - no slopping out the side of the bread cob here, it stayed put brilliantly! The sweet orchard fruit pinged nicely against the meat and Mint, leaving my palate feeling very happy.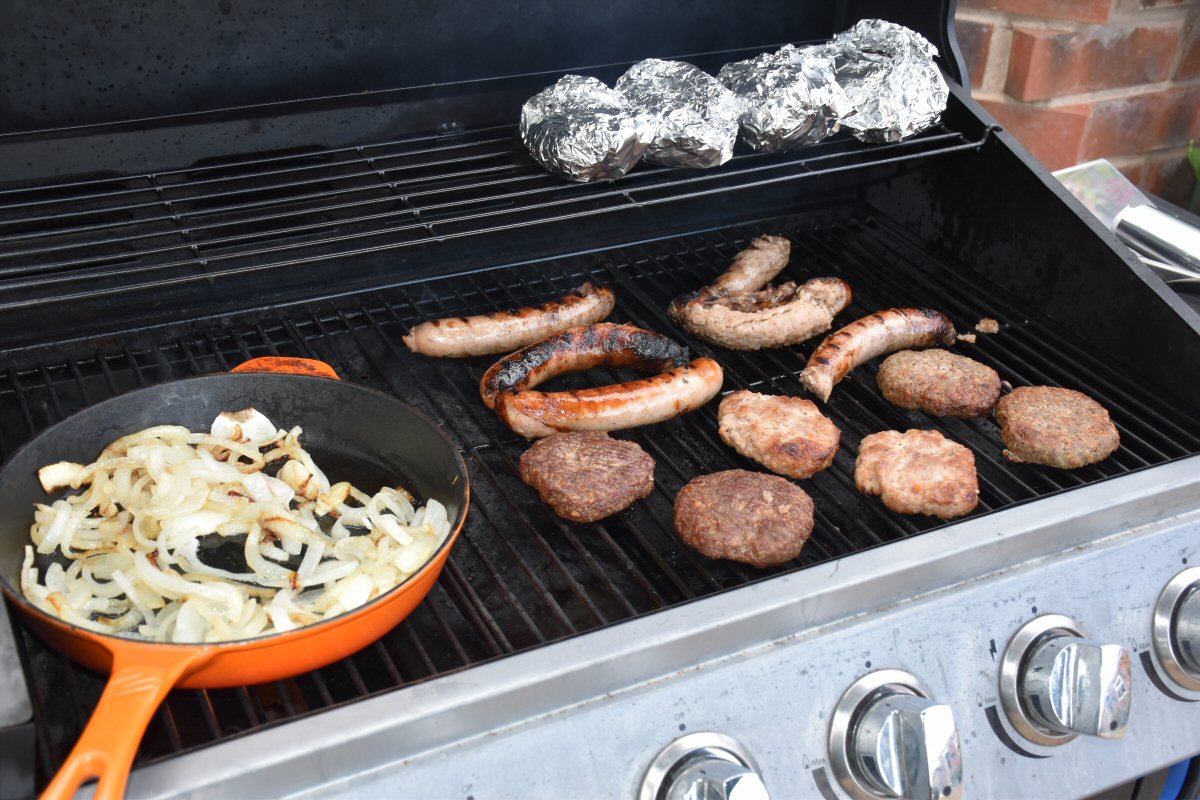 Mummy Bird and His Nibs had both opted to try the Pork and Apple burgers and both commented on its lovely mild, creamy taste and bite-satisfying density. The Man is like me in that he likes a sauce or similar on his burgers, so he reached again for the Red Pepper and Chilli Chutney.

Regular readers of the blog will know what a fussy critter I am when it comes to Sausage, so I will be totally honest and say that I wasn't expecting too much with this particular morsel; not because it was from Birds, but because that's just what I'm like! Yet again, my pride took a knock; I really should have learned by now that assumption is the mother of all cock-ups, shouldn't I? Birds do a cracking sausage, and coming from me that is one heck of a compliment. I was instantly smitten by the texture of this product: it wasn't overly 'wet', but wasn't dry and chewy either, and I loved the fact that it wasn't particularly herbed or strongly seasoned. Those of you who have a penchant for Lincolnshire or Cumberland sausage might find that you want something 'more', but for me and The Flock it was perfect. I wanted to give it a bit of summery zhuzh, so I wanged on some of the fabulously fruity Pineapple Chutney and relished the chunkiness of it against the smooth texture of the sausage. Mummy Bird had chosen to pop some of the Beetroot and Apple Chutney on her sausage, and said that this was a lovely combination.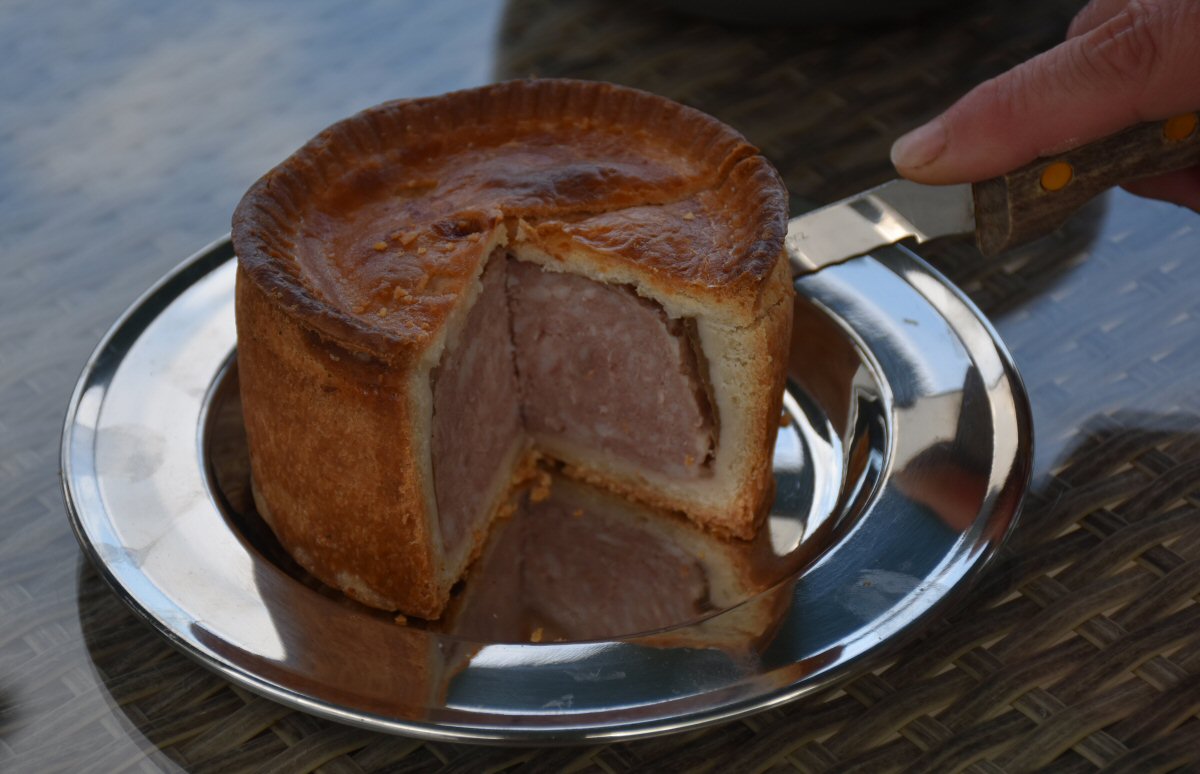 As well as the Sausage and Burgers combo that we were fortunate enough to be gifted, Birds Bakery also does Lamb Kebabs, Pork Kebabs and Pork Steaks as part of their BBQ range, so there really is something for everyone. If you are lucky enough to live within a 15 mile radius of their Derby bakery (on Ascot Drive) then you can take advantage of the 'At Home' delivery service which is free with orders over £20 (From 1st August 2021) and £5 for orders under that value. This is offered Tuesday-Friday between 9am-5pm.

If you live further afield, don't despair; Birds by Post (UK delivery only) gives you the opportunity to purchase the BBQ packs and have them delivered - please allow 2 working days for them to arrive (posted Tuesday-Friday). The postal option has delivery charges included in the pack price, so you know exactly what you're getting. Hot wings (BBQ ones, specifically!) given to this lovely local business, and many thanks for your generous gift to us.
Some form of incentive was provided to review this product
read more
Read Some Of Our Recent Reviews
---

Sampling The Ras Malai Cake For Ca.ake Aisha of Ca.ake and her husband were one of the first stands I sought out at the Fine Food North show in Harrogate, as I couldn't wait to try her Ras Malai Cake.I like Ras Malai anyway Read The Article

---

Trying Out The Brownies From Woods Brownie Co. Kenneth and Ashleigh from Woods Brownie Co. tempted me with their wares at the Fine Food North show who can resist a Brownie? Not me, for sure!! I couldnt resist Kenny's Read The Article

---

Sampling Coffee From Frazer's Coffee Roasters I first met Frazer at Fine Food North literally a couple of weeks before lockdown 1.0 and he gave me some of their 'Steel City' blend to try back then which, by the way, is an absolute bobby dazzler! Read The Article

---

Whisky Tasting With Great Drams Great Drams is the brain-child of husband and wife team, Greg and Kirsty Dillon, who I had the pleasure of meeting at the Fine Food North Show in Harrogate. What Greg doesn't know about Whisky Read The Article

---

Sampling The Biltong From Biltong Boss Having never tasted Biltong before I have to admit I was expecting it to be a bit like Jerky which, let's be honest, has a bit of a rep as being tough, doesn't it? Clive and Sharlene of Read The Article

---

Sampling Kampot Pepper From .pepper..field I'm sure I'm not alone in thinking that 'pepper is just pepper', right? Wrong! Kampot pepper is the only type of peppercorn in the world to have Geographic Indication protection Read The Article

---

Chutney, Relish & Piccalilli From The Northumbrian Pantry Northumbrian Pantry is husband and wife team, Alice and David Murray; David does the marketing stuff which leaves Alice to cook up the magic! The thing I love Read The Article

---

Sampling The Range Of Crisps From Listers Crisps Crisps are pretty much ingrained in the British psyche, right? They feature at kids parties, in bowls at gatherings and buffets, on bars in pubs...the list goes on and on, but you get the Read The Article

---

Trying Out The Range Of Granolas from Jemima's Deli Despite my best efforts, I didn't manage to visit all the traders I'd been in contact with prior to the Fine Food North Show, which left me feeling a bit glum as you can imagine. The Man Bird and I know Read The Article

---

Jams & Honey From Pen Y Bryn Apiary, Dolgellau I'm not great at accents, as has previously been proven by my describing a Scotsman as Irish (yes, really!) but there was no mistaking the lovely Welsh lilt coming out of Carys Edwards mouth, Read The Article

---