An Afternoon Tea Buffet Platter From Crazy Cooks Caterers
---
Published On Thursday 22 Oct 2020 by Sticky Beak
See Recent Food Producer Reviews | See All Recent Reviews


The Man Bird and I really have to pinch ourselves sometimes at our good fortune, we really do. Cheryl and Sara, the ladies behind Alfreton-based business Crazy Cooks Caterers, got in touch to ask if we fancied sampling their Buffet / Afternoon Tea platter, and needless to say we jumped at the chance! Now it's not often I'm lost for words but when they turned up at the nest to deliver the yummy treat, I gasped at the sheer size of it – and there was also a bowl of crisps and cans of traditional cloudy Lemonade (an extra treat from Cheryl and Sara) to try and get through the door too!
As well as delivering to the local Alfreton area (included in the price of the platters they do), Cheryl and Sara will also deliver further afield for a small charge, or you can arrange to go and collect your order from their base at Alfreton Town Football Club, where they've been for 7 years (all the while maintaining a 5-star hygiene rating!).In common with many sports venue-based ventures, when Covid stopped all fixtures the footfall at the club basically dropped off a cliff-edge, so the gals had to put their thinking caps on pretty quick-smart to stay afloat.

Crazy Cooks Caterers were well used to providing outside catering for various functions, so it seemed logical to do it on a more personal, domestic scale. Between them, Cheryl and Sara have more than 25 years experience in the trade and this is what has stood them in such good stead during this unprecedented time. There is basically nothing that this dynamic duo can't cater for; vegetarian and vegan options are available on many of their offerings upon request.

Both their sweet and savoury platters range priced £10 - £20, depending on the size you require. Examples include the Fresh Fruit Platter and Sweet treats Cake platter (both a tenner), the Homemade Scotch Egg Selection, Camembert Platter, Pizza and Chicken Dipper Platter (all £15 each) or the Mozzarella, Olive and Sundried Tomato Skewers, Mediterranean Platter and Cheese Platter – all priced at £20. Smaller offerings are the Gluten Free Cookie Dough Cupcakes and Homemade Scones (5 types to choose from!), both priced at £5 for 4.




Anyhow, His Nibs and I were sampling the Buffet/ Afternoon Tea platter (£20) which comprises a selection of Sandwiches, Sausage Rolls, Pork Pie, Salad, Cakes, Scones (with fresh Clotted Cream and Jam), a selection of Homemade Cakes and some thick-cut Crisps. It took all of our will-power not to chomp at any of the scrummy morsels before we'd taken the necessary photos – but we just managed to do it!

The sandwiches were all cut into neat triangles and there was a mix of white and wholemeal bread to savour – both of which were super-fresh and springy in our hands. We'd gone for a mix of Farmhouse Ham, Egg Mayonnaise, Tuna Mayo and Mature Cheddar in our sandwich selection and I kicked off with a Tuna morsel, whilst The Man plumped for the Farmhouse Ham.

I loved the Tuna Mayo wholemeal sandwich; it was superbly filled and wasn't too wet thanks to there being a perfect balance of Mayo and Tuna mixed together. His Nibs loved how thick the slices of Ham were and the amount of taste it had – no water-injected, slimy, insipid 'ham' here: this was the real deal. Cheryl and Sara had absolutely crammed the white bread with this meaty treat and it wasn't thickly spread with butter or margarine either, so you really did get the full impact of the hams' flavour in the mouth.

Texture is such an important factor in the enjoyment of food, stimulating lots of sensory nerve endings on the lips, within the mouth and on the tongue that we perhaps don't always appreciate. Sara and Cheryl have clearly done their research on how to give their customers the best all-round gastro experience and have decided to coarsely grate the cheese in their sandwiches. Not only does this seem to intensify the taste of the Cheddar, but it really does maximise the enjoyment as you chew this treat in your mouth. The cheese itself had a superb flavour to it, and its tang wasn't dampened by the use of too much butter or margarine; I know this seems a really pedantic point to make, but it's something that I particularly notice so I'm bringing it to your attention too!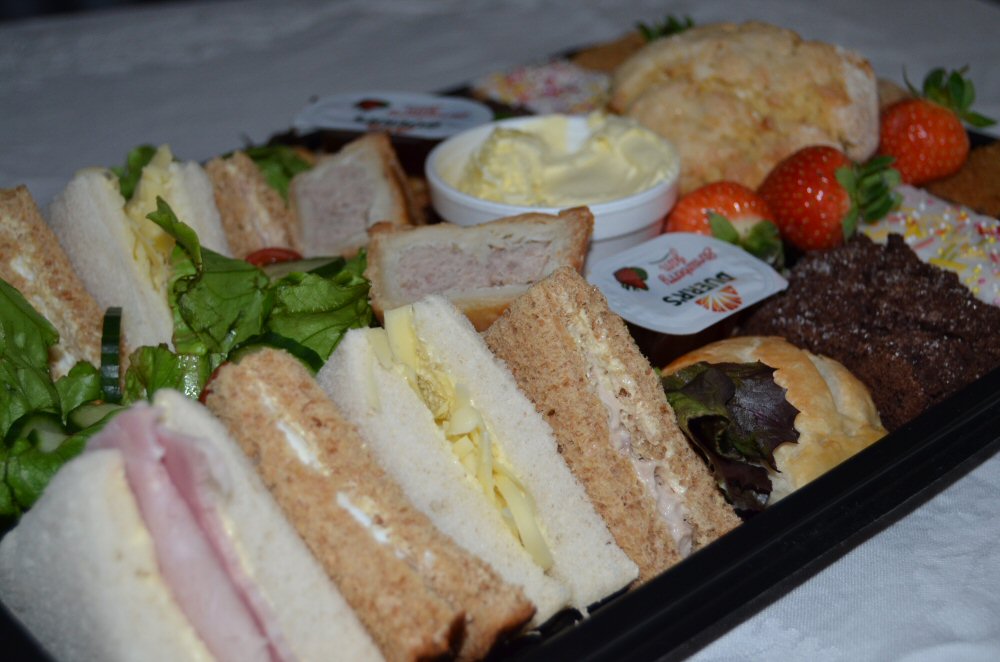 The last sandwich we tucked into was the Egg Mayonnaise and this was lovely too. Now much as I love Egg Mayo, sometimes it can be a bit bland, do you know what I mean? The mild flavours of the egg and the mayonnaise just need a bit of zhuzh, and Crazy Cooks Caterers have come up with the goods on this front, too. There was all the soft comfort and creaminess that fans of this sandwich classic love, but at the end there was just a hint of something that lifted it on the palate. I thought I detected that tell-tale 'sourness' of Salad Cream right at the periphery of the taste; whatever it was, it just gave that final flourish that was delicious to savour.

We'd been steadily munching away at the cracked Black Pepper and Salt crisps alongside the sandwiches and they were very yummy in their own right, but it was nice to see that this 'mere' accompaniment was top quality too. The same high standard applied to the mini sausage rolls as well; they had beautifully buttery flaky pastry outers that surrounded a good quality (i.e. low repeat factor!) sausage meat.

I've never been a huge fan of pork pie (much to Daddy Bird's shame!) but even I thought the mini morsels that Sara and Cheryl carefully halve and serve in this platter were nice and tasty. There was a good amount of meat in the bottom and, happily, just a smidge of that jelly stuff that always makes me shiver when I eat it (!). We also thought that pastry case was superb, and in proportion to the other elements of the pork pie.

You all know what a salad dodger His Nibs is, so it fell to me to chomp the fresh salad - no hardship at all, as I love the stuff. There was a lovely colourful mix of salad leaves to enjoy, ranging in taste from mild to peppery and lightly tangy, as well as plentiful slices of Cucumber and halved baby Tomatoes whose taste was like a sunburst on the tongue!




With the wonderful citrus sharpness of the Cloudy Lemonade clearing our palates nicely as we munched our way through the savoury selection, we turned our attention to the cake selection that lay before us. There was Lemon Sponge Cake, Chocolate Concrete and Biscoff Millionaire slice all temptingly arranged together and a pair of very generously sized, sugar dusted Vanilla scones with tubs of Strawberry jam and Clotted Cream nestled amongst them. Fresh Strawberries had also been included so we set to work slicing them up to enjoy with the scones.

The scones were beautiful both in terms of taste and texture and the dusting of sugar on their tops gave them a fab little hint of crunch when bitten into. To me, these delights were dense enough to really satisfy without being clarty and light enough to linger and melt on the tongue. The vanilla flavour was subtle enough to give a gentle hint of warmth on the palate without being strong enough that it would interfere with the classic pairing of Strawberry and cream about to be piled on the scone. Talking of piling on the cream, there was certainly enough of the luxurious clotted stuff here to be able to slather it on a good centimetre deep on each half! His Nibs and I topped our treats off with a dollop of the provided Duerr's Strawberry jam and slices of the fresh fruit for an extra bit of oomph – perfect.

We started in earnest on the Lemon Sponge Cake, and this was as light as a cloud when we bit into it. Both of us loved the fab citrus tang from the fresh Lemons used in its making; paired with the classic white icing drizzle and sprinkles on top, it made for a perfect balance of sweet and sharp. This morsel is one of those cakes that are a real crowd pleaser, so if you're catering for a group of folks you won't be panicking that anyone will go hungry!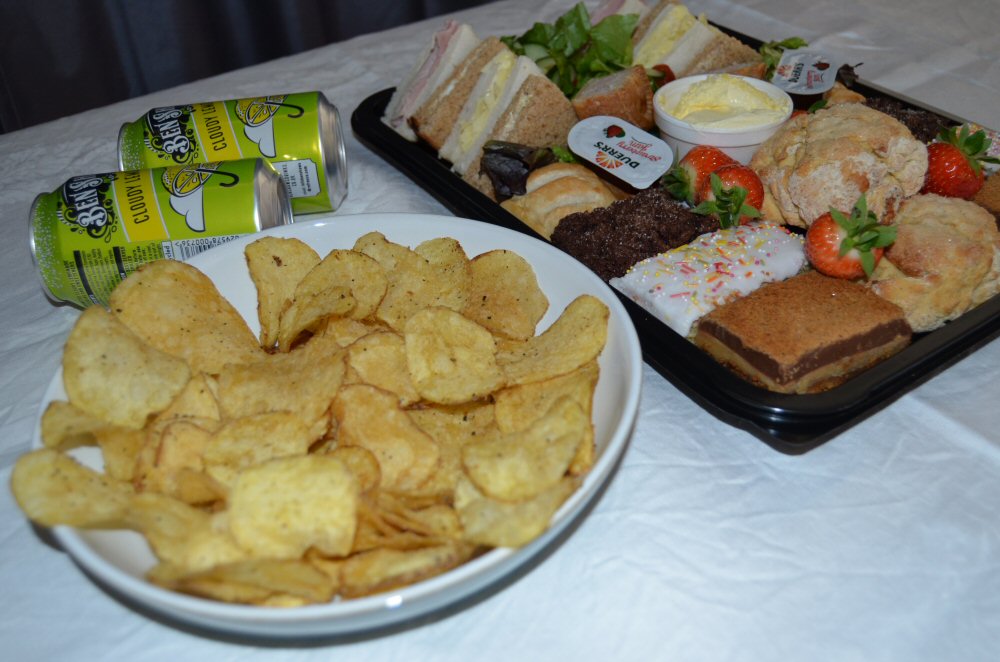 For a bit of old school quality, we looked no further than the Chocolate Concrete - which just happens to be vegan friendly too. The first bite yielded that satisfyingly rich cocoa hit that any self-respecting chocoholic chases and, texture-wise, I would describe this as a brownie/cake hybrid thanks to its light gooey character. Be warned: this is very, very moreish!! I could happily have eaten this all day..... and I mean ALL DAY!! Cheryl and Sara top their version with a simple sugar sprinkle top, but if you really want to go all out I'm sure they would top it with chocolate Ganache. Or if you were feeling flash, why not order one of Sara's Funky Fudge Special Occasion Cakes, priced at £30 for an indulgent 10" showstopper?

Now you're probably thinking that we've reached #peakcake, yes? Wrong! Allow me to introduce Crazy Cooks Caterers Biscoff Millionaire Slice. Imagine, if you will, a ridiculously buttery shortbread base topped with a scandalously rich caramel layer and crowned with an obscenely good Biscoff crumble- adorned Ganache layer. This is pleasure-central folks, it is just phenomenal and that's all I can say. Well it's not, I could say a lot more, but I think you've got the gist of how incredible this was! I don't usually go overboard when it comes to sweet stuff (The Man has a much sweeter tooth than me) but I seriously lost all sense of reason around this!

So there you have it; the Buffet/ Afternoon Platter from Crazy Cooks Caterers. Priced at £20, it served us two with no problem and would easily stretch to satiating three people I reckon. Price-wise it is worth every single penny: it's all freshly made (and not mass produced!) and we couldn't fault it either on quality or quantity terms.

All that remains to say is, Crazy Cooks Caterers (aka Cheryl and Sara) Hot Wings very happily awarded to you!

Visit Crazy Cooks Caterers On Facebook