Trying Out The World Of Tapas Kits From Flavour King Of Chesterfield
---
Published On Thursday 16 Jul 2020 by Sticky Beak
See Recent Food Producer Reviews | See All Recent Reviews


Despite not being particularly competent at it, I do quite enjoy cooking (although I enjoy eating more – especially when someone else has done the cooking!) and am slowly getting a bit more confident about doing it. My confidence doesn't extend yet to knowing 'what goes with what' when it comes to creating flavour combos with herbs and spices, so I was thanking my lucky stars when Flavour King contacted me to ask if I fancied sampling their 'World Of Tapas' range.
Flavour King was founded by Jason Hill, a man with a real passion for herbs and spices who believes these wonders elevate humble ingredients into something that can evoke memories of special times and places. Each World of Tapas kit comes with 6 pre-blended herb and spice pots, a shopping list and 6 recipes; there's also a rather nifty 'top tips 'section that tells you which dishes need more or less time, so you can work out an order in which to do the dishes, as well as other handy hints. I can't tell you how handy this was for me!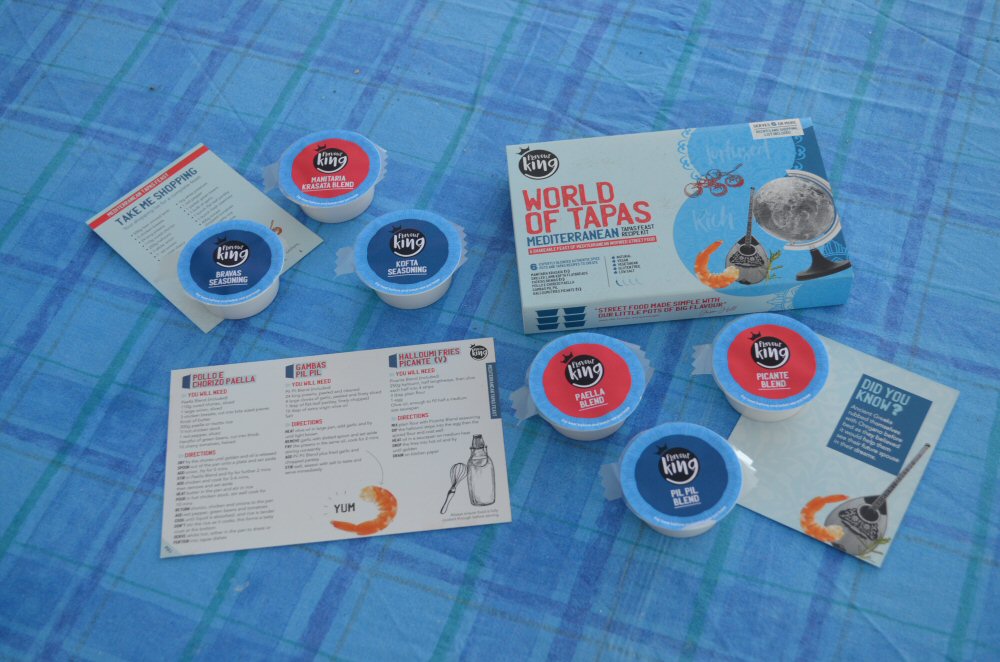 Each of Flavour Kings' World of Tapas kits feed 6 or more folk so, much as The Man and I can scoff, we were going to need some help; enter The Tribal Elders and Fledge, who were more than happy to oblige! Jason has currently got six different World of Tapas kits and had kindly sent us them all, so we did a quick round of eeny-meeny-miny-moe to decide which to use, and the Mediterranean one came out tops.




Armed with the shopping list (and having checked that we'd got all the store cupboard essentials listed) His Nibs and I headed into the village to buy supplies. As always, my trusty butcher team at Percy Dawes and Son Butchers in Alfreton got me sorted with the lean Lamb Mince and Chicken breasts I needed – thanks Steve, Lawrence and Lee: you're legends.




The Tribal Elders and Chickadee had all arrived and were (socially distanced) sat in the conservatory sipping the drinks and nibbling the appetisers we'd served them, so The Man and me donned our pinnies and cracked on in the kitchen; let the chaos commence!

Before we knew it, we'd banged out some respectable looking Patatas Bravas and Manitaria Krasata and were carrying them out to our eager guests. The humble spuds and their accompanying tomato sauce had been properly pimped by the Flavour King seasoning pot, and were transformed into a really tasty treat. There was just a gentle heat from the garlic and chilli, a nice smokiness from smoked Paprika and a beautiful herbiness from Bay leaf, Basil and Oregano.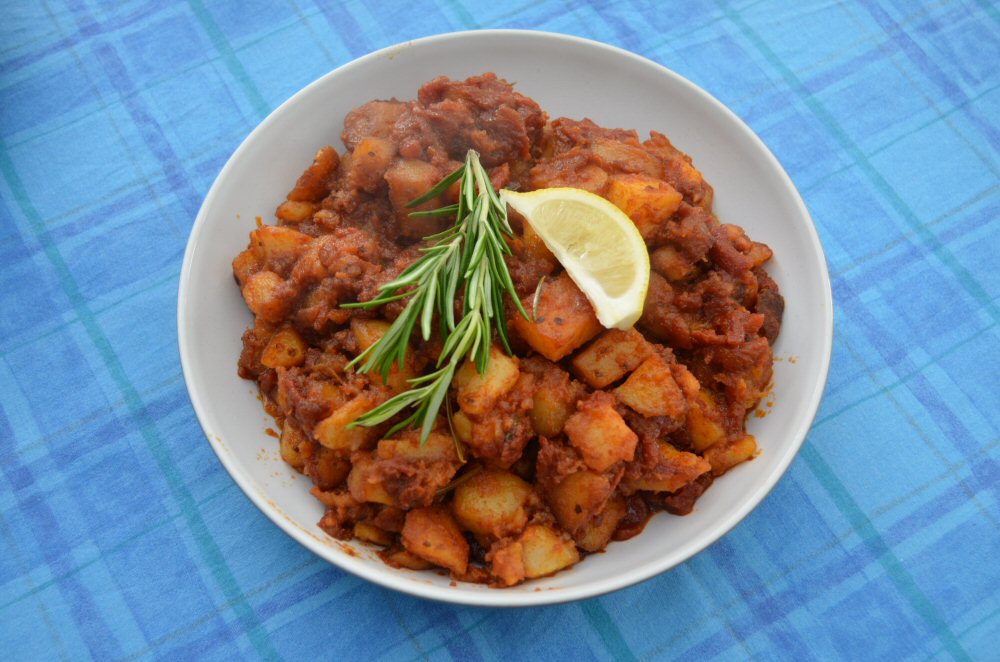 The Manitaria Krasata had me a bit worried; not the cooking of them (these were a doddle to do!), more the fact that this is a Mushroom dish and both His Nibs and Fledge are not fans of them. However, thanks to the blend of herbs and seasoning and my mad culinary skills (!), these little gems went down a treat with everyone; Mummy Bird especially was a fan of this tapas dish.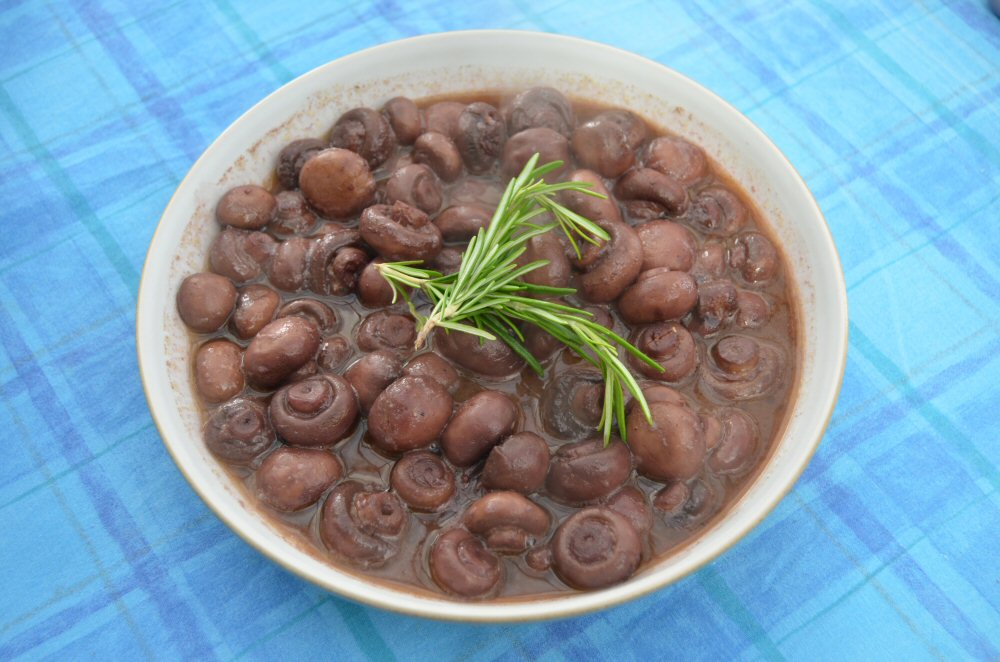 I got the Pollo e Chorizo (Chicken and Chorizo) Paella on the stove at this point as this is the dish that takes longest and got to making the Halloumi Fries Picante and Grilled Lamb Kofta Flatbreads (although I'd made the Koftas themselves earlier and put them in the fridge as instructed). Both these tapas need frying, so I'd got two lots of oil up to temperature and with all the prep done and spice pots added all that remained was to let the morsels sizzle and then garnish them and serve. Bosh!!




You'd think that after all the care and attention I'd put into making them (as well as the sweat and tears) that my Flock would savour the food, wouldn't you? Not a flipping chance; a plague of Locusts would be more delicate! There was silence as everyone filled their faces and sighs of happiness came from them as they bit into these two tapas classics. I was surprised by how much my Daddy Bird liked the Koftas; he commented on how tasty they were without being overly spiced – you all know he's not keen on spice!




It was killing me not to stir the paella rice, but Jason specifically says not to (apparently the rice forms a tasty crust on the pan bottom if left) so I did as I was told for once, much to The Man's shock. Instead, I busied myself with presenting the Halloumi to my keen diners.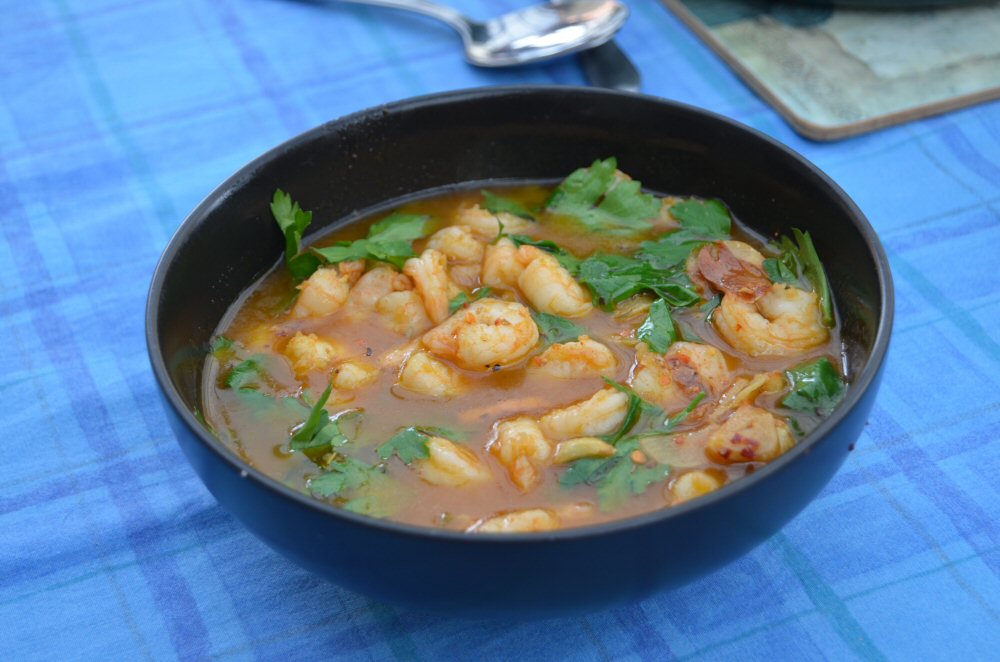 As the Paella neared the end of its cooking I started to make the Gambas Pil Pil, and the excitement bouncing off The Chick was palpable: this is her favourite dish! Just as with the Mushroom dish (Manitaria Krasata), this is a simple dish that the spice blend makes even easier and it was a mere matter of minutes before I was popping the Prawns in front of Chickadee.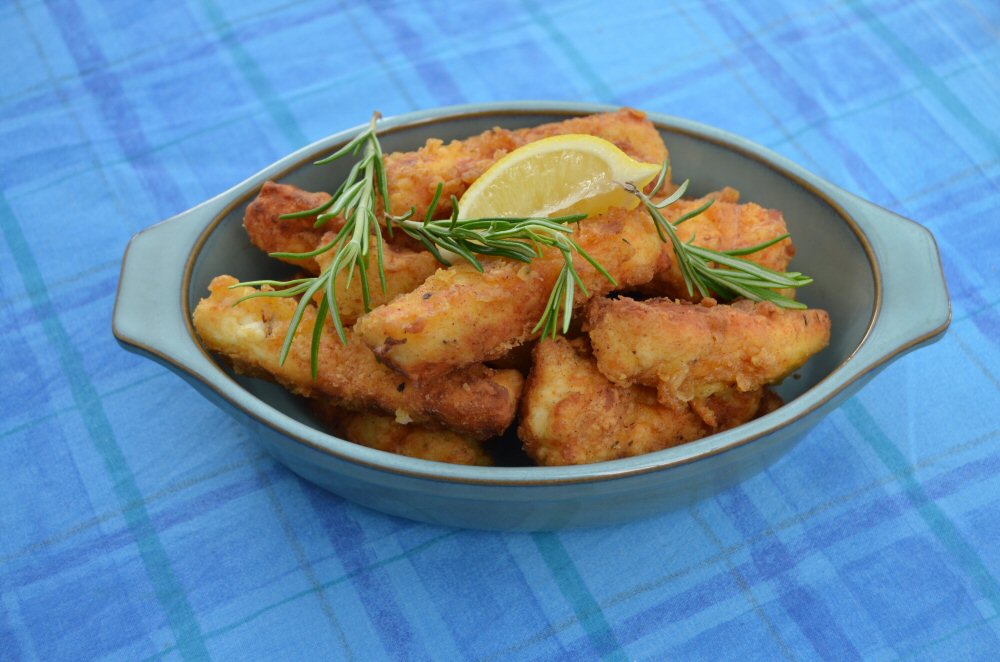 Every single Tapas dish had garnered praise, and I'd love to be able to say it was down to me; the truth of the matter though is that the flavour and taste was purely down to spiceologist Jason's skills, and for that I extend my genuine thanks.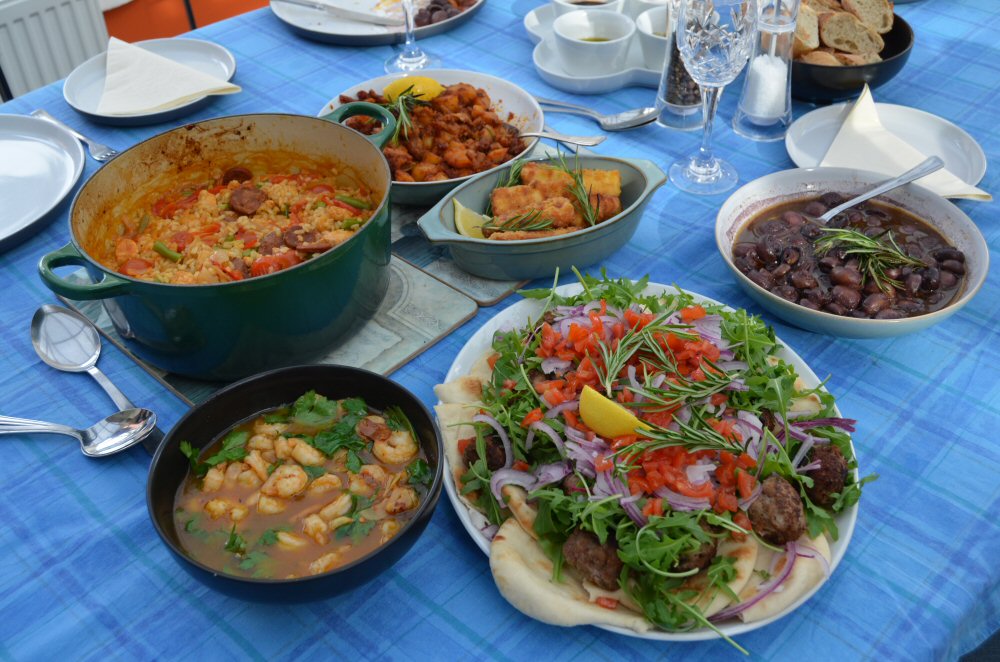 This feast had certainly kept me on my toes as I juggled multiple dishes, and my kitchen looked like a ruddy war-zone, but I had really enjoyed myself. Given the amount of people you're feeding and the cost of food involved, I doubt this is something that most folk could afford to do on a weekly basis (especially at the moment), so I am planning to have a World of Tapas adventure once a month.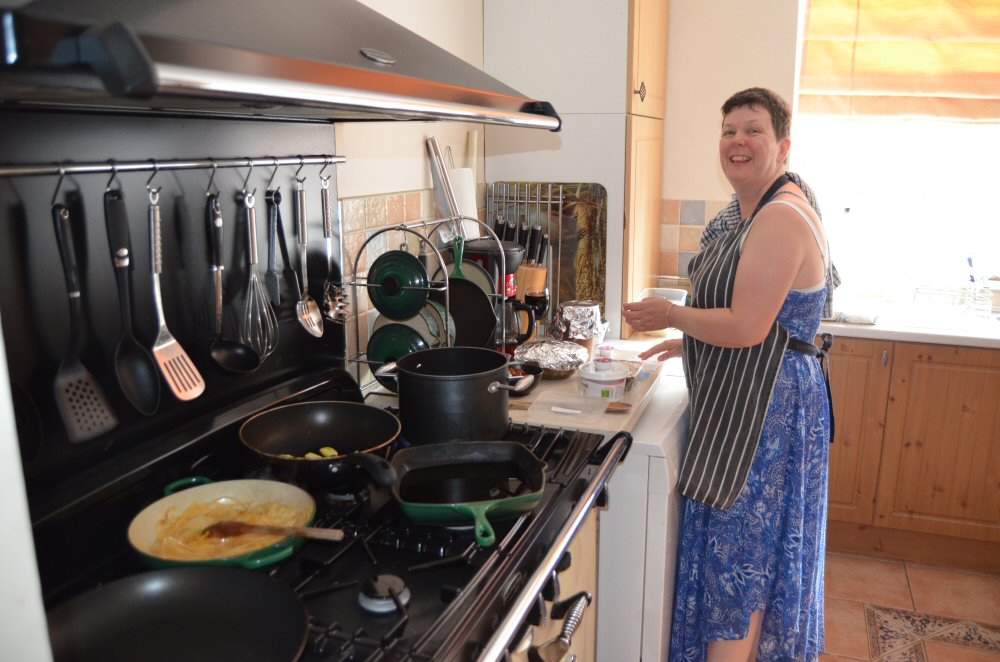 Stay tuned for updates on these escapades; there are South American and Asian Fusion Tapas to come, as well as American, Australian and Tex-Mex BBQ morsels. The BBQ range is a collaboration between Flavour King Jason and BBQ World Champion Ben Bartlett and has the same easy format of pre-blended flavour pots, shopping list and recipes.

The range is vegan and vegetarian friendly, as well as being gluten free and low in salt; what's not to like? Priced at £6.95 singly, or £19.95 for the trio of either Tapas or BBQ these are an affordable way to create a range of dishes without laying out a fortune on loads of herbs and spices you may end up wasting.

Hot Wings definitely given to these magical pots of herby, spicy perfection!!

Find out more on the Flavour King web site at www.flavourking.co.uk