A Variety Box From Megan's Mini Muffins of Belper
---
Published On Friday 5 Jun 2020 by Sticky Beak
See Recent Food Producer Reviews | See All Recent Reviews


I'm the first to admit that His Nibs and I are very lucky peeps that folk send food and drink to (gifted), in order to garner our opinion. We love everyone that sends us their products, but still get a thrill up our spines when it's a small local business that is sending or delivering us goodies.
Some of you in Belper will already (no doubt) know about Megan's Mini Muffins, a small, independent baking venture co-owned by Megan and Benn and started this very year, 2020. If you do know about them, then please indulge me as I enlighten the wider audience of this blog.

Megan contacted us to see if we'd like to sample our choice of 9 mini muffins from a selection of 20+ that she offers (both vegan and non-vegan versions) – needless to say, we jumped at the chance! The Man Bird and I do love Chocolate Muffins (who doesn't?!) but in order to review a wider selection with more mass appeal, we chose a mix of Vanilla, Lemon, Coconut and Chocolate mini muffins and a variety of chocolates and fruit. Our final selection was made up of 5 chocolate- and the other 4 assorted- based mini muffins; pretty balanced range of choices I reckon, don't you?.




I'm not going to wang on about each muffin base individually – that would get very monotonous very quickly, but suffice to say that all the muffin bases were beautifully light in texture and rich in whatever their base flavour was supposed to be i.e. Chocolate, Vanilla, Lemon or Coconut.

As The Man Bird is a total chocoholic it won't surprise you to learn that the first mini muffin we cut in half was the gloriously rich Triple Choc Chip morsel! Even though Megan's muffins are bijoux affairs, you could still see the dinky chocolate chips in the mix. The frosting was lovely and soft to the bite and had been decorated with shavings of milk, white and dark chocolate which gave a nice bit of texture (as well as an extra hit of cocoa yumminess!).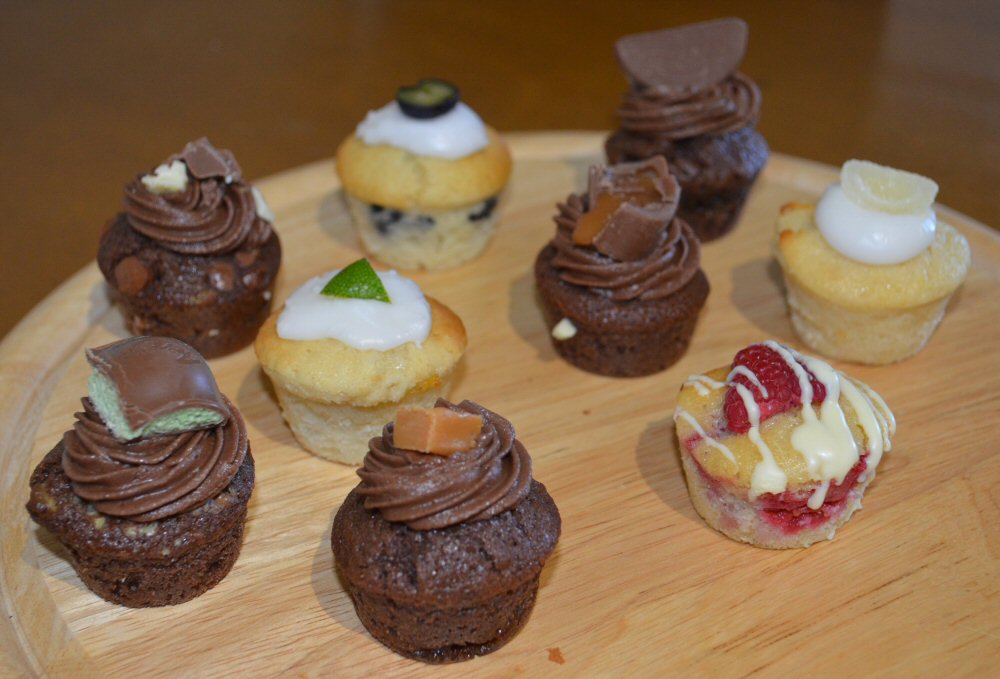 Despite my protestations that we should have a 'lighter muffin' next, His Nibs cut into the Salted Caramel mini muffin next; we both smiled in happiness at the gooey salted caramel centre that this chocolate based muffin had. The chocolate frosting on top was crowned with a split Rolo whose middle had oozed seductively onto it. Muchos yummy.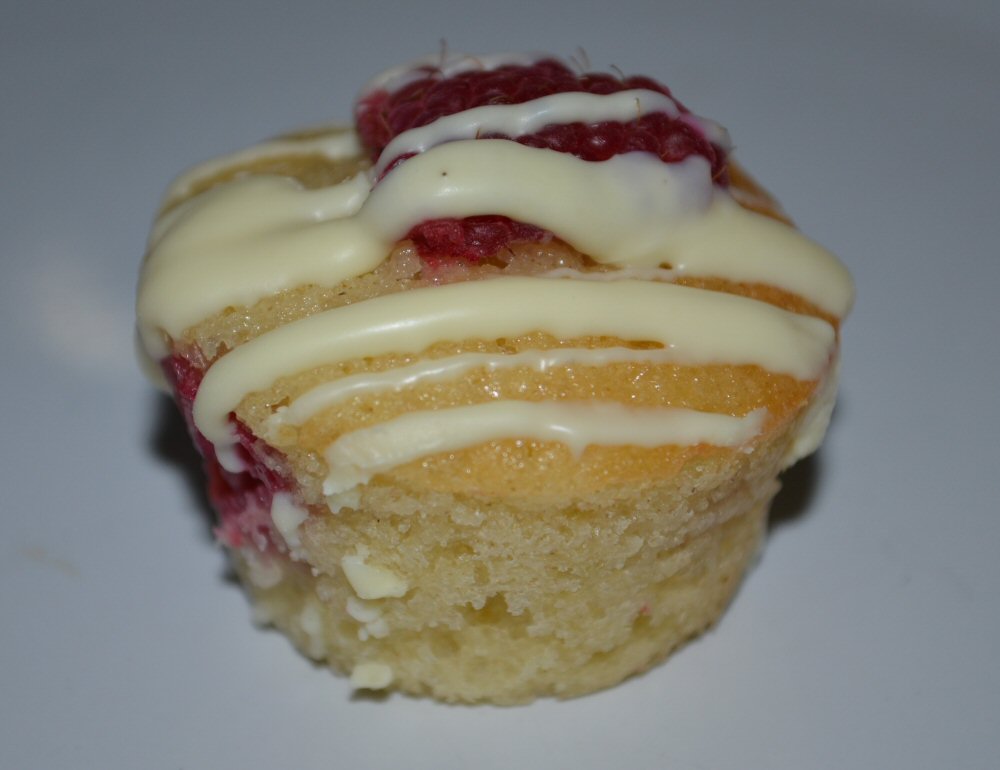 I took control of the knife and cut into the Raspberry and White Chocolate mini morsel next, before His Nibs made it a hat-trick of choccie. This was the.absolute.bomb! Seriously, it had everything you could want: moistness, fruitiness, sweet-yet-sharp, and an indulgent creaminess from the milky white chocolate. Megan puts plenty of fresh Raspberries in the muffin mixture and then tops it with a halved fresh Raspberry – I'm counting it as 1 of my 5-a-day (I know it's a stretch, but indulge me, ok?!).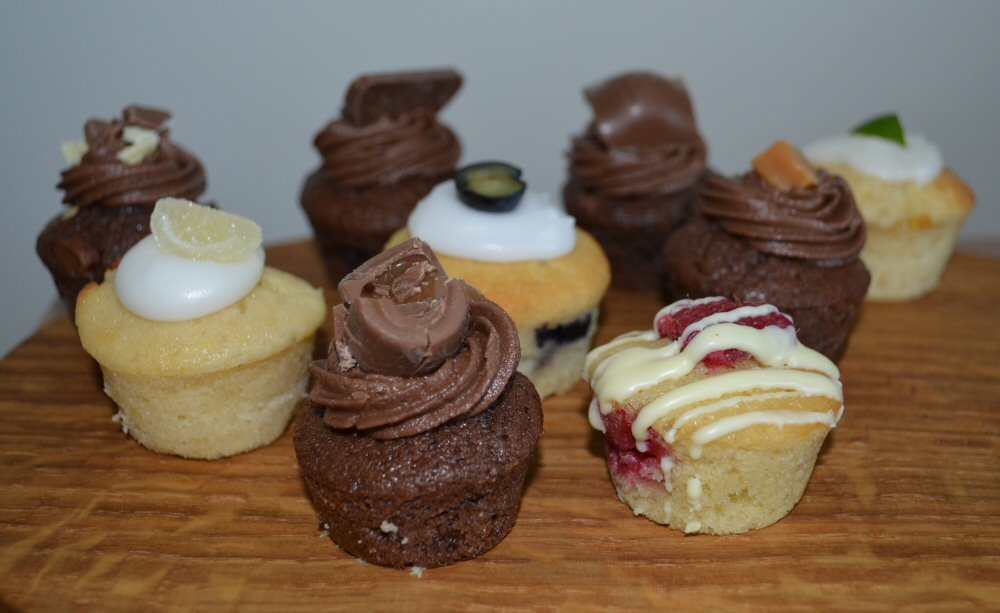 The Fudge was next in our sights and this also had a marvellously gooey centre, just like the Salted Caramel muffin. We both loved the frosting on this one; we think that the fudge served to intensify the chocolate taste of it. Even the fudge piece that decorated the top was brilliantly indulgent; it may have been small, but it was mighty in the mouth.

Fruit was back on the menu as we tucked into the Lemon mini muffin lovingly made by Megan in the Megan's Mini Muffin kitchen. You could really taste the lemon in the muffin mix itself and it was so clean on the palate. The real citrus kick came from the magnificently tart zested icing that crowned the muffin though; it made you suck your cheeks in a real "tangfastics" moment – superb! A piece of crystallised lemon provided the final flourish of garnish and a pop of sunshine colour.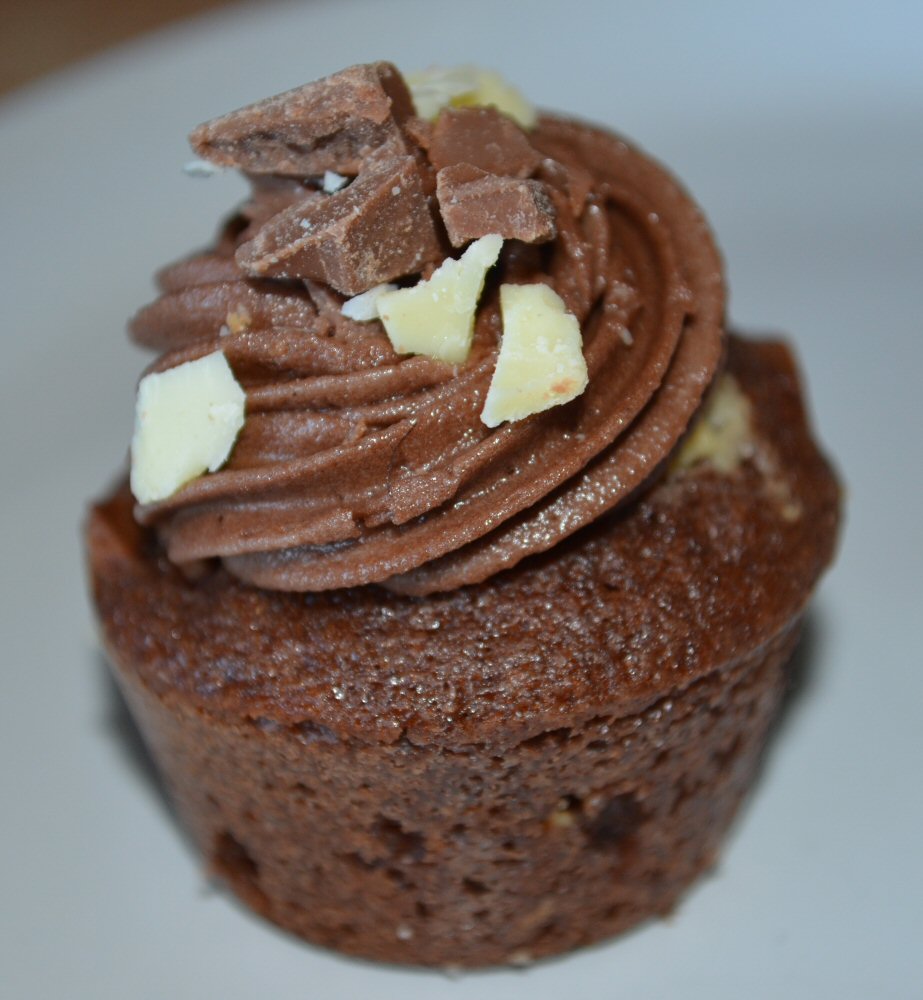 I channelled my inner Man Bird and cut into another fruity number; the Blueberry mini muffin: well if he can do it, so can I! The vanilla muffin mix had plenty of dinky blueberries within it and their sweetness burst onto our tongues with sheer joy – yummy. Plain icing added an extra kick of sweetness, but not too much as to over-power things, and then a halved fresh Blueberry on the top provided a nice balance to it.

Since I was little I've loved Mint Aero, so the Mint Aero mini muffin was always going to be one of the choices making its way to The Nest – no argument. We both liked the chocolate muffin mix for its intensity and the fact that it wasn't a minty choc base mix; the Mint blast came courtesy of the frosting and the decorative piece on top. The Mint wasn't too dominating either – it worked in a nice harmony with the chocolate notes.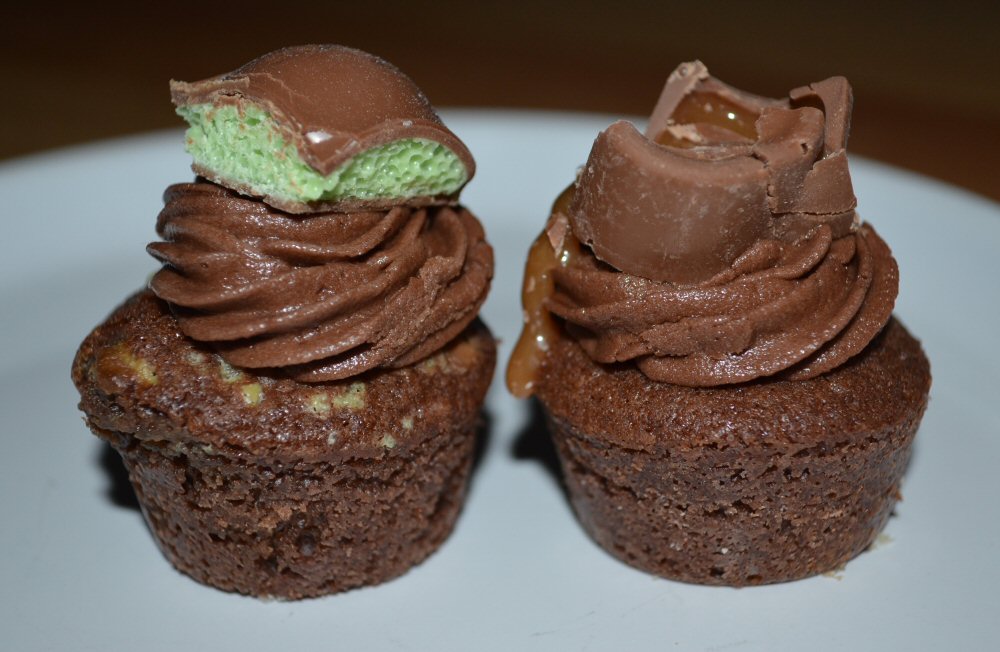 There were only 2 mini muffins left in the box; the Chocolate Terry and the Pina Colada. We had a brief 'debate' as to which was next to be scoffed and with neither of us giving way we tossed a coin for it! The Chocolate Terry is obviously a play on words, and this mini marvel was a chocolate based muffin with tiny Terry's Chocolate Orange chips providing a melty middle. Simple chocolate frosting decorated the top and a miniature Terry's Chocolate Orange segment crowned it all. As with the Mint Aero confection, both tastes were beautifully balanced.

Our final delight to sample was the Pina Colada mini muffin, and this really was something different to your run-of-the-mill muffins. The muffin mix itself was gently coconutty and at its centre was a gorgeous Pineapple jam that played brilliantly alongside it; I've not had pineapple jam before, but I really liked it. The piece-de-resistance though was the Lime-zested icing; this was just incredible, being the perfect mix of sharp and tangy, yet sweet at the same time. A dinky piece of fresh Lime provided a lovely garnish and when eaten in one piece, this mini muffin really was a great gastro version of the cocktail itself.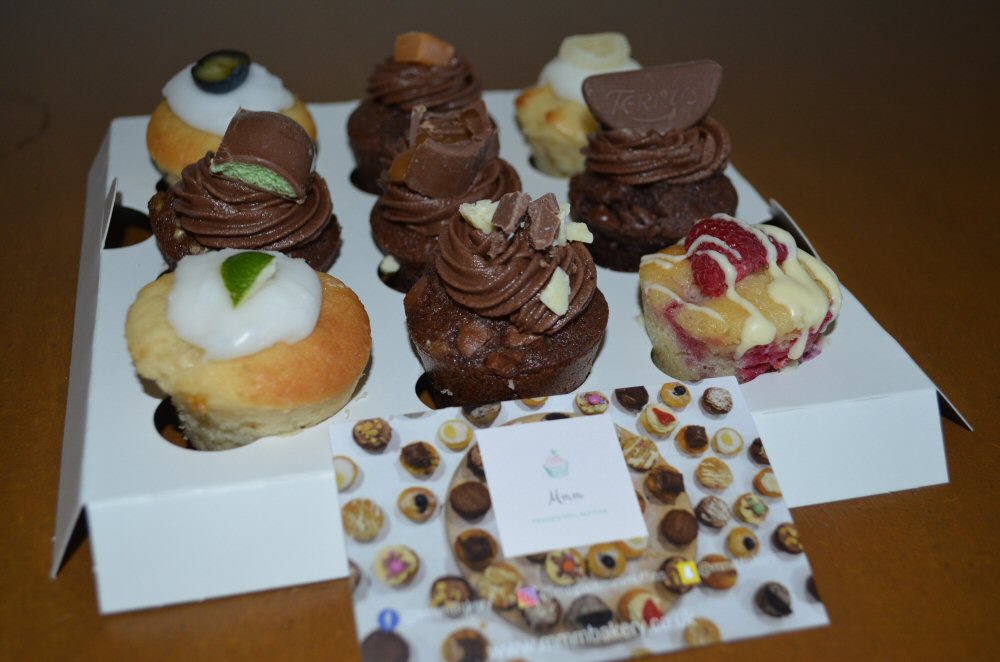 After we'd talked and reflected on all the mini muffins we'd just eaten we decided that we had to declare a 'winner' – although picking one was incredibly tough as they were all so scrummy!! Despite being unashamed choccy fans, we were both bowled over by the Pina Colada muffin, and so this was crowned our Miss/Mr Muffin Nest Champion.

Megan likes to describe her venture as 'Cake Tapas' and I'm not about to argue with her; after sampling a small portion of her myriad range I think it's a jolly good description. Hot Wings certainly deserved by this fab foodie creator; I can see why her labels have 'mmm' (Megan's Mini Muffins) on them – they'll have you smacking your lips in delight and sighing 'mmm' for sure. Contact Megan directly for prices and ordering details – she literally can cater for any requirement or occasion.