Sweet Balsamic Dressings From Little Doone
---
Published On Sunday 5 Apr 2020 by Sticky Beak
See Recent Food Producer Reviews | See All Recent Reviews


What Colin doesn't know about Sweet Balsamic Dressings isn't worth knowing; he can tell you what foodstuffs each dressing goes with, and even makes some cracking suggestions for you to try at home. All the range is vegan-friendly too and made with the finest quality Balsamic Vinegar from Modena in Italy.
Unsurprisingly, I managed to sample every single one of the versions he had brought to the show! My excuse was that Colin kept offering me bits of bread to dunk into whichever Balsamic dressing we'd been nattering about – not that I ever need an excuse to be eating, let's face it. Another factor in my gluttony was the length of time we spent chatting – in typical Scottish style Colin can talk the hind legs off a donkey, but he's so charming and funny that you find yourself mesmerised!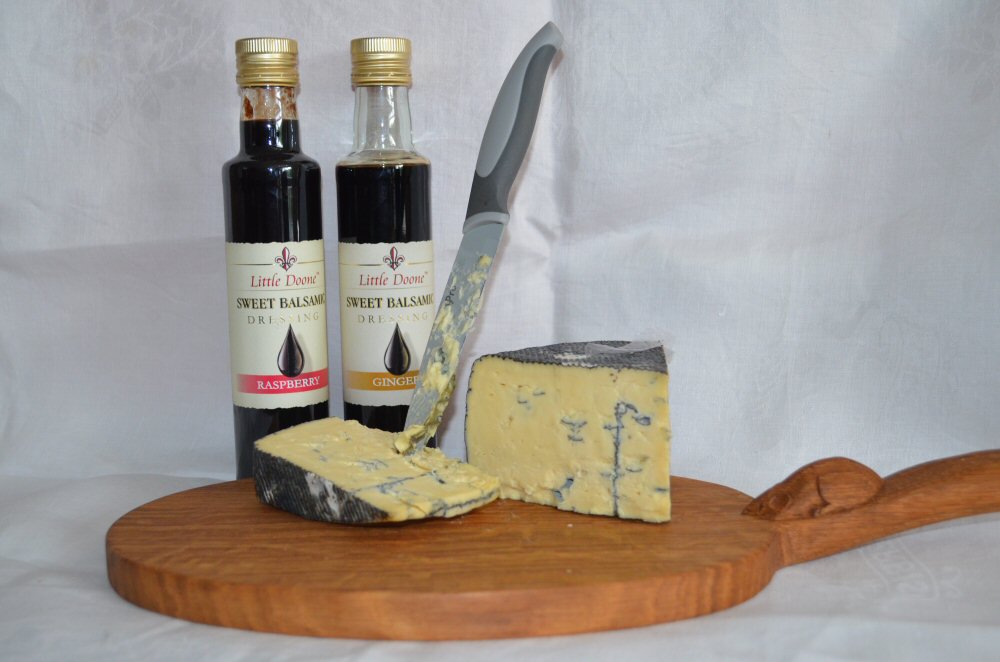 The great thing about Colin's products is that they can turn their hand to sweet or savoury uses because they're made without oil; the Orange one goes amazingly well with a rich Chocolate Torte apparently, and when I tried a bit I could just envision this combo. All the fruit varieties were bright and clear on the tongue, and I had the Raspberry one on a salad with Blue Cheese in; it was superb! The tang of the cheese bounced off the sweet Raspberry flavour, giving a nice, well balanced contrast. Apparently the Raspberry dressing goes jolly nicely with Venison too – something I really love to eat, so next time i have some I shall certainly try it.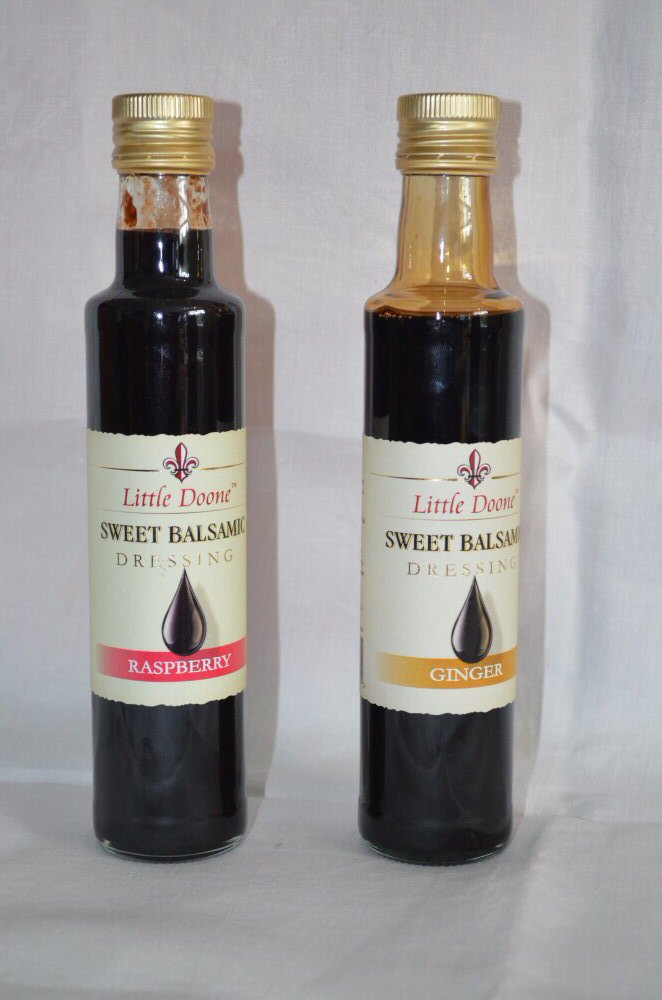 I tried the Ginger Sweet Balsamic dressing over some good quality Vanilla Ice Cream and it was simple but stunning partnership. The gingers' spice and heat was tempered beautifully by the coolness of the Ice Cream and the rounded notes of Vanilla within it.

Colin very generously gave me a couple of bottles - one each of the Raspberry and Ginger varieties - to take back to the nest. There is an online shop that you can purchase all these fab goodies from, and Dobbies Garden Centres also stock them, so you can easily try them for yourselves.

To order visit the web site at www.littledoone.co.uk/our-range/
Some form of incentive was provided to review this product
read more
Read Some Of Our Recent Reviews
---

Sampling The Ras Malai Cake For Ca.ake Aisha of Ca.ake and her husband were one of the first stands I sought out at the Fine Food North show in Harrogate, as I couldn't wait to try her Ras Malai Cake.I like Ras Malai anyway Read The Article

---

Trying Out The Brownies From Woods Brownie Co. Kenneth and Ashleigh from Woods Brownie Co. tempted me with their wares at the Fine Food North show who can resist a Brownie? Not me, for sure!! I couldnt resist Kenny's Read The Article

---

Sampling Coffee From Frazer's Coffee Roasters I first met Frazer at Fine Food North literally a couple of weeks before lockdown 1.0 and he gave me some of their 'Steel City' blend to try back then which, by the way, is an absolute bobby dazzler! Read The Article

---

Whisky Tasting With Great Drams Great Drams is the brain-child of husband and wife team, Greg and Kirsty Dillon, who I had the pleasure of meeting at the Fine Food North Show in Harrogate. What Greg doesn't know about Whisky Read The Article

---

Sampling The Biltong From Biltong Boss Having never tasted Biltong before I have to admit I was expecting it to be a bit like Jerky which, let's be honest, has a bit of a rep as being tough, doesn't it? Clive and Sharlene of Read The Article

---

Sampling Kampot Pepper From .pepper..field I'm sure I'm not alone in thinking that 'pepper is just pepper', right? Wrong! Kampot pepper is the only type of peppercorn in the world to have Geographic Indication protection Read The Article

---

Chutney, Relish & Piccalilli From The Northumbrian Pantry Northumbrian Pantry is husband and wife team, Alice and David Murray; David does the marketing stuff which leaves Alice to cook up the magic! The thing I love Read The Article

---

Sampling The Range Of Crisps From Listers Crisps Crisps are pretty much ingrained in the British psyche, right? They feature at kids parties, in bowls at gatherings and buffets, on bars in pubs...the list goes on and on, but you get the Read The Article

---

Trying Out The Range Of Granolas from Jemima's Deli Despite my best efforts, I didn't manage to visit all the traders I'd been in contact with prior to the Fine Food North Show, which left me feeling a bit glum as you can imagine. The Man Bird and I know Read The Article

---

Jams & Honey From Pen Y Bryn Apiary, Dolgellau I'm not great at accents, as has previously been proven by my describing a Scotsman as Irish (yes, really!) but there was no mistaking the lovely Welsh lilt coming out of Carys Edwards mouth, Read The Article

---