Sampling A Range Of Cheeses From Cryer & Stott Cheesemongers
---
Published On Thursday 2 Apr 2020 by Sticky Beak
See Recent Food Producer Reviews | See All Recent Reviews


Those that know me well will tell you that I always say I could live without anything – except cheese; and it's true, there's rarely a day goes by where I don't have a cheeky nibble – even if it is literally just a slice on a cracker! Ever since I was a little chick myself, I've always loved cheese (other than that plastic stuff that masquerades as cheese, Dairylea, you can keep that!) so a life without cheese is simply unimaginable!
Imagine, then, my joy when I came across the Cryer and Stott stand at the Fine Food North Show in Harrogate. Their stand looked amazing anyway, but to a cheese-lover like me it was paradise incarnate! The lovely Gemma and Mike were nattily dressed with flat caps and pinnies, armed with platters of samples; would've been rude not to try their offerings don't you think? I liked the variety of cheeses they'd brought for folk to try, there were hard and soft cheeses, cows' milk ones, ewes' milk ones, mild, mature and blue; you name it, it was there!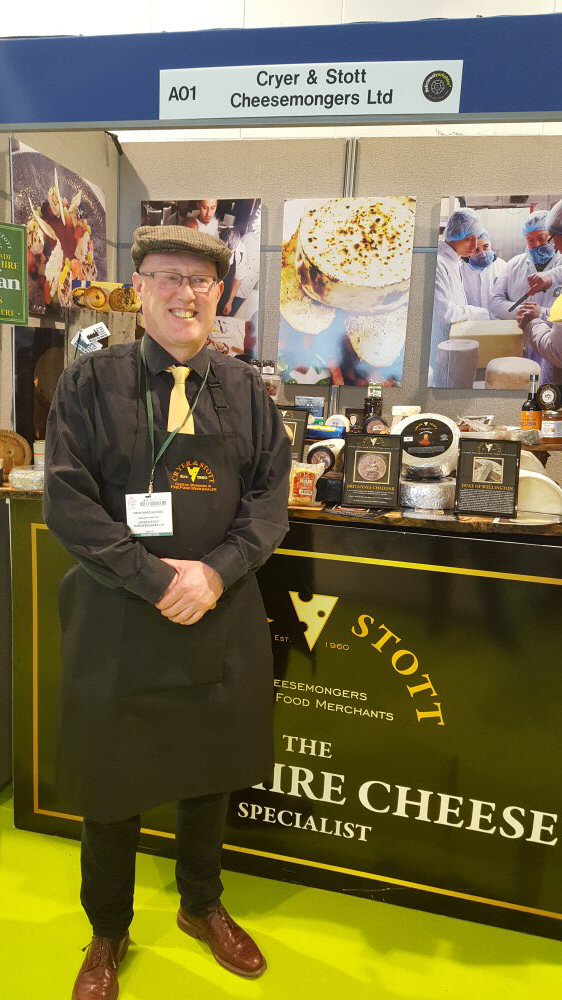 Richard, boss-man at Cryer and Stott, kindly gave me a quartet of cheeses to savour Chez Beak: Rhuby Crumble, Duke of Wellington Blue, Flat Capper, and Double Yorkshire. He also gave me a jar of Sweet Red Onion Chutney to pair with them, so my next job when I got home was to purchase some nice crackers to chomp with them all.
First up to try was the "Duke O' Boot"/Duke of Wellington Blue, and the first thing to note was that it didn't crumble apart as I cut into it. Much as I love Cheese it can be frustrating when it breaks apart easily when you're in a rush to eat it – the amount of minutes I've spent hovering up tiny morsels when all I want to go is go munching mad, is staggering lol! This handsome dude had a superb buttery creaminess in my mouth as I let it warm on my tongue, followed by a pleasant twang from the mould that punctuates its being. Partnering it with the Sweet Red Onion Chutney is a match made in heaven; the balance of tang and sweetness is excellent.




We were being lazy one evening and had bought a shop-made pizza (which, let's face it, rarely hit the perfect spot without being tinkered with), so I decided to add a bit of pizzazz to the Mexican flavours by adding some Rhuby Crumble. I couldn't resist having a little bit of the Rhuby jewel as I put it on the pizza, and from the very first taste it's utterly addictive! I loved its smooth taste; it had a wonderful edge to it that comes through on the palate, which makes up for it being very crumbly! Its very crumbliness was what made it ideal for popping on a pizza though, as it disperses easily. We got rewarded by an superb extra layer of taste when we bit into the Mexican-inspired pizza – Rhuby Crumble stood up to the robust flavours fantastically well.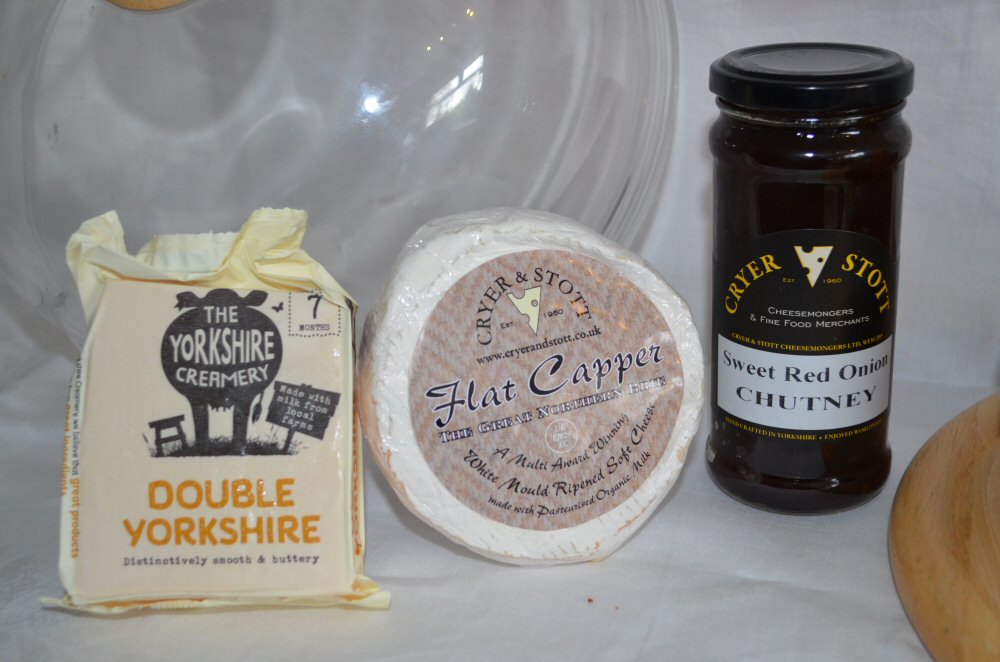 Flat Capper is described as a "Great Northern Brie", and it is a stunning example of this type of soft cheese. For a simple lunch of Red grapes, toasted tortilla and the Sweet Red Onion Chutney, partnered with the Flat Capper, you'll not go far wrong. The only downside (not there is one , really) was that I fell under its spell and indulged in far more of its magnificent 'eatability' than I'd intended – extra minutes on the treadmill for me then :/ #SorryNotSorry!! Flat Capper has a brilliant versatility that makes it perfect for lazy lunches, weekend suppers or as a snack to keep you going.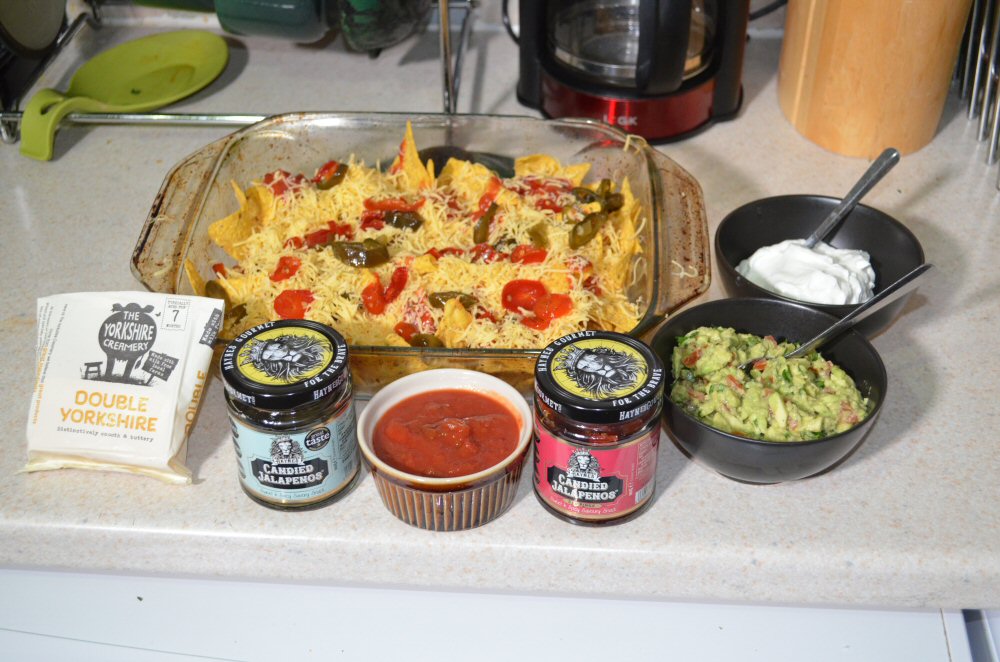 My last cheese was the Double Yorkshire - clever play on names - a yellow hard cheese. This minx garnered praise from The Fledge as well as me, and I found her helping herself to a second piece! Double Yorkshire has a great taste that will pretty much go with anything; deep enough to stand up to stronger accompaniments, but rounded enough to be paired with subtler fruits. I had it 'naked' on a cracker, used it to zhuzh up some Sunday supper Nachos, and banged it on pizza to ramp up the flavour factor.

Thank you to Cryer and Stott for generously giving me some of your scrummy cheeses to try – oh, and the Sweet Red Onion Chutney goes nicely on pizza too.
Some form of incentive was provided to review this product
read more
Read Some Of Our Recent Reviews
---

Sampling The Ras Malai Cake For Ca.ake Aisha of Ca.ake and her husband were one of the first stands I sought out at the Fine Food North show in Harrogate, as I couldn't wait to try her Ras Malai Cake.I like Ras Malai anyway Read The Article

---

Trying Out The Brownies From Woods Brownie Co. Kenneth and Ashleigh from Woods Brownie Co. tempted me with their wares at the Fine Food North show who can resist a Brownie? Not me, for sure!! I couldnt resist Kenny's Read The Article

---

Sampling Coffee From Frazer's Coffee Roasters I first met Frazer at Fine Food North literally a couple of weeks before lockdown 1.0 and he gave me some of their 'Steel City' blend to try back then which, by the way, is an absolute bobby dazzler! Read The Article

---

Whisky Tasting With Great Drams Great Drams is the brain-child of husband and wife team, Greg and Kirsty Dillon, who I had the pleasure of meeting at the Fine Food North Show in Harrogate. What Greg doesn't know about Whisky Read The Article

---

Sampling The Biltong From Biltong Boss Having never tasted Biltong before I have to admit I was expecting it to be a bit like Jerky which, let's be honest, has a bit of a rep as being tough, doesn't it? Clive and Sharlene of Read The Article

---

Sampling Kampot Pepper From .pepper..field I'm sure I'm not alone in thinking that 'pepper is just pepper', right? Wrong! Kampot pepper is the only type of peppercorn in the world to have Geographic Indication protection Read The Article

---

Chutney, Relish & Piccalilli From The Northumbrian Pantry Northumbrian Pantry is husband and wife team, Alice and David Murray; David does the marketing stuff which leaves Alice to cook up the magic! The thing I love Read The Article

---

Sampling The Range Of Crisps From Listers Crisps Crisps are pretty much ingrained in the British psyche, right? They feature at kids parties, in bowls at gatherings and buffets, on bars in pubs...the list goes on and on, but you get the Read The Article

---

Trying Out The Range Of Granolas from Jemima's Deli Despite my best efforts, I didn't manage to visit all the traders I'd been in contact with prior to the Fine Food North Show, which left me feeling a bit glum as you can imagine. The Man Bird and I know Read The Article

---

Jams & Honey From Pen Y Bryn Apiary, Dolgellau I'm not great at accents, as has previously been proven by my describing a Scotsman as Irish (yes, really!) but there was no mistaking the lovely Welsh lilt coming out of Carys Edwards mouth, Read The Article

---