Lunch At The Anteaque Bee Cafe, Derwentside Shopping Mill, Belper
---
Published On Sunday 26 Jan 2020 by Sticky Beak
See Recent Dining Out Reviews | See All Recent Reviews


Well 2020 is certainly getting off to a lively start for The Man and me! Our latest invite came from a lovely lady called Karen North who took over ownership of Anteaque Bee Cafe in the Derwentside Shopping Mill in Belper in September 2019, so off we pootled to see what the score was.
If you haven't been there, Derwentside Shopping Mill is definitely a unique venue; set over four floors of an old Victorian mill, this is an absolute Aladdin's cave of antiques and curios showcased by several businesses in rented units. There's even a yoga studio there!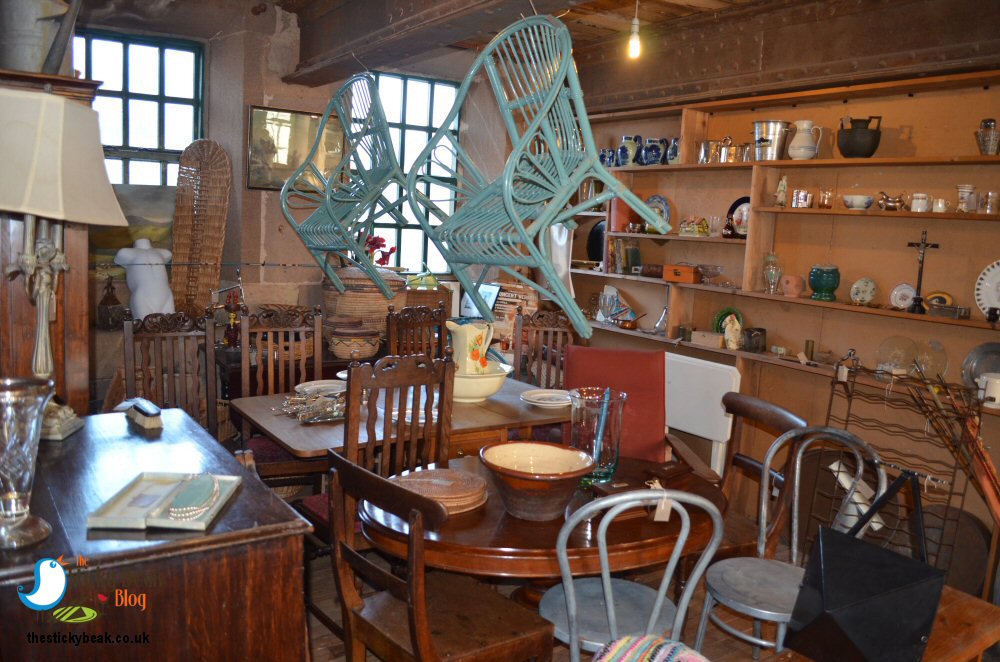 As you might expect, it was pretty chilly - ok, flipping cold! - inside the mill thanks to the thick stone walls staying cold, mirroring the temperature outside. Thankfully, Karen had got heaters blowing merrily away in Anteaque Bee Cafe, so as we sat down it didn't take long at all for us to thaw out.So remember folks, if you're feeling the chill, nip up to the first floor of the mill for a hot drink and maybe a cake, scone or one of Karen's' homemade dishes.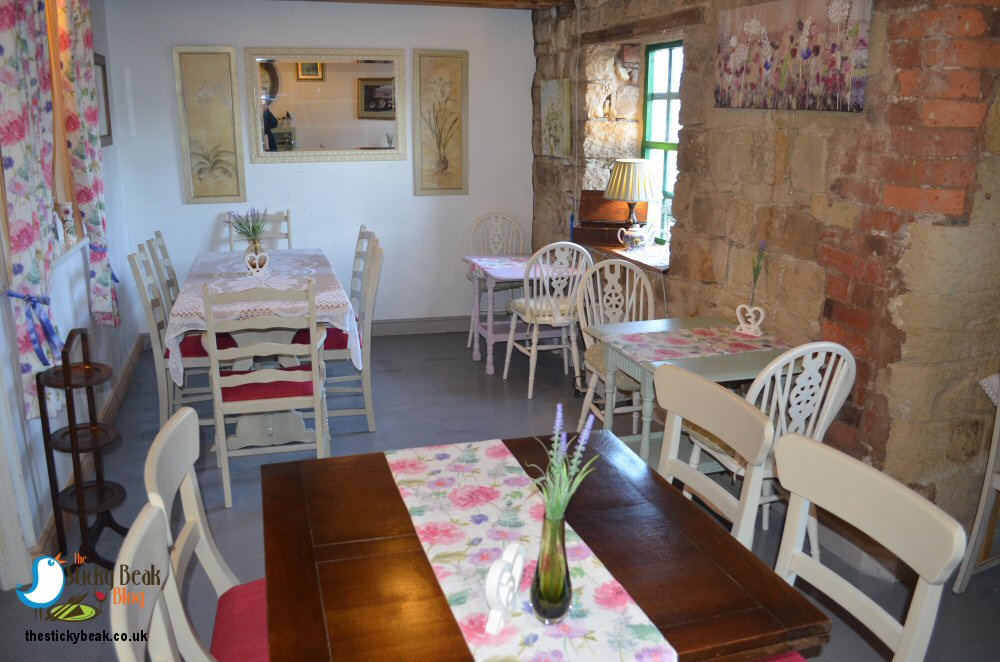 Anteaque Bee Cafe seats up to 20 people, is dog friendly, and has high-chairs available for littlies if needed; there are also baby changing facilities in the spacious toilets. I loved the homely feel of the venue; you get all the features of a historic building (such as the exposed stone walls, wooden beams, and a riveted-steel joist) mixed with white painted chairs and pastel painted tables set with white lacy cloths of floral runners that match the curtains.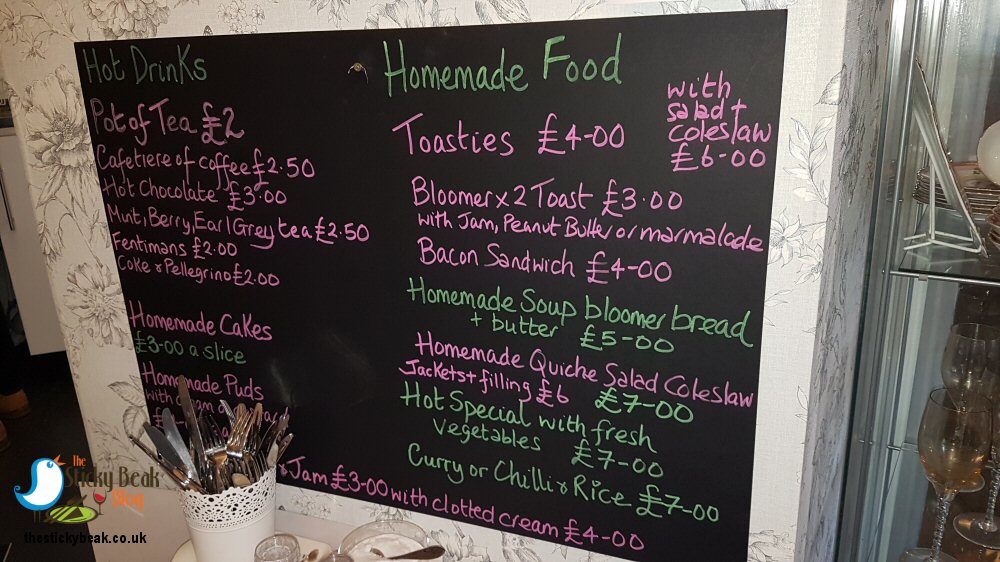 Karen said we could sit anywhere, and her partner (and helper extraordinaire!) Phil got to work preparing a pot of tea (£2) for me and a Cafetiere of freshly ground coffee (£2.50) for His Nibs. There's also a selection of herbal teas, hot chocolate and cold drinks (Fentimans, Coke and Pellegrino) available at £2.50, £3, and £2 respectively.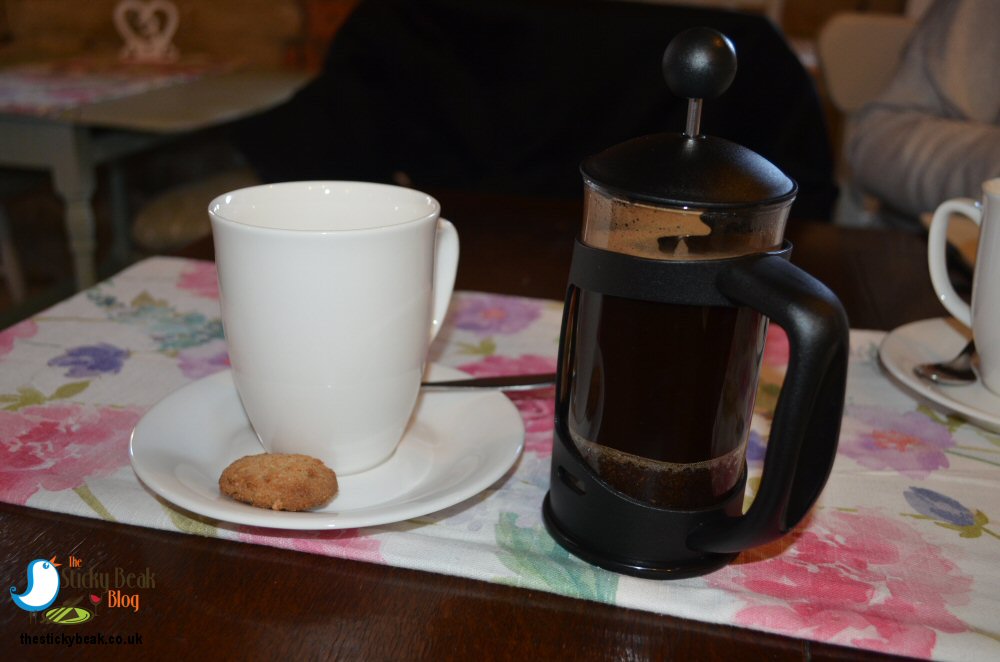 The first thing I spied was the toasties – you can't beat this classic, suit-any-time-of-day stalwart! Karen does them on white or grainy bread, by themselves for £4 or with salad and homemade coleslaw at £6, and I was certain that this was going to be my choice...... until she reeled off all the other homemade morsels on offer! I eventually settled on the Mozzarella, Cherry Tomato and Pesto Quiche with herby pastry crust, served with crisps, salad and coleslaw (£7). I opted to have it warm and Karen asked if I would like my coleslaw with or without Mayo on it, and this is definitely a benefit of having your meal prepared fresh-to-order – you can customise it to your liking.




The Man Bird was won over by the delicious sounding, homemade Butternut Squash, Pepper, Butter Bean and Spinach curry served with a choice of long-grain, wholegrain or basmati rice and warmed flatbread, priced at £7 too.

Karen always makes sure that there is a vegan and gluten-free option available every day on her menu; it was a beautiful Leek and Potato soup on this particular day. There was a scrummy vegan cake on offer too: Blueberry, Orange and Almond, priced at £3 a slice (as all the cakes are).Anyway, back to what we were sampling....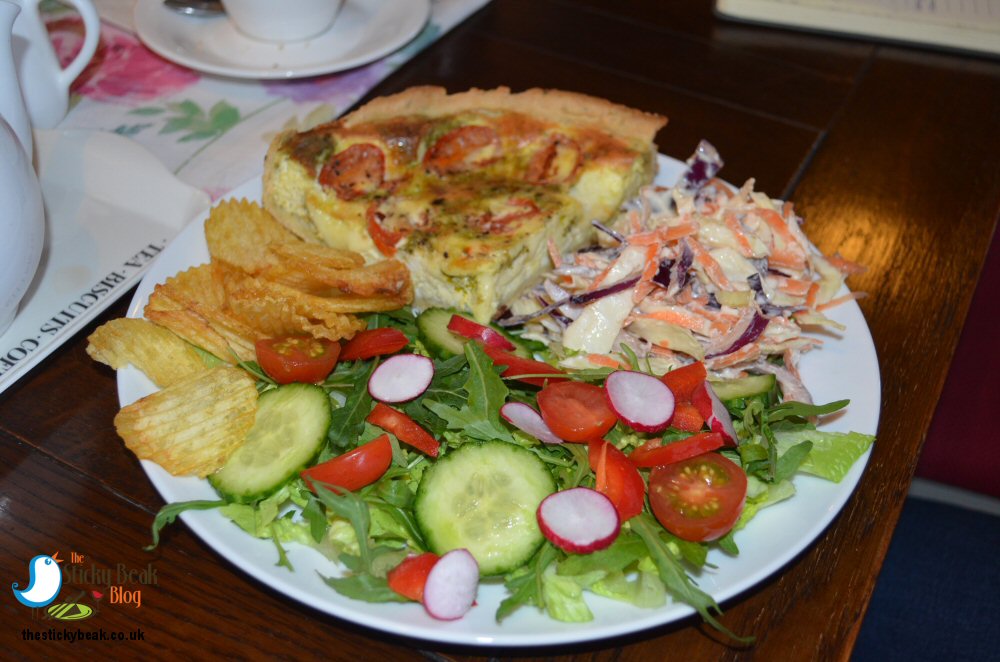 My quiche was mouth-wateringly good; the herb pastry was delicate in its flavour, but definitely enhanced the taste of the herby Pesto that decorated the top of the quiche. This case was rammed to the hilt with sweet Cherry Tomato halves, creamy shreds of Mozzarella and a superbly rich, savoury egg-and-milk baked custard. It really did taste magnificent and all the elements popped brightly on my palate.

The salad was lovely and crisp, comprised of sliced Peppers, Cucumber slices, halved Cherry Tomatoes, peppery Rocket leaves and shredded Iceberg lettuce. To complete the trinity of yumminess was the aforementioned homemade Coleslaw, which I asked to be just lightly Mayo'd, and this was marvellously crunchy to the bite. This dish was positively overflowing with visual appeal, you couldn't ask for a more colourful plate to be put in front of you!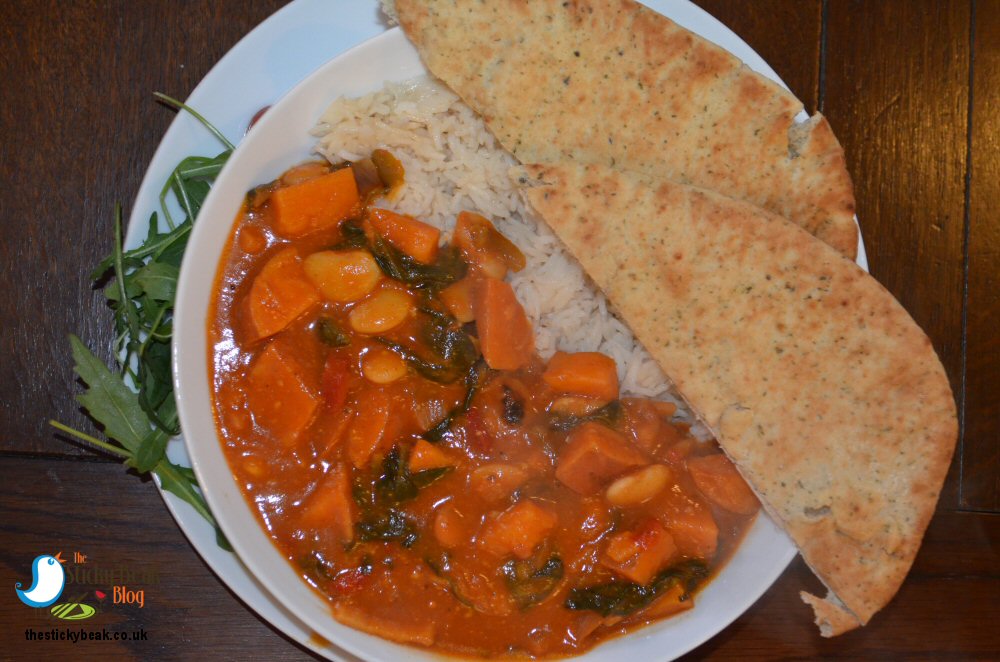 The Man Birds' homemade vegetable curry smelled incredibly good across the table, and he confirmed it tasted just as good when I quizzed him. Thankfully he took the hint and passed me a forkful over to try, and it wasn't overly spicy but had a good robust flavour to it. Karen kept the vegetables quite chunky so this looked a good hearty dish, made to beat the winter blues. As well as being packed with goodness from the Squash, Peppers and Spinach, this morsel packs a good fibre hit too, so it keeps you feeling full for longer without sending you into a food coma.

His Nibs didn't manage to finish all his basmati rice and flatbread, so it's definitely safe to say that this is a belly filler!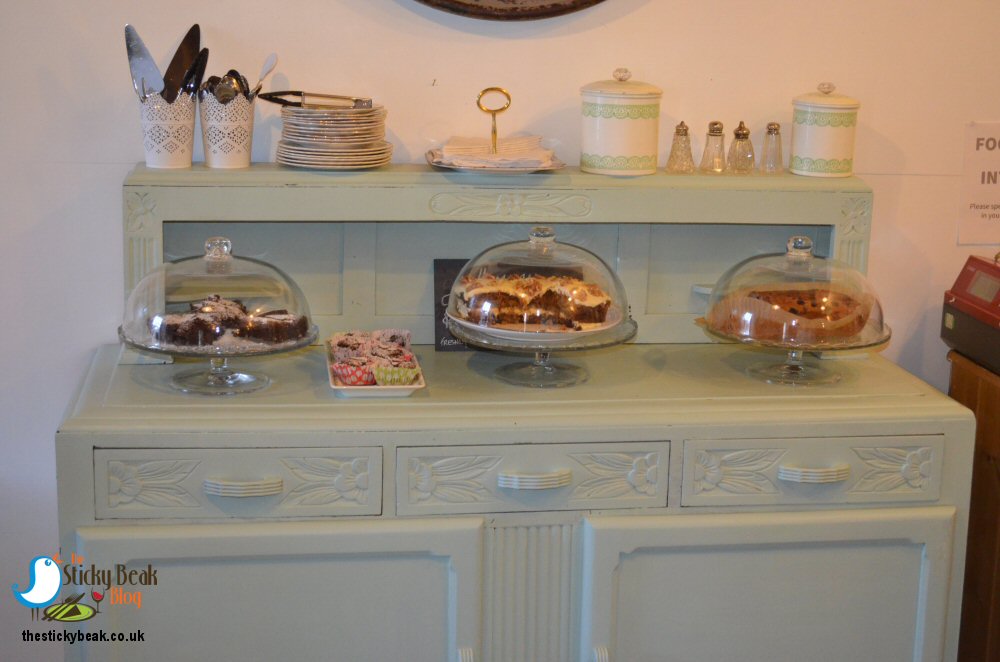 Karen also makes her own Cakes (individual and larger ones to slice), Scones and Brownies; they all looked so good it was impossible to choose! I decided to give the vegan cake a whirl, The Man fancied the Brownie (surprise surprise!), and we said we'd share a slice of the Carrot cake.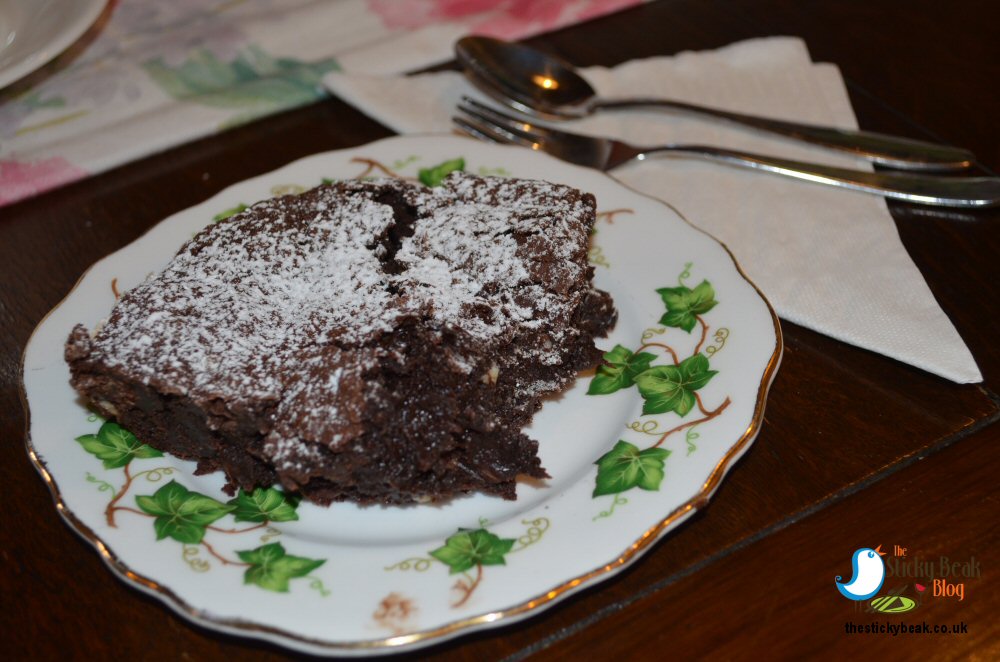 The vegan-suitable, gluten-free cake is made with rice flour which gives it a bit of a different texture to one made with wheat flour; it's finer and a bit drier in the mouth. Karen counter-balances its natural dryness with the addition of moist whole Blueberries, Orange zest and a smidge of juice, and Almond essence. I was pleasantly surprised by how much I liked this cake and by how tasty it was; definitely worth going out of my comfort zone for.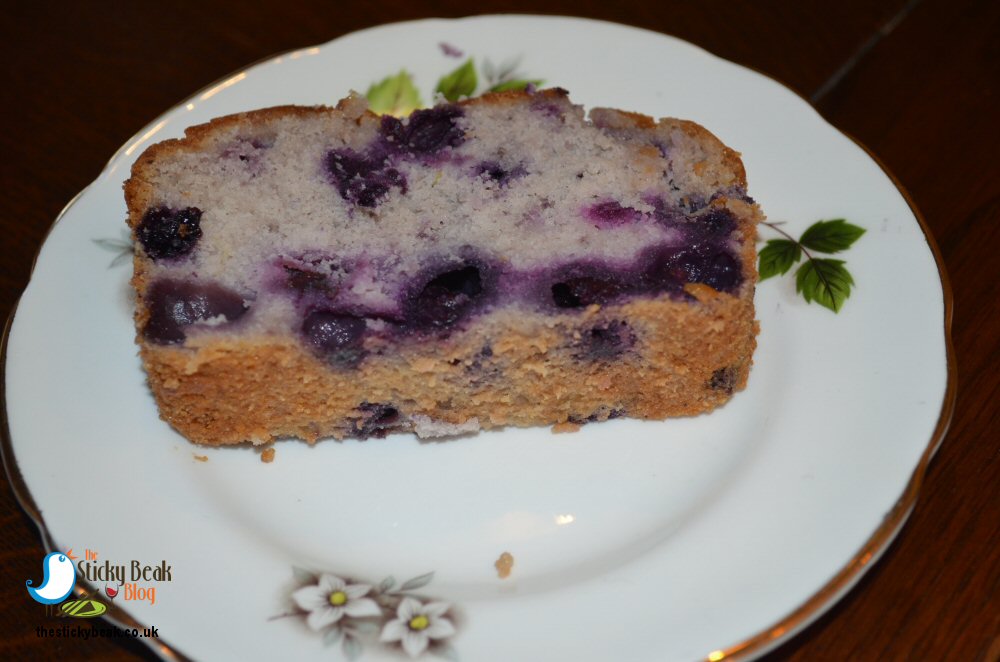 All you need to know about Karen's Brownie is that it's uber-chocolatey, ridiculously gooey and utterly addictive! It's just heaven-in-a-bite, basically!

Equally amazing was the moist carrot cake; the light, spice laced sponge was interspersed with shreds of carrot that gave it its moistness but also gave it some substance in the mouth. One thing any carrot cake needs is a tangy frosting on top and Karen's was just the ticket: sweet-yet-tangy and not tooth-tingling at all. Crunchy Walnut halves decorated the whole thing and brought their own unique flavour to the party. The Man had been yapping away to Phil, and whilst his attention was elsewhere I'd been steadily forking bits of cake into my ever-eager mouth: got to take advantage of these opportunities, right?!




Our bellies were beyond full at this point; full with culinary happiness and comfort. I had expressed interest in Karen's Chocolate chip scones earlier, and she insisted on us taking a couple of them back to the nest to enjoy. The scones had a wonderful texture – not too open, not too dense - and there was a generous amount of milk choc chips baked into them that gave them an indulgent feel, without making them overly sweet.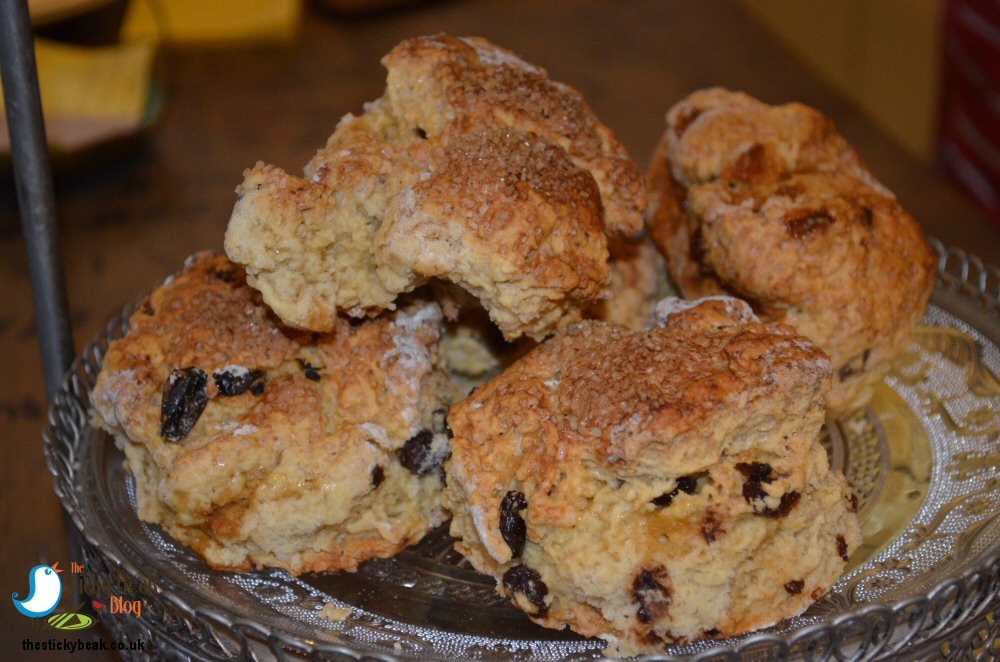 If you like good, honest, properly done, homemade goodies then you need Karen in your lives, folks; like pronto, tonto. You won't get a warmer welcome than the one at Anteaque Bee cafe either, Karen and Phil are so friendly and welcoming; you feel more like a member of their extended family than a mere customer –and you can't put a price on that feeling.




Karen has plans to start a delivery and pre-order service to local Belper businesses in the near future, but is contenting herself with breakfasts and Sunday lunches (plated meat, Yorkies and roasties, with vegetables served in bowls to help yourself too, family style – priced at £9) as well as midweek lunches for now. Anteaque Bee Cafe opens Wednesday-Sunday, 10am-3pm pop along and sample the grub for yourself, you won't be sorry. Hot Wings awarded here, no hesitation at all.
Some form of incentive was provided to visit this venue
read more