Cupcakes In The Post From Pink Aubergine Cupcakes
---
Published On Tuesday 15 Oct 2019 by Sticky Beak
See Recent Food Producer Reviews | See All Recent Reviews


The Man Bird and I sometimes get asked "would you mind if we send you X,Y,Z to try?", to which we always reply "we'd love to try your produce, but please don't think that this will guarantee you a review". We treat these things as if we were going to review an actual venue and product in the flesh, so the criteria for a review are the same: if we would recommend you to friends and family, then you get a review.
As you know, we don't do negative reviews on our blog, so if there is something we really don't feel comfortable recommending then we feedback privately to the individuals concerned, always trying to be in a constructive way.

Anyhow, Pink Aubergine Cupcakes (yes, I know, odd name, but bear with!) got in touch to ask if we'd like to try some of their cupcakes, but not just any old cupcakes; oh no, vanilla cupcakes topped with our very own Sticky Beak corporate logo. Heck to the yes, we'd love to try them – and see them!!

Fast forward a couple of days and lo and behold, there the beauties were; snuggled up in protective packaging, ready to be unwrapped and enjoyed. Claire, the person behind Pink Aubergine Cupcakes, treats her products with the utmost care to ensure that they reach her customers in pristine condition. As well as a sturdy cardboard box, the cupcakes had a later of insulation and cold water-filled pouches to keep them chilled and then they were individually contained in plastic domes to ensure that the frosting and logo discs didn't get damaged at all. I'm pleased to report that the 6 delights were all box-fresh and perfect, not a squish or blemish in sight.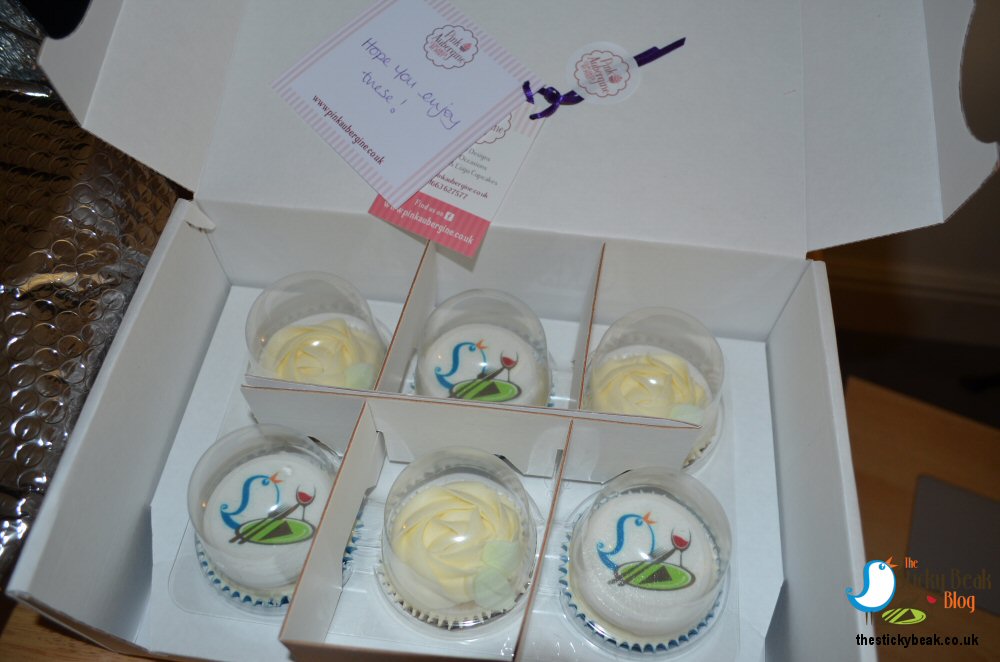 After taking some photos of said cupcakes it was time to see if they tasted as good as they looked. They did!

The sponge cake itself was superb with a light texture that had a lovely bounciness to it, and it tasted gently of vanilla. Now I don't know about you, but I often find that there is simply too much frosting/buttercream on the top of cupcakes. Whilst it may look jolly pretty, it's a blooming nuisance when it comes to eating it; half of it ends up on your face no matter what strange angle you position yourself in to bite it! Thankfully, Claire has done her research and these morsels had the perfect (to me) balance of cake and frosting; there was no wastage on mine or His Nibs' chops, it all ended up in our tummies. There wasn't any of that horrible tooth tingle either, which happens when the decoration is simply too sweet and sugar heavy, and as with the cakes, the buttercream had a gorgeous vanilla taste to it.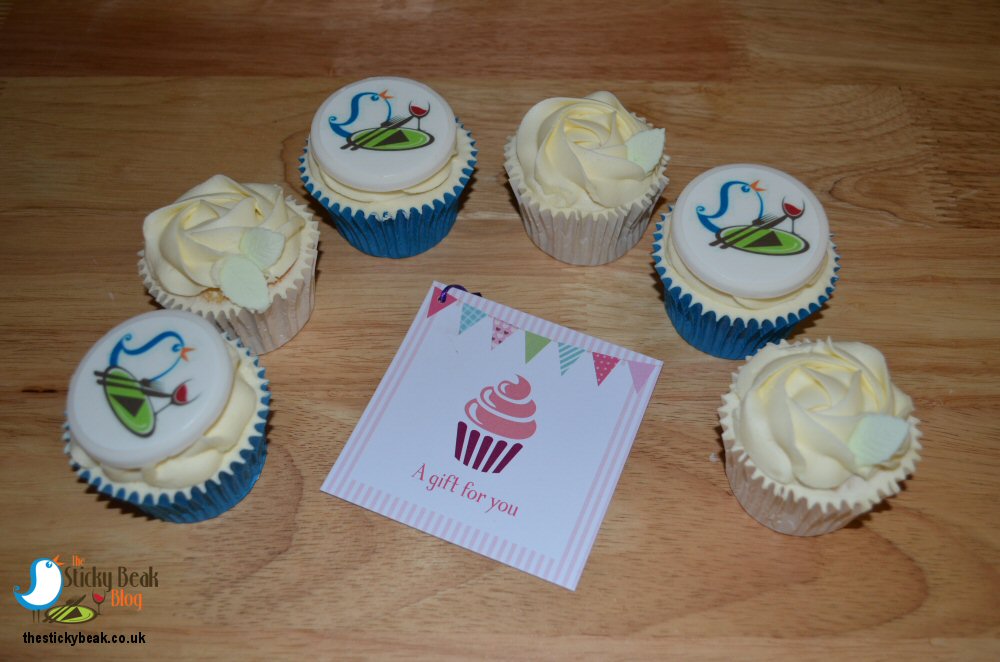 I am an optimist by nature and clearly Claire is too; our cupcakes arrived on the 11th and the label in the box stated "best before 14th". Pffftttt!!! They weren't going to last the day, never mind another three!! But I did like your outlook, Claire.

Pink Aubergine deliver their cupcakes throughout the UK, either for personal use or you can order bespoke or corporate ones. Pretty much any occasion you can think of can be celebrated with these delights, from Affirmations to Zoroastrian events (A-Z, see what I did there?!). Best of all, Pink Aubergine is a Derbyshire based business (so you'll be supporting a local venture) who also tries to source ingredients from other local businesses.

Fur-baby Mommas keep your eyes peeled for Doggy Cupcakes coming in the (hopefully) not too distant future; best I don't tell our pooch – he's a glutton too, surprise surprise!

Hot Wings definitely awarded to this fab company; not only did they look great (thanks to our natty logo!), but they tasted scrummy too. Thank you for approaching us Claire/Pink Aubergine lady, it was our pleasure to try your marvellous cupcakes.