Derby Cocktail Bars And The Late Night Bus Service
---
Published On Tuesday 16 Apr 2019 by Sticky Beak
See Recent Experience Reviews | See All Recent Reviews


This is a "tale of two Cities"; well that's not strictly true as Chesterfield is classed as a town, I think – anyhow using my poetic licence I'm calling it a tale of two cities for this blog! There was an occasion in the Flock to celebrate, and we invited the Boyf Bird and his folks along too; it's been ages since we all got together. We kicked off at The Hunloke Arms in Wingerworth, Chesterfield with a fabby meal and then The Tribal Elders decided to go back to their nest – well it was past 8 o' clock which is their bedtime (ooh I'll get told off for that one!) and BB's folks had other places to be. That left Chickadee, The Boyf, His Nibs and me; we all were in the mood for staying out late and having some fun.
Photo courtesy of Trent Barton
Thankfully Trent Barton and their wonderful fleet of buses and drivers saved the day once again! Down the road from The Hunloke Arms is a bus stop that takes you from fantastic Chez-Vegas all the way into Derby. Get in, or on (the bus)! Chickadee tracked the bus via the live-time app on her phone and with the bus only a couple of minutes away, we'd timed our departure from the Hunloke Arms perfectly.

The journey itself was fairly uneventful; we stopped at Alfreton, Ripley, Denby and Kilburn before reaching Derby, and the traverse had been lovely and smooth.Normally we come from the nest into Derby via the Nines' service, but this particular night saw us use the Comet; instead of pulling up near the Quad we ended our journey at the bus station, which was nice and clean.




Our first pit stop was the lovely Bear, which we normally go to during daytime hours for a coffee and cake – we love the friendliness of the staff and the great coffee there. Bear stays open until 11pm and does a belting range of Cocktails, which we availed ourselves of – well travelling is thirsty work, no? We weren't the only ones in there enjoying a drink, there were plenty of folks in, but the atmosphere was still nice and quiet thanks to Bear being a little bit off the (mainstream) beaten track for drinking.




Boyf Bird had been kicking it hard at the Hunloke Arms so he decided to start his Derby adventure off with one of Bears' lower alcohol offerings, the Parma Violet Spritz, which come in at a very budget friendly fiver! Birthday Girl pinched the pack of Parma Violet sweets though before anyone had had chance to blink. Not sure that the goodies were the best flavour combo with her Classic Mojito though – hahahahaha! I was in the mood for an Espresso Martini – let's face it the coffee element was going to be blooming good wasn't it?!

The crema on top was lovely and dense and provided a stark creamy contrast to the dark toned, intense coffee underneath. Perfect. His Nibs had also gone down the Martini route, choosing the Earl Grey-infused version. What a bobby dazzler this was, light and refreshing with that fragrant note of Bergamot coming through beautifully. We said thanks to Alex and the rest of the team and headed off down Sadler Gate to our next venue, The Palfrey.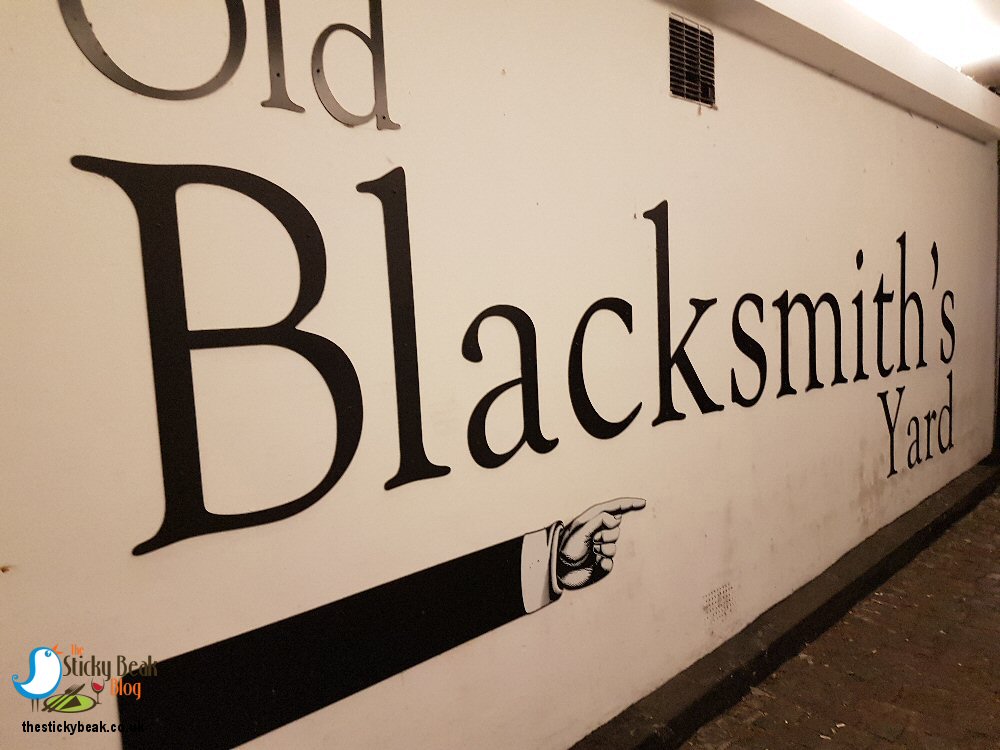 Sadler Gate was busy; they are plenty of pubs and bars down here to choose from, and the buildings are deliciously quirky inside too. The Palfrey is located in the Old Blacksmiths Yard, set back from the main pavement which gives it a fantastic intimate atmosphere. Unfortunately, the night was just a smidge too chilly to sit outside at one of The Palfrey's benches and parasol-covered tables; shame, because the twinkling fairy lights looked magical. Oh well, it's a good excuse to go back on another occasion isn't it?.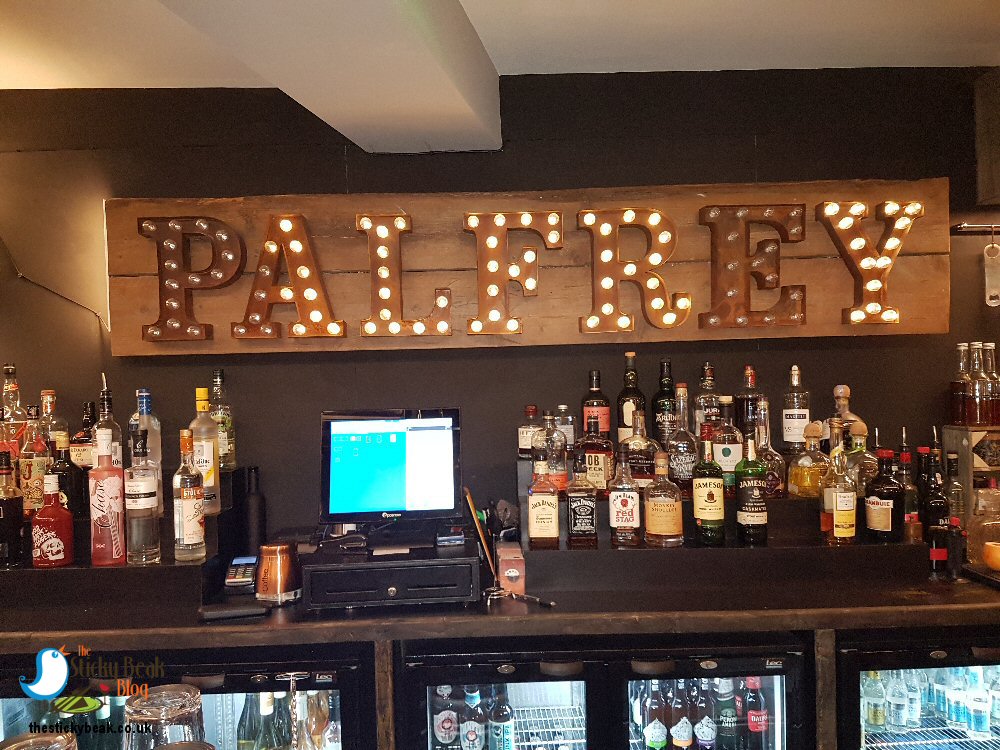 The Palfreys Bar Manager, Adam, was on fine form shaking and stirring some gorgeous looking libations for Derby's beautiful people, and the atmosphere was refined elegance within the modern bar. Gotta keep it classy.

Birthday girl was treated to a divine pale pink concoction, Palfreys Marshmallow Special, and it was just heavenly! It tasted every bit as gorgeous as it looked, but beware; it doesn't taste alcoholic at all, just of Strawberries and Cream, so give (this lady) a bit of r.e.s.p.e.c.t. I fancied something a bit outré, so I had the After Eight and it really was just a liquid version of that Classic Chocolate that is its namesake – yummy! The Man and Boyf Bird both sampled new cocktails that The Palfrey has just popped on their drinks menu: The Activated and Pineapple and Cardamom Julep respectively.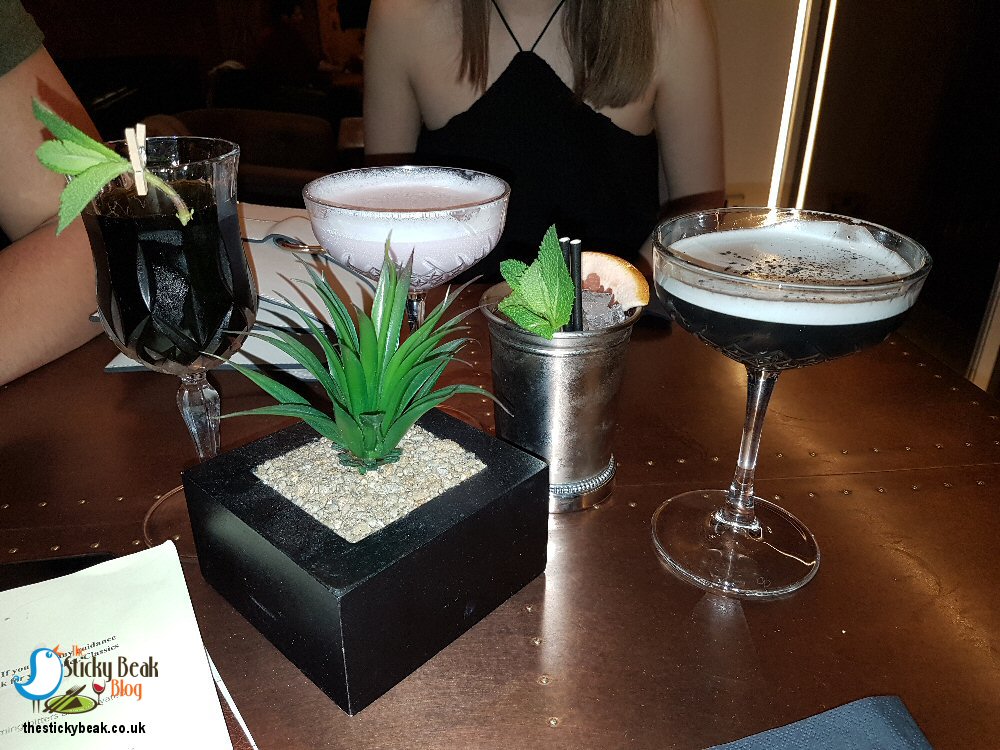 The Activated is black in colour thanks to the Activated Charcoal in it! It doesn't taste like Charcoal though don't panic! The combination of El Jimador and Kraken spiced Rum warms you up as you sip at it, along with zingy fresh Lime and foaming bitters; Vanilla syrup brings a fab roundedness to this drink, making it most enjoyable. Boyf Bird was a little less cautious with his deceptively fruity, Tequila based Pineapple and Cardamom Julep, but it came back to bite him when he stood up to leave! Sometimes age, and the experience that comes with it, is a good thing! Bidding Adam goodbye, it was time to set off into the increasingly busy street and see what was happening at Carnero Lounge.

His Nibs and I had been in Carnero Lounge earlier in the day for a spot of Tapas lunch after a marathon shopping spree through Derby Intu with the Chick! She'd headed off home with bags full of clothes and accessories, but us oldies had needed some refuelling and a breather. John and Courtney had said to pop in and they'd sort out some cocktails for us, so that's what we did! There was a lovely vibe in Carnero Lounge; not rowdy at all, just nice and chilled.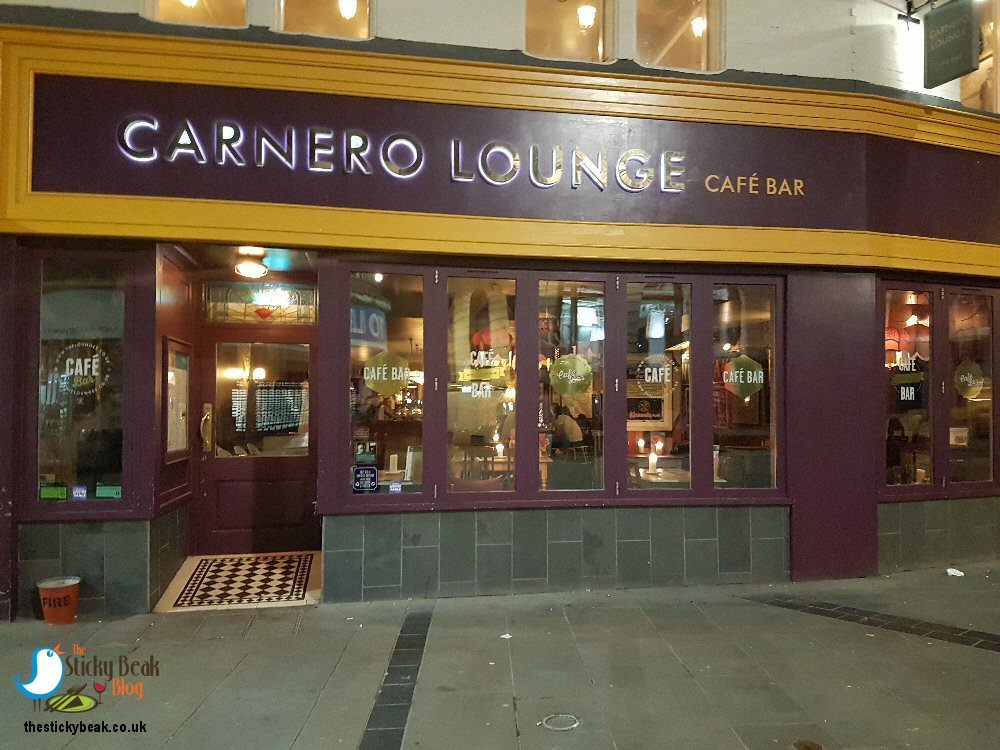 We plonked ourselves down at one of the tables with padded banquette seats and comfy padded chairs, studying the cocktail menu intensely. Chickadee decided to continue her Mojito journey with a Raspberry variant, Boyf had a cheeky Baileys Chocolate Orange number, I stayed true to my Derbyshire roots by choosing the Cherry Bakewell cocktail, and The Man Bird had a Winterberry Gin Sling.

His Nibs really loved how fruity and refreshing his Gin Sling was, and my Cherry Bakewell was lethal in its deliciousness – another of those deceptive "doesn't taste of anything alcoholic" tipples that really packs a stealthy punch as it slips down all-too-easily. The Boyf had a sip of mine and really rated it, then turned his attention to his creamy concoction, which was also marvellous (and equally deceptive!). Chickadee liked the Raspberry Mojito too, so Carnero Lounge was given big thumbs up from us all.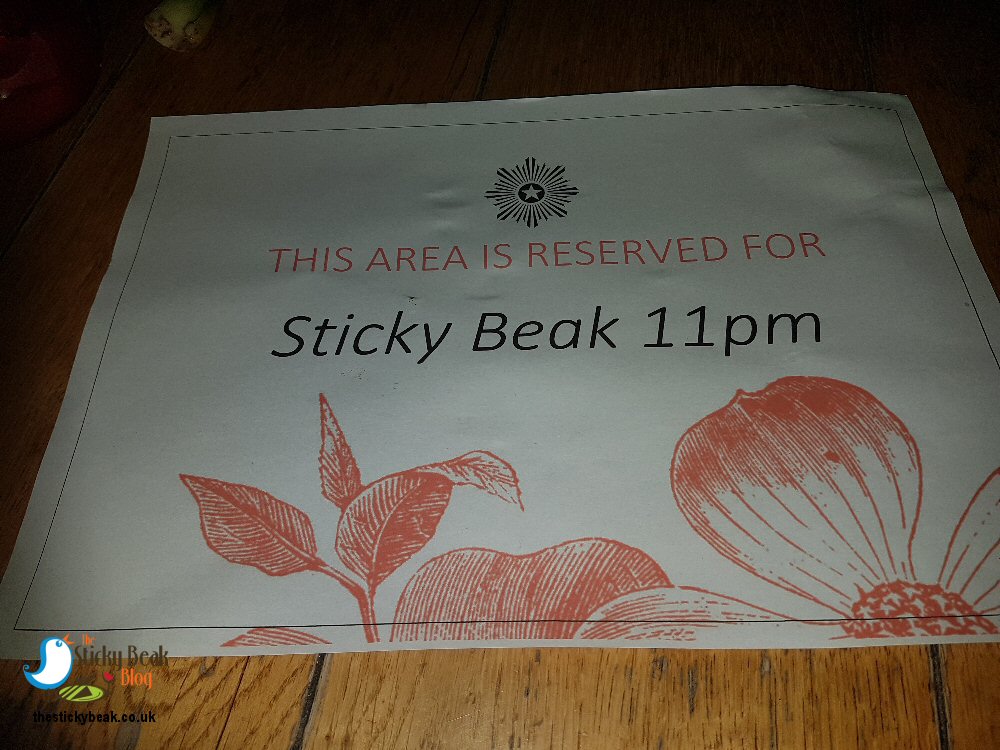 It was now time to ramp things up a notch and head over to the Wardwick/Strand area of Derby City and the energy was clearly felt in the air. Music was pumping, bodies were writhing and stilt-walking promotion girls were strutting their stuff up and down the pavements.

We went into Revolution Bar and it was heaving! Chickadee and I love our music and we grinned at the tunes being played and began to sway as we made our way to the bar where Max the Mixologist was holding court. A table had been reserved for us in the corner, replete with balloons and its own rope cordon – tres swanky!! There was another birthday party celebrating a couple of tables down too so it was party central in this area of the bar, and they kindly shared a bit of birthday cake with us – thanks guys.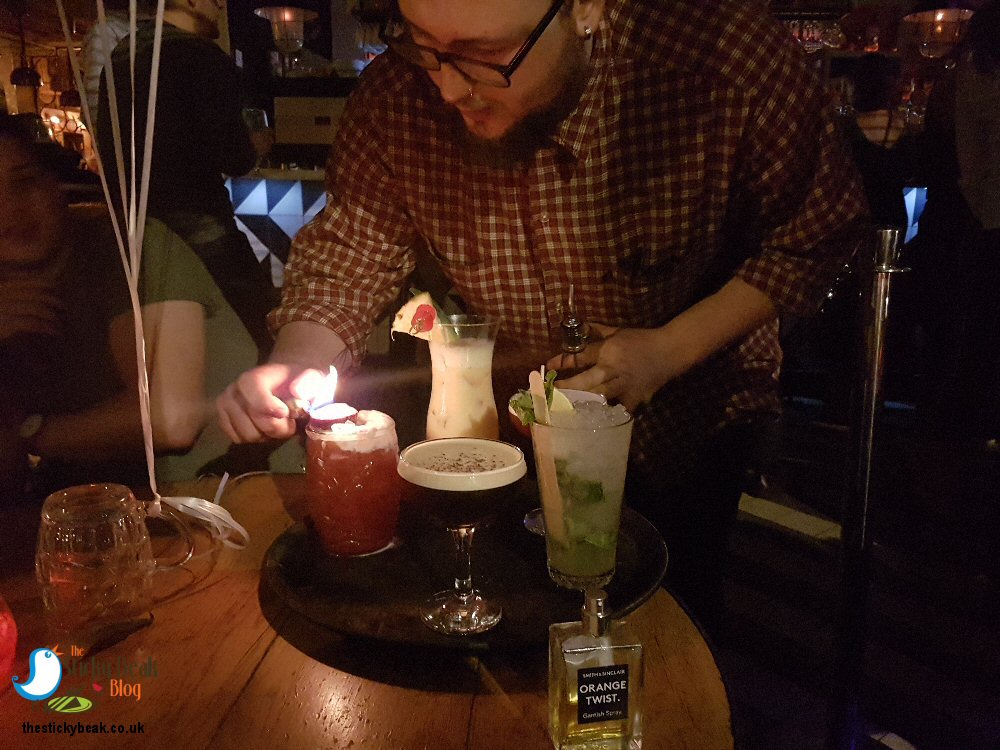 Max brought out a tray of colourful cocktails for us and proceeded to display some serious flame skills – you can't beat a bit of table theatre! The Zombie got the celebration treatment as Max poured alcohol into the passion fruit half and set light to it! After that, he proceeded to mist and flame Orange bitters over the Cosmopolitan, creating a curtain of twinkling sparks in the air. Chick and Boyf Bird were mesmerised by it all; let's face it though, if you can't get lost in the moment on your birthday, when can you?.

His Nibs was having the classic Mojito, I had gone for a Pina Colada – not something I have very often due its high cream content, but I just fancied it. I really did love this; perhaps I shouldn't leave it so long before I next have another. We had originally been a group of 5, but it was a case of (wo) man down before the night had begun, so there was an Espresso Martini going begging. Not for long! The Man Bird and I soon showed this little minx who were the bosses.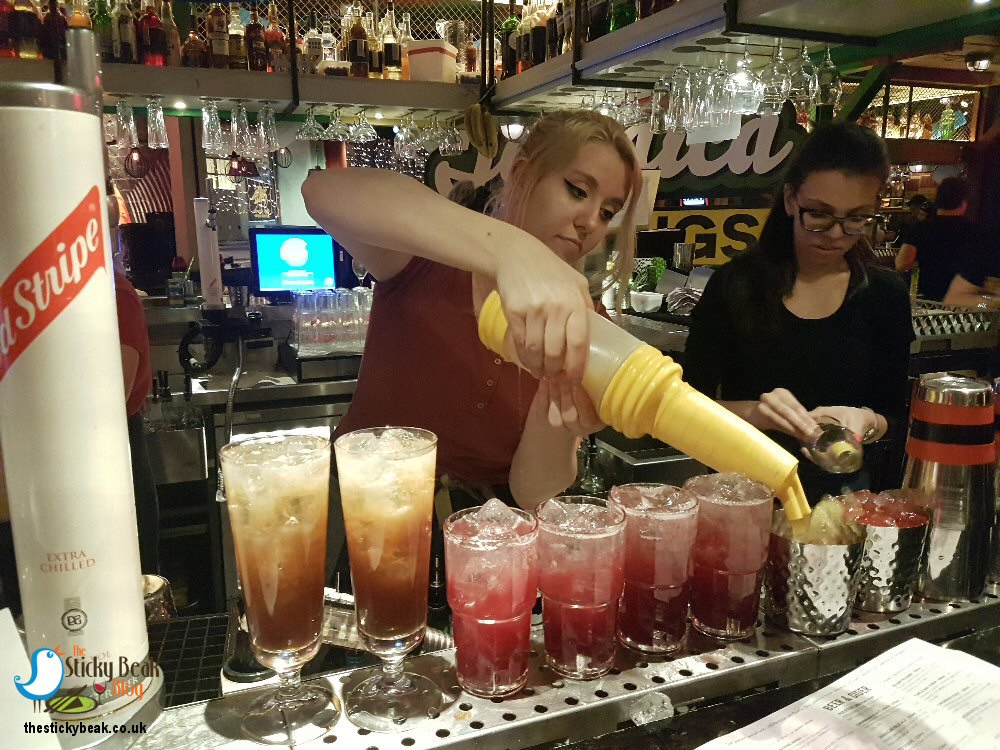 Turtle Bay kept the party vibe going, albeit with a more chilled Caribbean vibe, swapping high energy tunes for reggae beats. From 10pm until close it's 2-4-1 on cocktails, so drinks were definitely on the table! Normally I can't be parted from my beloved Marley Mojitos (love 'em!!), but I was feeling daring, so I had the Reggae Rum Punch instead. This beaut doesn't half pack a punch; containing Wray and Nephew over-proof Rum it is lethal in its own right, but combined with the generous over-pouring technique of the Turtle Bay bartenders it reached new heights! I tell you what though; it is absolutely gorgeous –fruity, refreshing and upbeat.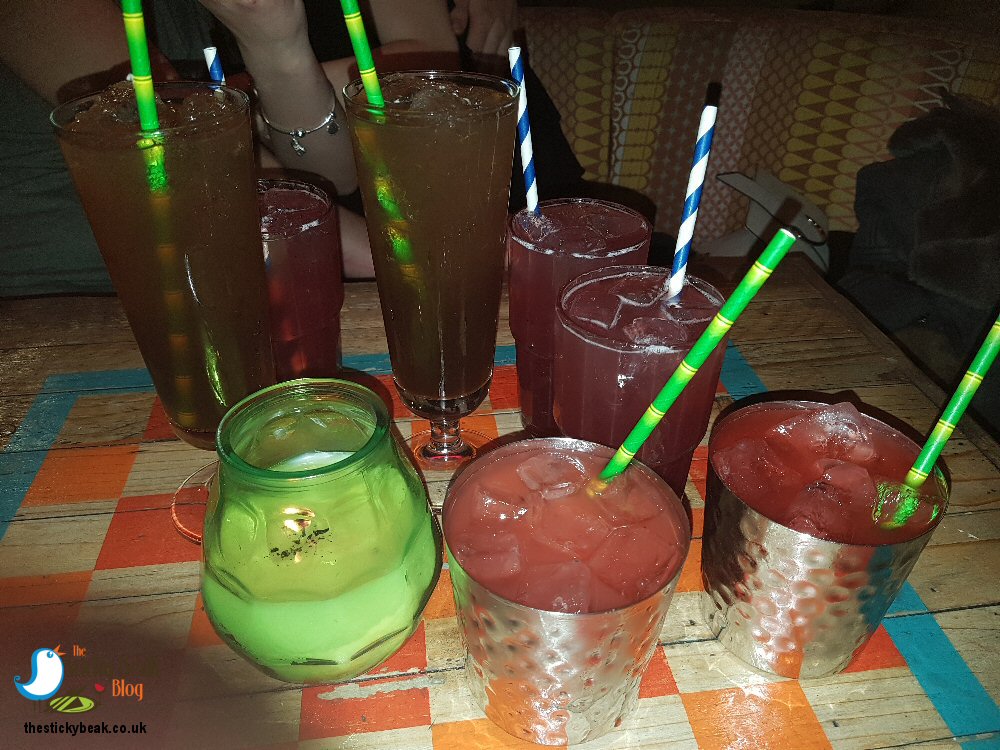 Chick and BB both had the Raspberry Reggae cocktails, and this was voted to be another smash. His Nibs was the only one who didn't have a pink hued drink – he'd gone for his favourite, Island Iced Tea, a dark and stormy looking tipple. All the drinks were yummy, but being mindful of the fact that we'd got double the amount and the over-pour factor, we took our time drinking them.

It was only a quick hop, skip and jump over the road to Revolucion de Cuba and Raf was the man in charge on this occasion. He took us inside and got us sorted with some cocktails; I had an Aperol Spritz, Chick and her Daddy had Classic Mojitos, and BB had my usual tipple at RDC, the Super Stoked Cherry Coke. Party spirit had taken a hold of "the kids" so they went off for a swift bop on the stage – along with half the city's population it seemed! Let's just say that RDC was jumpin'!!!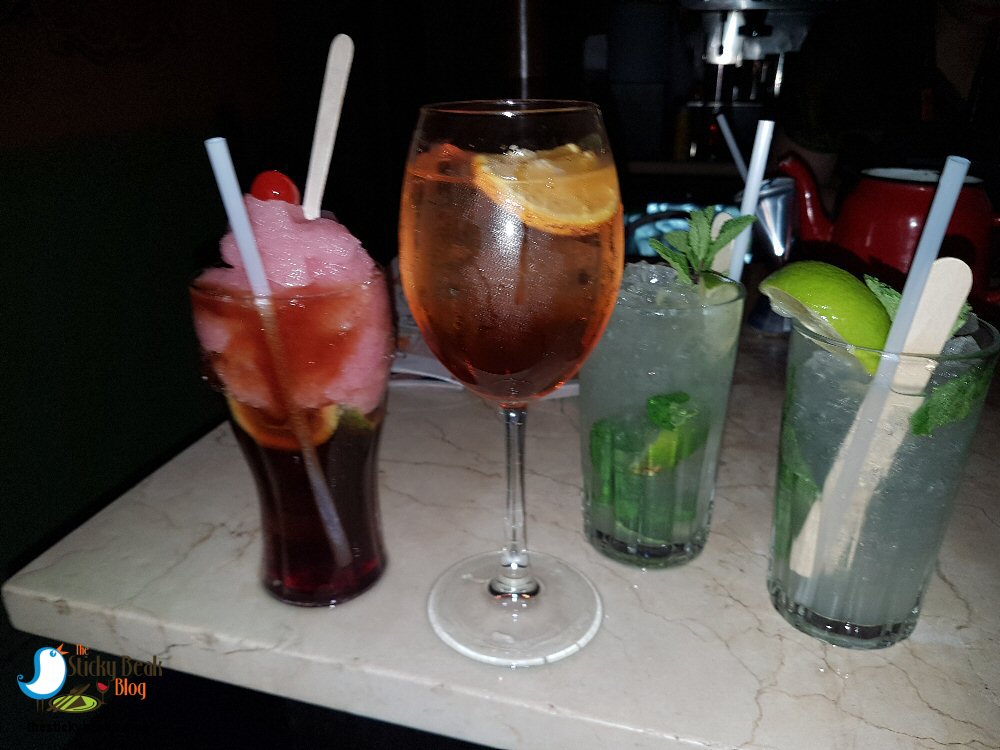 Raf kept up the party mood, bringing out a tray of Tequila shots with massive sparkler for a bit of drama and pizzazz.We downed the yummy raspberry shots and followed Raf over to the private bar area behind the DJ and he left us to carry on celebrating in our own style – that'll be dancing, drinking and general high-jinks then!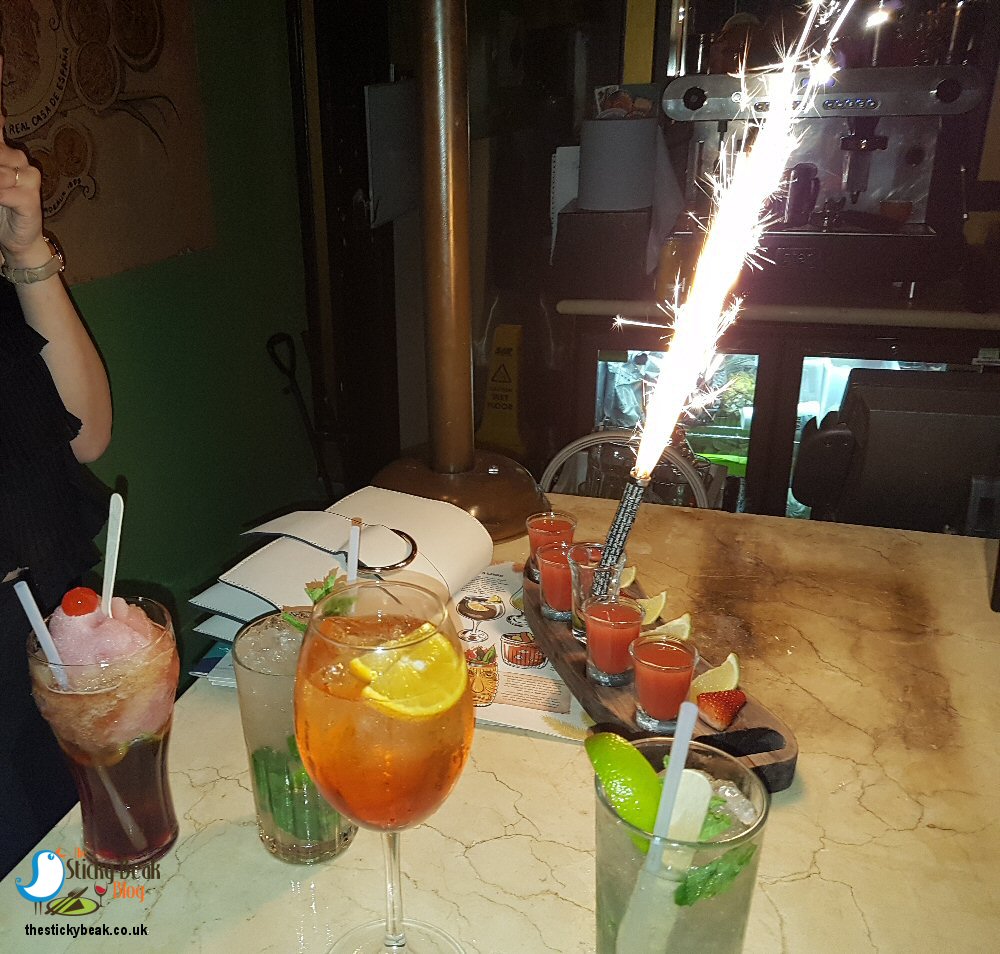 Our final stop of the night was a bit of a trip down memory lane for The Man and me; Moo Moo is a nightclub that has a distinct "student vibe" to it. It's not glamorous particularly, although you can't help but LOVE the bank of glitterballs in the "Disco" room; I got ma groove on to Bruno Mars and found a booth to chill in too – bonus. Chickadee and the Boyf found another room where grime was the order of the day, so they disappeared down that rabbit hole for a good while! His Nibs and I went for a wander back into the main room and had a boogie there for a bit; clearly we were throwing some half-decent shapes as the wee nippers didn't bat an eyelid at us!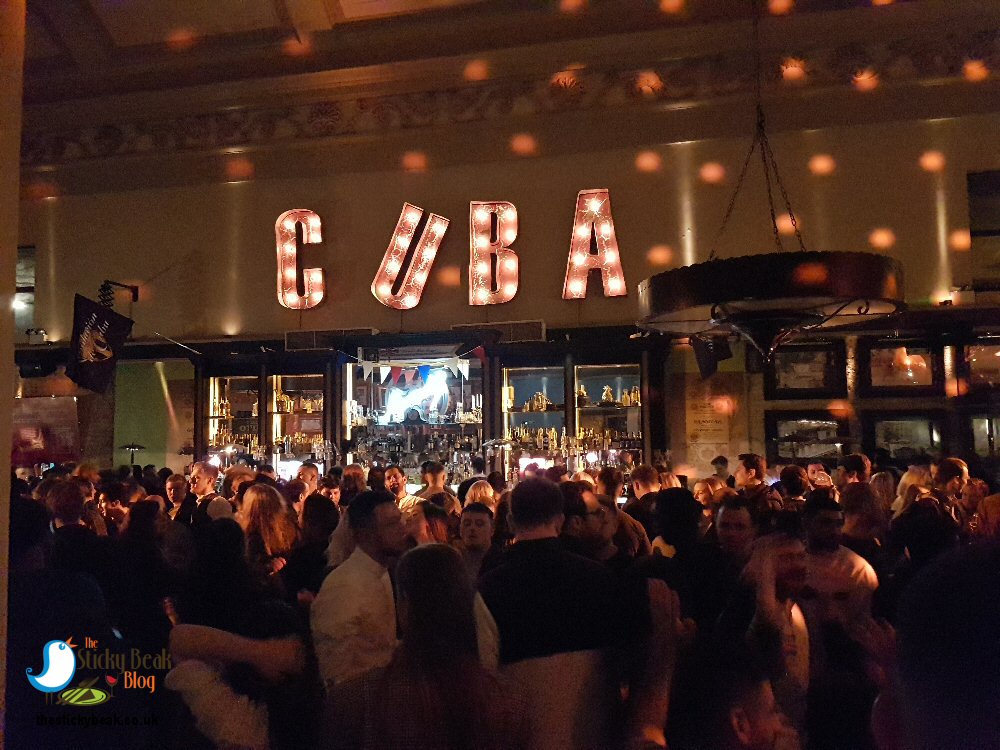 Before we knew it, we had to skedaddle back to the bus stop near the Quad to catch the last night bus home at 2.45am. Trent Barton run loads of night buses: Ilkeston Flyer (Spondon and Ilkeston), the Nines 9.1 (Kilburn, Ripley, Alfreton), Red Arrow (towards Nottingham), the Sixes (Belper estates via Duffield), the X38 towards Burton-upon-Trent, the Indigo service (towards Borrowash, Long Eaton and Nottingham), and the H1 (towards Heanor only). Quite good coverage I reckon. The only thing to note is that most Bus Stations shut at midnight, so the nightbuses start and end their journeys from different stops – don't get caught out; check your stop before you leave!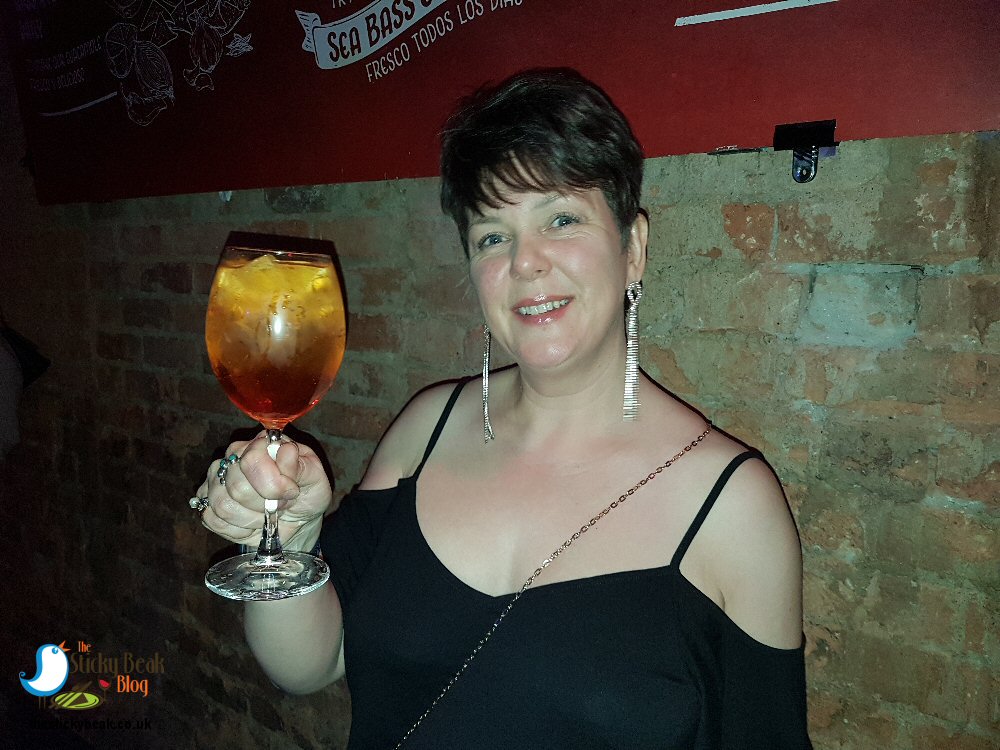 Thank you to Trent Barton and their amazing bus drivers, the Hunloke Arms in Wingerworth, the bars and clubs in Derby, and their great staff and doormen for making it a great night out in both cities for us all. For more information on any of the featured services and venues then please head over to the respective websites. Hot Wings definitely given to all participants in this feature.