Trying Out Some Irish Black Butter
---
Published On Tuesday 16 Apr 2019 by Sticky Beak
See Recent Food Producer Reviews | See All Recent Reviews


Never heard of Irish Black Butter? Don't panic, neither had I! I met the charming Alastair and the lovely Cathy at the Fine Food north Show in Harrogate recently and was intrigued as to what exactly Irish Black Butter was, thinking maybe it was something like Black Garlic. It was absolutely nothing to do with Black Garlic... or butter for that matter! It does however have a very dark (almost black) colour.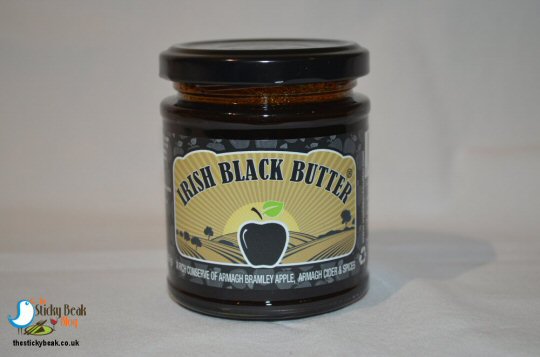 This particular variety is made from Armagh-grown Bramley Apples and originally came about as a way to use up wind-fallen apples that would otherwise have gone to waste. The apples are cooked down and down and down until they form a thick, intensely flavoured reduction. Variants are also made on the Channel Islands and on the south coast of England, as far as Alastair knows.

Cathy was regaling me with the tale of how Chef James Martin came across the Black Butter on his TV show "James Martins Great British Adventure", and how the popularity of their product has sky-rocketed since. I was intrigued as to how to use the Irish Black Butter and Cathy very helpfully gave me a couple of suggestions; the first of which was as a marinade for Chicken Drumsticks, it makes a superbly sticky coating for the meat.

Just as I was starting to salivate at the thought of sticky, yummy Chicken drumsticks for dinner, Cathy went on to say that the Irish Black Butter also goes fantastically well when put in a slow cooker with Beef Brisket. The thought of uber-tender beef and a sweet, rich apple based sauce was the tipping point and I determined to grab a piece of Brisket from my local butcher.




Fast forward a few days and the piece of Beef Brisket that Percy Dawes butchers had got for me was nestled snugly in its slow-cooker bed along with a cosy blanket of the Irish Black Butter. No words adequately describe the incredible aromas coming from the pot as the meat and sauce melded harmoniously together! Nothing prepared me for the magnificence that came out of the pot when it was cooked; the beef fell away in ribbons and was perhaps the tenderest thing I've ever eaten. The flavour of the Black Butter though was exquisite; sweet, deep, rich and it had reduced even further, which seemed to release the fruits essence.

I tend to partner stews, casseroles and slow-cooked meats with basic vegetables and mashed potato; it's worked in the past, so I thought I'd keep the tradition going. Another product I'd been given to try at the Fine Food North Show was the Original Onion Marmalade from Tracklements, and a flash of inspiration hit me: swirl some of the Onion Marmalade through the smooth mashed potato for extra bite. Well folks, all I can say is that I'm a flippin' genius; try it for yourselves and thank me later.

The meal was a complete smash with the whole family –even a pernickety teen Chick!! So Hot Wings happily given to the Irish Black Butter, I need to get me some more to try the Chicken Drumstick recipe out now.

If you fancy trying this yummy product for yourselves, head over to the website www.irishblackbutter.com for more information.