British Polo Gin and Raisthorpe Manor Yorkshire Tonic
---
Published On Wednesday 20 Mar 2019 by Sticky Beak
See Recent Food Producer Reviews | See All Recent Reviews


Some things are just meant to be together, like the proverbial horse and carriage; Gin and Tonic for example. I recently went to The Fine Food North Show in Harrogate and got talking to a couple of the exhibitors who just happened to be showcasing their respective products. Raisthorpe Manor Yorkshire Tonics were on the stand opposite the Man Bird, so they kindly gave me a sample of each of their premium mixers. Then, as I mooched around I came across possibly the most glamorous couple in the building, Rich and Emma from British Polo Gin, who gave me samples of their Sloe Gin and Botanical Gin (both of which are organic and quadruple-distilled).
As you can imagine, Beak H.Q was THE place to be over the next couple of evenings as we drank our way through all these marvellous libatory offerings! His Nibs and I had a cheeky sip of the Sloe Gin before we added anything, and it was simply gorgeous; not too sweet, which let the sharper, drier character of the Sloe berries shine through.

When paired with Raisthorpe Manor's Strawberry and Pomegranate tonic, it was elevated to something extraordinary that bounced on the palate with a multitude of fruity notes. Honestly, it was totally scrummy – I could imagine making this up by the pitcher load for a summer BBQ – plus the tonic has a stunning rose hue to it which looks jolly pretty.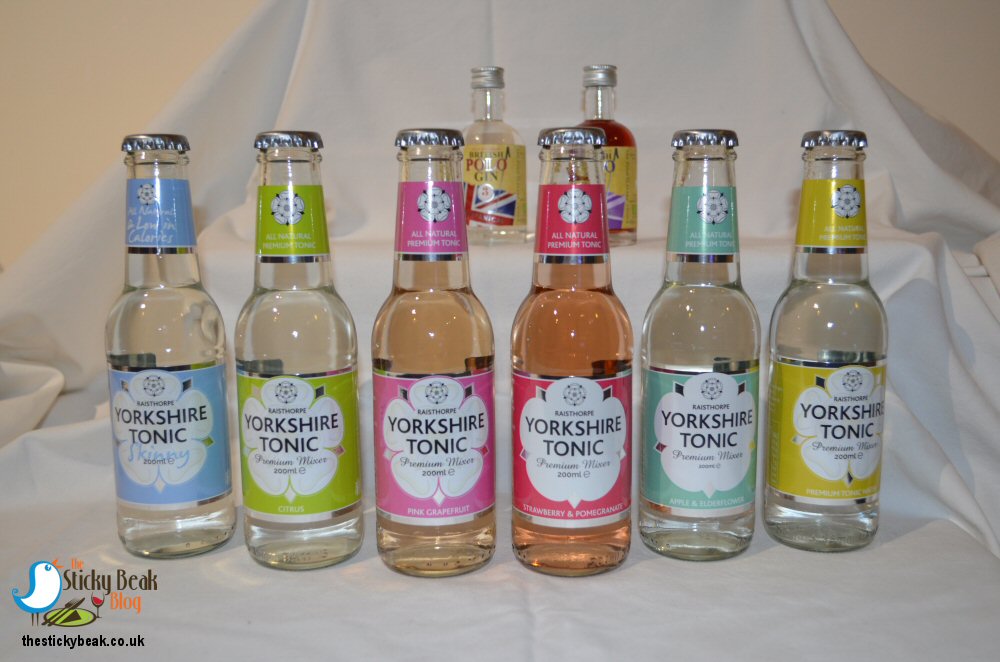 Given the wonderfully smooth taste of British Polo Gin's Botanical offering, I decided to pair it with a classic, simple tonic; enter the rather slinky "skinny" tonic from Raisthorpe Manor. Both drinks have a clean finish on the palate and complimented each other perfectly; the dry finish of the Botanical Gin (which has won 3 stars in the Great Taste Awards, by the way) balanced very nicely with the natural Quassia and Sicilian Lemon notes of the tonic.

We decided to have the Apple and Elderflower tonic that the Raisthorpe Manor Yorkshire Tonics team produce by itself. This minx is beautifully balanced on the palate, with the crisp Apple taste being harmonised by the gentle floral smoothness of the Elderflower. There are other non-alcoholic apple drinks on the market for those who don't drink or are the evening's designated driver, but in my opinion this one is far superior in terms of taste and quality and should be your first choice.

Conveniently we happen to have a bottle of Gordon's Export-strength Gin sitting quietly in the kitchen, so that little beauty got opened and mixed with Raisthorpe Manor's Premium (full fat, to you and me!) Tonic. From the first sip it was instant bliss; the crisp Gin bounced off the correspondingly bright character of the Quassia and Sicilian Lemon containing tonic. Dry, clean, bright and very refreshing – what more could G&T lovers want?




Next up was the Citrus Tonic and we tried a couple of sips of this by itself first, simply with ice. This tonic really does have a fab citrus wallop to it! There was none of that supermarket "with lemon" or "with lime" malarkey that seems bitterer, this stuff actually does have that clear taste of citrus fruit to it above the tonics Quassia notes. Paired with the Gordon's Export-strength Gin it makes for a superb G&T that hits all the right spots.

Our last tonic to try was the beautifully fragrant Pink Grapefruit number, and we opted to have this served just with plenty of ice. We both loved its lovely piquant sharpness; it was very representative of the fruit, and was nice and lively in the mouth with a wonderfully refreshing quality to it.

The Raisthorpe Manor Yorkshire Tonics and British Polo Gin go astonishingly well together, due no doubt to the care and attention that goes into their production. Bravo to both teams; Hot Wings duly awarded to you all.