El Contador Mexican Takeover Of Elements, Derby
---
Published On Thursday 14 Mar 2019 by Sticky Beak
See Recent Experience Reviews | See All Recent Reviews


There seems to be a movement within the food and beverage industry for giving other businesses a hand up and letting them "take over" a venue; great idea in my opinion, give us customers a chance to experience something a little different!
His Nibs and I have recently visited Elements Coffee House in Derby, sampling the amazing range of teas, coffees, Kombucha and the great range of breakfast dishes that Pete, Stephanie and their team offer. Whilst we were there, Pete was extolling the virtues of a business a couple of doors down on Victoria Street called El Contador, who specialise in Mexican food. He mentioned the fact that this team were going to be doing a "take over" at Elements soon and we said what a fab idea, thinking no more about it other than to mention that Incognito would be a great take over too (which is happening 04/04/19 by the way!!).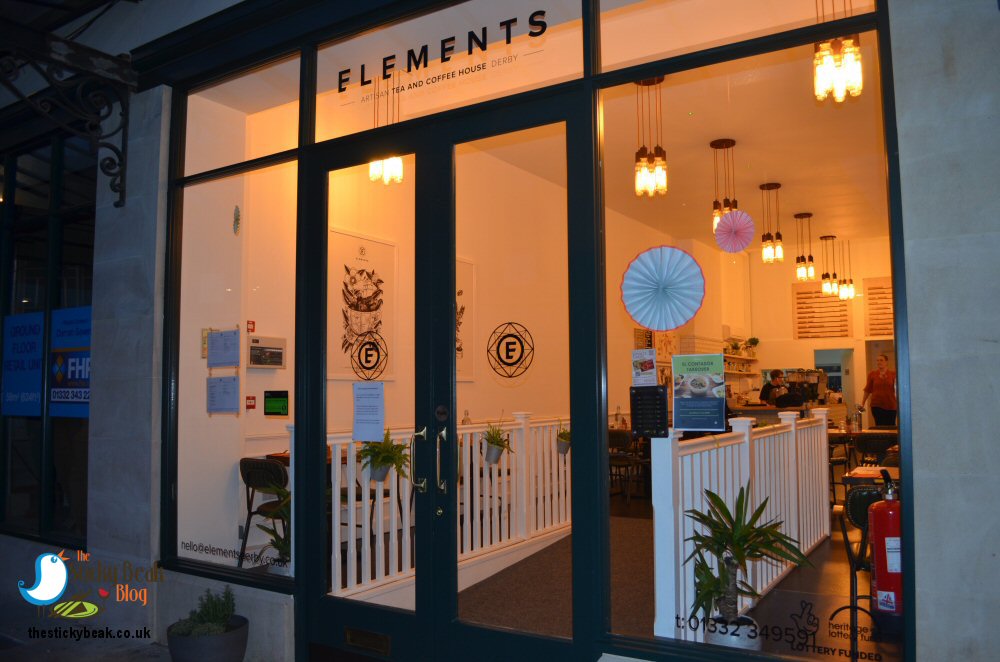 Fast forward a wee while and an email from one of the El Contador team, Tara, comes through asking if we'd like to come along and sample their food. March 2nd arrived and The Man Bird and I got in our faithful jalopy and wound our way into the bright lights of Derby City once more; albeit making a little detour for some retail therapy at the Intu centre and then on to Primark! My excuse was that I needed some new gym threads to sweat in, and Alice Liveing had dropped her latest collection at Primark!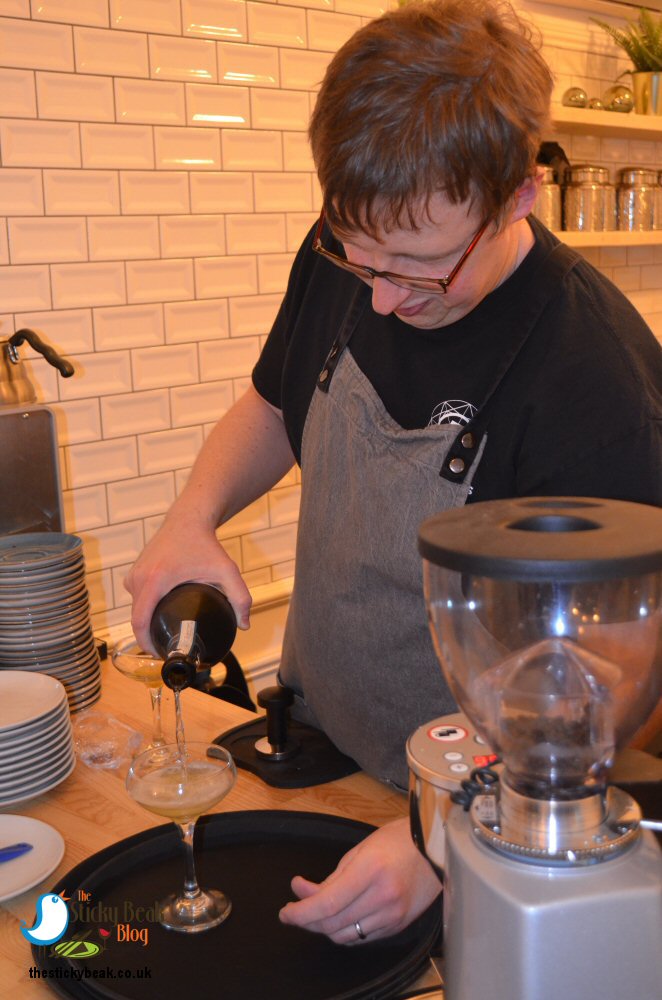 Okey doke, back to the topic... we arrived nice and early to get some photos of the El Contador team setting up the tables (think mini Cacti in pots and a fab sun-baked Terracotta shade for the napkins) before the other diners arrived. Good job we were organised, as Elements was soon bustling with eager folk, and Pete was rustling up cocktails left-right-and-centre. The Peach Bellini's looked very sophisticated in their coupe glasses, but our Rum Coffee Mule's outshone them in their weighty crystal hi-ball glasses (special mention has to go to the zingy Ginger Beer produced by Radnor Hills' Heartsease Farm ).Pairs of bottles of Sol and Corona lagers were winging their way to tables as well – and at a fiver for two bottles it was no surprise that they were proving popular.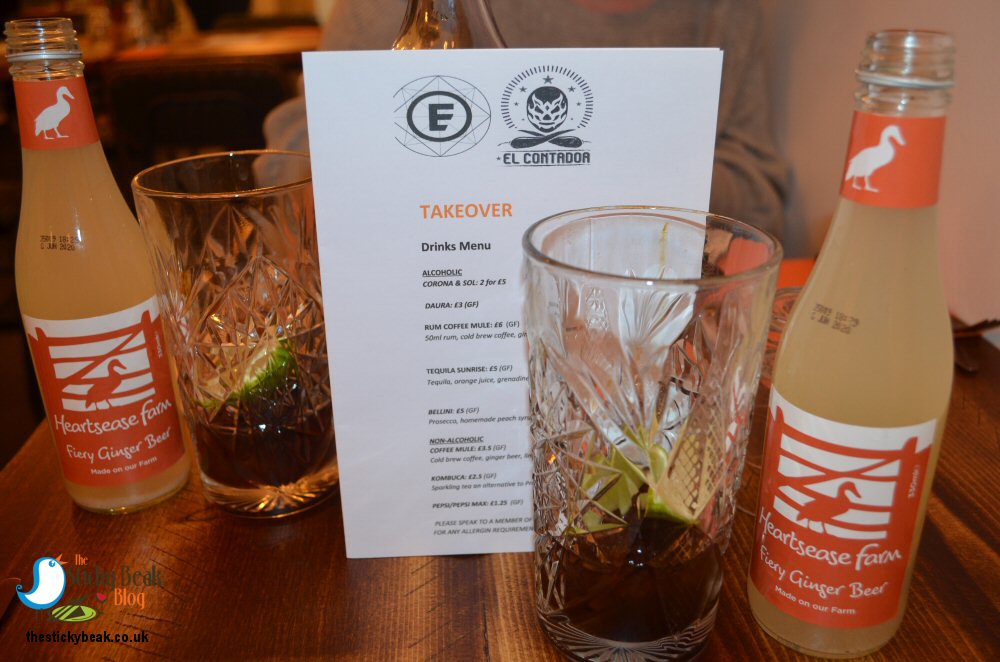 Elements has the capacity to seat 22 people at maximum, and the El Contador evening was to be spread out over 3 sittings: 6-7.30pm, 7.30-9pm, and 9-10.30pm. Nothing wrong with being ambitious, but I thought this was a tough target to set themselves – especially when you're in a different venue to your own.




Tara took us over to our table and got us settled before coming back to take our food orders. For starters we chose Patatas Rancheras (His Nibs) and Cauliflowers Wings (me); all starters were priced at £3.50, with the Patatas Rancheras and Loaded Nachos being available as sharers for two at £5. You could also add Mexican Chorizo to the Patatas for an extra quid (we didn't).

His Nibs' Patatas Rancheras were delish! The triple cooked Potato had a fab crispy outer to them and great tasting inners, thanks to the earthiness of the Potato variety used to make them. Partnering them was a gloriously punchy, smoky Tomatillo sauce and a marvellously rounded, creamy roasted Garlic Aioli. A generous sprinkling of fresh chopped Chives gave a nice Onion hit to the dish as well. This was a great, colour-rich dish that could easily suffice as a satisfying supper dish that requires minimal fuss and hassle.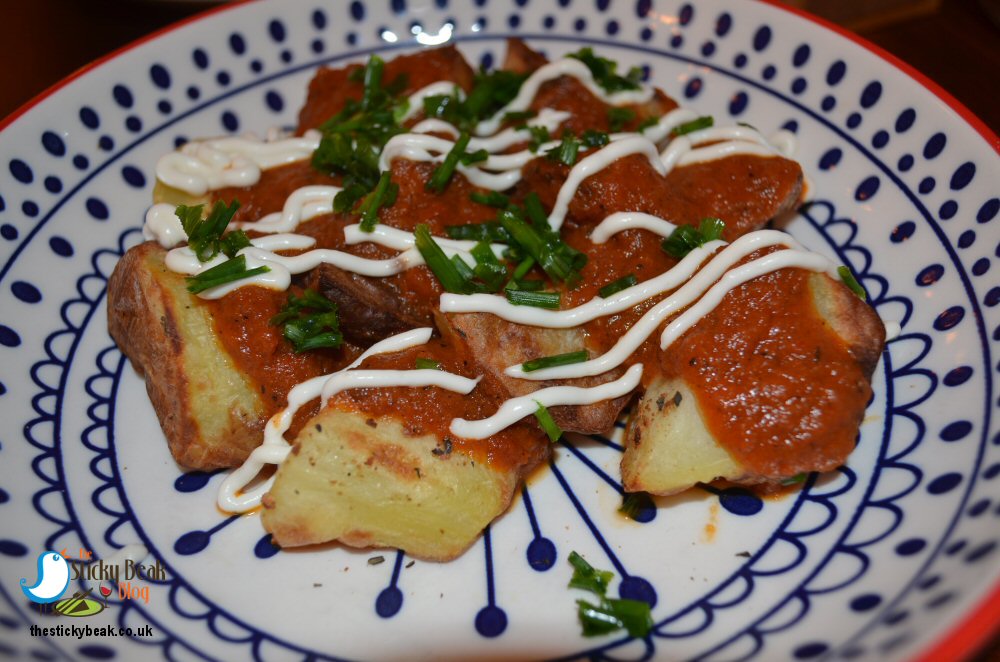 My Cauliflower Wings had a superbly spicy breaded coating on them that had been fried to crisp it up lightly, and the vegetable itself was still nicely firm too. I had chosen the Buffalo sauce to go with them, but there was BBQ sauce if that was more to your liking. What a rip-snorter the Buffalo sauce was too, perfect for blowing out any cobwebs your sinuses may have! Chilled sticks of fresh Celery brought some relief to my taste buds, and thankfully the Jalapeno slaw wasn't too much of a fire cracker.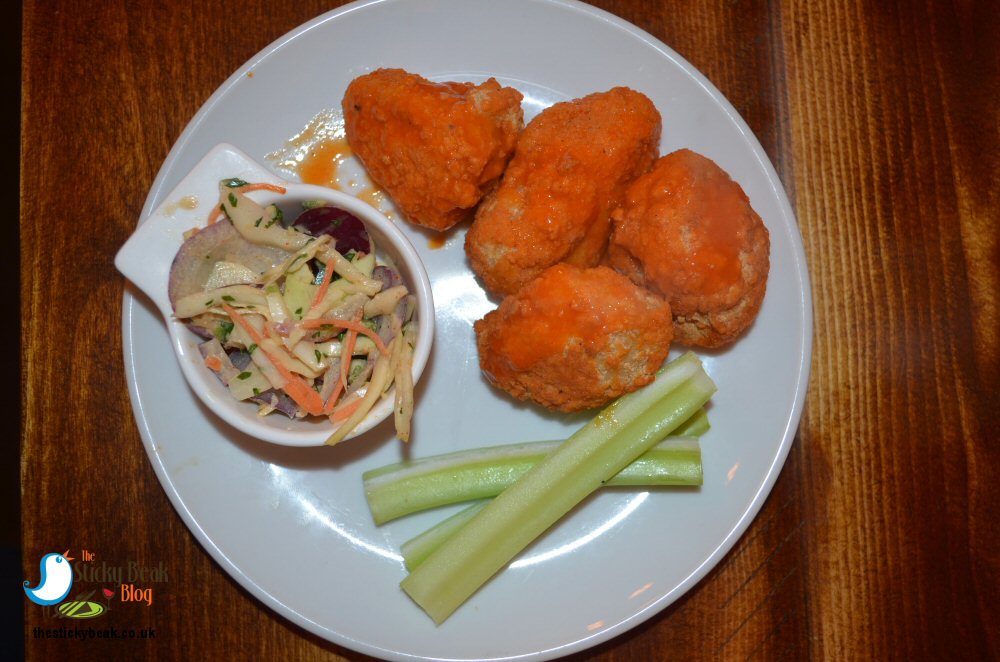 We'd pretty much just finished our starters when the mains were brought out to us: The Man had opted for the trio of Tacos from the meat containing menu, and I'd gone for its twin, but on the Vegetarian and Vegan friendly menu. Priced at £11 for the Taco Plate of any 3 Tacos, we'd thought it sounded great value for money, especially seeing as they came with Black Beans, Rice, and Jalapeno Salsa.

This is where the evening unravelled a little, but not without some entertainment for me! I was tucking happily into my Ancho Chilli marinated Mushroom Taco as His Nibs was taking a bite from a startlingly similar version across the table; but surely his must be the Mexican Chorizo or something? Nope, it was indeed the same Mushroom variety as I was chowing down on!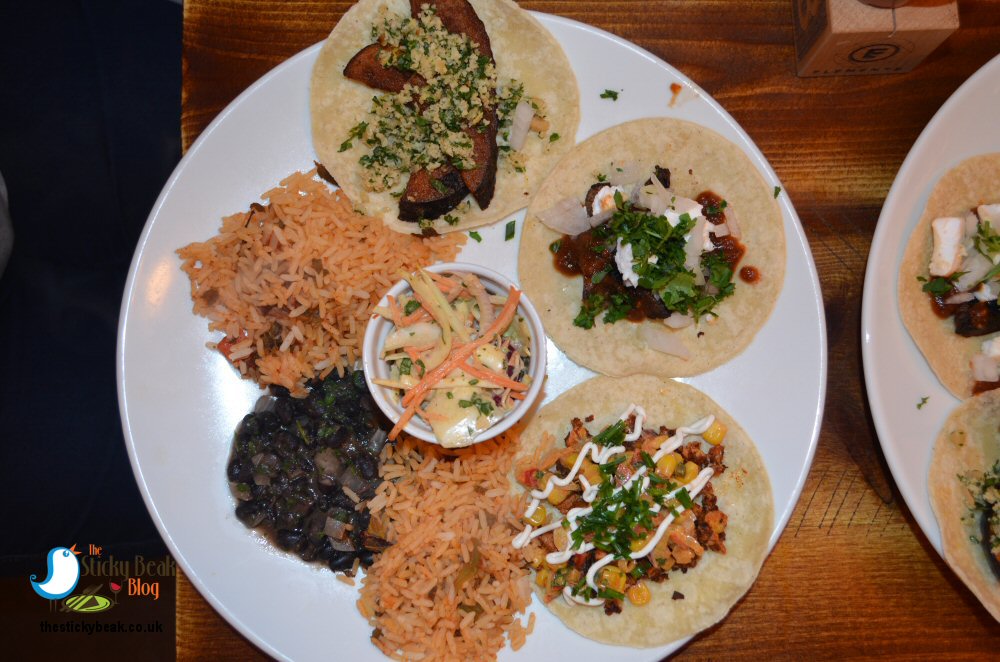 As you know dear reader, the one thing that The Boy Wonder can't stand is Mushrooms (Devil's Slugs he calls them!), so you can imagine the horror on his face as he realised what he was tasting! Oh my days, I know I'll rot for this, but I burst into peals of laughter at his expression; he really wanted to spit it out, but I think shock and manners took over and he just dumbly swallowed it. By now, he was really going for the Oscar award of foodie disgust, and I perversely found it all the more funny - I did say that I was going to rot for this!

We told Tara of the mistake and she apologised and said she'd get the meaty Tacos sent over instead. I therefore carried on munching away, offering to share the spicy Rice, Black Beans and Salsa with His Nibs in the meantime (probably in an attempt to salve my conscience!). Other tables were getting served with their mains, and I started chowing down on my Mushroom Taco in earnest.

The Portobello Mushrooms had a fab denseness to them texture-wise that gave them a very satisfying chew factor and a nice kick from their Ancho marinade. The clean sharp tang of Goats Cheese contrasted well with the Mushroom and the zip of the Aioli added a further note on the palate.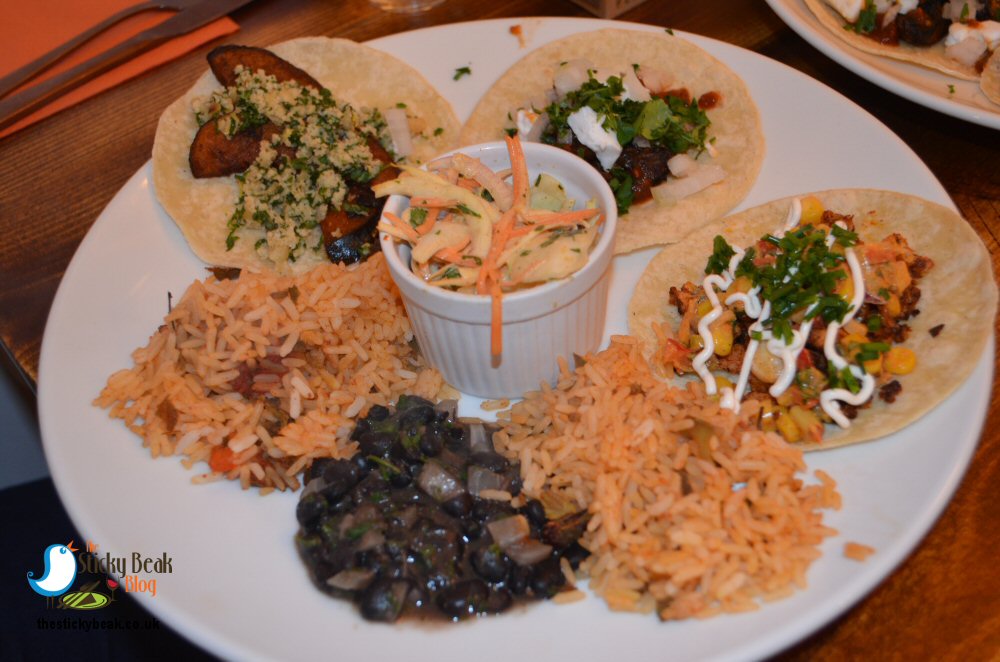 The Chargrilled Aubergine taco was just as nice, although the vegetable was softer in consistency. I loved the crunch from the Hazelnut and Parsley crumb, and the Tomato Chilli salsa was lovely and bright in the mouth. There was certainly plenty of flavour in these veggie delights; vegetarian cuisine has come a long way in the last few years – nut cutlets are no longer the only option on the table for non-meat eaters.

My final taco, Cauliflower Chorizo, was my favourite I think. The Cauliflower was beautifully firm to bite into, and I suppose as a meat eater I yearn for that "chew factor" that I'm used to. There was a superb Sweetcorn Salsa to go with this taco and again this provided some chew time. Mexican food is renowned for its colours and the Pink house Pickles didn't disappoint on this front or on the taste front either; they imparted a great crunch too. The gorgeous Aioli made another appearance, and pulled the whole dish together nicely.

Both of us thought the spicy rice was great; it was just nicely firm to the bite and had fresh herbs running through it to give extra freshness on the palate. You can't have a Mexican meal without beans of some sort making an appearance, and Black Beans seem to be gaining popularity over their refried (kidney) bean cousin. The beans were nicely softened but not mushy and were surprisingly creamy on the tongue when chewed.

Despite having finished my meal, His Nibs Taco Plate was still nowhere to be seen and the team were apologising for the delay. We weren't in a hurry, so it wasn't particularly a problem for us; we kept the conversation flowing between us, enjoying the drinks and atmosphere in Elements. Diners for the second sitting were beginning to arrive and take seats at the counter whilst they enjoyed a cocktail. Some of our fellow diners were drifting off and their tables were quickly filled.




Starters for the second sitting were starting to come out when The Man Birds meat Taco Platter finally appeared. As with my platter, the Tacos had been carefully arranged on the plate and garnished with plenty of fresh herbs to bring out the other colours of the meal. Each Taco was laden with plenty of meat and accompaniments, so with no further wait, His Nibs tucked in!

Up first was the Tamarind- and Soy- glazed Pork Belly beast, and the thick slices of the meat smelled incredibly good. Judging by the look on The Man's face, it tasted good too, something he confirmed as soon as he'd swallowed his first bite! Chef had cooked the Pork to retain its natural juiciness, and it had a wonderfully gentle creamy taste to it. I pinched the crispy skin from the top – waste not, want not A superb fresh Pineapple Salsa kept things nice and bright on the palate and contrasted well against the sharpness of the pink house pickles.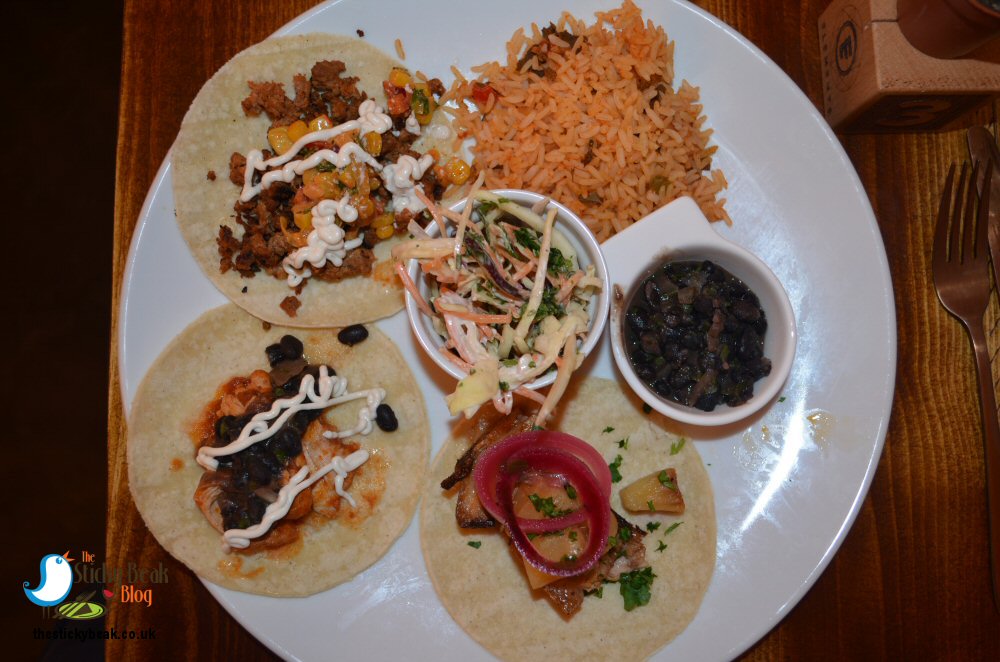 The pulled Maple and Chipotle Chicken was just as yummy with its fab sweet, smoky notes coming through on the palate. This taco was the softest one of the trio in terms of texture, partnered as it was with the creamy, garlicky Aioli and Black Beans. Flavour-wise though it ticked all the right boxes, and every last bit of it got chomped.

Last but not least was the Mexican Chorizo taco and this was absolutely bursting with flavour thanks to the crumbled meat and its rich, punchy taste. Sweetcorn salsa added a nice textural element to this dish along with the pink house pickles, and a generous dollop of soured cream added a delicious sharpness to it all.




I guess the only thing you can say is that anything new comes with a learning curve, and this was only the second time El Contador had done this type of evening. Sometimes popularity can work against you, and folks were having such a good time, they were ordering extra dishes and drinks which maybe got Chef out of his groove a bit and His Nibs order got muddled up. As I say, it didn't particularly muck up our plans for the evening, but if you had got cinema tickets booked for example, then it maybe would've put a spanner in the works.

With this in mind, I would say that if El Contador do another take over (and I really hope they do!) then perhaps err on the side of caution and book for the first sitting. You certainly aren't going to get friendlier service than the El Contador and Elements teams deliver; everything was done with a smile, and nothing was too much trouble. And the food was really, really good too, and priced very reasonably. Seeing as we were the only ones to experience a "glitch", I think on balance Hot Wings can be awarded; no one is perfect after all.
Some form of incentive was provided to visit this venue
read more
Read Some Of Our Recent Reviews
---

A Summer BBQ At Melbourne Hall Gardens With Gennaro Contaldo And Matt Pritchard A few weeks ago we were approached to see if we'd like to go to a Summer BBQ in Melbourne Hall's famous walled garden; of course, we said yes Read The Article

---

Classic Dishes Made Vegan at Coghlans Cookery School There must be something in the air to do with me and Vegan food at the minute because His Nibs and I have recently visited the Vegan Revelation cafe, and then I received an invite to the Read The Article

---

The Summer Picnic Class at Coghlans Cookery School I'm just going to come right out and say it; I made some goddamn sexy food at Coghlans Cookery School the other day! Yes, me. I did it! Ok, so it wasn't a solo effort Read The Article

---

Easter Egg and Chocolate Truffle making at Coghlans Cookery School You all know that I love attending the classes at Coghlans Cookery School, so I was very excited to get an invite to the Easter Egg and Chocolate Truffle making Read The Article

---

Portuguese Cooking at Coghlans Cookery School, Stancliffe Hall There's nothing I love more than spending a few hours at Coghlans School of Wine, Food and Dining at the beautiful Stancliffe Hall. Jordan North has Turf Moor as his Read The Article

---

A Day Of Tuscan Cooking At Coghlans Cookery School I was, once again, back in my happy place; Coghlans School of Wine, Food and Dining. This time I was here to do a full day cookery course, something I have Read The Article

---

A Sunny Afternoon At The Fuddy Duck Brewery, Boston, Lincolnshire The Man Bird and I had gone to visit friends in Lincolnshire and they wanted to show us the local brewery where our Christmas present from them (Gin) had been made. Read The Article

---

Trying Out The New Moroccan Cookery Course At Coghlans Cookery School Once again, the lovely team at Coghlans School of Wine, Food and Dining had kindly invited me along to one of their fab half-day cookery classes; this time it was Read The Article

---

An Indian Cookery Class at Coghlans School of Wine, Food and Dining Both The Man Bird and I have had our first Covid vaccinations and been out to eat, so when the invitation to attend a half-day Indian Cookery class at Coghlans. Read The Article

---

Chocolate Truffle Workshop At Coghlans Cookery School, Darley Dale Clearly my mischief battery needs recharging, as I got asked back to Coghlans Cookery School in the grounds of Stancliffe Hall!! I'd been in the swanky all-singing, Read The Article

---