Sampling Chocolates From The Magnificent Chocolate Company
---
Published On Thursday 28 Feb 2019 by Sticky Beak
See Recent Food Producer Reviews | See All Recent Reviews


Sometimes I really do have to pinch myself at my good fortune; a (unpaid, but fab all the same!) job that lets me sample a massive variety of foods and drinks that I wouldn't otherwise get to try. As you know, The Man and I attended the Fine Food North show in Harrogate last year, and we're able to make it again next month; His Nibs is there with his day job, but I'll be in my element mooching round all the fab stands.
Anyhow, one of the exhibitors, The Magnificent Chocolate Company (TMCC), got in touch to ask if they could send me a box of their scrummy wares ahead of the show to try, and give them feedback. Heck yeah, of course you can! Now picture me waiting at the door, stalking the postman's every move, desperately hoping that this would be the day that he would be bringing me said box of choccies. Joy, oh joy, today was the day that the delicious cocoa temptresses arrived!

TMCC are still in their infancy – barely a year old – but they already have an online shop and are busy promoting themselves at Food shows left, right and centre! Karen Garner is TMCC's Chocolatier, making the artisan chocolates by hand in small batches in her kitchen to ensure the highest quality. Quality is at the heart of The Magnificent Chocolate Company's ethos; they only use the world's best 7-8% "Fino de Aroma" Criollo and Trinitario cocoa in their chocolates, and Karen has already taken two masterclasses with UK World Chocolate Master, Ruth Hinks, to further hone her craft.

As I brought the box through to Beak HQ's office, The Man Bird was hopping from foot-to-foot with anticipation. Easy Tiger! I cut through the seal and lifted the lid, to be rewarded with the most intense, mouth-watering cocoa aroma you can imagine. Our mouths began watering, but we had to take photos first before we could sample any of the stunningly beautiful chocolates. Never let it be said that I have no will power!!




The sun was shining brightly, warming our bones, and the Gin and Lemon seemed to be saying "come let me tempt you"; go on then, if you insist! The creamy white chocolate shell cracked beneath our insistent teeth, revealing a nice mousse like centre that had a simply gorgeous, gentle Lemon hint to it. Even better was the distinct Gin taste that burst into our mouths; just the ticket on a warm late-winter day.

I would love to be able to say that The Man Bird and I stopped there, but you know I'd be fibbing! Nope, we looked at each other and bent our heads over the box; it wasn't easy choosing which morsel to devour next, they all sounded divine. We decided to try one of TMCC's seasonal flavour delights – Apple Caramel; this minx is a milk chocolate shell with treasure inside just waiting to be discovered. The beautifully rich, silky soft caramel lingers joyously on the tongue, releasing the fresh apple notes it contains so that they can caress the palate delicately.

Dark Coffee Truffle was next on our hit list, and boy did this prove to be a proper, grown up chocolate with its wonderfully bitter edge! The superb cocoa-rich, dark chocolate shell was partnered with a full bodied coffee ganache centre that really dazzled in the mouth. Just gorgeous.

Our next morsel was also a dark chocolate offering, but was paired with the punchy flavour of Raspberry. The Raspberry Truffle really is a temptress with its indulgent dark chocolate shell providing the perfect camouflage from which the dark Raspberry ganache can ambush you. Freeze-dried Raspberry powder was dusted on the outer shell which really gave an intense wallop of fruitiness on the tongue.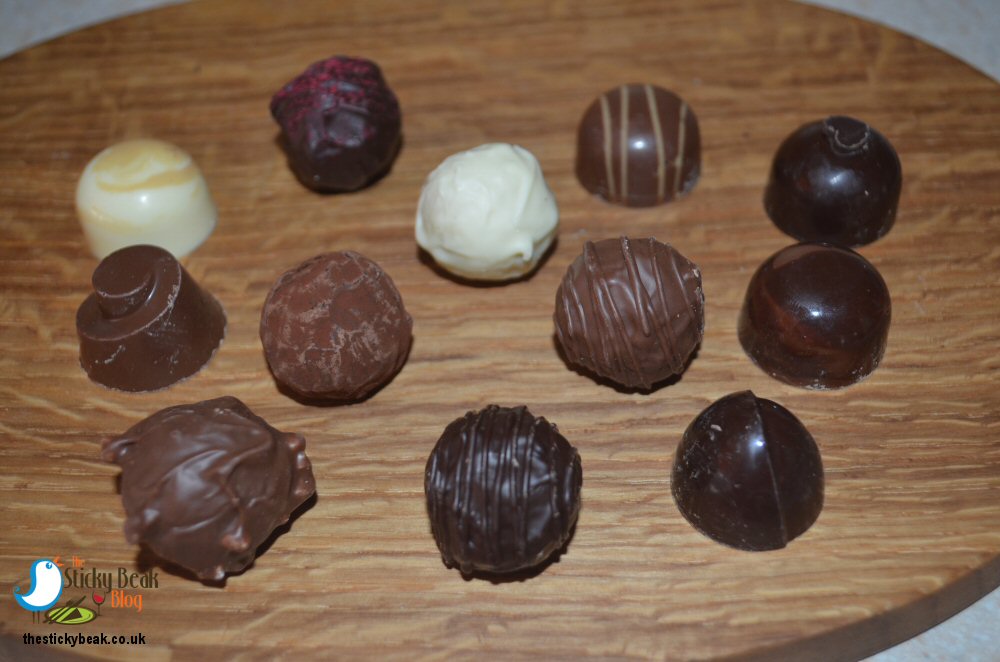 His Nibs was beside himself with glee as the next handmade chocolate was passed to his eager little mitts! As you know, he does rather like a Salted Caramel treat and he couldn't wait to bite into the swirl in his hand. The Magnificent Chocolate Company does this in both milk and dark varieties, and it was the milk version that we were sent. Standing alone, the milk chocolate shell was delicious and beautifully satisfying enough, but the caramel centre truly was other-worldly with its glorious Brittany sea salt hint! We both thought that the balance of sweet and salt was perfect; neither outshone the other, it really was a harmonious fusion of tastes.

I do like the combination of chocolate and alcohol; when done well it is simply divine, and the Amaretto Truffle was singing its Siren song to my soul. No point trying to resist, I suppose! The milk chocolate shell was sprinkled with pieces of toasted Almond which imparted a fab crunch when bitten into and gave a lovely nutty note on the palate to kick things off. A velvety dark ganache was well soused with Amaretto, giving a delicious heat at the back of the throat and that marvellous almondy hint had me sighing with happiness.

The Dark Truffle was up next and this is outstandingly simple, and all the more extraordinary for it! A light dusting of cocoa powder adorned the shell, which in itself is indulgently rich, but then you encounter the dark chocolate ganache and experience a full on cocoa hit that stimulates that part of the brain wired to delight. This beauty was bittersweet in taste, and totally glorious!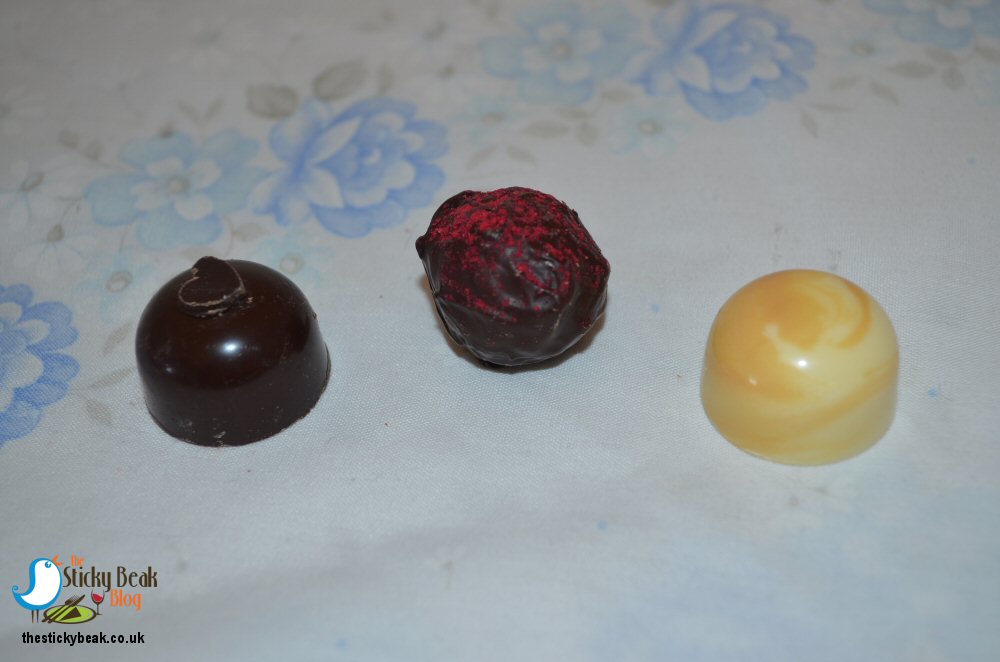 Having had Almond in the Amaretto Truffle, it was the turn of Hazelnut to shine in the Hazelnut Ganache; and what a triple whammy of loveliness this was! The combination of Hazelnut, milk chocolate, and dark chocolate was created with the sole purpose of dazzling the senses – and what an incredible job it did. The dark chocolate and nuts make a killer combo in the intensely smooth gianduja and all this yumminess is surrounded by a shiny milk chocolate shell. Perfect.

More alcoholic treats lay in wait for The Man and me; this time in the guise of a Cointreau Truffle. The magnificent dark chocolate shell was simply decorated with thin ribbons of chocolate and a delectable Cointreau-laced ganache waited patiently to be discovered from its confines. There was plenty of Cointreau to be tasted, and the inclusion of fresh orange zest lifted it a touch on the palate; lovely and fragrant, and very moreish – you have been warned!

What can I say about the Milk Truffle? To me, this delicious little devil is the chocolate world's equivalent of silk sheets - sexy as heck! Our taste buds swooned in delight and surrendered themselves to the velvety sumptuousness of this minx as she melted slowly on our tongues. A timeless classic that has had justice done to it by the Chocolatier at The Magnificent Chocolate Company, Karen Garner.

The penultimate chocolate we sampled was the Dark Cherry, and boy was this fantastic with its contrast of intensely dark chocolate shell and fruity Cherry nestled inside. You can't beat the chic pairing of fruits with profoundly dark chocolate in all its cocoa splendour, and this really did hit the spot!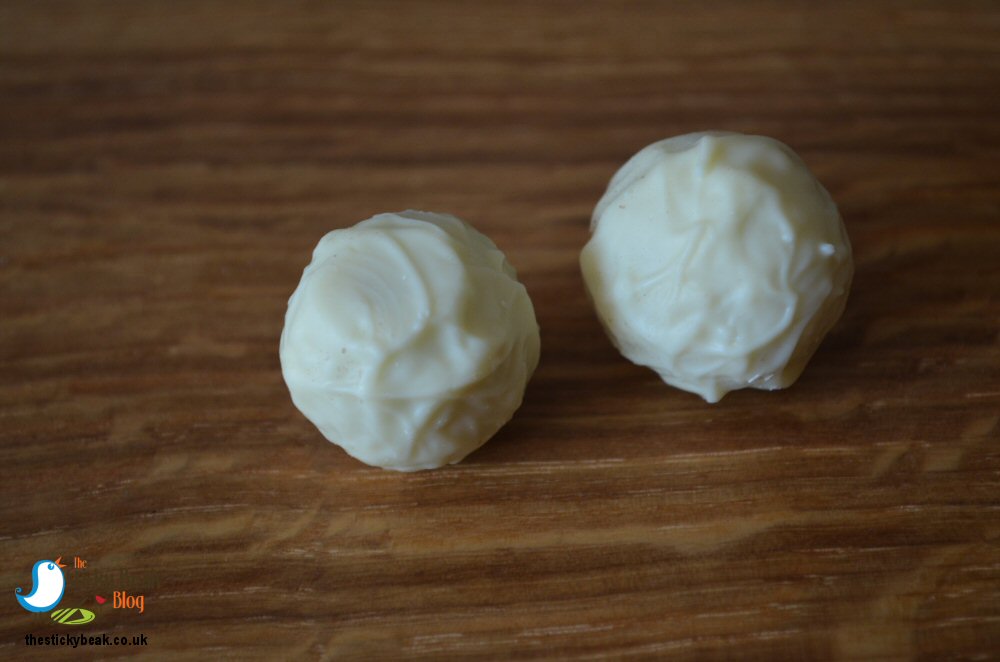 All good things must come to an end, and so it was with a wistful sadness that His Nibs and I popped the last morsel into our mouths. The Vanilla Truffle was a fitting icon with which to bring our indulgence to its conclusion; the vanilla-infused white chocolate ganache certainly was a show-stopper in all its indulgent buttery beauty, flecked as it was with the vanilla bean. A delightfully creamy white chocolate shell encases the superb ganache, allowing it all to melt gently on the tongue and release its superbly rounded, soft vanilla character over time.

Yet again, I found myself wishing that I had a DeLorean that could whisk me back in time; I could most definitely rewind time again and again to indulge in these joyous chocolates. Karen, I salute you; you are certainly very skilled at your craft.

What I really love though is the fact that you can go to their online shop and select the chocolates you want in your box; they're not simply a one-size-fits-all pre-packaged service. So if you fancy an entire box of Champagne Truffles or Salted Caramels, that's exactly what you can have! Personally, I think this is a genius idea – how many times do you have a box of chocolates and find one that doesn't quite tickle you? Pitfalls like this can easily be avoided at The Magnificent Chocolate Company.

The chocolates have a shelf-life of about 3 weeks (or at least our box did); not that they'll be hanging around anywhere near as long as that, trust me! We managed to eak them out over a couple of days, mainly so that we could fully appreciate the nuances of each chocolate, rather than any strength of willpower (!). I am so looking forward to meeting Karen in person at the Fine Food North show in Harrogate and hopefully getting to know more about the magic of being a Chocolatier.