Birds Bakeries announce charity support for Derbyshire hospice
Published On Tuesday 11 May 2021 by Sticky Beak
See All Recent News Articles
East-Midlands family company, Birds Bakery have announced Treetops Hospice as one of three chosen charities of 2021, kicking off their support by presenting the hospice with a generous £3,000 cheque.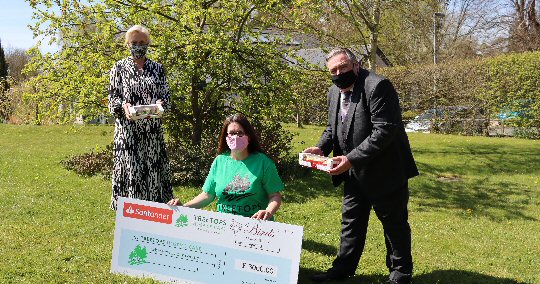 The money has been raised from plastic bag sales across the sixty-two branches of Birds Bakeries. It was presented by Chief Operating Officer, Lesley Bird and Sales, and Marketing Director, Mike Holling, during a tour of the hospice based in Risley, Derbyshire.
Birds are the first company to sign up to Treetops 'Sponsor One Week of Nursing Care' initiative. The Bakery is hoping to raise over £14,000 during the coming year, through staff fundraising, plastic bag tariffs and cake sales. This will sponsor two weeks of end of life nursing care for local patients in their own homes.
Alongside bag sales, throughout April, Birds customers were also been able to purchase specially designed Treetops cupcakes, complete with a chocolate tree topper, with 15p from each sale going direct to the charity.
Mike said:
"Birds Bakery is very pleased to be a fundraising partner for Treetops as over many years the hospice will have cared for our colleagues, their families, and our customers. Their sponsor one week of nursing scheme shows the impact of our CSR activities in a tangible way."
Treetops Business Relationship Manager, Stacey Smalley, said:
"I am really looking forward to working with Birds Bakery over the coming year. Together, I know we will form a great partnership that will have an amazing impact on our local community.
"We hope that even more local businesses will follow their lead and sign up to sponsor our Hospice at Home service."
Businesses interested in finding out more about sponsoring one week of nursing care, or offering other support to Treetops, should contact Stacey Smalley, Business Relationship Manager on 07741 657342 or via email: stacey@treetops.org.uk.
Treetops provides nursing care and emotional support for adults with life-limiting conditions such as cancer, heart and respiratory conditions. Last year, Hospice at Home nurses provided over 28,000 hours of palliative care, overnight and during the day, for patients in their own homes.