A Competition Win from Just Cheese Of Ripley
Published On Thursday 4 Feb 2021 by Sticky Beak
See All Recent News Articles
I 'm a very happy little bird as you all know, but I don't generally have much luck when it comes to winning competitions; imagine how happy I was, then, to win a cheese hamper from local Amber Valley business, Just Cheese! Cheese is probably the one thing I couldn't live without: it would be a close run thing between that and music, but you can't eat vinyl can you?!
The lovely owner of Just Cheese, Emily, contacted me to arrange delivery of said cheeses and I'm not exaggerating when I tell you that I sat perched at the window waiting (not so) patiently for her car to pull up and the dairy scrumminess to be popped on the doorstep! The quintet of randomly selected cheeses had been carefully packed into a pale brown box and snuggly sat on a ruby red bed of finely shredded paper. I know it's only a small detail, but a bit of care in the presentation makes a massive difference and I couldn't contain a little squeal of joy as I appreciated their beauty, so thank you Emily for going that extra mile.

Each large triangular wedge of cheese was clearly labelled with its flavour and best before date, which is definitely helpful with complying with all that legal stuff but it really doesn't help with deciding which morsel to try first! Good old "eeny meeny miny mo" came to the rescue and Wensleydale with Cranberry was first up for munching. I was feeling a bit fed up with the gloomy, cold weather and needed to remind myself of warmer times; what better way to do that than with a bit of fresh Mango (grown in hot climates, and synonymous with summer in my mind)? The fragrant Mango flesh really bounced against the tart Cranberry pieces in the cheese and the Wensleydales dual character means its initial creaminess hugs the sharper fruit, and then the subtle tang comes to contrast with the Mangos sweet note. Cosseted in a wholemeal wrap, the cheese and fruit combo made for a deliciously different winters lunch choice.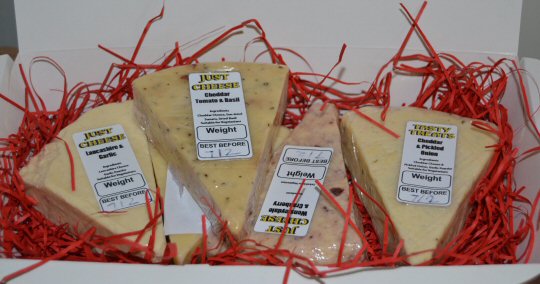 You can't just have cheese once a day, or at least I can't (!), so out came the box of yumminess at supper time. His Nibs had mooched into the kitchen and spied me cutting up a couple of choices; over he slinked, with an "oooh that looks nice" that meant "I think I might pinch a bit of that for myself". Luckily for him I was feeling generous and let him have a wedge of the Cheddar with Pickled Onion to go with his crackers.

The Cheddar with Pickled Onion was delicious, we both agreed. The flavours were nicely balanced, so you could savour this simply with a cracker, or add a chutney if you fancied; in all honesty though, we thought this was grand just by itself. We also tried the Lancashire with Garlic on this occasion and were surprised by how subtle the taste was – not that this is a bad thing as it means you can add a chutney if you wish, or a slice of tomato. The cheese itself was lightly crumbly in texture, just enough so that it didn't fall apart into a gazillion bits when cut into!

Next day, I was in one of my ridiculously indecisive moods and really didn't know what to have for lunch. When I'm like this, cheese is always the go-to choice; you can't go wrong with cheese, whatever the time of day. Bread swiftly got plonked into the toaster and I got down to business, cutting the Cheddar with Caramelised Onion into thin slices that would easily soften on the warm, freshly toasted wheat squares. The sweet, sticky Caramelised Onion imparted a gentle taste to the gorgeously tangy cheddar, making a marvellous partnership that had my taste buds jumping with joy.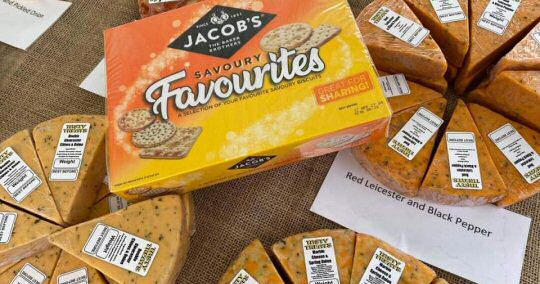 Predictably, I was in the mood for more cheese in my life later in the day and once again my dairy hero didn't let me down.The final cheese in the quintet of my prize win was a cheeky Cheddar with Tomato and Basil minx; just looking at the creamy, red-and-green flecked triangle had me salivating and I eagerly cut into it. This is seriously addictive! Initially I had meant to have this over a couple of days, but it was, frankly, too damn moreish and I scoffed it at lunch and supper in a single day! The pieces of sundried Tomato were beautifully punchy, coming through clearly on the palate and balanced really nicely with the herby tones of the Basil. Combined with the solid flavour of the Cheddar this was a fab balance of tastes that, if I had to choose, I think would make this variety my favourite from the selection.

Just Cheese does this selection of 5 cheeses for a tenner, and you can add crackers (£12) or crackers AND chutney (£14). As well as this type of cheese smorgasbord, there is a trio of 200g waxed cheese truckles available for £12 or £15 if you want them with chutney and crackers. Just Cheese is a local-to-Ripley free delivery service, so please support this local endeavour if you can; Emily can make up hampers for special occasions to suit all budgets and requirements, adding wines and chocolates as well if requested. To order, simple visit the Facebook page and DM them with your needs or check out when they are at Ripley Market and pay them a visit.