Pie Night At The Bull Shed, Shottle, Belper
---
Published On Thursday 20 Dec 2018 by Sticky Beak
See Recent Dining Out Reviews | See All Recent Reviews


I've said before that we have so many incredible venues in our great county, and it can be very tricky getting to visit them all! We've been meaning to visit The Bull Shed on Handley Farm, Shottle for an absolute age, and finally got around to reserving a table for the Flock en masse on their Pie Night. Good job we did ring ahead; we waited 13 weeks for our table! But it was well worth the wait, as you will discover.
Handley Farm is home to the Shottle Brewery and The Bull Shed and is part of what was once a larger farm on the Chatsworth Estate, with the farmhouse dating back to 1793. In addition to making their own beer, they also make cheese (their Mature Goat Cheese has just won a bronze award at the World Cheese Awards, in Bergen, Norway!), and farm dairy and meat goats, as well as a small beef herd of Aberdeen Angus x Shorthorn.

The journey to the farm is not for the fainthearted! We traversed along some of Derbyshire's finest single track roads in the dark of night, and then down the pothole happy farm track. Let me put it this way, if you own a Lamborghini or Ferrari, dunna g'down there!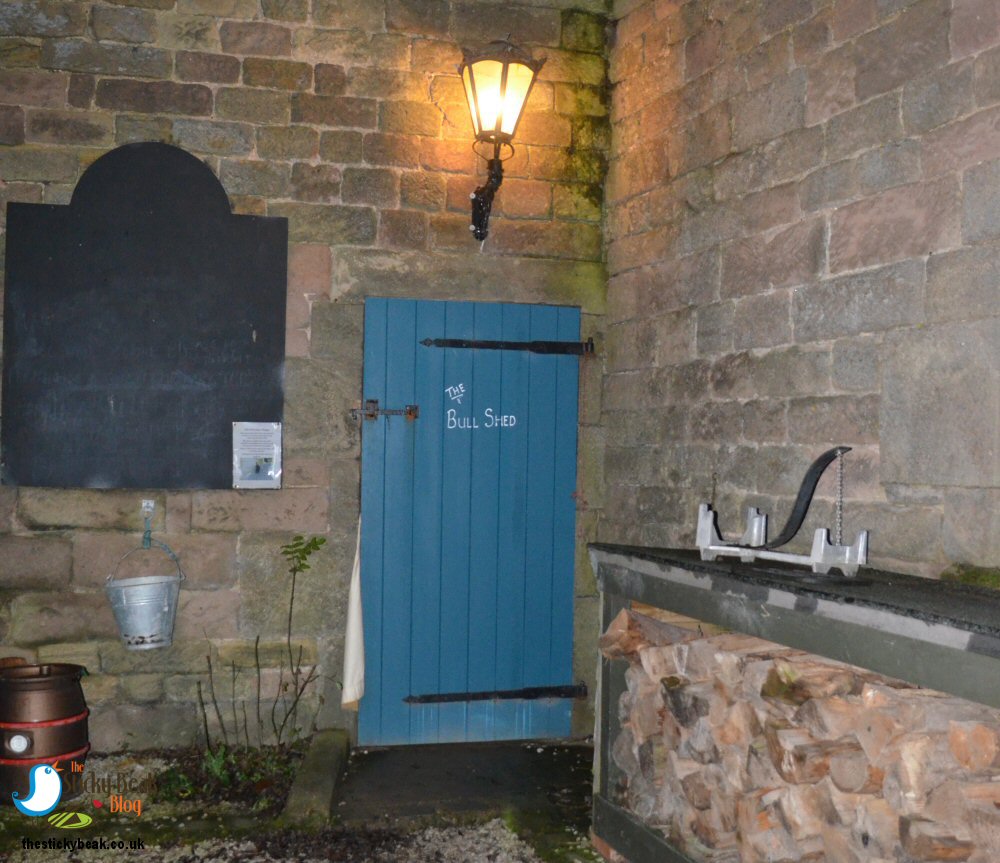 The Bull Shed is exactly that – the old Bull Shed repurposed for the dining experience that Tony, Sue, their family and willing volunteers from around the world have got in store for you. Consequently, it has all the quirks of an old building: sloping concrete floor complete with Cockerel footprints, exposed stone walls, and huge steel beams (thought to have come from Belper West Mill) that prop up the grain floor. It can get a bit chilly in winter, despite the roaring fire that the team set and the double row of thick curtains that line the doorway; so don't dress to impress, dress to beat the elements!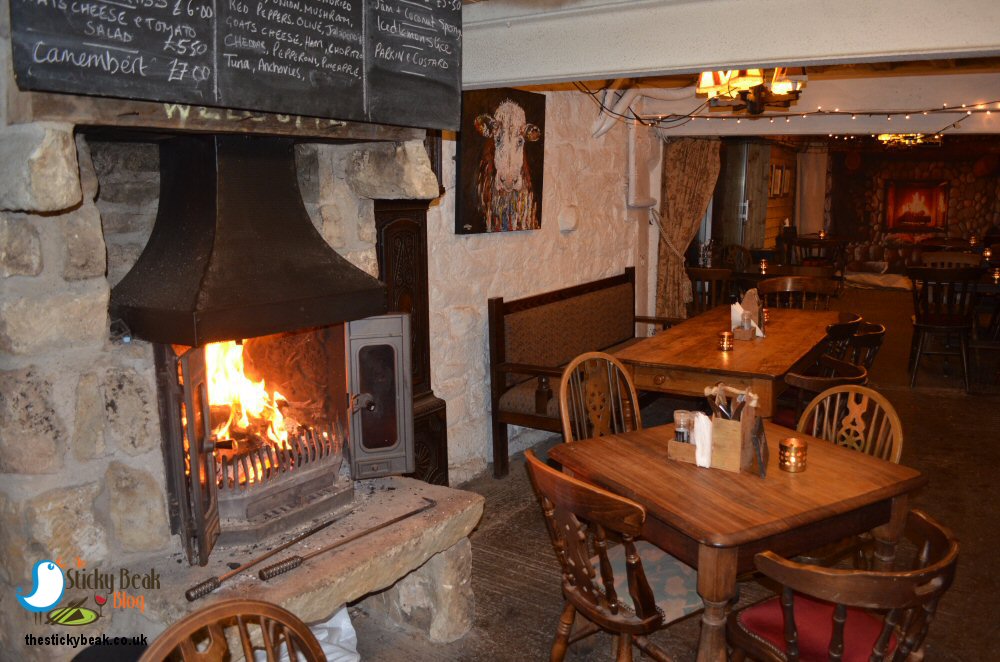 So having found the building and parked up, we (well, His Nibs and Daddy Bird) headed to the bar and a couple of pints of Shottle Gold got ordered, along with some white wine for us laydees. It's a case of first-come-first-served, so seeing as we rocked up first we were first on the list when the food was ready.

When we first arrived, there was a definite nip in the air so we all gravitated towards the roaring fire to take the chill off our bones. It wasn't long before the other guests arrived, and soon all the seats in the shed were taken. Accordingly, the temperature soon warmed up and it was a superbly cosy atmosphere.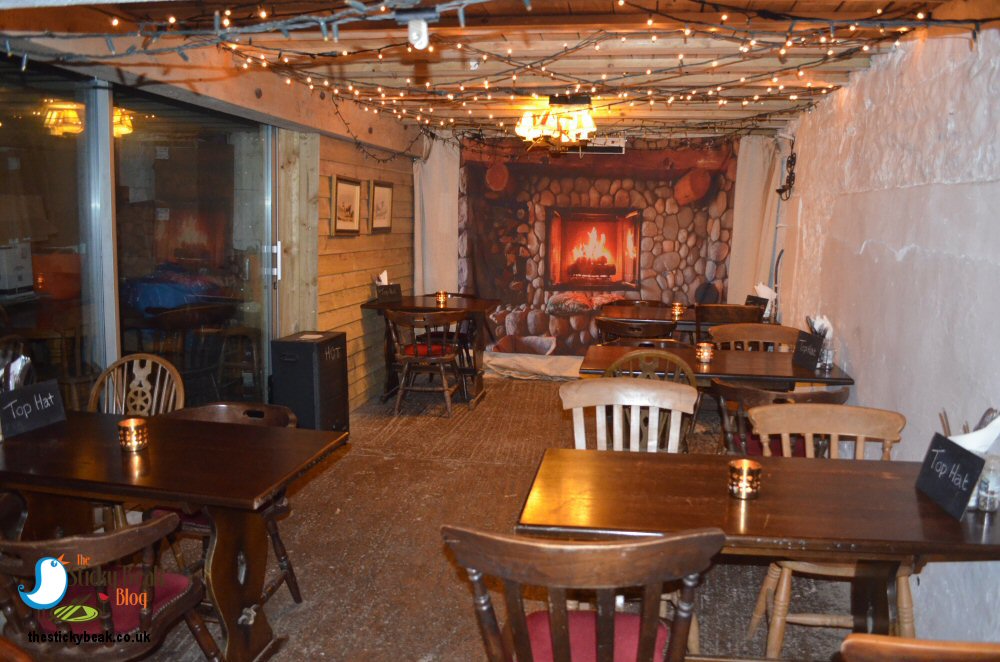 On this particular night there was a selection of 6 different homemade pies; some with gorgeous flaky pastry tops, others with good old suet pastry. You can choose to have up to 3 different pies and then the vegetable selection is all laid out for you to help yourself to: Carrot, Mash, Mushrooms in Meat Gravy, Mushy Peas, and Cabbage.

There was Steak and Kidney Suet Pud, Three Cheese and Potato, Shottle Pudding, Toad in the Hole, Steak and Mushroom, and Chicken and Vegetable pies to choose from. For those of you wondering what Shottle Pie is, its (and I'm quoting Tony here) " like Cottage Pie, but different"; clearer?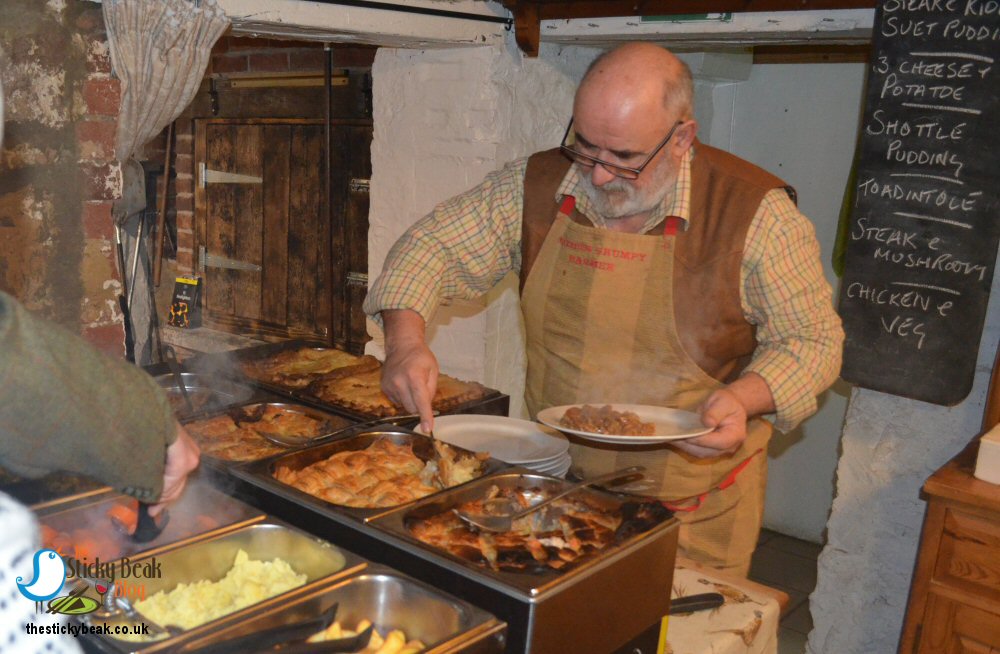 Shock, horror His Nibs and Daddy Bird were straight up to the counter like rats up drainpipes and huge slabs of pie were soon being plonked on their plates. Daddy Bird had Steak and Kidney Suet, Steak and Mushroom, and the Chicken and Veg varieties and by the time Tony had done, there was hardly any room to put the vegetables on! The Man Bird had 3 Cheese and Potato, Shottle Pie, and Chicken and Vegetable and again struggled as to where to put his veggies. There was nothing else for it, but to create a food mountain and pile the vegetables on top; dignity is left at the door here!

Mummy Bird had the Chicken and Vegetable Pie, the 3 Cheese and Potato and the Steak and Mushroom pies, Chickadee had Steak and Mushroom, Chicken and Veg, and 3 Cheese and Potato, and I had the Suet Pud, Shottle Pie, and Steak and Mushroom – I do like a bit of meat! I just had room for Mushy Peas and Cabbage on my plate.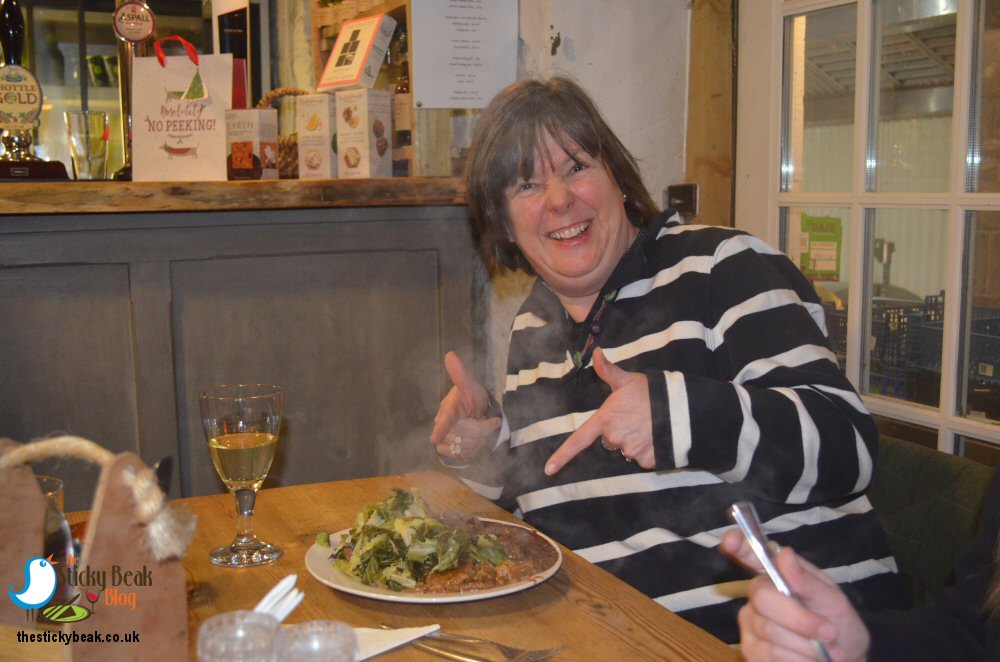 A hushed silence fell over our table as we all began tucking in – and that doesn't happen very often. The meat without exception, was tender and chock-full of flavour and the size of the chunks was really impressive; the team at The Bull Shed don't mess about when it comes to feeding you. Equally delicious were all the vegetables; between our group we'd had every single accompaniment, so I can confidently say they were all great.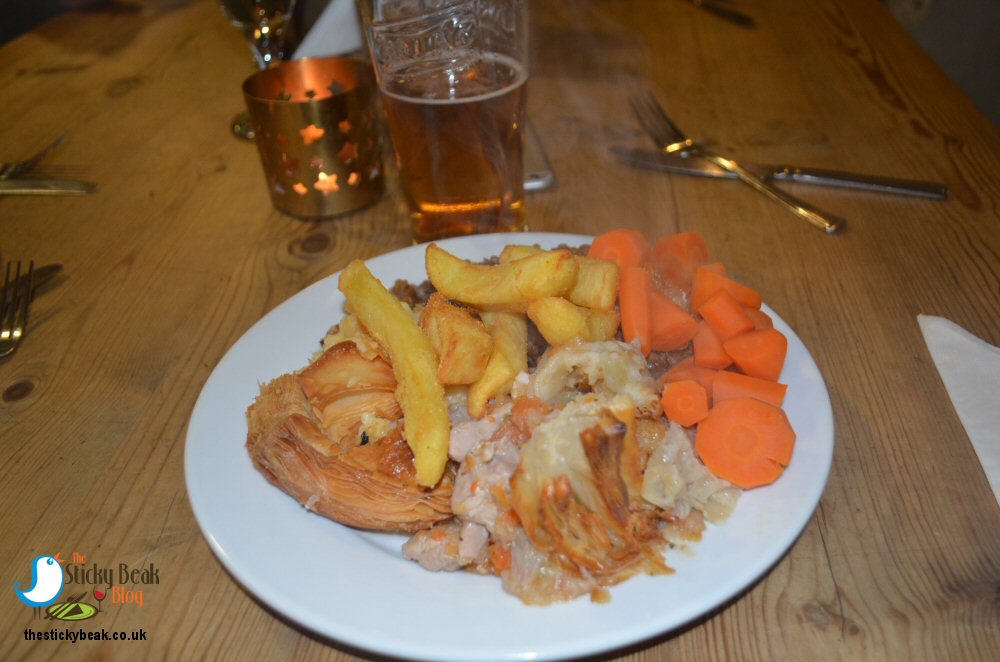 The rest of the guests filed up in turn and the roar of conversation became more muted throughout the shed for a little while. Glasses were steadily refreshed at the bar, including the ones at our table! All the plates on our table were clean; there was no way we were leaving any of this tasty, home-cooked grub – it was simply too nice.

My beady eyes spotted that they had the Goats' Cheese on sale, so I persuaded His Nibs to buy me a round of the bronze award winning Mature, and Daddy Bird and I also got a round of the mild Goat Cheese and some Walnut crackers to share over Christmas.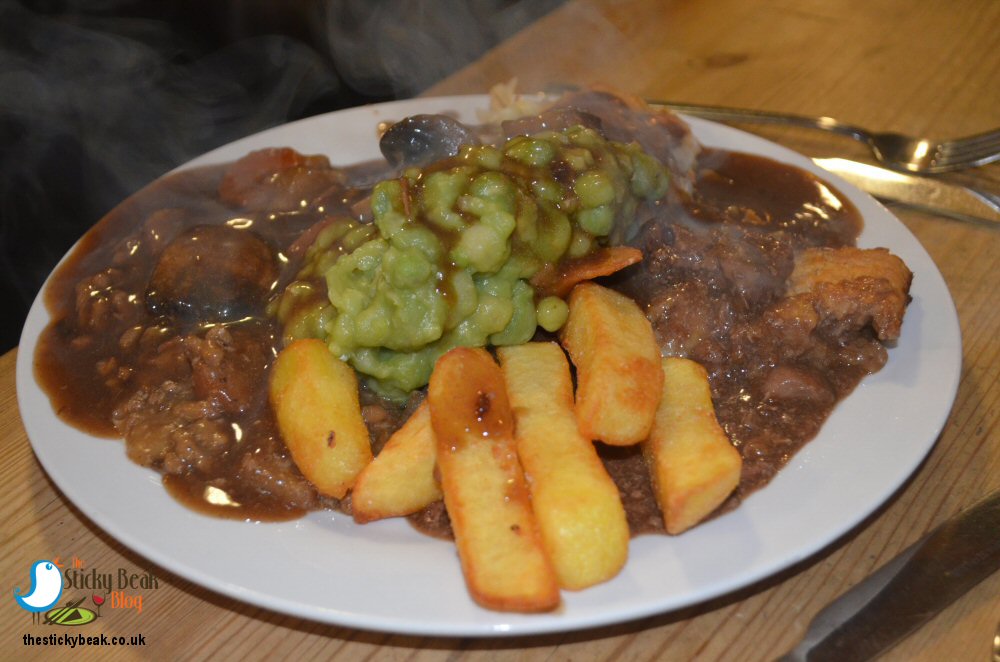 Our bill (excluding the Cheese and Crackers) came to £77 for the 5 of us, including 4 large glasses of wine, 1.5 pints of lager, and 2 pints of the Shottle Gold IPA. Very budget friendly, and stonkingly good value for money. Tony and Sue are stopping the Pie Nights at the end of 2018. Don't fret though, the Pizza and Steak nights are still running every Friday and Saturday nights. We are planning to visit them soon for these, we just need to get all the diaries' co-ordinated! I should just point out that it's a cash-only operation at The Bull Shed; thanks to the shocking phone line quality – gotta love the wilds of the 'shire!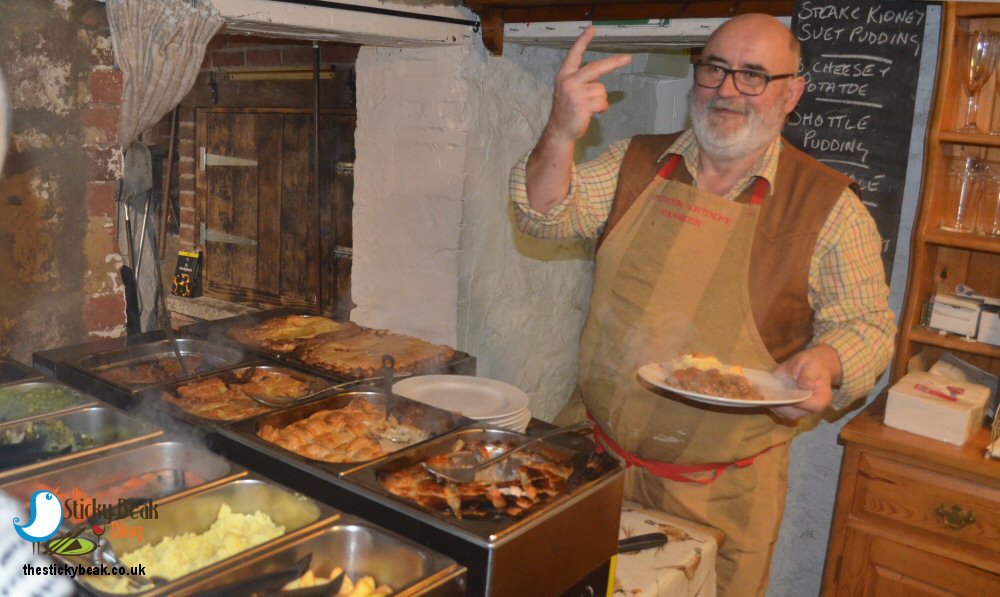 Hot Wings definitely awarded for this tight-knit team. Not only was the food and drink out-standing, Tony as Chef provides his own unique brand of entertainment (free of charge!) – blunt and to the point as it is!

You do need to book ahead, especially if you're a larger group. Bookings are done by text – as they say, we're too busy running the farm to be sat next to the phone!
No incentive was provided to visit this venue
read more