Birthday Tea At Rachael's Secret Tea Room
---
Published On Monday 22 Aug 2016 by Sticky Beak
See Recent Dining Out Reviews | See All Recent Reviews


We are a very sociable little flock, so when it was time to plan Mummy Birds Birthday treat it had to be something that Chickadee as well as the Tribal Elders would enjoy. Everyone likes sandwiches, nibbles and cakes don't they; well, they do in my little world anyway, so an afternoon tea seemed to be an ideal choice.
After throwing a few suggestions around, we decided to revisit Rachaels Secret Tea Room, as we hadn't been there for three (!) years and had thoroughly enjoyed the intimate experience. The concept is to have an afternoon tea experience but in the actual home of Rachael herself which elevates the service element to something really special and lets you have a completely unique time.
We pulled up outside the house and saw the quaint little "open" sign, and I couldn't help but giggle at the bemused expressions on The Elders faces, especially My Mummy Birds face. A while ago I had let My Daddy Bird in on the secret, purely so that he kept the date free and didn't toddle off to watch football anywhere, but clearly he had forgotten.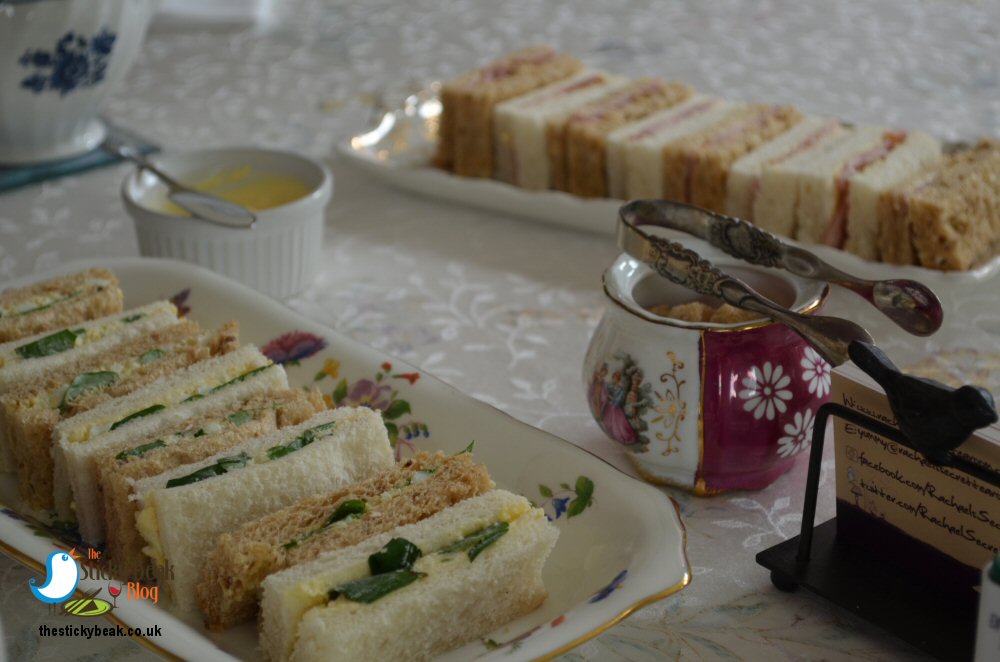 We stepped inside and were greeted by the very lovely Rachael who explained the situation to Mummy, before inviting us to sit down on the extremely comfy sofas. Beautiful little glasses containing homemade Lemonade were handed to us, and then Rachael handed the Tea and Coffee menus to us so that we could choose what we fancied to drink.
From the living room we passed through a room that originally housed the afternoon tea guests, but now houses a much longed for "shabby chic" dresser that Rachael showcases various articles on as well as a selection of gifts and cards that are available for purchase.

This space still houses guests if there is a large party booked in, such as a Hen Party, which Rachael skilfully caters for, but the main room for afternoon tea is now the Conservatory located at the rear of Rachaels home. This is neutrally decorated, with wall art along tea and coffee themes providing nice accents; pale blinds at the windows allow you to control the intake of sunlight reaching your face or back, which would be appreciated on hotter days I'm sure.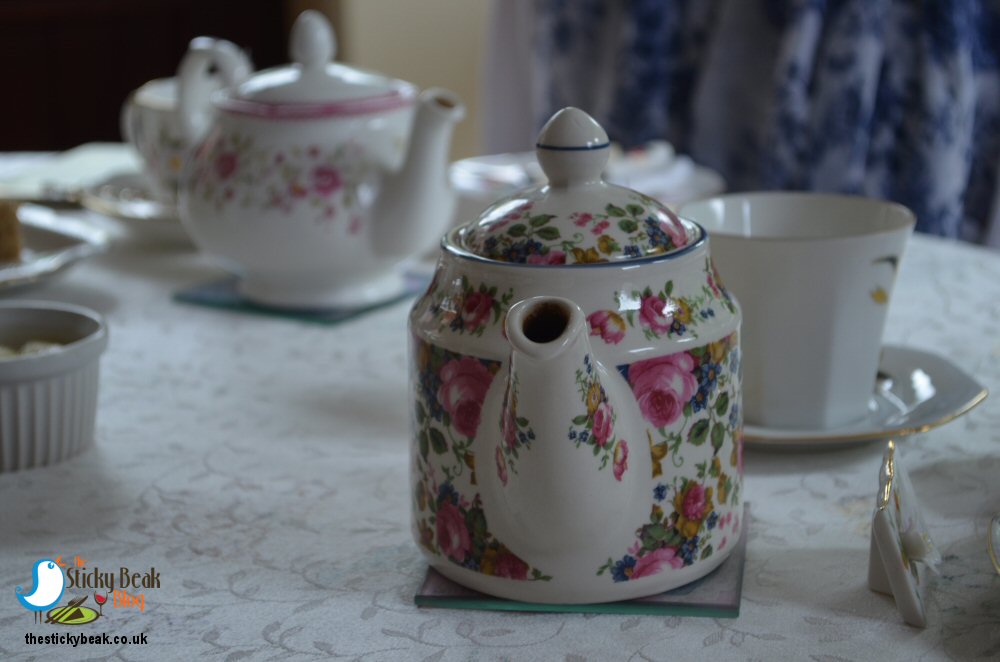 The tea table was immaculately laid out with place cards bearing our names, china cups and saucers, vintage tea plates and cutlery and gorgeous tea pots of various patterns and shapes. Rachael took the tea pots to be filled with our individual choices of loose leaf teas and returned them with little labels bearing our names on them.

Each place setting had its own silver toned tea strainer beautifully fashioned as a leaf and branch, on which sat a little bird at the end. Various china platters were carefully placed in the middle of the table and Rachael revealed their contents to us; Beef and Dijon mustard, Ham and Apricot Chutney and Egg and Watercress finger sandwiches on white and wholemeal bread.

The bread was lovely and soft to bite into and there were murmurs of pleasure from all around the table. My Daddy Bird was particularly enamoured of the Egg and Watercress sandwiches, as was Chickadee, whilst Mummy Bird and I loved the Ham and Chutney ones. His Nibs was won over by the Beef and Mustard variety, and we all commented what a great selection there had been to choose from.
Rachael checked to see if we wanted more tea, which we ladies did, and the Gents both chose to have a rich Italian roast coffee this time around. Fresh cups for the coffee were brought to the men, they both declined Rachaels offer of cream as she brought the two individual Cafetieres to the table. The savoury theme continued with Rachaels warm homemade Sausage rolls and her mini Walnut drop scones.

Superbly buttery, flaky pastry crumbled in the mouth as we bit into the sausage roll, and what a lovely sausage it was, none of the cheap things that repeat on you ad infinitum; these were densely textured, proper butcher quality offerings that would easily have sat alone on a plate with a mound of mashed Potato to be savoured. The walnut scones had hints of Black Pepper, Sage and Thyme in them and were crowned with a ruby red Beetroot Chutney that had been made by our highly rated friend Julie of Julies Pickles and Preserves fame (as had the Apricot Chutney in the sandwiches).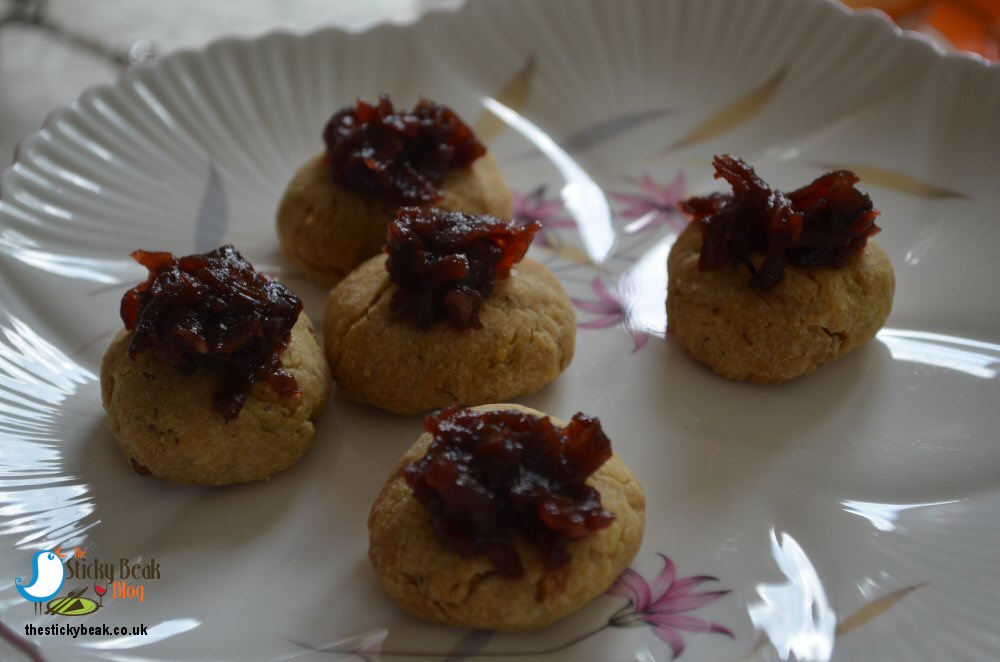 These little gems of scones were superbly light textured and everyone remarked how wonderfully tasty they were; personally, I could've gorged on these for the entire afternoon, they were just so good.
Teas and Coffees were again refreshed by the ever attentive Rachael, and the savoury platters and stands removed. When the selection of cakes were brought out there were gasps of delight; fingers of moist Lemon swirl cake were alternately displayed with squares of Malteaser blondies, and cerise hued Macaroons with white Chocolate and Raspberry ganache at their centres and heart shaped scones tantalised us.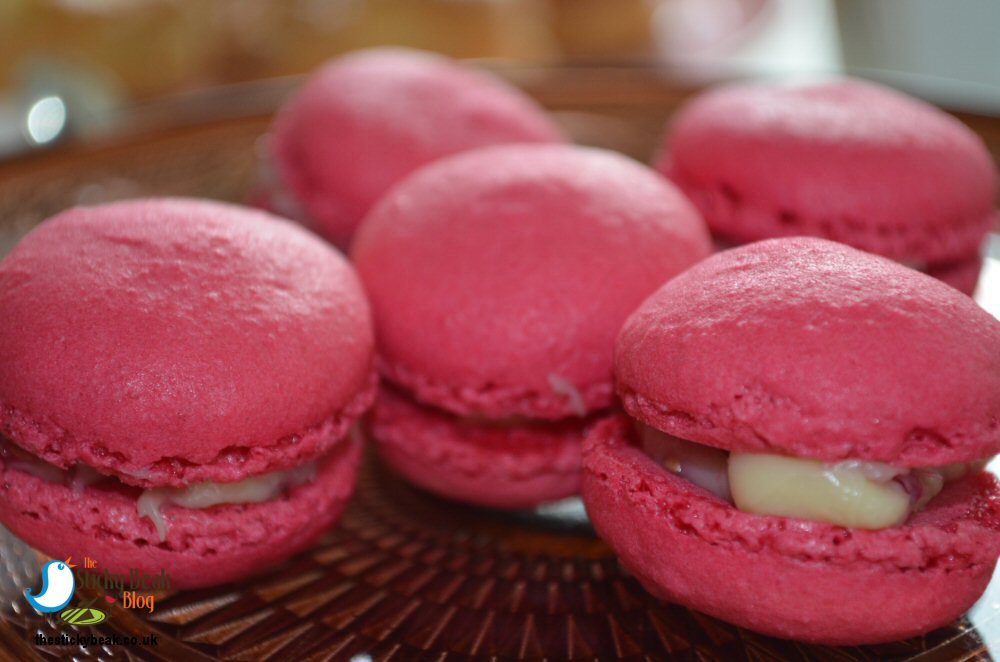 Rachael placed bounteous bowls of thick Strawberry jam and freshly whipped Cream on the table and urged us to dive straight in; trust me, no further encouragement was needed, we put locusts to shame in our voracity! Oh my days dear reader, the scones were gossamer light and just melted on the tongue; we piled them high with lashings of jam and mountains made of cream. Much finger licking and lip smacking was happening among the flock members, with the Birthday Bird merrily leading the way :)

The Lemon swirl cake was a real delight because it was deliciously moist to begin with and then you chanced upon a ribbon of zingy lemon curd that further caressed the tongue. I love a nice Macaroon and never tire of the way they have a thin crisp shell that yields a gooey, chewy layer when you bite in to it, and Rachaels were just perfect. The rich ganache was marvellous; it managed to balance the raspberry zing with its creaminess very skilfully.


At this point our tummies were more than replete, and Rachael very thoughtfully provides little cake boxes for you to take home anything that you don't manage to eat at the table. The Malteaser blondies were duly packaged up for us, along with the mini Orange Madeleines that Rachael had made for us to take away too.
The blondies were to-die-for, I have to say, they were a real suppertime treat for my little flock back at the nest that night; rich and chocolatey in a way that makes you sigh with a naughty contentment. We all really liked the mini Madeleines too; they had a beautiful hint of orange to them and were lovely and moist.


I think it is testament to Rachaels character and skill in providing such a marvellous afternoon tea experience that the location is still a secret among those that have visited even after 4 years of being started. If you haven't been before, you will absolutely love it; My Daddy Bird still hasn't stopped talking about it, and I really didn't think afternoon teas would especially be "his thing". I am more than happy to be wrong on this occasion, and even happier that My Mummy was so thrilled by her birthday treat.

Thank you Rachael for giving us such a magnificent afternoon, and Hot Wings definitely awarded again to you :)
No incentive was provided to visit this venue
read more