Rachael's Secret Tea Room
Hello! I'm Rachael and welcome to my Secret Tea Room. I can hear you asking what is a Secret Tea Room? I have to say until recently I had not heard of one either so you are not alone.
Do you enjoy afternoon tea?
Do you enjoy spending time with friends and family?
Do you enjoy meeting new people?
Do you enjoy a bit of 'me' time?
If you answer yes to all of the above, continue reading…
This is a unique experience where you book to have afternoon tea in a lovely quiet Derbyshire setting in a town called Belper which is on the edge of the Peak District. There is enough room to accommodate 6 people around the dining table where you will enjoy good food and great company. What better way to spend an afternoon away from the day-to-day stresses? I can assure you that the conversation will flow as freely as the tea!!
How it works
Rachael's secret tea room is held in a private home. This is an ideal opportunity for:
groups of friends or colleagues
a family get together
special occasions
or meeting new people
The Sticky Beak Blog Reviews
8/22/2016
Birthday Tea At Rachael's Secret Tea Room
View

---

1/31/2014
Afternoon Tea At Rachael's Secret Tea Room
View
News Articles
We have no news articles for Rachael's Secret Tea Room yet
The Chatterbox
Rachael's Secret Tea Room has not been mentioned in the Chatterbox yet
Award Badges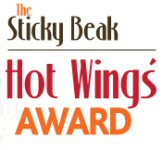 Find out more about my Award Badges
Menus
We have no menus for Rachael's Secret Tea Room Yet
Photographs