Sunday Lunch, A Museum Tour & Painting A Piece Of Denby At Denby Pottery Village
---
Published On Wednesday 27 Jul 2022 by Sticky Beak
See Recent Dining Out Reviews | See All Recent Reviews


It wasn't long ago that His Nibs and I visited the Denby Pottery Village to sample the Afternoon Tea at Bourne's Coffee Shop and Bistro (it was superb and you can read that review here) and when we fedback to Laura she asked if we'd like to return to review Sunday Lunch and/or maybe do a tour of the Museum. As you know, we don't need asking twice and jumped at the chance to do both!! Fast forward a few weeks and The Man and I were accompanied by Mummy Bird to go in the studio to paint a piece of Denby Pottery, then have a guided tour of the Museum before sitting down to a good old traditional Sunday Roast in Bourne's.
We rocked up just before 10am but we weren't the first ones in the car park! The village was decked out in colourful bunting in readiness for the Denby Pottery Village Summer Fete and it looked gorgeous, fluttering gently in the breeze. As soon as the doors to the craft studio opened we went in and were greeted warmly by the team, and introduced to Karen, who was going to be our guide around the museum too.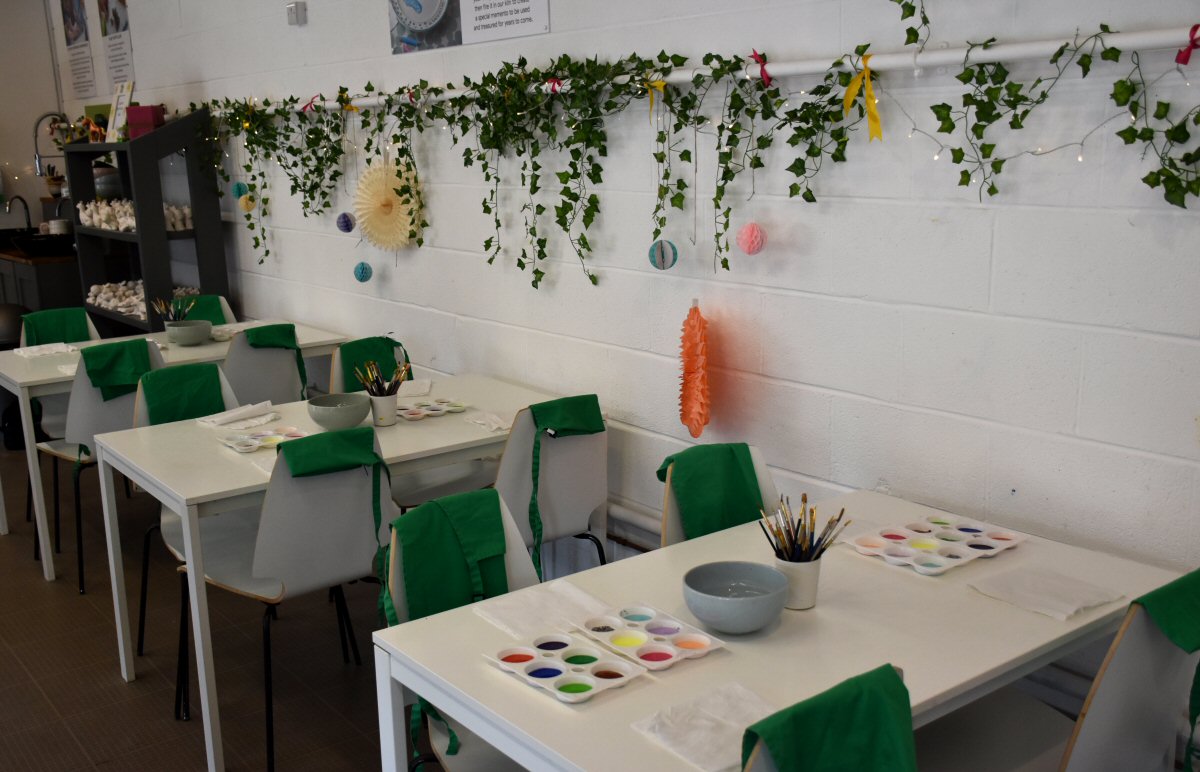 Taking a seat at one of the tables we cast our eyes over the (kindly) pre-mixed glazes and, having chosen our pieces of Denby Pottery, got our thinking caps on as to what design to do. His Nibs and I decided to try and do our Sticky Beak Blog bird; him on a mug, me on a jug. Mummy Bird had chosen the same style of Denby mug as The Man Bird, but she decided to paint vibrant sunflowers on hers as a nod to the row that are currently growing on her patio. It isn't often that silence cloaks the Flock, but we needed to concentrate and channel our inner Picasso's (!) so lips were firmly zipped and fingers held paint brushes deftly. Whilst we were beavering away another member of the team, a lovely chap named Tony, came over to chat and check if we needed any assistance – that's one thing about Denby Pottery Village; wherever you are there's always someone that checks you're ok, with a smile.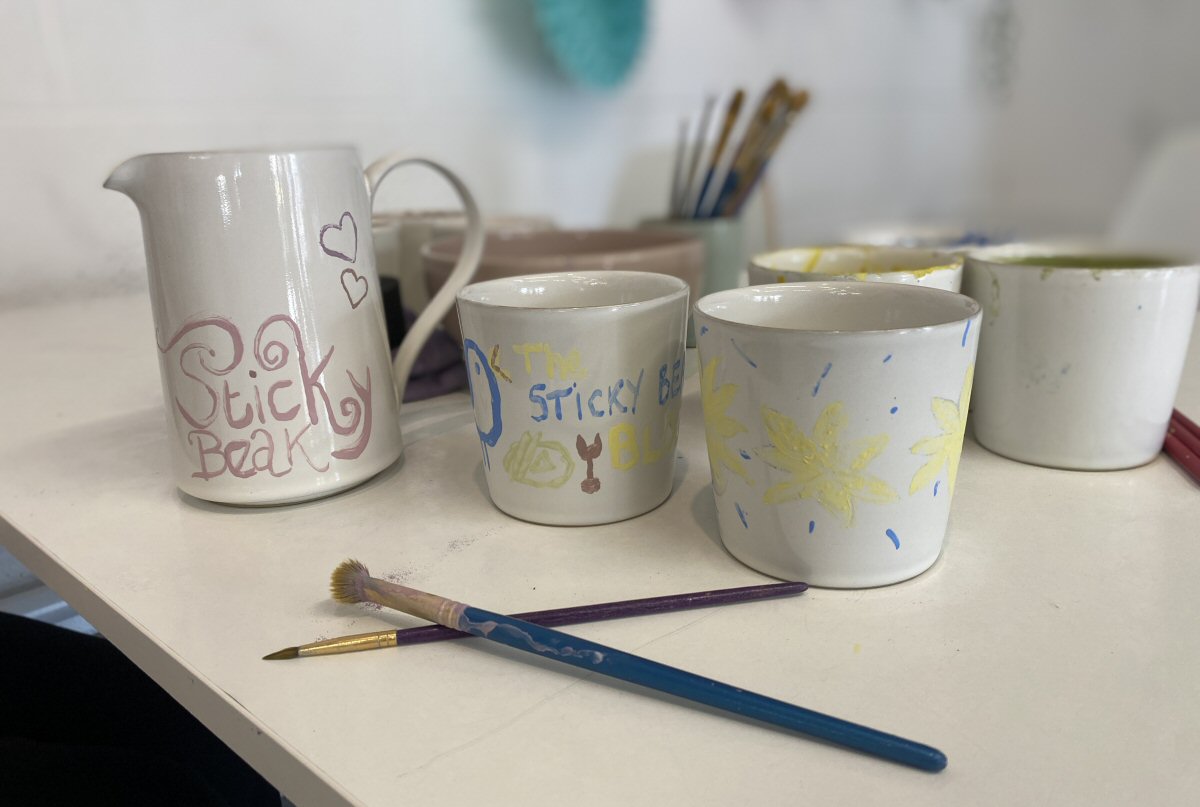 We finished the painting quicker than we'd thought (and well within the hour slot allocated) so Karen came over to fill out the paperwork needed before the pieces went off to the kilns to be fired and said that we would be contacted in about 2-3 weeks when they were ready to be collected. Eeeeek, how exciting!!! There were other folks in the studio, so we said that we would take Mummy Bird on a quick look around the other shop windows and return at the time allocated for our Museum Tour.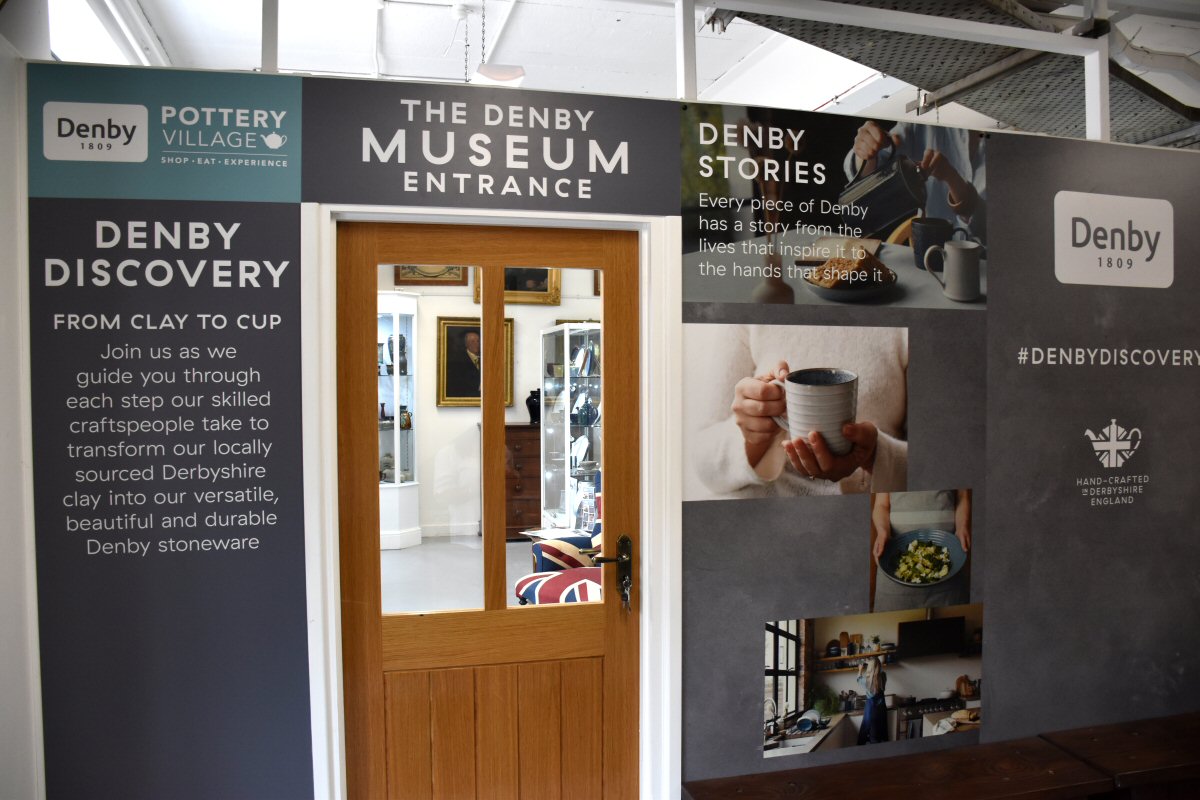 I don't mind admitting that I love being a fact geek and things like the Denby Pottery Museum Tour hold a real appeal for me. Karen managed to bring the history of the site alive, taking us back to the very beginning when the Pottery was in Belper and then coming up to the present day. There were facts galore to absorb, but the way Karen presented them kept us all engaged and interacting with her. Some of the pottery designs are simply stunning and the exhibits on display take your breath away, especially the teeny-tiny, scaled down replica pieces that were actually made for the salesmen to showcase to potential buyers (a heck of a lot lighter than the real-life pieces would've been to carry around!). Time flew by and before we knew it, it was time to say goodbye to the wonderful Karen and make our way over to Bourne's Coffee Shop and Bistro for our Sunday Lunches.




Our table had a reserved sign on it, but I do love the slick system that they have in Bourne's where you grab an empty table and flip the menu over to say that it's occupied and you've gone to get your food and drink. This saves an awful lot of faffing about and prevents any confusion as to which tables are taken and which aren't, at busy times. We went to get teas and coffee sorted first as the hot counter wasn't quite open (it opens at noon) and then got in line with the other eager beavers that were wanting lunch; as well as the traditional roast there are lots of other food choices available, including cold choices, so there's something for everyone.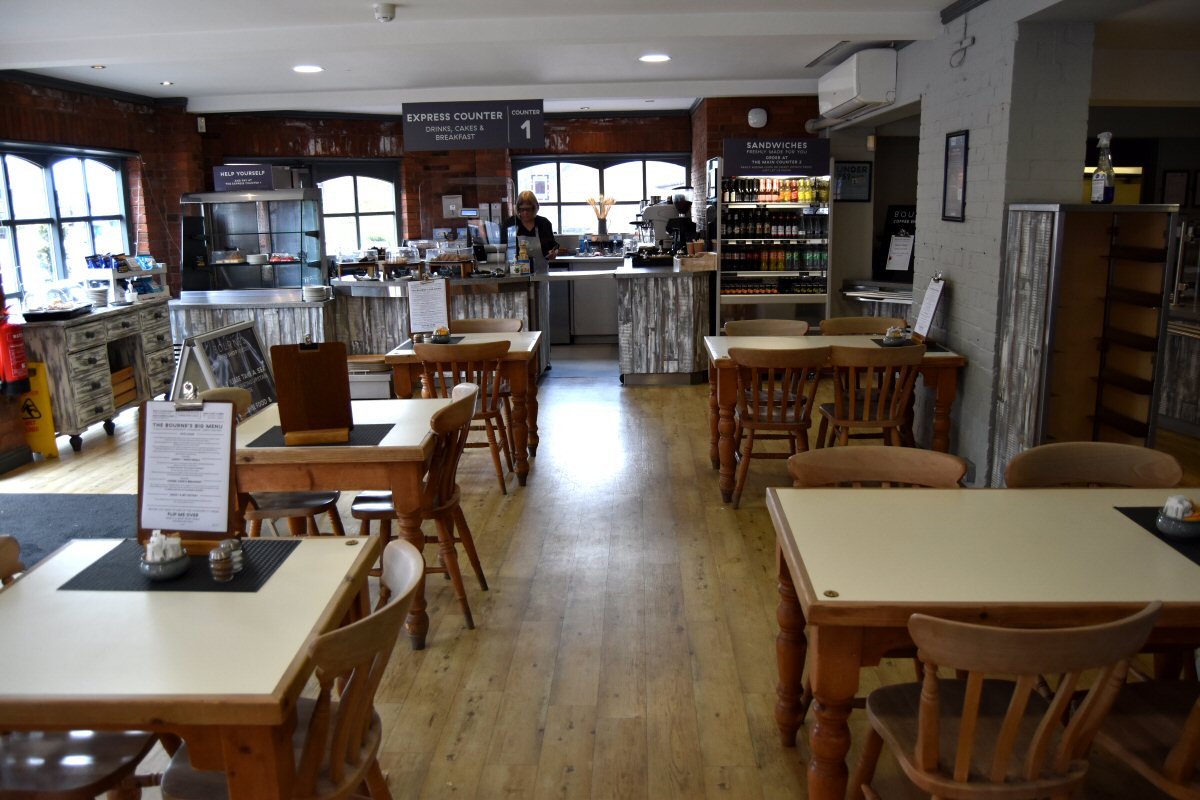 There was roast Beef or Pork to choose from and all of us decided to go for Beef; Fledge would no doubt have had the Pork (it's her fave) and it did look lovely, to be fair. Prices for the Sunday Roast are £10.95 per person for the standard lunch, £8.95 for the smaller adult portion, and £6.95 for children aged 12 and under. Two staff were running smoothly to get customers served so there was no long waiting around, and they were just as friendly and professional as the team had been when we went for Afternoon Tea.




Along with a trio of large slices of meat there were massive, homemade Yorkshire puddings and delicious stuffing balls popped on each of our plates before we moved along to the vegetable counter that was stocked with colourful offerings. There were Carrots, Peas, Shredded Cabbage, possibly the world's creamiest mash, golden hued Roasties, perfectly bronzed Parsnips and (my absolute favourite!) Cauliflower Cheese, and between us all, we covered all the bases. You can't beat proper meat-juice gravy, so when I spied it at the counter and was asked "would you like gravy?" by the lovely young man who had been assembling my lunch, I replied"oooh yes, put it all over, please"!




Our plates looked like something from Man vs. Food as we sat back at our table, laden as they were with all sorts of scrumminess! The Beef was sublime; lovely and tender, juicy and with a beautiful depth of flavour to it that had us all grinning happily. The vegetables, without exception, had been cooked perfectly to retain some natural bite and preserve all their flavour. I cannot describe how happy the Cauliflower Cheese made me; it was beyond delicious with its thick, creamy-and-cheesy sauce and the Cauli was beautifully firm to the bite – that absolutely perfect spot of being cooked but nicely biteable. We were full to the brim when Jane came over and said not to forget dessert; you could've knocked us over with a feather, we weren't expecting a second course!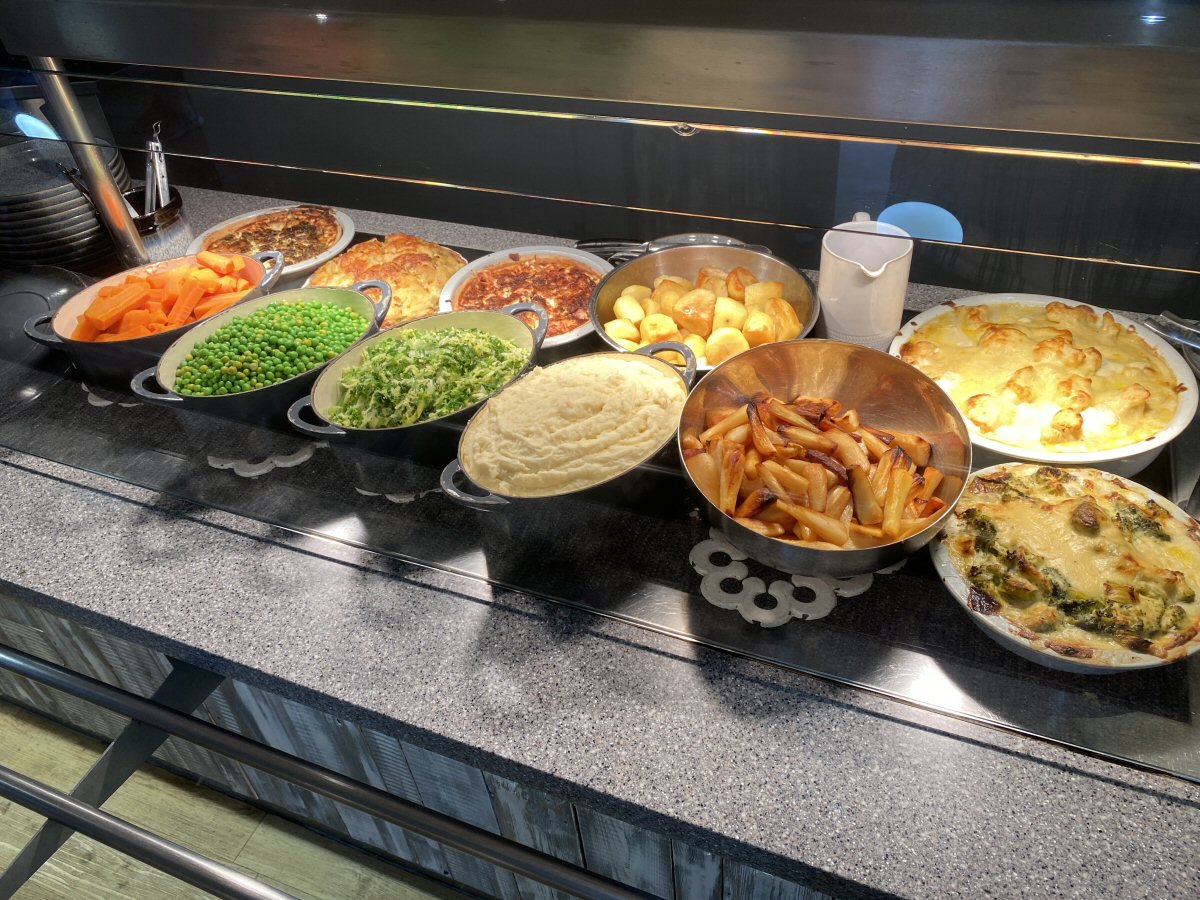 When we'd first walked through the door, Mummy Bird had spotted the Bakewell Slices and remarked on how good they looked, so that was her choice for pud. I had the Lemon and Poppy Seed Cake (this is heaven in cake form, let me tell you) and His Nibs went for –surprise, surprise – the Chocolate Cake.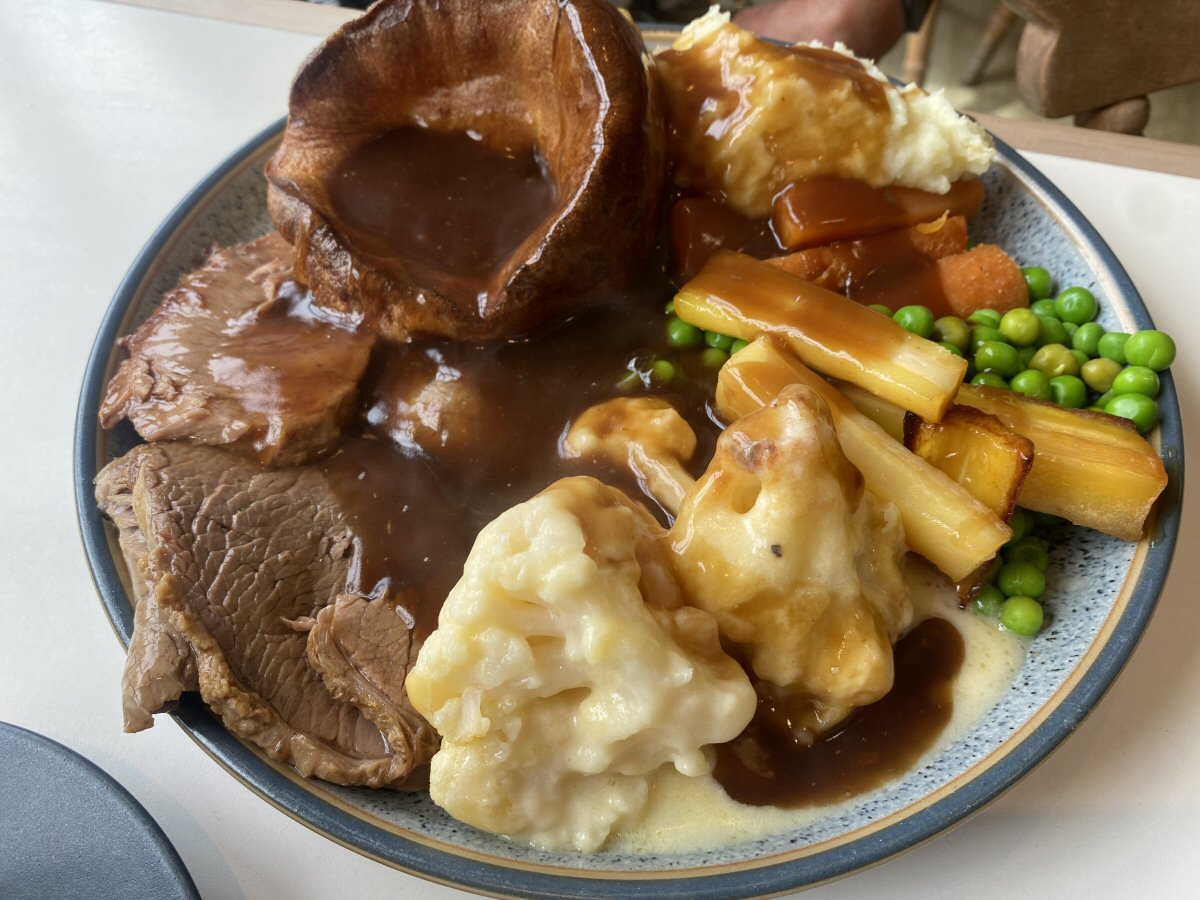 Yet again, a hush fell over our table as we applied ourselves to the task of fully appreciating the sweet treats in front of us. Both cakes were wonderfully moist and light in texture; mine had the bonus of crunch from Poppy seeds within it, The Man's benefitted from the intensity of Cocoa, and Mummy said how superb her pastry base was on her Bakewell slice. Filling-wise we had no complaints either; Mummy had a good layer of jam under her almond top and both mine and His Nibs' Lemon- and Chocolate- buttercreams were bursting with taste and were indulgently generous. Jane had come over with more drinks for us to have with our cakes and Mummy Bird said she felt proper spoilt, which made my day!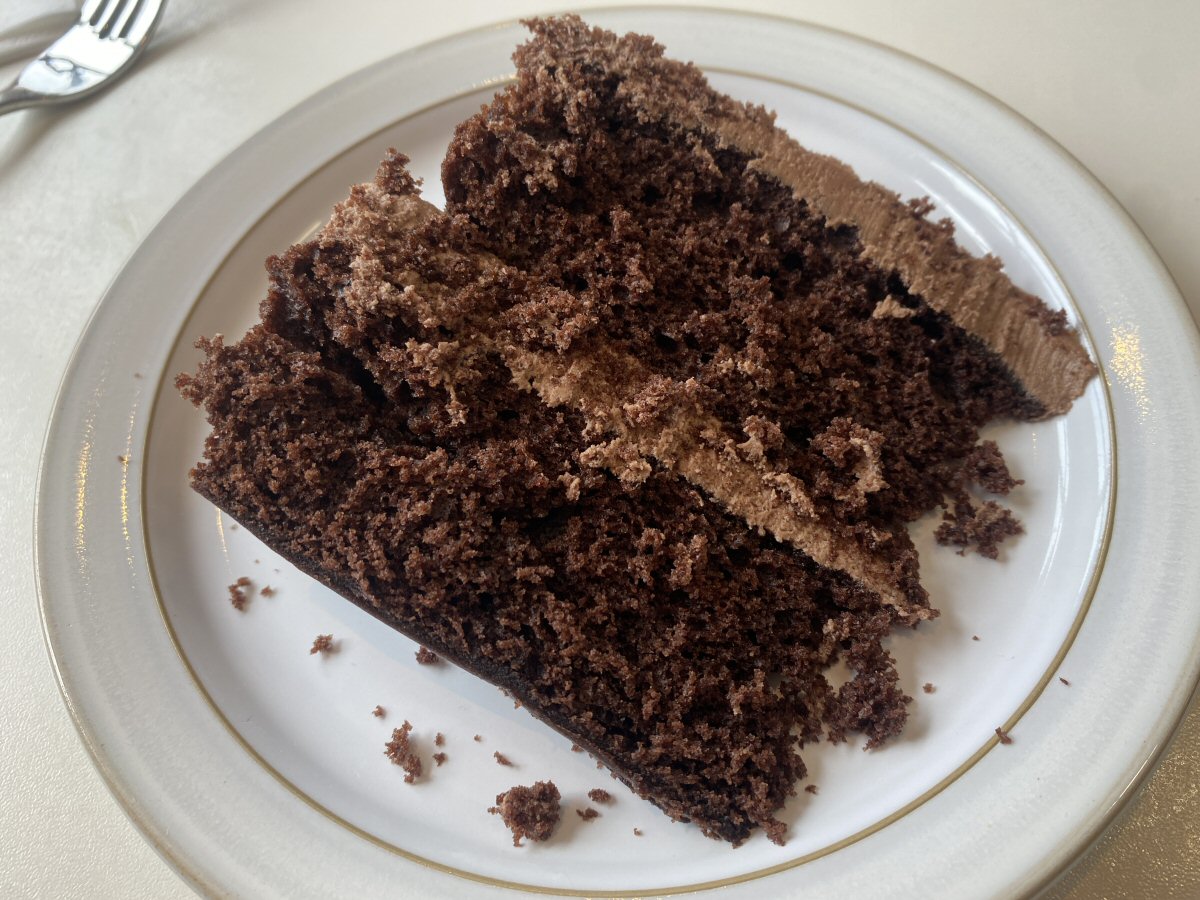 Throughout our time in Bourne's Coffee Shop and Bistro all the team members had checked that all the customers were happy with their food and drinks and cleared up when guests left, in readiness for other people to sit down. It was lovely to see how well they all worked together and the genuine camaraderie between them – thank you for making our experience so great.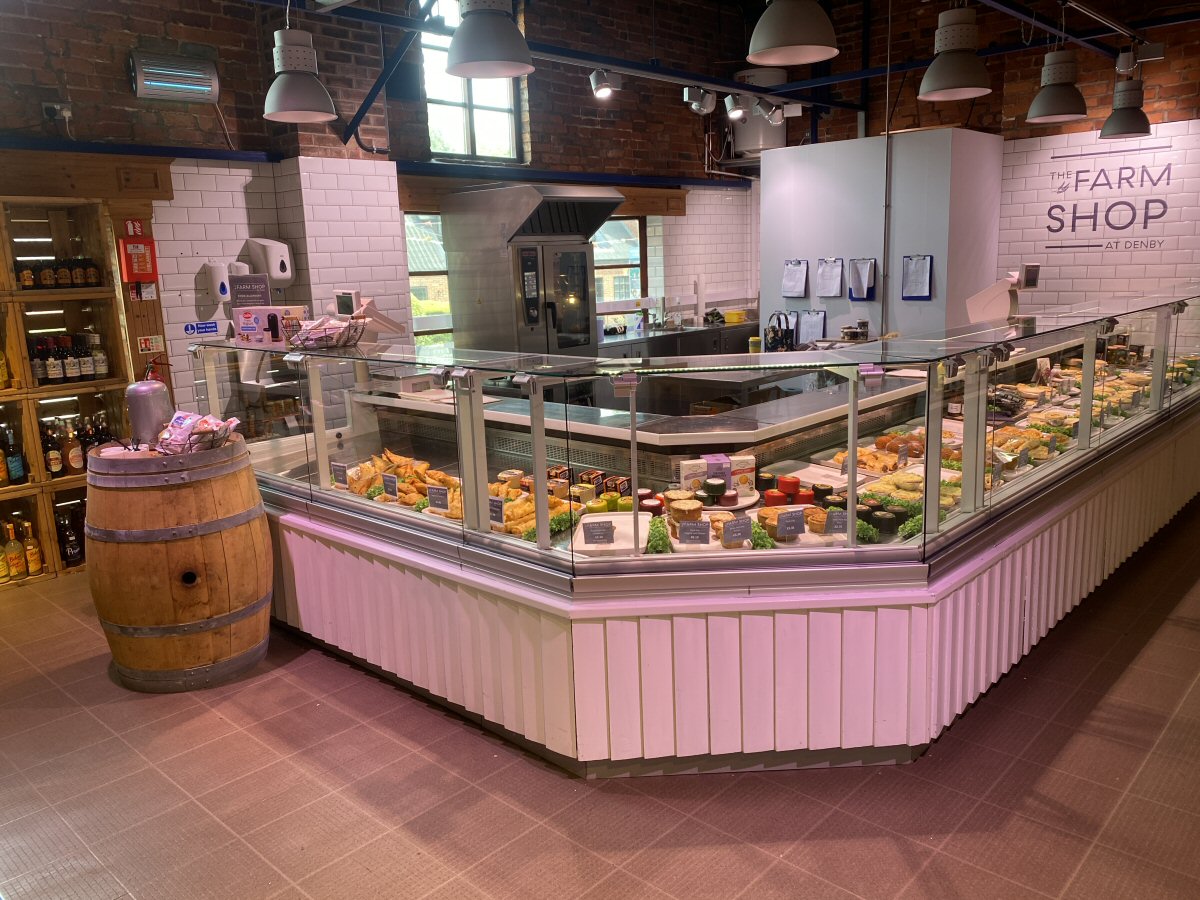 To round off what had been a fantastic morning we had a look in the factory shop, the farm shop and the garden centre, coming away with several purchases!! As we approached the car park we smiled at children who had succumbed to the lure of the play area – I was seriously tempted to go in the sand pit myself and build a sand castle with the buckets and spades in there!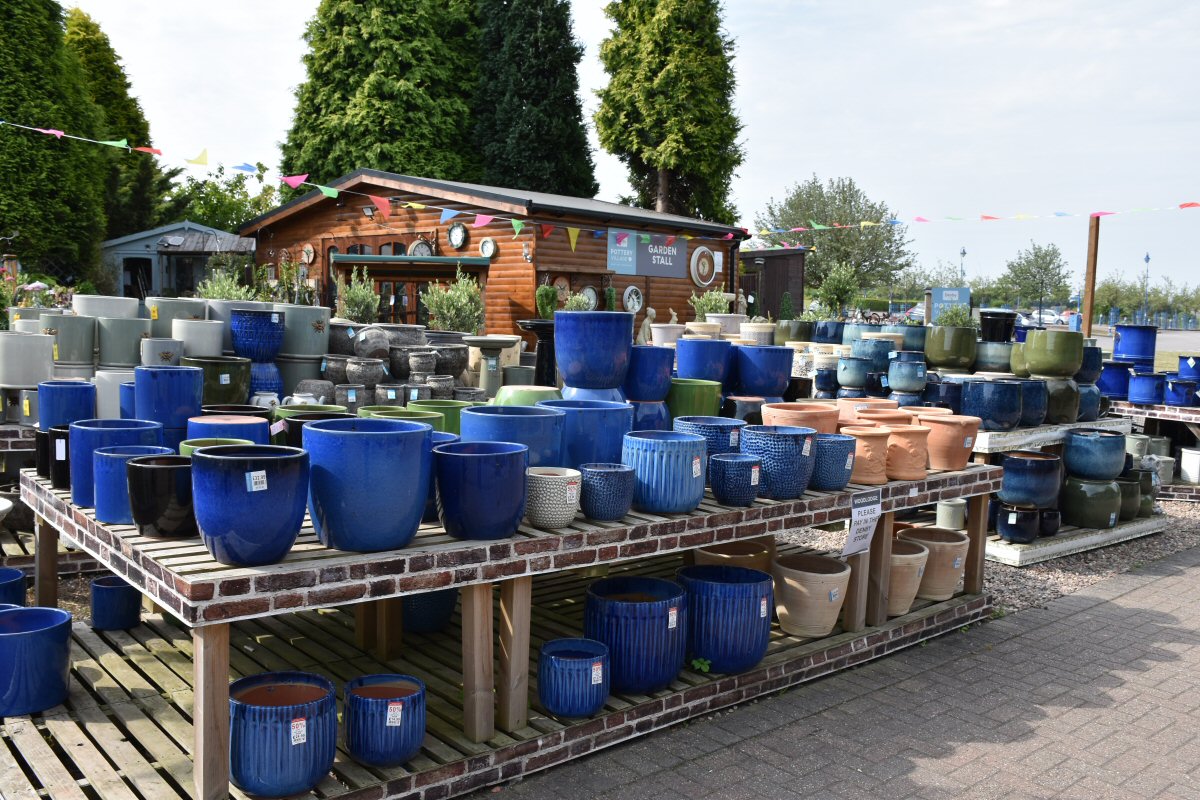 Over the school summer holidays there are workshops running for kids to paint pots and figurines, so check out the Denby Pottery Website for more details. It's not often you find somewhere that has literally got something for all the family, but this Derbyshire treasure has. Massive thankyou's to Laura for organising this visit for us, and also to every member of the team that we encountered – you were so friendly, professional and welcoming. Mummy Bird said this was something she'll never forget, and neither will we.
Some form of incentive was provided to visit this venue
read more
Read Some Of Our Recent Reviews
---

Out For Dinner At The Bear Inn, Alderwasley If it's the full on, single track road, rural Derbyshire experience that gets your motor running, then the journey to The Bear Inn at Alderwasley will have you in joyous raptures. For those of you who are Read The Article

---

Lunch At The Recently Opened Chatsworth Kitchen At Peak Village, Rowsley Everyone who knows me, knows I love Chatsworth (always have, always will) so when the invitation to sample lunch at the newly opened Chatsworth Kitchen Read The Article

---

A Visit To Vietnamese Street Kitchen, Resorts World, Birmingham Way back in the day (pre-covid) Fledge had bought me and The Man Bird tickets to see Mrs Browns Boys live and finally, after a couple of false start reschedules, the day of Read The Article

---

Bottomless Brunch At Turtle Bay In Derby The timing of the invitation from the Turtle Bay team in Derby to go and sample their Bottomless Brunch couldn't have been better; not only was it going to be The Man Birds' birthday a couple of days later Read The Article

---

Afternoon Tea At Santo's Higham Farm Hotel & Restaurant Aaaaaarggggh, don't you love your children??!! A while back, His Nibs had spotted a great deal on Groupon (you know what a bargain hound he is!) and thought it would be Read The Article

---

Sunday Lunch At The Countryman Pub & Dining, Kirkby-in-Ashfield We finally got to visit a venue thats been on our radar for quite a while, The Countryman Pub and Dining in Kirkby-In-Ashfield! A few weeks ago we tried to book a table for dinner Read The Article

---

Dinner At The Divan Turkish Restaurant In Chesterfield Chesterfield was welcoming us back again for our latest review visit; this time to the newly opened Turkish restaurant, The Divan, on Lordsmill Street. Owner Tuncay (along with Read The Article

---

Breakfast At Marsh Green Farm Shop & Cafe, Kelstedge Ah, you've gotta love a Bank Holiday curve-ball, haven't you? His Nibs and I headed over to Mummy Birds' gaff with the intention of having a leisurely couple of hours at the Sunday Read The Article

---

Afternoon Tea at Bourne's Coffee Shop and Bistro, Denby Pottery Village You all know that The Man Bird and I do like an Afternoon Tea; I mean, who doesn't?! Just a few miles down the road from the nest is Denby, home to the world-renowned Read The Article

---