Afternoon Tea at Bourne's Coffee Shop and Bistro, Denby Pottery Village
---
Published On Saturday 18 Jun 2022 by Sticky Beak
See Recent Dining Out Reviews | See All Recent Reviews


You all know that The Man Bird and I do like an Afternoon Tea; I mean, who doesn't?! Just a few miles down the road from the nest is Denby, home to the world-renowned Denby Pottery, but also where you'll find the lovely Bourne's Coffee Shop and Bistro. Like many other local places, His Nibs and I have been meaning to go here for yonks but never got around to it, so when an invitation to visit came floating in our inbox we got our act together and sorted out a date to go!
As you approach the Denby Pottery site it's easy to see and even easier to park; there is a massive car park and the site is well sign-posted, so wherever you're going you'll find it, no problem. Bourne's is pretty distinctive with its white exterior, so although it fits in with the other buildings you will see it immediately. We were greeted with a cheery 'hello' as we walked through the doors into the bright, airy space and taken to our table by the window. The wood floor is a warm, pale honey tone which compliments both the red, exposed brick and the painted brick walls and is matched by the chunky solid wood tables and mid-back chairs. Lighting is provided by recessed lights to maximise the height of the ceiling and accentuate the spacious feel the venue has.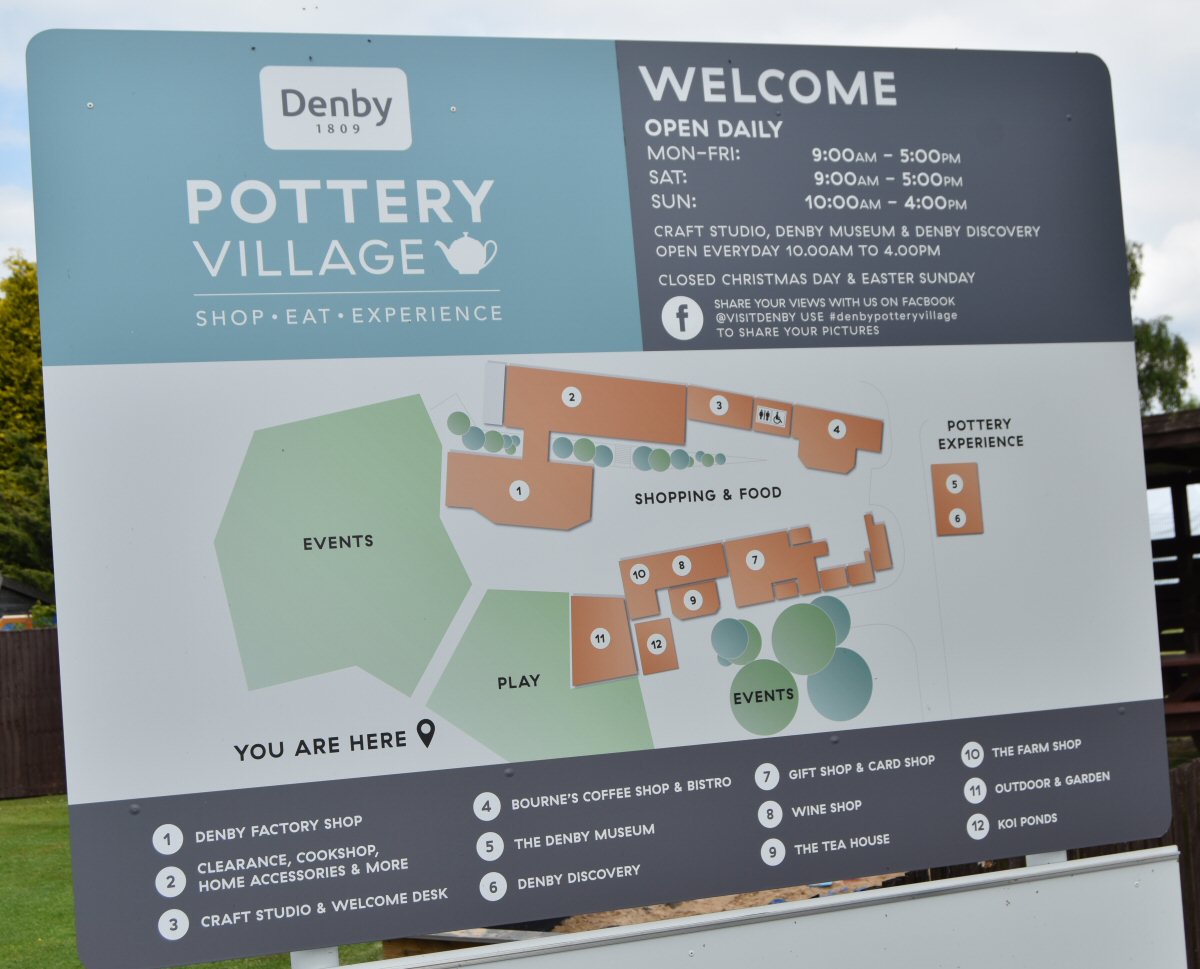 Colette (the assistant manager) came over and asked what we'd like to drink: tea for me and black coffee for The Man. Tea lovers such as myself, will be thrilled with the size of the teapots at Bourne's – they're massive; I got a good 4 cups out of each one. We were also asked which slice of cake we'd like to accompany the other elements of our Afternoon Tea; I opted for Lemon and Poppy Seed, and His Nibs went for Carrot Cake but we could also have chosen Bakewell Slice or Coffee and Walnut Cake on that particular day. It wasn't long before our triple tiered stand was being placed before us and our eyes popped out on stalks at the amount of food there was! Locally sourced ingredients are used to make the homemade meals and everything is freshly prepared; we arrived after the lunchtime peak period but the aromas were still faintly detectable and made our nostrils twitch in appreciation.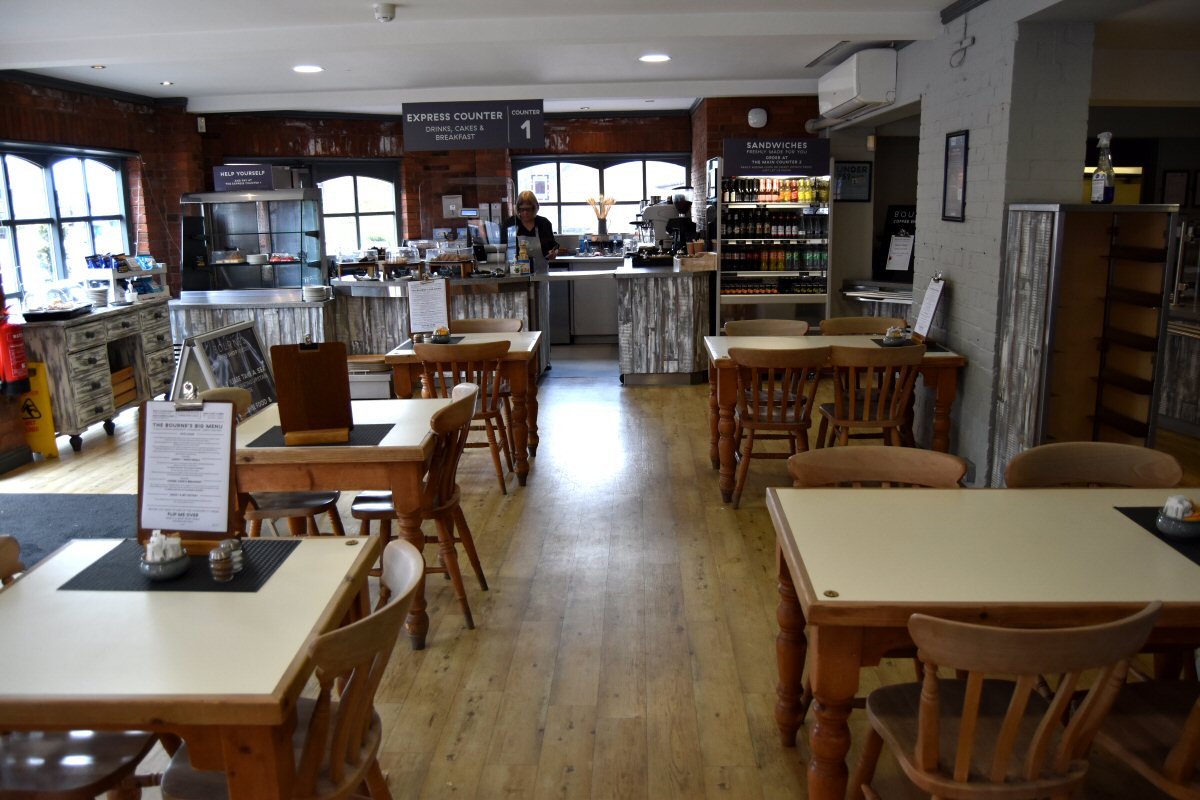 Bourne's Coffee Shop and Bistro hit me with a double whammy; not only did I have food swoons, I had serious envy at the gorgeous Denby X Monsoon crockery on our table!! Despite my best efforts after we'd eaten and were having a mooch around the factory shop, I couldn't persuade His Nibs to let me have any #whatameanie.




Luckily the tempting morsels took away any disappointment I may have been feeling and after the photos had been taken I cheered myself up with a delicious triangle of Ham and English Mustard on 50/50 bread. You can't beat 'proper' baked Ham in my opinion, and the variety served up at Bourne's was scrummy with a meaty taste and texture that came through boldly in the mouth – none of that insipid water-injected stuff here! Punchy English Mustard added a wonderful sunny tone to the sandwich as well as a spritely heat on the palate, and partnered the quality Ham perfectly.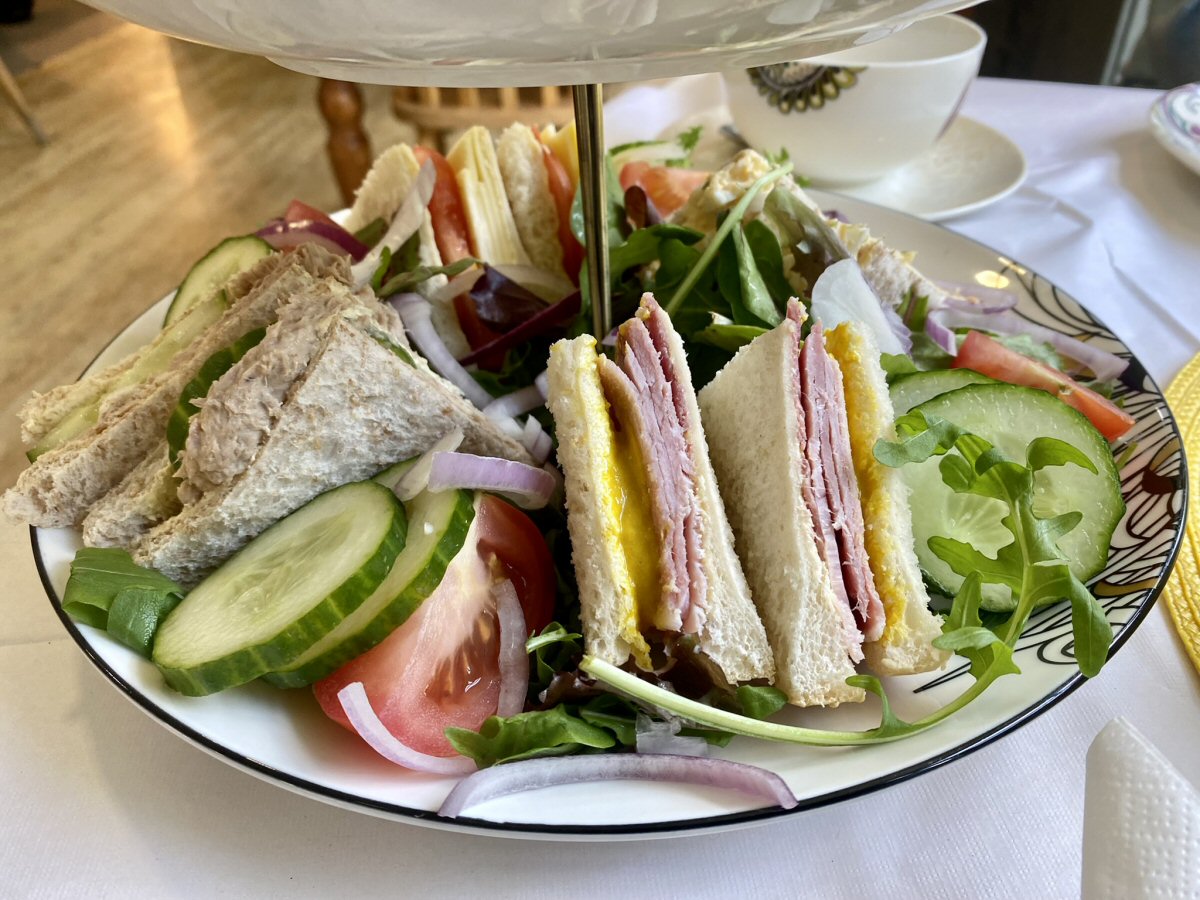 I silently rubbed my hands together gleefully as I spied the Tuna and Cucumber triangles, knowing full well that both of those minxes would be coming my way thanks to The Man Birds' aversion to 'fishy fish'. The Tuna had been mixed carefully with just enough Mayo to 'dampen' it without interfering with the flavour at all and cool, crisp Cucumber added a nice crunch in the mouth. Whilst I busied myself with this morsel, His Nibs helped himself to the plentiful fresh salad on the bottom tier: mixed leaves, Cucumber, fresh Tomato quarters and lots of sliced Red Onion (a particular favourite of his).




The Cheese and Tomato triangle got pimped up by The Man, who used the Red Onion to create his own sandwich. I left this classic sandwich as was, savouring the mild kick of the thickly sliced Cheddar against the sweetness and juiciness of the sliced Tomato as the beautifully springy bread cocooned both ingredients snuggly. If Mummy Bird had been with us she would've asked for some Salad Cream to slather on this particular offering, a thought that made me smile as I remembered her doing this a lot during my childhood years.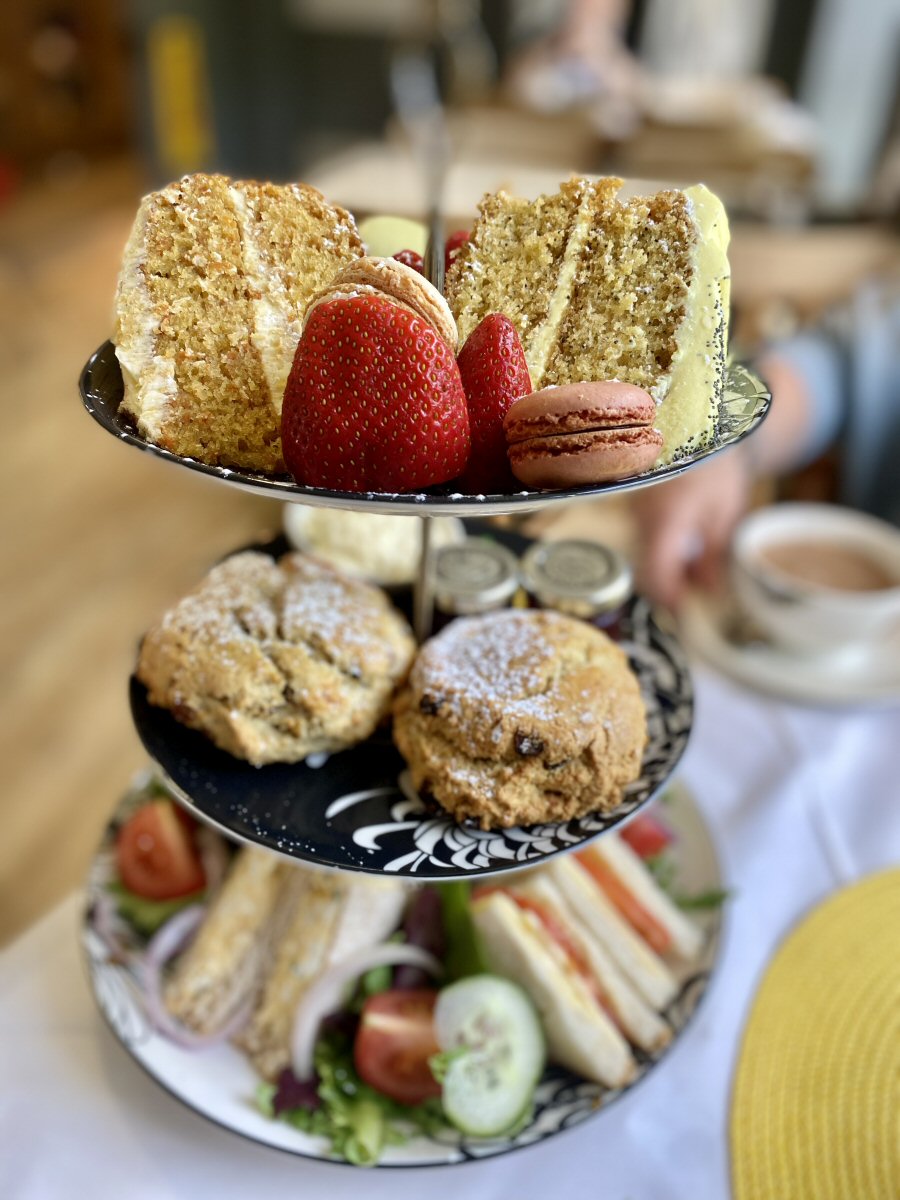 Our final sandwich was the stalwart of Afternoon Teas country-wide: Egg Mayonnaise; I mean, is it even an Afternoon Tea if this icon isn't present?! The secret to a marvellous Egg Mayo creation is to not drown the delicate taste of the egg with Mayonnaise and make it a bland, creamy textured goop, and you need to use quality, flavoursome eggs, too. Thankfully the team at Bourne's Coffee Shop and Bistro know their craft and the morsel here has a superb rich egg flavour to it (and a nice colour, thanks to the intensity of the yolk) with a pleasant creaminess without it being sloppy or gloopy.

There is also a savoury Afternoon Tea available, served on a wooden platter, that has Pork Pie and Branston Pickle, Cheese Scone, Sausage Roll, slices of Ham and Beef, Cheese, Salad and crusty French Baguette chunks to tuck into for the same price of £14.95 per person. Bottomless Tea and filter Coffee also comes with this version of Afternoon Tea, and children under 12 years old can tuck into their own scaled down Afternoon Tea (£9.95 per child) – there's even a child sized, white table and chairs for them, with play puzzle in the middle.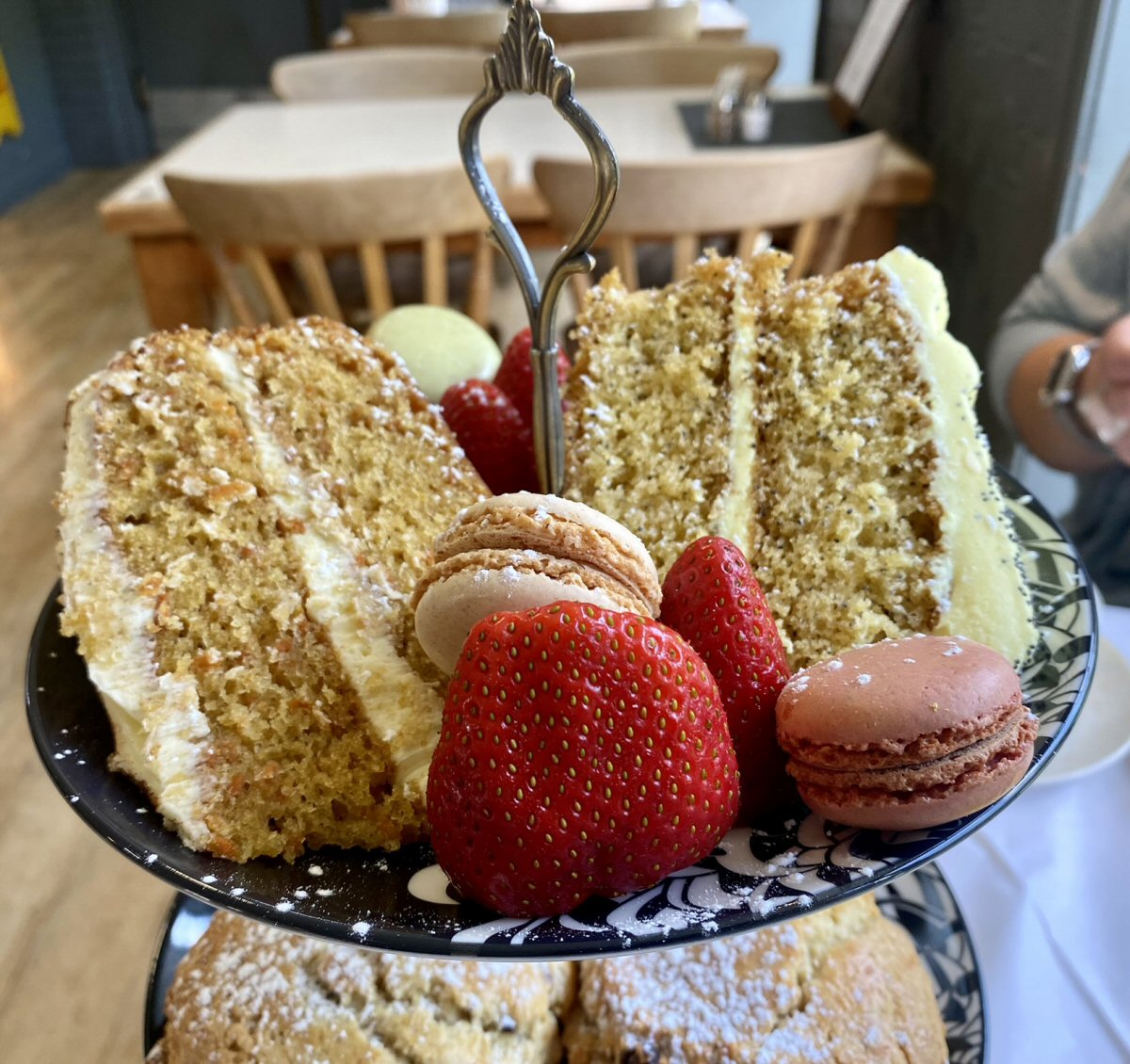 Having polished off the sandwiches it was time to turn our attention to the top tier where the Cakes, Macarons and Fresh Fruit were waiting - we usually leave the Scones until last, figuring they're easier to package up and bring home if we need to. There was a colourful quartet of Macarons on our stand and we started off with the pastel green Pistachio one, biting through its thin, crisp shell into the soft chewy inner and a gently nutty filling in the middle. We both loved the fruity centre of the pink, Raspberry Macaron, impressed with how distinct it was; all too often when you're served a variety of Macarons they kind of meld into one, but here at Bourne's each one was definitely different to its siblings. Next up was the warm, rounded notes of the Vanilla minx (a subtle, classy pale caramel colour), and this really was one of those sigh-inducing classics. Last but definitely not least was the wickedly intense chocolate Macaron whose rich cocoa colour matched its flavour brilliantly.




As we looked at the slices of cake it was patently clear that we were going to thoroughly enjoy these sweet treats! Both the Carrot Cake and the Lemon and Poppy Seed Cake had delightful open textures and, as we bit into them, they melted on our tongues. It may have been light in texture, but His Nibs' Carrot Cake had a tantalisingly rich spice to its taste with a wonderful moistness from the super-fine shreds of carrot within the mix. A thick layer of creamy frosting toped it all off beautifully, clinging to the insides of his cheeks and lingering on his tongue seductively. My choice of cake had dark flecks within it from the tiny Poppy Seeds, contrasted vividly by the bright, sunshine tones of the Lemon-pimped frosting on its top. I love the nutty, lightly earthy taste of Poppy Seeds as they're crunched into by the teeth and they add a superb hit of texture too; definitely a case of 'small but mighty', and their flavour goes beautifully with Lemon's citrus bounce.


Our tummies were pretty much stuffed at this point, as you may well imagine! We did consider asking for a doggy bag to bring the Fruit Scones back to the nest, but figured that there was no rush; after all, Afternoon Tea is supposed to be a relaxed occasion to be savoured isn't it? I don't think we've encountered Scones quite as generous in size as the ones at Bourne's – they're huge!! When we cut into the generously fruited morsels we were rewarded with the perfect texture: close, but not dense or clarty, and punctuated with millions of teeny-tiny air bubbles to give them that ability to melt in the mouth. As per usual we began to bicker over the age-old dilemma of 'cream first or jam first?', and just did our own things (though I am just going to say that His Nibs' attempt looked like a toddlers' scribbling session!!). Strawberry jam came in individual glass jars and a couple of mini salted Butter pats were also wrapped in foil separately, but the cream came in a bowl and was freshly whipped to a satisfying stiffness (behave, you lot!!) that allowed the dairy delight to be plopped onto the scone and spread easily.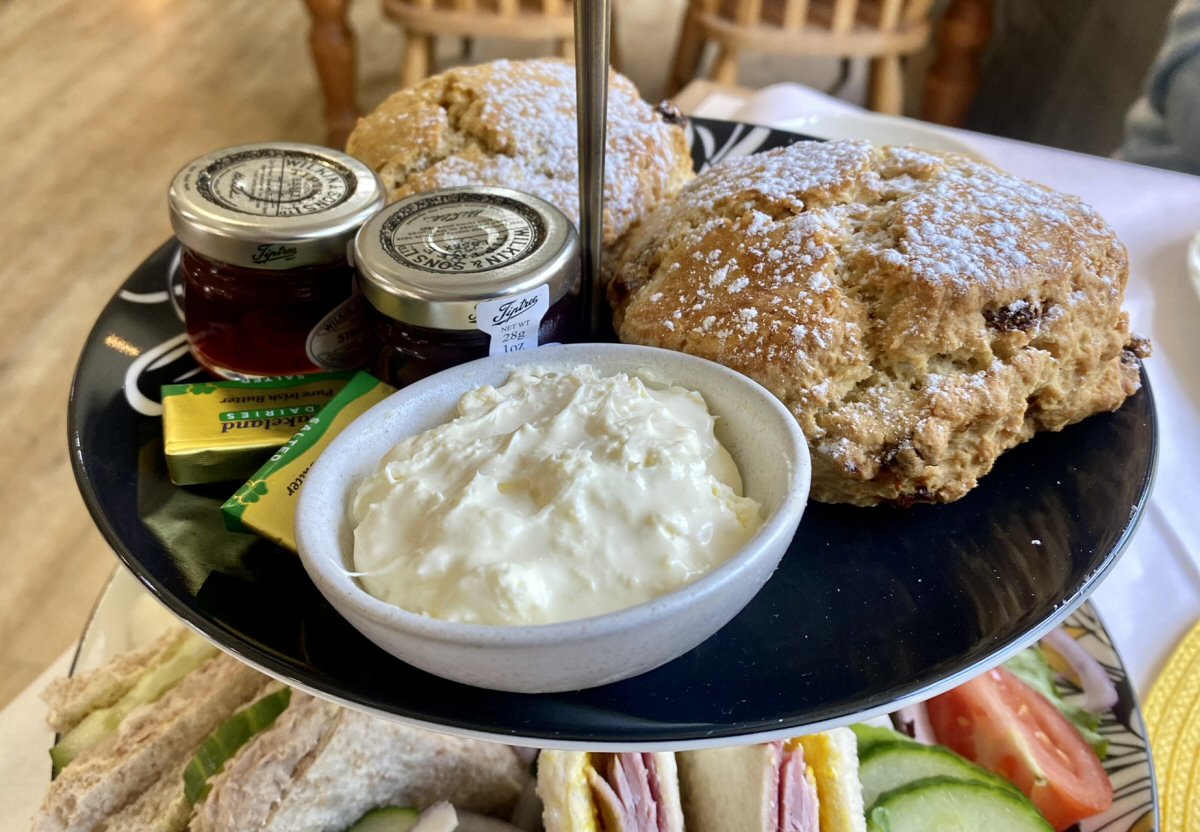 Throughout our time enjoying the Afternoon Tea spread at Bourne's several of the team members came to check we were enjoying ourselves and if we needed more drinks. One of my pet peeves is when you only get one drink; I mean, honestly it doesn't cost businesses that much to offer more refreshment, and if you're that stingy just build it into the initial cost of your offering! Thankfully (again) the team here appreciate the importance of the drinks within the overall experience and enjoyment of an Afternoon Tea, and it did make a huge difference to our impression if I'm being honest. Nothing was too much trouble for the lovely ladies and gents, and everything was done with a smile, making this a truly superb afternoon out for us. I have to say that this was one of the nicest Afternoon Teas that we've had; well worth checking out.




It isn't just the 'everyday' that an Afternoon Tea at Bourne's manages to make special; they can also accommodate groups that are celebrating occasions such as Baby Showers, Birthdays, and Hen Parties. Better still, if your group is 6 or more people (even just for a regular meet up)) then you'll receive a 10% discount, which is automatically applied at the booking stage.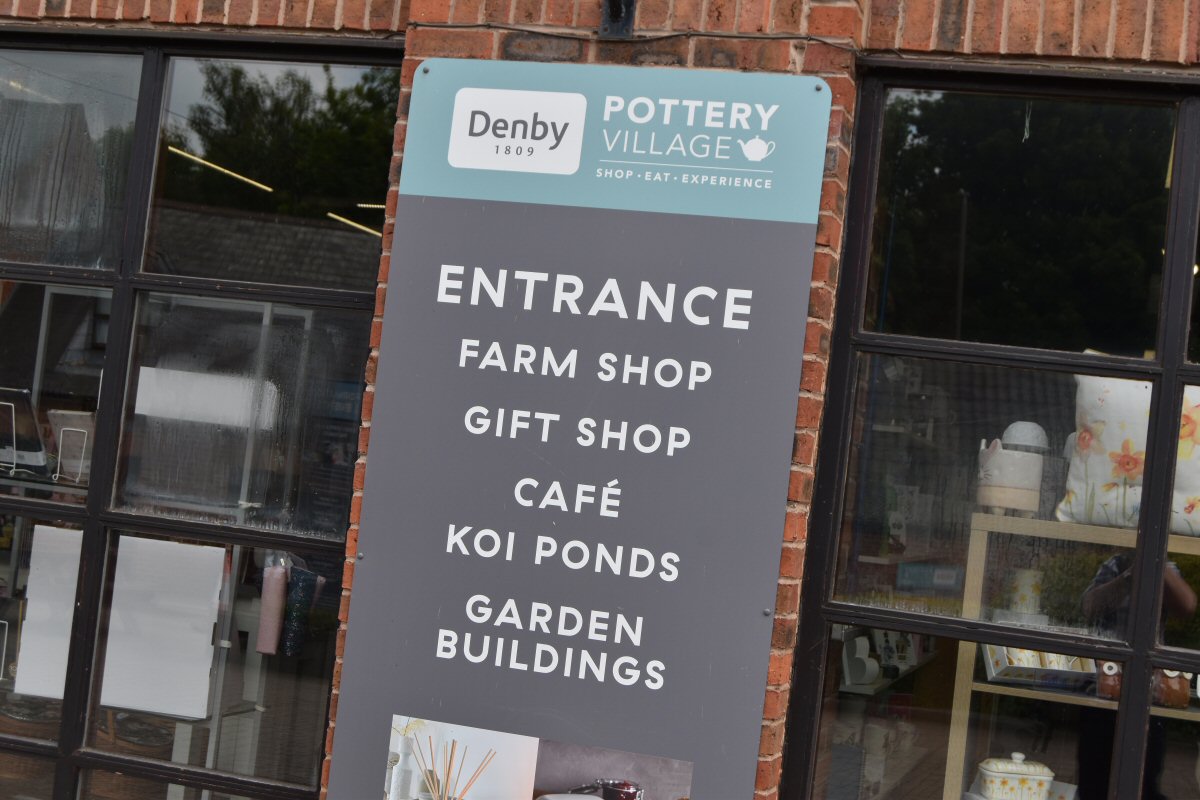 You don't have to have Afternoon Tea to experience the warm welcome and great food at Bourne's Coffee Shop and Bistro at Denby Pottery; they also serve breakfasts and lunches, as well as Sunday Roasts (which is certainly on our radar now!). There's also a fab Farm Shop Café and Takeaway to visit whilst you're on site and, had we not been 'tea and coffee'd out', we would've grabbed a cuppa for the journey home! This area is just as bright and airy as Bourne's, making it a welcoming space to take time out and refresh whilst shopping at Denby Pottery Village, or even watching the nippers play in their own, gated play area.




Hot Wings very happily awarded to this superb Denby venue, and grateful thanks for inviting us along.
Some form of incentive was provided to visit this venue
read more
Read Some Of Our Recent Reviews
---

Breakfast At Marsh Green Farm Shop & Cafe, Kelstedge Ah, you've gotta love a Bank Holiday curve-ball, haven't you? His Nibs and I headed over to Mummy Birds' gaff with the intention of having a leisurely couple of hours at the Sunday Read The Article

---

All You Can Eat At The River Garden Cantonese Restaurant In Belper As is the seemingly never-ending pattern of our weekends at the moment, The Man Bird and I had been busy gardening/re-seeding/pruning/digging, so when it came to sorting Read The Article

---

Back For Dinner At The Bulls Head In Repton As far as greetings go, perhaps the best one we've received came on our visit to The Bulls Head at Repton. As I stepped out of the jalopy I heard a familiar sound; a Robin chirruping away merrily Read The Article

---

A Visit To The Recently Opened Ranch Gourmet Burgers In Ripley The Man Bird and I do like a good burger, so we were gutted to hear that one of our fave hangouts in Derby was closing its doors and (in true glutton fashion) decided to Read The Article

---

A Post Shopping Lunch At Qoozies, Chesterfield We were on a mission over the Bank Holiday Weekend: Operation 'Get New Curtains for Mummy Bird' was go, go, go!! It turned into Operation 'New Curtains, New Towels, and New Bedding', so Read The Article

---

Dinner At The Devonshire Arms In Beeley We seem to have visited a few other sites on the Chatsworth Estate, so it was lovely to receive an invite to dine at The Devonshire Arms at Beeley; it's been a while since we were last here. As soon as Read The Article

---

Burgers With A Side Order Of Sass At Karens Diner, Sheffield 'Freaky Friday' feeling, anyone? I felt a bit like the Fresh Prince of Bel Air, except instead of 'my life got flipped, turned upside down' it was a case of 'my dining experience got flipped Read The Article

---

Dinner At Cocina Restaurant At Casa Hotel, Chesterfield Regular readers of the blog will know that The Man and I recently visited the Peak Edge Hotel for dinner, a venue owned by Chesterfield business man Steve Perez. Our latest outing saw Read The Article

---

Sharing A 40oz Tomahawk At The Galleon Steakhouse, Chesterfield We Brits are used to Bank Holidays being a let-down usually when it comes to the weather, so when the forecast was for (mainly) fine conditions it was a case of Read The Article

---