Sunday Lunch At The Countryman Pub & Dining, Kirkby-in-Ashfield
---
Published On Wednesday 29 Jun 2022 by Sticky Beak
See Recent Dining Out Reviews | See All Recent Reviews


We finally got to visit a venue that's been on our radar for quite a while, The Countryman Pub and Dining in Kirkby-In-Ashfield! A few weeks ago we tried to book a table for dinner but the only slots left were too late for our personal preference, so we didn't bother; however, we did take the opportunity at the same time to book for a Sunday Roast. Mummy Bird came with us, but Fledge didn't as she was off gallivanting – again!!
The Countryman Pub and Dining is located in a gorgeous rural setting on the edge of Kirkby-In-Ashfield and there is plenty of onsite parking, which is always a plus-point in my opinion. Having parked up, we made our way inside the beautiful building where we received a warm welcome and were escorted over to our semi-circular booth table. The colour scheme of blues and turquoises, including a truly statement wall, was softened by the stylish rose gold, wire pendant lights and the overall effect was modern yet welcoming.




We all ordered drinks from the extensive choice on offer and then studied the menu to decide what we wanted to eat; you don't have to have the Sunday Roast, there are also the standard menu options available. I should point out that the Sunday Roast is served between 11.30 am-5pm, then it's just the main menu dishes only from 5pm. In the event, we did all go for the traditional roast (priced at £11.95); Mummy had the Topside of Beef, whilst The Man and I went 'Jumbo' (all 3 meats on offer that day: Lamb, Beef and Pulled Pork) for an extra £3.50 each. The Countryman Pub and Dining's roasts all come with Roasties, Creamy Mash, fresh Seasonal Vegetables, Homemade Stuffing Balls, Homemade Yorkies and homemade gravy as standard, and they also offer Pigs-In-Blankets and Cauliflower Cheese for an additional charge. You know that I'm partial to Cauli Cheese, so we ordered a portion of that for the table too.

Amy was the team member assigned to our table and, bless her, she was a wonderful young lass who couldn't do enough for us all. We asked for some table water and she came back with a carafe of iced water with Orange slices in, with a massive smile on her face. It wasn't long before she came back (with a colleague) bearing our plates of food, and this time it was us that were grinning at her.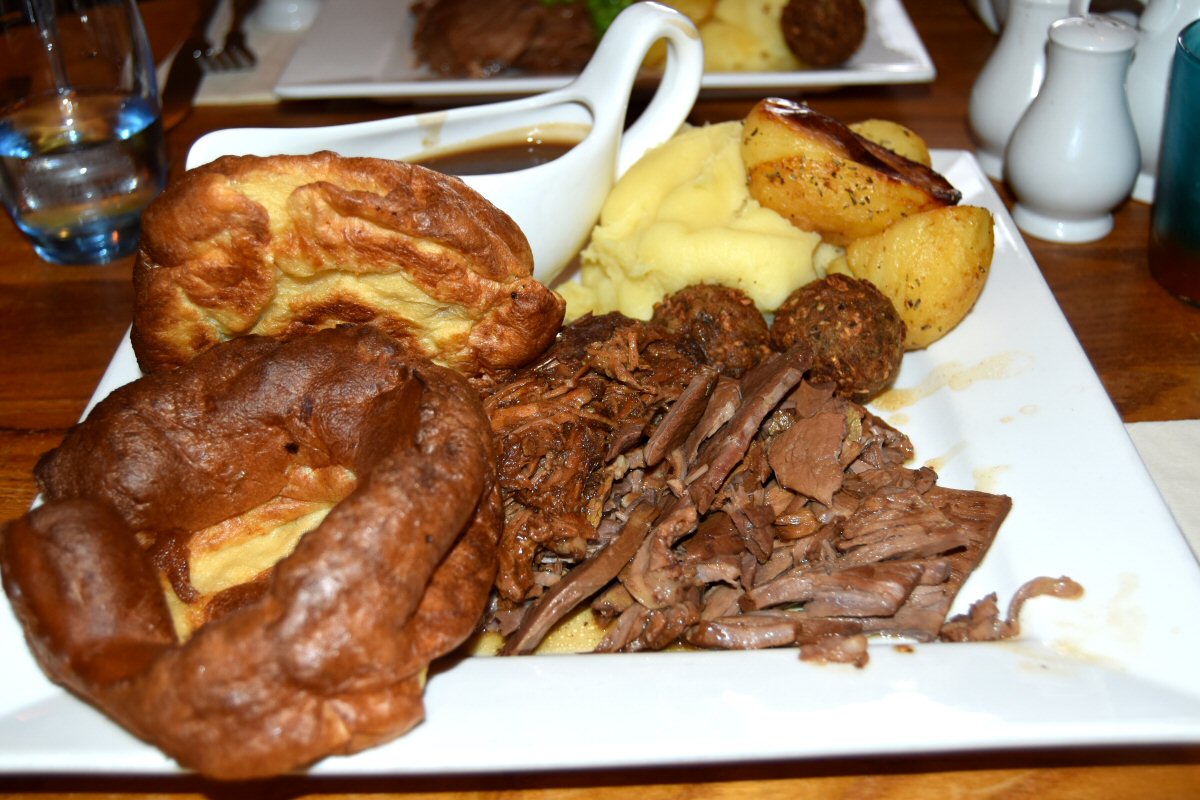 The standard Sunday Roast would've been more than able to satisfy a large appetite, and did indeed take up the space on a large plate, so imagine the food mountains that were the jumbo platefuls! His Nibs and I looked at each other with that 'ooooft, this is going to take some eating' face, before picking up our cutlery and starting the task in earnest. All of us remarked on the size (and deliciousness) of the Yorkshire Puddings; they were a superb colour, had fab crisp outers and tasted great – what wasn't to love?! The Carrots, Broccoli and Peas were all cooked perfectly, too, to retain their flavour and some crunch, but it was (unsurprisingly) the Cauliflower Cheese that stole the show for me. Sometimes, even when the Cauli is incorporated into this side dish, the veg is cooked a bit too much, but here at The Countryman there was no hint at all of sogginess. I was an instant fan of the punchy-yet-creamy cheese sauce that partnered the Cauliflower, revelling in its taste as it coated my mouth.




Mummy Bird said how much she was enjoying her Beef, and it was beautiful I must say. We all agreed that it melted on the tongue and had a moreish rounded flavour to it, and to be fair, the Lamb was equally as good. My personal favourite was the Lamb, but His Nibs said he liked the Pulled Pork the most as it combined a scrummy BBQ taste with the meats' natural sweetness.




The mash was excellent; really smooth and perfectly seasoned and there was certainly plenty of it. If I had one gripe it would be that the roasties' outers weren't the crispiest I've had, but I loved the herby flavour they had. I also loved the gravy, as evidenced by the fact that I poured the entire jug of it over my plate, and it's not often that I do that! It took us some time, but there were three clean plates at our table when we put our cutlery down. Amy came to clear away and asked if we fancied dessert and, despite initially saying that we weren't going to have a second course, our lack of will-power came to the fore and we answered "yes, please".




Both The Man Bird and I went for cold desserts (White Chocolate and Strawberry Panna Cotta for me, and Salted Caramel Manhattan Stack for Him, £6.20 and £6.40 respectively), whilst Mummy fancied a Hot pudding – Apple, Caramel and Rhubarb Crumble, £5.95. Each dessert came with a choice of accompaniment: Cream, Custard or Ice Cream; I had Cream and the others had Ice Cream.




My Panna Cotta was delicious and had a very seductive wobble to it. At the bottom, concealed by the cooked cream was a layer of sliced Strawberries and the classic combo of Strawberry and Cream hit the bulls' eye of my pleasure centre. Without the fruit, this would've been a fairly one-dimensional pudding, but Chef had cleverly added a pleasant textural element to tempt the senses. I could happily eat this over and over again!




Mummy was murmuring quietly with happiness as she munched her way steadily through the deep-topped Crumble. Having made thousands (probably literally!) of crumbles herself over the years she knows a good one when she eats it, and remarked on the quality of this particular one. Thanks to that marvellously sweet-yet-sharp character beloved of Rhubarb, this dessert wasn't cloying sweet on the palate, and all the elements worked nicely together.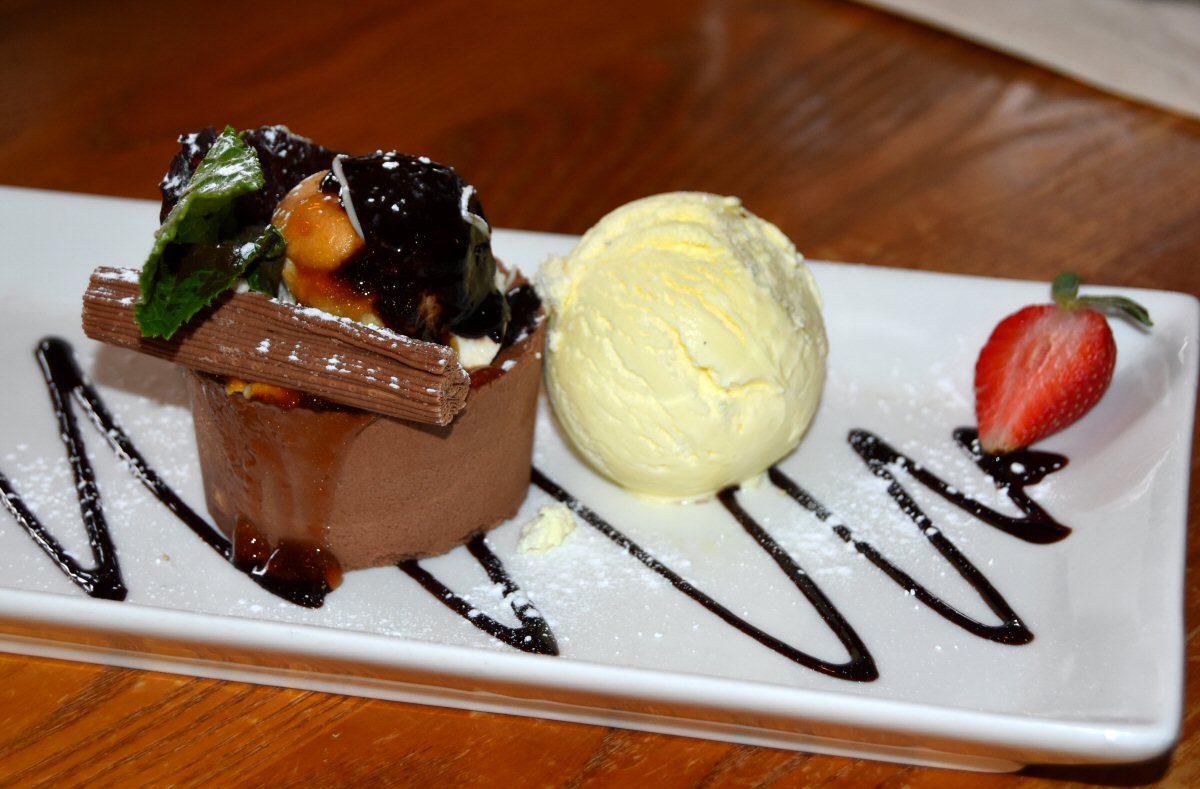 If you want a sweet treat with possibly every texture and taste imaginable, then the Salted Caramel Manhattan Stack is your absolute dream pud! Dark Chocolate adds a decadent, lightly bitter cocoa hit that is balanced by the mellowness of cream, caramel and toffee and sponge and choux pastry provide a nice 'chew factor' against the liquid components of this dessert.

We'd had a wonderful family meal together at The Countryman Pub and Dining and, given how many other tables were occupied, lots of other people have the same experience. Hot Wings awarded to this fantastic Kirkby-In-Ashfield venue.
No incentive was provided to visit this venue
read more
Read Some Of Our Recent Reviews
---

Out For Dinner At The Bear Inn, Alderwasley If it's the full on, single track road, rural Derbyshire experience that gets your motor running, then the journey to The Bear Inn at Alderwasley will have you in joyous raptures. For those of you who are Read The Article

---

Lunch At The Recently Opened Chatsworth Kitchen At Peak Village, Rowsley Everyone who knows me, knows I love Chatsworth (always have, always will) so when the invitation to sample lunch at the newly opened Chatsworth Kitchen Read The Article

---

A Visit To Vietnamese Street Kitchen, Resorts World, Birmingham Way back in the day (pre-covid) Fledge had bought me and The Man Bird tickets to see Mrs Browns Boys live and finally, after a couple of false start reschedules, the day of Read The Article

---

Sunday Lunch, A Museum Tour & Painting A Piece Of Denby At Denby Pottery Village It wasn't long ago that His Nibs and I visited the Denby Pottery Village to sample the Afternoon Tea at Bourne's Coffee Shop and Bistro (it was superb Read The Article

---

Bottomless Brunch At Turtle Bay In Derby The timing of the invitation from the Turtle Bay team in Derby to go and sample their Bottomless Brunch couldn't have been better; not only was it going to be The Man Birds' birthday a couple of days later Read The Article

---

Afternoon Tea At Santo's Higham Farm Hotel & Restaurant Aaaaaarggggh, don't you love your children??!! A while back, His Nibs had spotted a great deal on Groupon (you know what a bargain hound he is!) and thought it would be Read The Article

---

Dinner At The Divan Turkish Restaurant In Chesterfield Chesterfield was welcoming us back again for our latest review visit; this time to the newly opened Turkish restaurant, The Divan, on Lordsmill Street. Owner Tuncay (along with Read The Article

---

Breakfast At Marsh Green Farm Shop & Cafe, Kelstedge Ah, you've gotta love a Bank Holiday curve-ball, haven't you? His Nibs and I headed over to Mummy Birds' gaff with the intention of having a leisurely couple of hours at the Sunday Read The Article

---

Afternoon Tea at Bourne's Coffee Shop and Bistro, Denby Pottery Village You all know that The Man Bird and I do like an Afternoon Tea; I mean, who doesn't?! Just a few miles down the road from the nest is Denby, home to the world-renowned Read The Article

---