Back For Dinner At The Bulls Head In Repton
---
Published On Sunday 12 Jun 2022 by Sticky Beak
See Recent Dining Out Reviews | See All Recent Reviews


As far as greetings go, perhaps the best one we've received came on our visit to The Bulls Head at Repton. As I stepped out of the jalopy I heard a familiar sound; a Robin chirruping away merrily, calling to his mate, I assumed – rightly as it turned out. Those who have visited this Chilled Pubs venue before will be familiar with the gorgeous planted 'inside-yet-outside' reception area, and it was whilst Mummy Bird, me and The Man were stood waiting to be checked in that we noticed another Robin just perched on the side and singing beautifully as if in greeting to us – cool or what?!
We'd arrived a little early so we were shown through to the bar area to enjoy a drink whilst our table was being prepared. Shortly after receiving our drinks we were taken upstairs to our table, right in front of the impressive wine cabinets – talk about temptation!! The lovely Anna was our server for the evening and right away we took a shine to her friendly, sparkling personality; she left us alone for a bit to look over the menu and make our choices.




In the end, all three of us opted for wood-fired Pizzas; Paris for me, Repton-Bulls Special for The Man, and Geneva for Mummy, priced at £13, £12 and £10 respectively. We also fancied nibbling at a Tomato Garlic Bread, and at a fiver, this wasn't going to break the bank! Ordering from the one menu meant that we could guarantee being served at the same time; each Chilled Pub venue has two kitchens, one for pizzas, one for other foods and if you order from the different menus they can't ensure that diner parties will all get served in the same time-frame. Props to the staff though, they do re-iterate this point to you, so even if it's been a while since your last visit your memory is jogged – but in a nice way.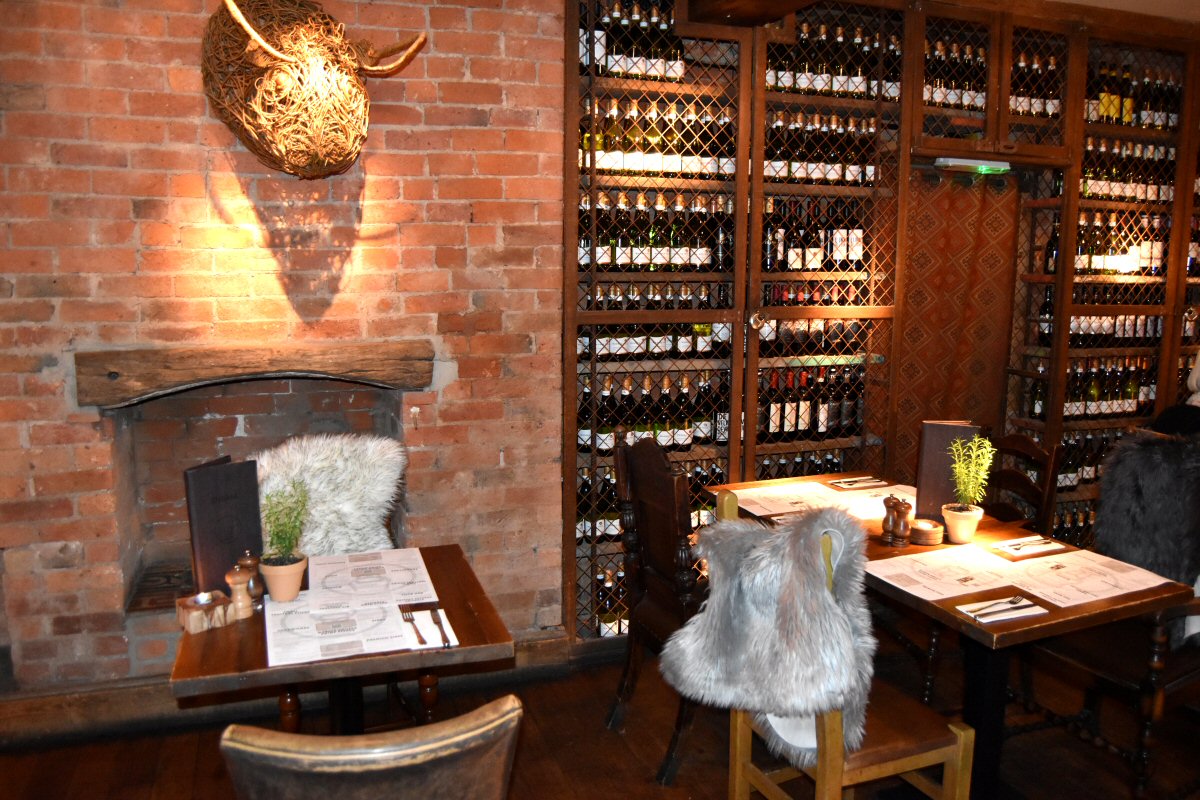 The pizzas are massive at The Bulls Head and so, so tasty!! There's something about freshly baked Pizza that makes you shiver with anticipation and tap your toes in glee, isn't there? The thin, crispy bases (proper Italian style morsels) were fully loaded with super-tasty, fresh ingredients and we all tucked in with abandon.




My Paris morsel had wild mushrooms on and their earthiness was gorgeous, especially when paired with tangy Blue Cheese and clean tasting Spinach. A splash of Garlic oil brought some zing to the flavour party, along with fresh Parsley and a full-on homemade Tomato sauce. Creamy Mozzarella provided a fantastic bridge for the other elements to all meet on, making this a truly spectacular example of a pizza - my taste buds were in love!!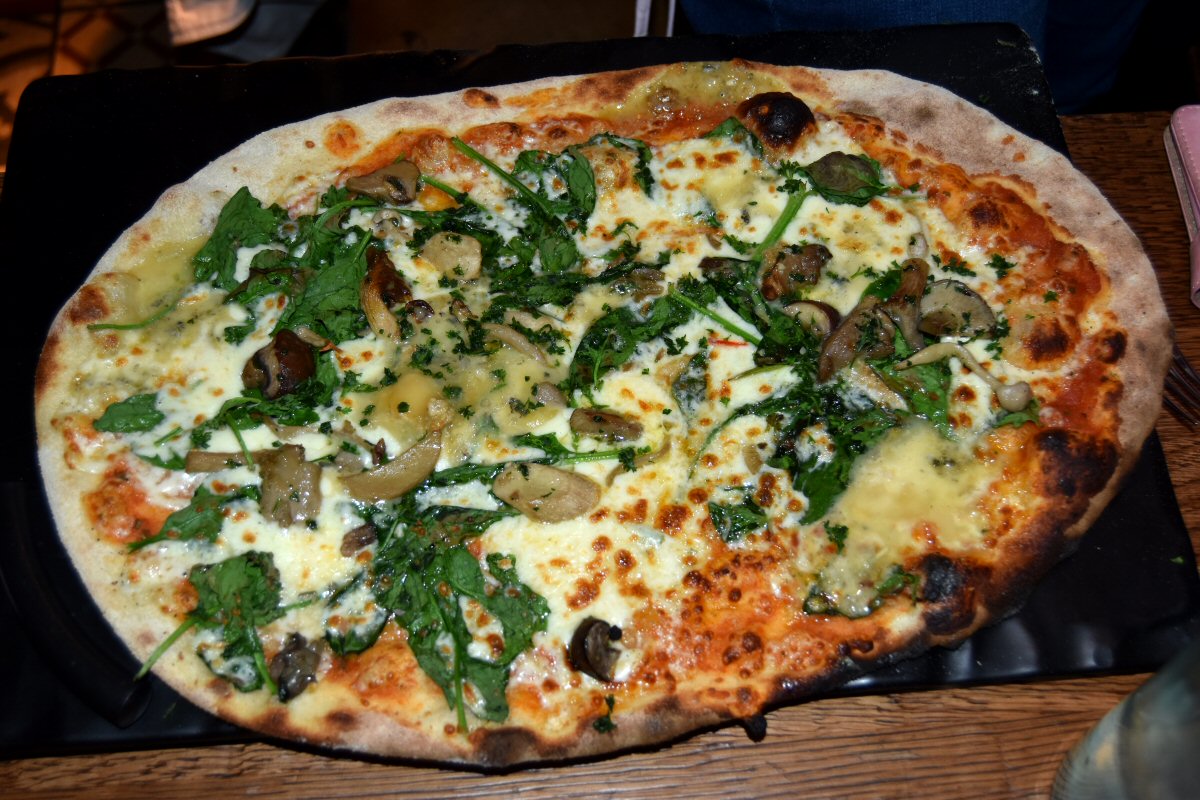 Mummy Bird was chomping her way through her Pepperoni and Crisp Bacon laden 'Geneva' temptation - and let me just say that there was plenty of meat in evidence. Eager not to miss out on her 5-a-day goals, the sundried Tomatoes, Mushrooms, roasted Peppers and Red Onion were providing a healthy, helping hand – no guilt here!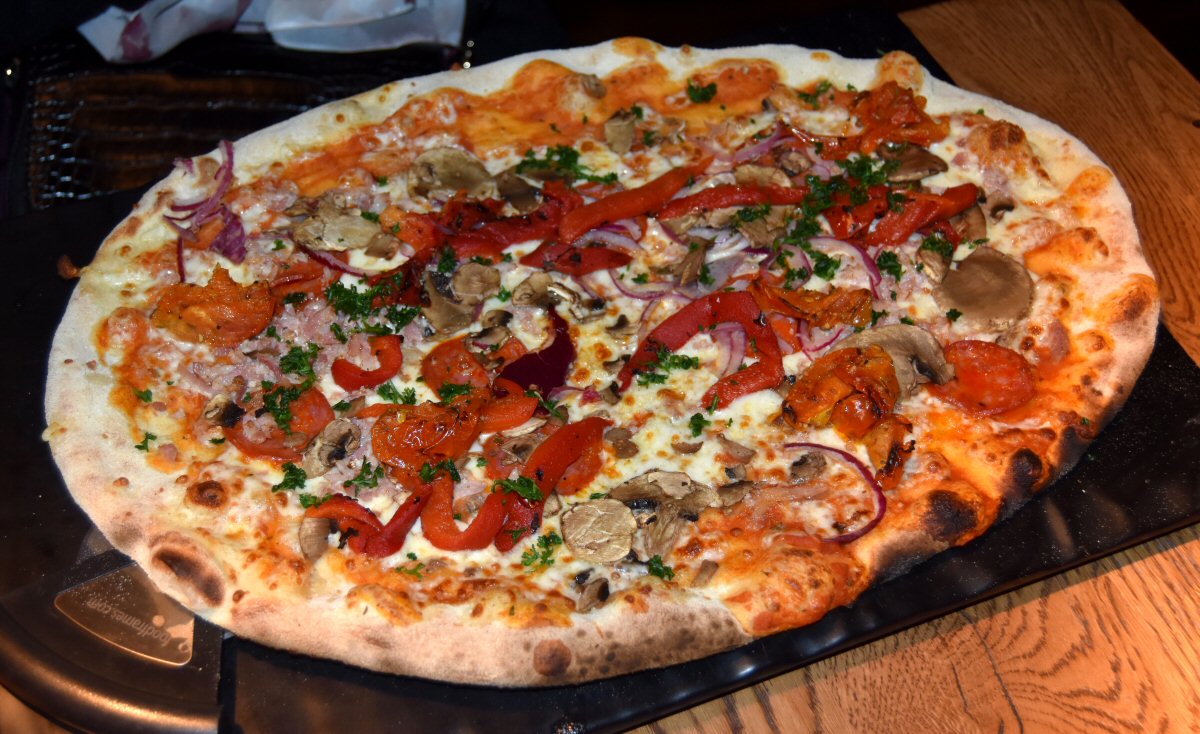 His Nibs was in the mood for spice and the Hot Spicy Beef, Pepperoni and Jalapenos were only too happy to help satisfy this wish. Fresh Rocket added its own distinctive peppery note, playing nicely with the equally vibrant sundried Tomatoes and tangy Grana Padano Parmesan. As well as being lip-smackingly good, the pizza was visually appealing too with its varied colour palate of ingredients: a win-win in the food league.




To be fair, all of our pizzas had been great to look at, as well as scoff; even the humble Tomato Garlic Bread ticked all the gastro boxes. In a lot of cases the side breads (whichever variety you choose) are smaller than the actual pizzas themselves, but this isn't the case at The Bulls Head in Repton. The Pizzaiolos make their garlic breads just as huge as the main event (pizza) themselves, so there were plenty of slices to help ourselves to throughout our evening. Anna had kept checking on our progress and when we said we'd finished asked if we'd like a box to put the remainder in to take home; that was Mummy sorted for lunch the next day, then!




One thing that we always look forward to is the made-fresh-every-day Gelato selection and His Nibs and I had discussed our plan before going out for dinner, but I hadn't banked on new desserts being on the menu - #curveballthrown ! In the end, The Man went for the classic 'Jack Frost' Gelato creation (£8.50), Mummy had the Vanilla Bean Gelato sandwich (new to the menu, £3) and I went for the Creme Broughnut (£7).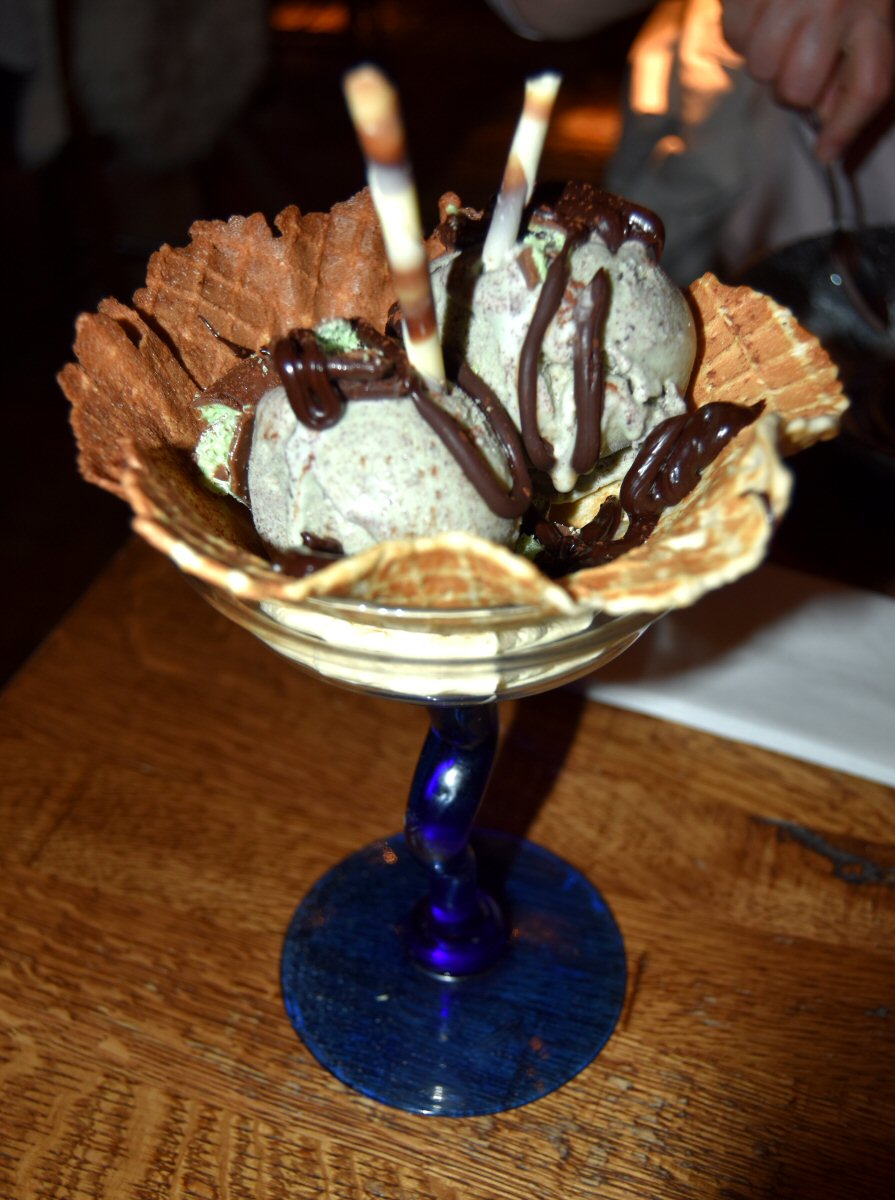 As always, the sundae glass that contained The Mans' dessert was very generous, loaded with scoops of Mint Choc Chip gelato, Hot Fudge Sauce, Oreo, Mint Aero, Peppermint Crisp and After Eight Mints, Chocolate sticks and whipped Cream, all snuggly housed in a biscuit waffle. Steadily and determinedly His Nibs saw off this monster creation, mouthful after mouthful; all I got was a bit of Mint Aero!!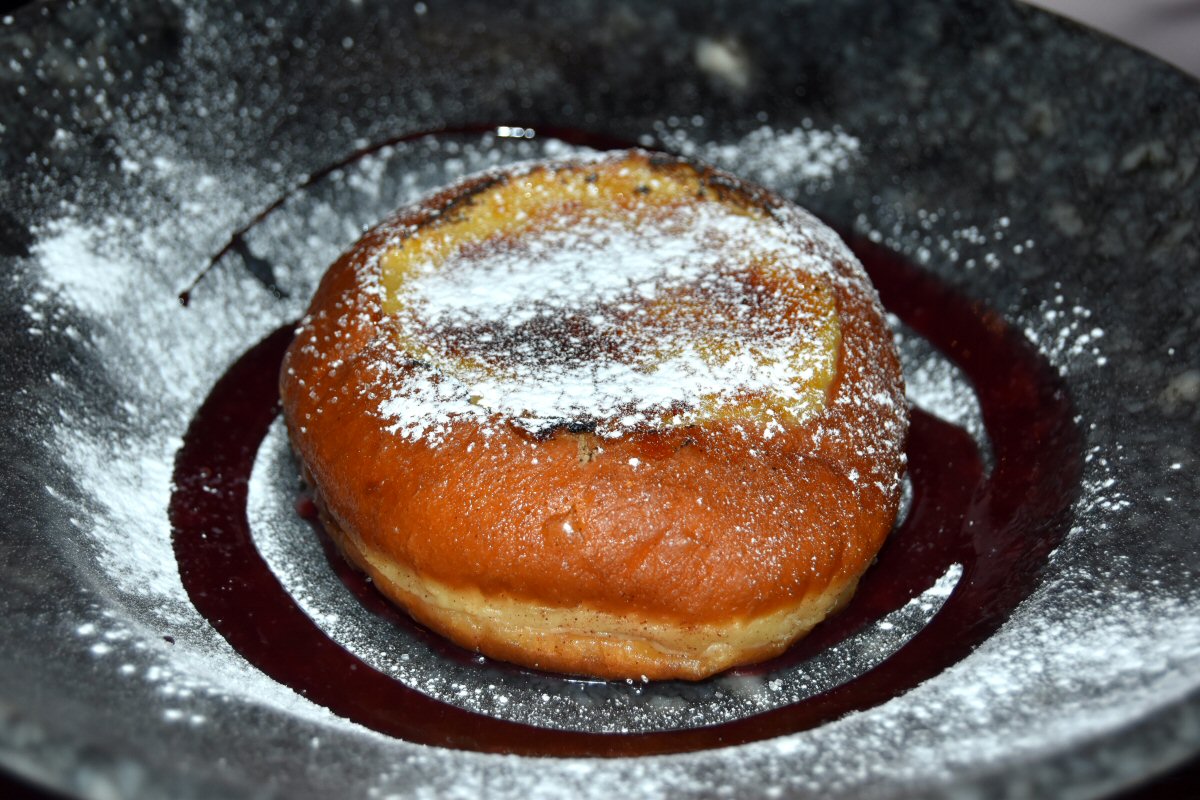 Thankfully my own choice, Creme Broughnut, was more than big enough to fill my belly. The fried Cinnamon Doughnut was filled with a delightfully rich Vanilla Creme Brulee and a fruity Raspberry coulis was swirled on the plate so that you could dunk (or not) your sweet treat into it and get a classic doughnut taste experience.




The Gelato sandwiches (gelato squashed between a pair of homemade choc chip cookies) offer diners a great variety of options, thanks to their smaller size; you can go for all three delights or just have one or two. Mummy's choice had been the classic combo of Vanilla gelato and warm chocolate fudge sauce, a creation nattily named the 'Vanilla Bean'. I have said in the past that it's sometimes the simple things that are the best, and all the flavours in this dessert came through nicely on the palate and the dinkier size was the perfect finisher for Mummy's meal.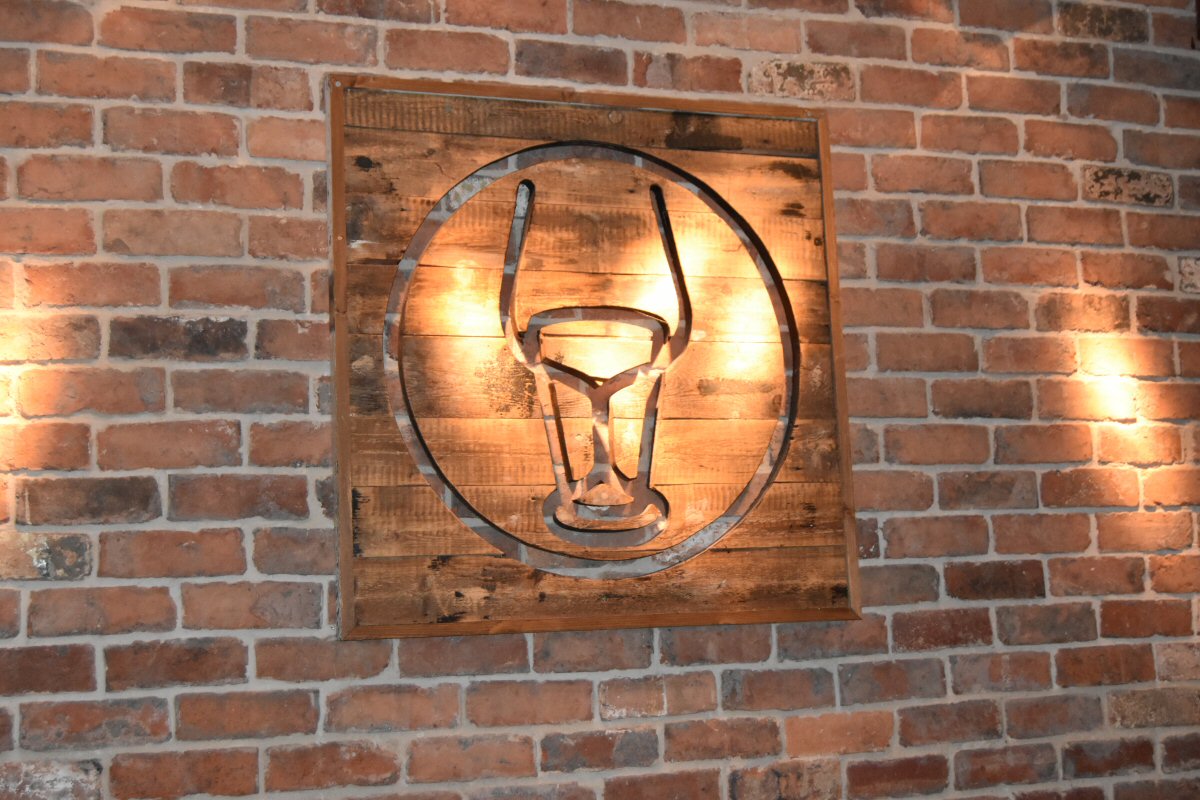 We'd had a great time, as a family, at The Bulls Head and we weren't alone: lots of tables were decorated with balloons, patiently waiting for celebrations to begin at them. All age groups are well catered for by the Chilled Pubs' teams and the quality of the meals keeps folks returning time and time again. Hot Wings awarded to this superb venue, and thank you to Anna for being a brilliant server!
Some form of incentive was provided to visit this venue
read more
Read Some Of Our Recent Reviews
---

Breakfast At Marsh Green Farm Shop & Cafe, Kelstedge Ah, you've gotta love a Bank Holiday curve-ball, haven't you? His Nibs and I headed over to Mummy Birds' gaff with the intention of having a leisurely couple of hours at the Sunday Read The Article

---

Afternoon Tea at Bourne's Coffee Shop and Bistro, Denby Pottery Village You all know that The Man Bird and I do like an Afternoon Tea; I mean, who doesn't?! Just a few miles down the road from the nest is Denby, home to the world-renowned Read The Article

---

All You Can Eat At The River Garden Cantonese Restaurant In Belper As is the seemingly never-ending pattern of our weekends at the moment, The Man Bird and I had been busy gardening/re-seeding/pruning/digging, so when it came to sorting Read The Article

---

A Visit To The Recently Opened Ranch Gourmet Burgers In Ripley The Man Bird and I do like a good burger, so we were gutted to hear that one of our fave hangouts in Derby was closing its doors and (in true glutton fashion) decided to Read The Article

---

A Post Shopping Lunch At Qoozies, Chesterfield We were on a mission over the Bank Holiday Weekend: Operation 'Get New Curtains for Mummy Bird' was go, go, go!! It turned into Operation 'New Curtains, New Towels, and New Bedding', so Read The Article

---

Dinner At The Devonshire Arms In Beeley We seem to have visited a few other sites on the Chatsworth Estate, so it was lovely to receive an invite to dine at The Devonshire Arms at Beeley; it's been a while since we were last here. As soon as Read The Article

---

Burgers With A Side Order Of Sass At Karens Diner, Sheffield 'Freaky Friday' feeling, anyone? I felt a bit like the Fresh Prince of Bel Air, except instead of 'my life got flipped, turned upside down' it was a case of 'my dining experience got flipped Read The Article

---

Dinner At Cocina Restaurant At Casa Hotel, Chesterfield Regular readers of the blog will know that The Man and I recently visited the Peak Edge Hotel for dinner, a venue owned by Chesterfield business man Steve Perez. Our latest outing saw Read The Article

---

Sharing A 40oz Tomahawk At The Galleon Steakhouse, Chesterfield We Brits are used to Bank Holidays being a let-down usually when it comes to the weather, so when the forecast was for (mainly) fine conditions it was a case of Read The Article

---