Out With Friends At Shalimar Indian Restaurant In Darley Dale
---
Published On Sunday 9 Jan 2022 by Sticky Beak
See Recent Dining Out Reviews | See All Recent Reviews


I don't mind admitting that I am a total lazy bum when I'm on holiday, so you can bet your bottom dollar that you ain't gonna find me in the kitchen, cooking! Thankfully, the friends that The Man Bird and I were away with are pretty much on the same page, so we booked a table at The Shalimar Indian restaurant for us all on the Saturday evening.
Our friends haven't been here before and Chick 2 was eager to go over to Darley Dale in Fledge's car rather than her parents one - kids are total Judas's aren't they?! As we approached, she squealed with happiness when she spied the twinkling lights that line the car park; in the dark they were twinkling away like a million stars, and looked fabulous. When we stepped inside she loved the Christmas decorations too, gazing in awe at them; but my favourite bit of the restaurant is the spectacular chandeliers that illuminate the room and create intricate patterns on the ceiling.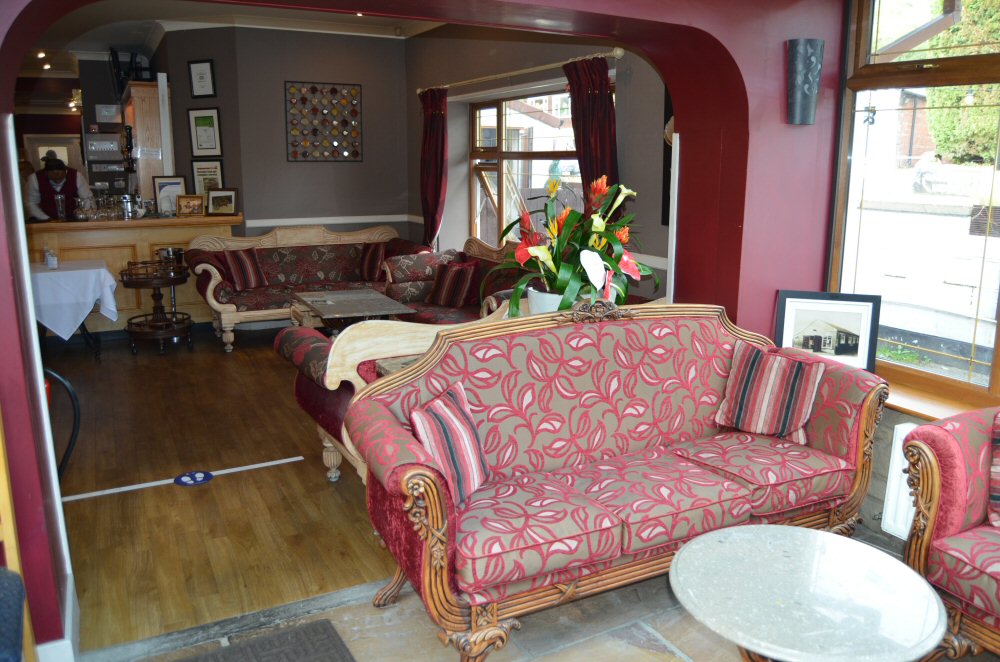 We were escorted to our tables and swiftly got the first round of drinks sorted: pints of Cobra for the chaps, G&T's for the ladies and a J20 for Little Miss. The next item on the evening's agenda was ordering some Poppadoms and a couple of pickle trays to nibble on whilst we decided what dishes to go for. You can't beat a thin, crisp poppadom and the ones at The Shalimar are delicious; there's no hint of any oily taste, just lovely crunchiness that provides the perfect vessel on which to pile all the pickles and chutneys.




It's been a fair old while since we last visited the Shalimar team and you really can't beat the level of service they provide, especially if there are children in the group. Whilst we were placing our food orders one of the Ali's enthralled Chick 2 with his napkin art skills; to be fair even us adults were intrigued, but it was only Miss that got to wear the crown he'd fashioned for her!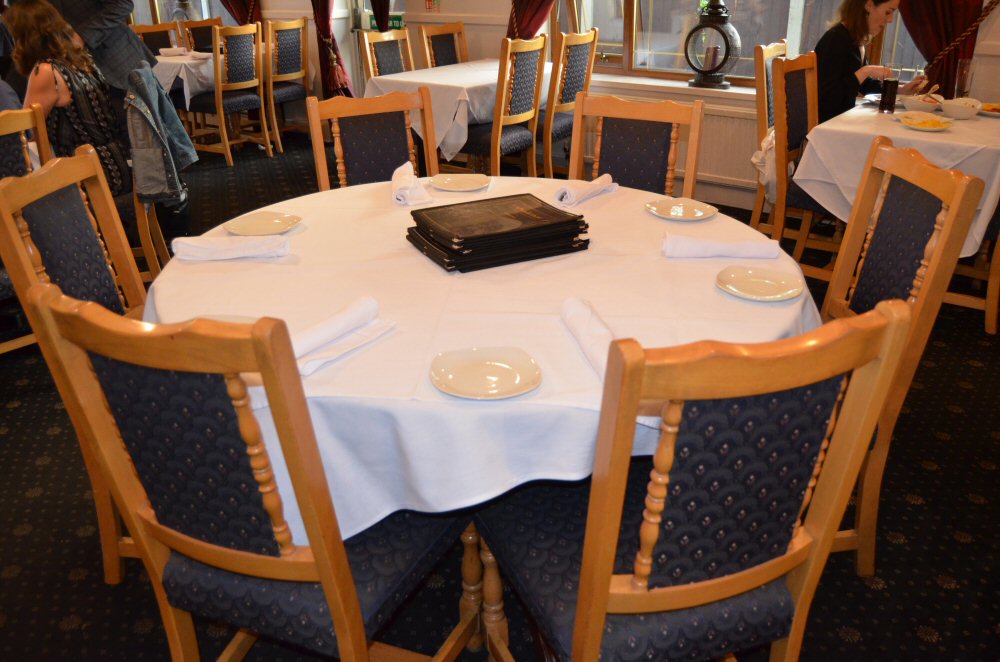 Chick 2 didn't want a starter, but we arranged for her main meal (Sirloin steak and Chips and Salad garnish, £14.95) to come out with our first courses so that she wasn't sat there bored, bless her. To be fair, Chick 2 is an angel, but even angels have their limits, don't they?

Our table had got a lazy Susan at its centre, so passing the food around wasn't the usual scrum that it can be with larger parties of folk. We had ordered 2 portions of Tandoori King Prawn (£7.95) because me and my bestie LOVE them, Fledge went for her fave, Prawn Puri (£6.95), His Nibs ordered the Shashlik Tikka (£6.50) and The Bolton Wanderer fancied the Lamb Chops (£7.95). You can imagine the symphony of smells that were swirling around our table; it was just divine! Between us all we'd covered poultry, meat and seafood and without exception, they were all perfectly cooked to reveal maximum flavour and retain their moistness. All the starters were beautifully presented with plenty of colour on the plates from the crisp salads and His Nibs' Onions and Peppers still had a bit of crunch left to them which he loved.




We'd also ordered some wine, a bottle each of Chablis and Rioja, and as he moved around the restaurant chatting to the diners, boss-man Ajmil checked that we had our glasses filled and that everything was to our liking. As well as being busy in the restaurant itself, The Shalimar's telephone was constantly ringing with people placing takeaway and delivery orders; I guess you can say that the popularity of this top-rated venue hasn't diminished during the lockdowns, which is good.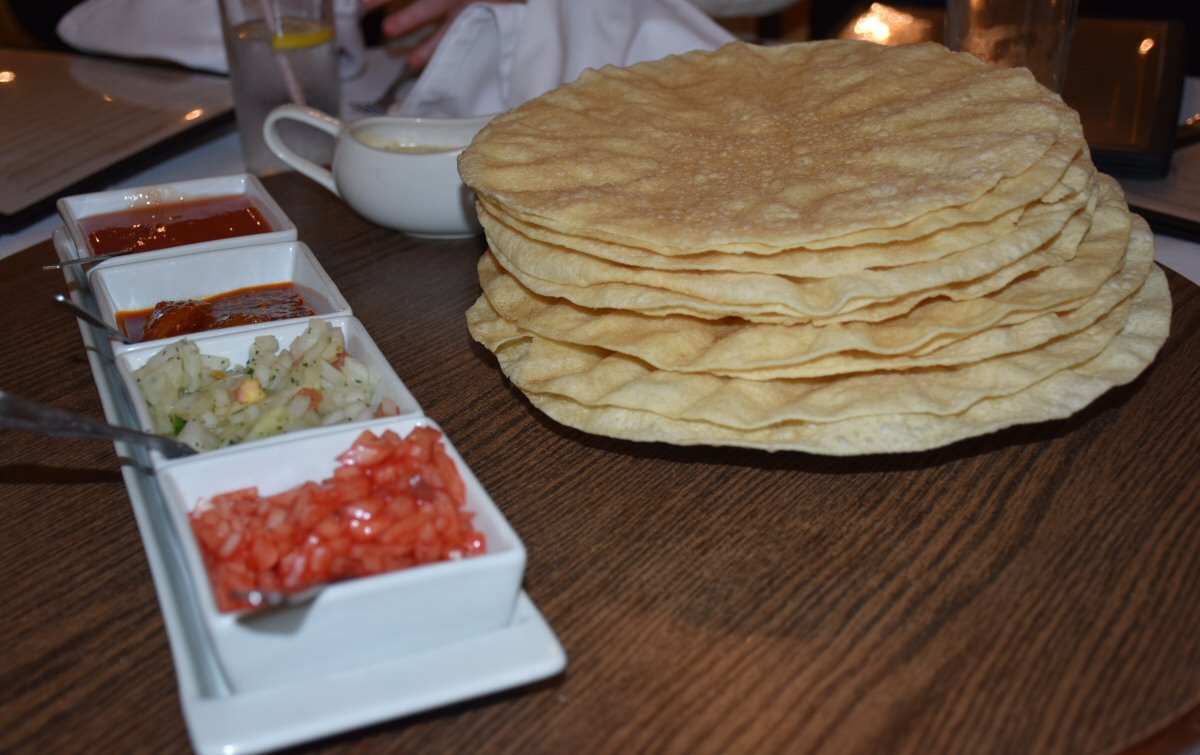 Our plates were swiftly cleared away when we'd finished and we took the opportunity to ask if we could have some water for the table as well . "Not a problem" was the response, and within a couple of minutes there was a large jug of iced water and heavy weight glasses on our table and a lovely young man poured the first glass out for us all: a nice touch, we all thought.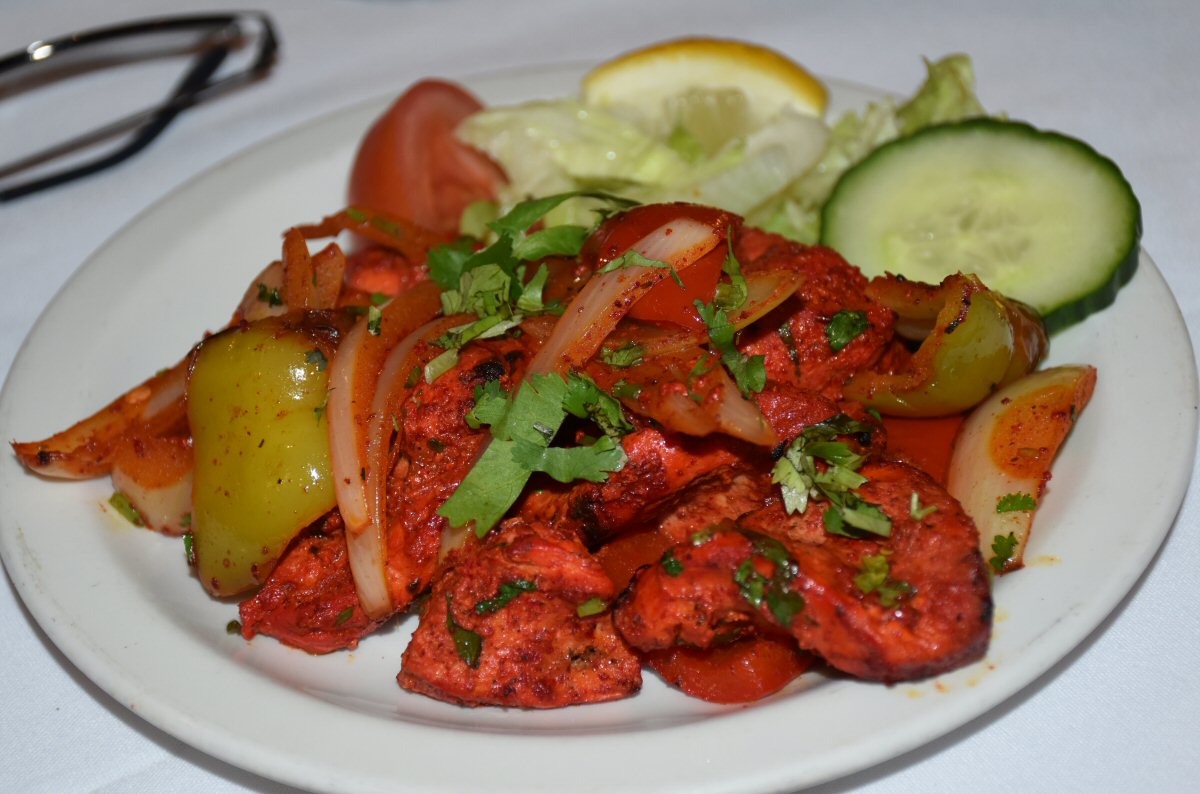 Whilst we waited for our mains to arrive we all chatted away to each other, catching up on a few months worth of news, and our nattering joined the gentle stream of other conversations that were trickling around the restaurant. It wasn't long before the lazy Susan was stacked with gorgeously jewel coloured curries all housed in white bowls and team members were arranging the Vegetable- and Mushroom- Pilau, Lemon and Cashew Rice, Saag Aloo, Bombay Potatoes, Peshwari Naan and Coriander, Cheese and Chilli Naan amongst us all. When we dine out, we dine out, that's for sure! We had a veritable feast before us and, with the photos out of the way, we all tucked in eagerly.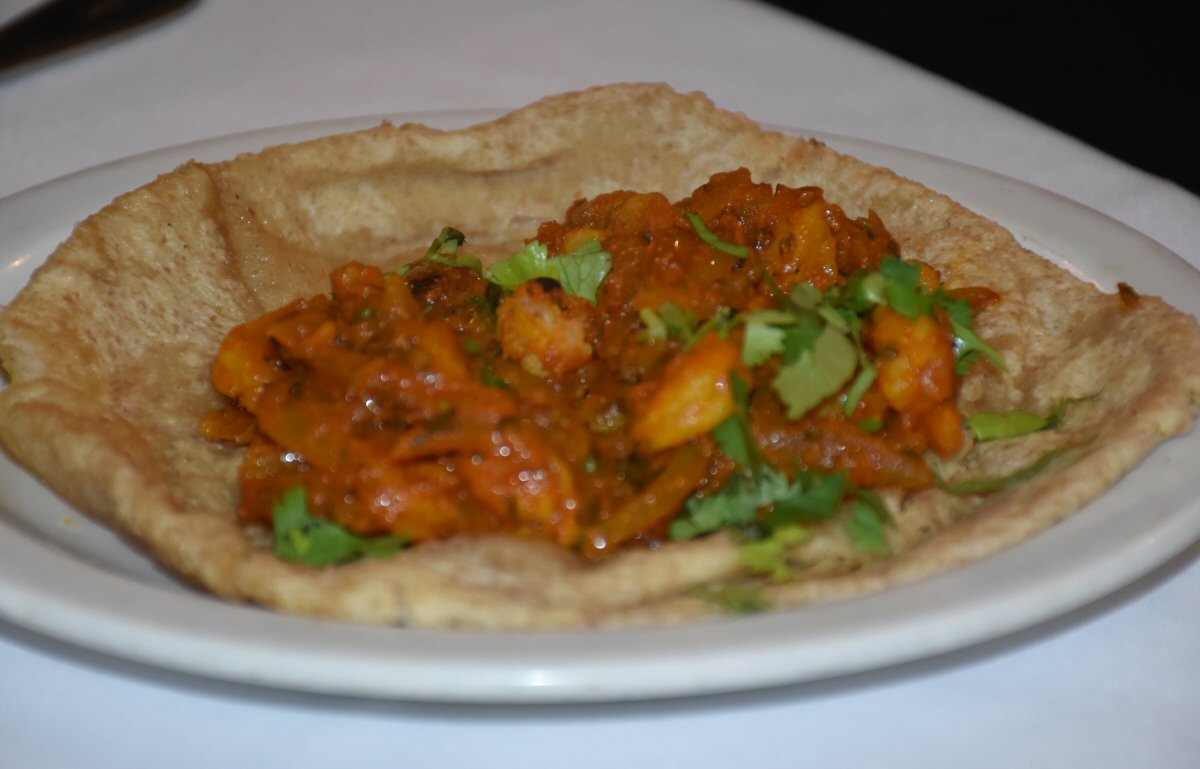 Bestie and TBW had both chosen Desi style dishes (chicken for him, Cod fish for her, priced at £13.95 and £15.95 respectively) which are medium curries with a rich, thicker sauce that satisfies hungry tummies in the traditional home-cooked style. The verdict was that this had a superb multi-layered spice effect that revealed each element beautifully on the palate, with the Cod and Chicken both being excellent partners for the spices used. Our friends had ordered a sweeter Peshwari Naan and said that this balanced the spicier notes of the Desi dishes wonderfully well.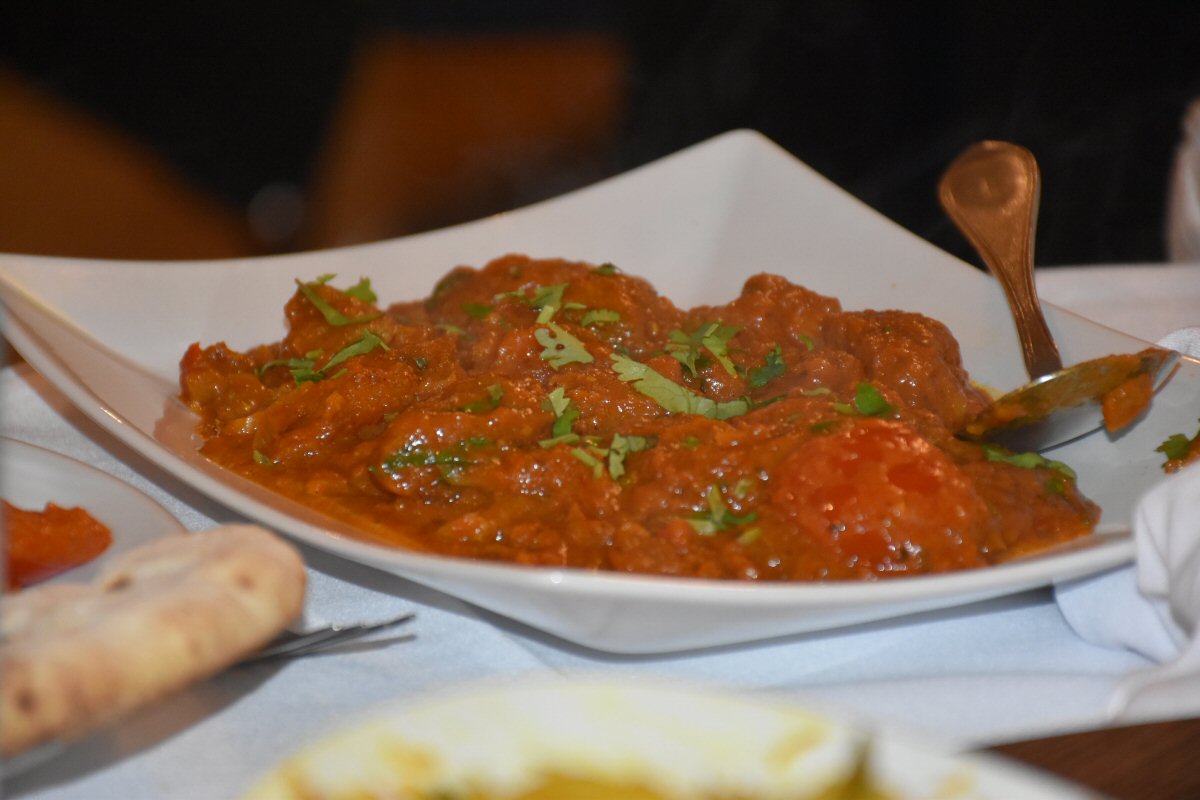 Last time we visited The Shalimar with Mummy Bird, she had had the Wine Masala dish and I was bowled over by it when I had a mouthful. I vowed that next time I dined here, I was having this dish and, true to my word, I ordered the Lamb version (£13.95). The Lamb melted on my tongue instantly, delivering its sweet earthiness without complaint and balancing well against the fruity richness of the Red Wine-based sauce and the heat of the Ginger, Garlic and other spices. What I particularly like about this curry is the complexity of the flavours that come through in the mouth; they don't all arrive at once on the palate and overwhelm it, they unravel slowly and patiently wait their turn to be recognised. The Shalimar is the only venue I've noticed this particular dish at, so if you're a curry fan why not come over and experience it for yourself? Each dish can be tweaked to your own preference of spice level and even put the emphasis on particular spices that you favour – told you that the level of service here was exceptional!




Both The Man Bird and Fledge went for curries described as hot: Garlic Chilli Lamb for him (£13.95) and Chicken Achari Maza Special (£12.95) for my baby. Ali double-checked with Fledge that she was ok with a hotter dish, which again was a nice attention to detail. The Achari Maza curry contains Cinnamon so, whilst you get heat, you also get a delicious sweetness in the mouth that partners well with the earthier notes of Cumin that are also in this dish. Whilst there had been at least some semblance of subtlety in the Achari Maza dish, the Garlic Chilli curry was unapologetically robust and punchy. His Nibs said that the depth of spice went well with the stronger flavour of the Lamb, making this a very tasty morsel in his opinion. Our choice of Coriander, Cheese and Chilli Naan was precisely the right one to go with the punchier notes in our curries, especially Fledge and The Man's selections. Both Naans had been pillow-like in their consistency, with a pleasing chew time to them that allowed you to really savour them.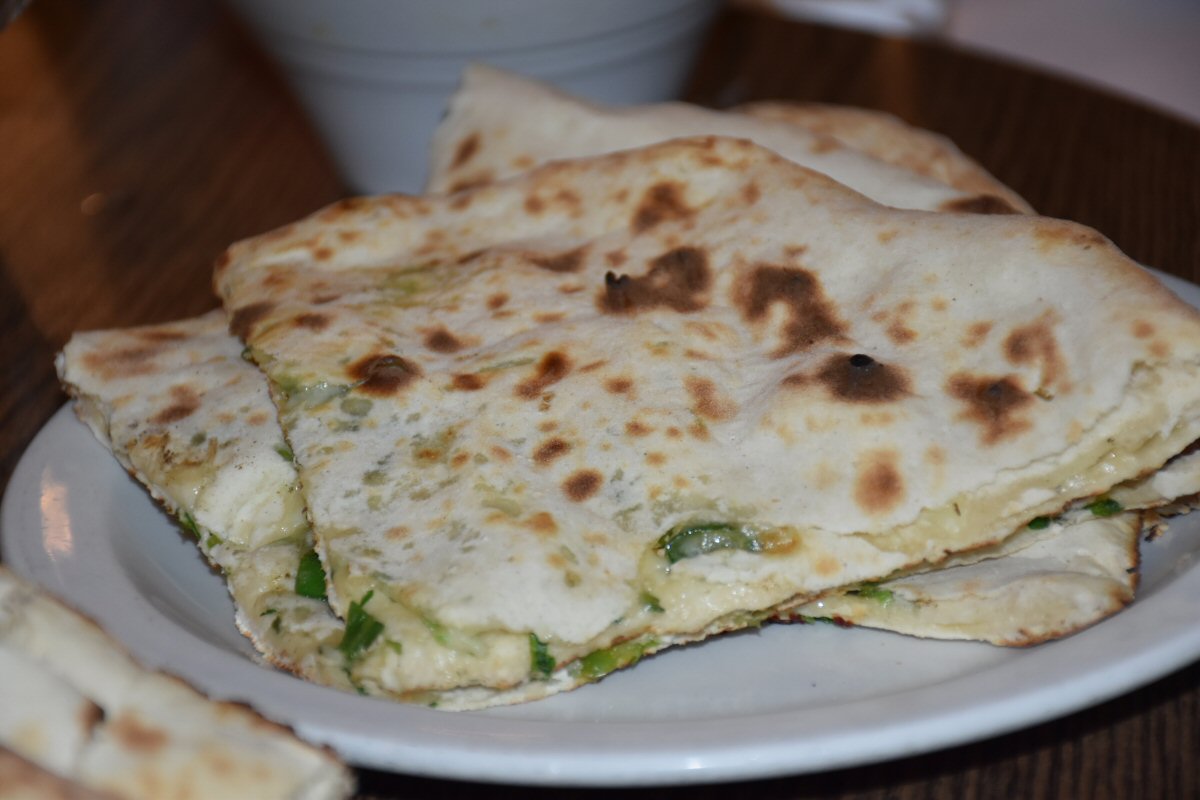 Our whole table remarked on the amount of meat, poultry or fish in the dishes we'd had; there was certainly no skimping in the kitchens at The Shalimar restaurant in Darley Dale! Personally, I would've liked the side dishes to be a bit bigger, or a bit cheaper in cost; both the Saag Aloo and Bombay Potatoes were superb in terms of flavour though, so no criticism on that front at all. The rice dishes (all £4.50) were superb with their ultra-fluffy grains all separated from each other and there were plenty of vegetables, mushrooms, lemon and cashew in the respective types.




Given the amount of snacks that we had stashed back at our holiday accommodation we skipped dessert, apart from Chick2 who just couldn't pass up the chance to have some Strawberry Ice Cream. The total bill came to £280 which, considering the lads had had more drinks whilst Fledge took Bestie, me and Little Miss back, the amount of food we'd had, pre-dinner drinks, and two bottles of wine, we didn't think was bad at all.




Hot Wings more than happily awarded again to this out-standing Indian restaurant! I would definitely recommend booking ahead to reserve a table; the number is 01629 735999.
No incentive was provided to visit this venue
read more
Read Some Of Our Recent Reviews
---

A Family Dinner At Thai Thai Restaurant In Chesterfield Thanks to the weather being kind, it had been all hands on deck at Mummy Birds gaff and so we hadn't quite got around to organising Sunday Lunch! There was no way in hell Read The Article

---

Burger and Beer Mondays At The Railway Inn, Shottle It wasn't long ago that we had a Flock outing for Sunday lunch at The Railway Inn at Shottle (and really enjoyed it) so when we were invited to try out their newest offering Read The Article

---

A Visit To The Seafood And Champagne Terrace At The Cavendish Hotel, Baslow I know The Man and I must seem calm and collected to a lot of you, so let me shatter that bubble right now by describing what happened when a certain invite Read The Article

---

Dinner At The Red Lion At The Peak Edge Hotel Sometimes you visit somewhere that is already wonderful but, when you know that there is more to come, gives you that shiver of excitement up and down your spine. This is exactly the feeling Read The Article

---

A Tasty Lunch At The Vegan Revelation Cafe, Belper Vegans, you have got an absolute bobby dazzler of a cafe here; non-vegans prepare to have your taste buds bowled over and have your 'no meat' notions over-turned - and I do include myself Read The Article

---

Dinner At The Recently Refurbished Bay Leaf Indian Restaurant, Heanor Can you believe we were out again with Mummy Bird; she's becoming quite the social Tribal Elder! The last time she'd seen Faz was at his previous restaurant (Nirvana) Read The Article

---

Dinner At The George At Hathersage You can't fail to be impressed by The George at Hathersage when you first clap eyes on it; the huge stone building commands your attention with its imposing beauty. It has its own car park too Read The Article

---

Dinner At The Seafood Cave and Grill, Matlock Bath I love seafood (yes, even cockles and winkles!) so I was beyond excited to receive an invite from the owner of The Seafood Cave and Grill in Matlock Bath, Ian McGhie, to sample the food Read The Article

---

Sunday Lunch At The Spanker, Nether Heage As many of you lovely peeps are aware, we recently did a poll on the blogs Facebook page asking for your favourite venues to have Sunday Roasts at. Well, you all certainly got involved, voting for Read The Article

---

Burgers And Loaded Fries At Cravings Street Food Bistro, Sutton-in-Ashfield Boyf Birds' parents had been to a local eaterie recently that they felt would be right up our street (food), so we decided to pay said venue - Cravings Street Food Read The Article

---