Shalimar Indian Restaurant
The Shalimar Restaurant is a traditional and charming Indian restaurant which is perfect for the family, romantic evenings and relaxed business functions. We offer spacious dining in a setting that is accompanied by chandeliers, plush carpets, comfy seats, and brass statues. Our vibrant, welcoming atmosphere will make your dining experience a memorable one.
The Shalimar has an authentic Indian menu featuring all of your favourite curries plus some unique house specialties. The bar serves Cobra Larger and locally brewed real ale along with a fantastic collection of international wines to accompany your meal.
The Sticky Beak Blog Reviews
1/9/2022
Out With Friends At Shalimar Indian Restaurant In Darley Dale
View

---

9/27/2020
A Family Meal At The Shalimar Indian Restaurant In Darley Dale
View

---

8/22/2015
Dinner At Shalimar Indian Restaurant In Darley Dale
View
News Articles
We have no news articles for Shalimar Indian Restaurant yet
The Chatterbox
Shalimar Indian Restaurant has not been mentioned in the Chatterbox yet
Award Badges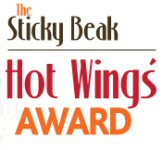 Find out more about my Award Badges
Menus
We have no menus for Shalimar Indian Restaurant Yet
Photographs