Dinner At Thai Cassia Bar & Restaurant in Worksop
---
Published On Tuesday 16 Nov 2021 by Sticky Beak
See Recent Dining Out Reviews | See All Recent Reviews


I could get used to this being on a short break malarkey; another night, another restaurant for dinner. On this particular evening, The Man Bird had booked us a table at Thai Cassia in Worksop, which is just a few miles drive from Centerparcs' Sherwood site. There are only a handful of parking spaces outside the venue itself (luckily we managed to snag one!), but there are plenty of car parks within a 5 minute walk.
Thai Cassia is a large, open-plan restaurant whose walls are adorned with breath-taking Thai artwork depicting various Gods and Goddesses. Pale gold, textured wallpaper adds warmth to the venue, enhanced by the recessed ceiling lights and the jewelled wall lights that twinkle like stars in the sky. Dark wood tables are paired with plush, Taupe upholstered, mid-back chairs and are usually set with white cloths, glassware and gleaming cutlery but, thanks to Covid, these are absent at the moment to reduce any contamination risk and are brought out to diners, as and when needed.




His Nibs was delighted to see Asahi lager on draught and swiftly ordered a pint (£4.30) –purely for its anti-covid properties, you understand! I fancied a glass of crisp, fruity Chardonnay and was rewarded with a lovely example of this style of wine. We ordered a dish of mixed prawn crackers (Chinese and Thai spiced ones) with Sweet Chilli dipping sauce to nibble on whilst we decided what to have for starter and mains: I went for Squid Tempura (£5.95) and Prawn Pad See Ew (£10.95), The Man opted for Chicken Satay (£4.95), then Beef Massaman Curry (£9.95) and a portion of Sticky Rice (£3).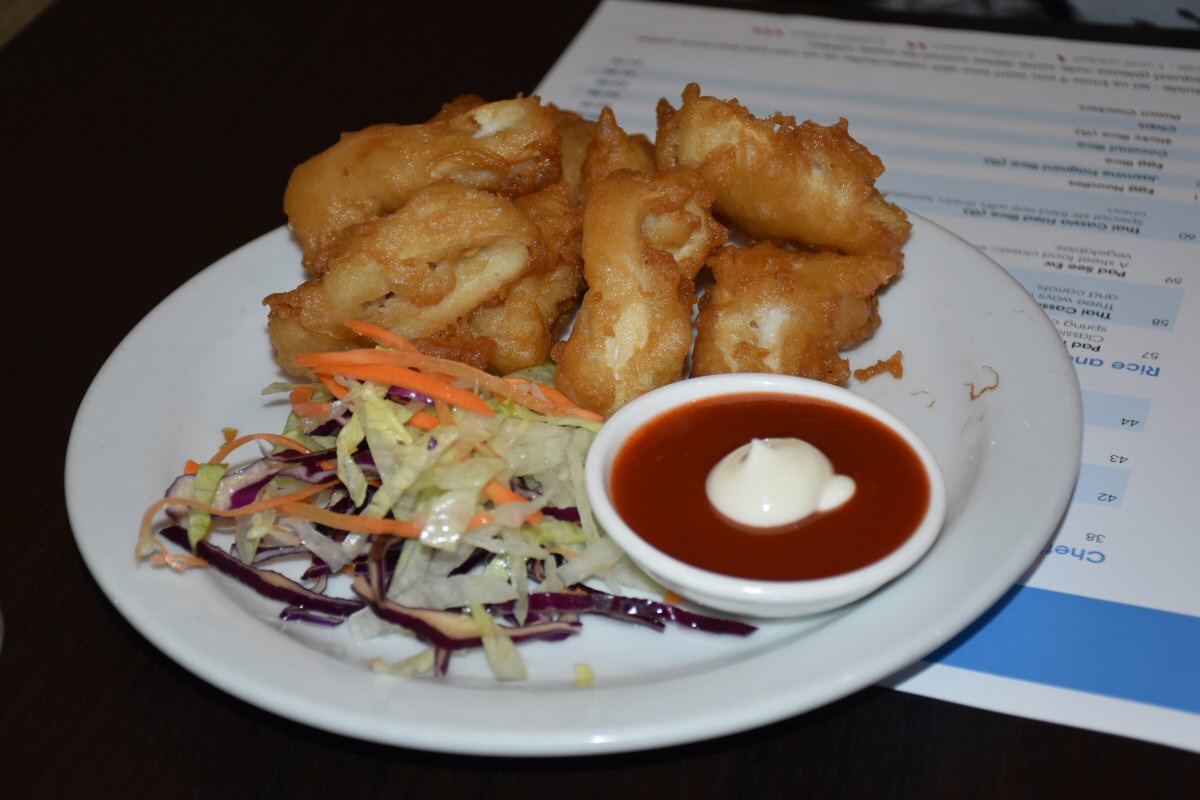 It didn't take us long to devour the crackers and we eagerly awaited our first courses, though we weren't kept in suspense for long. My Squid Tempura was a wonderfully colourful dish thanks to the crisp salad garnish of Red Cabbage, Iceberg Lettuce and Carrot, and it tasted as good as it looked. The seafood was gorgeously tender to the bite, with a sweet, lightly fragrant flavour to its flesh; each piece melted on my tongue and I contentedly savoured them all. Where the Squid was mellow and relaxed on the palate, the fiery dipping sauce accompanying it danced like it was at a 90s rave, wildly and energetically bouncing over all my taste buds! This was a fantastic starter, getting all things firing in the gastro department.




The Man Bird was just as enthused about his Chicken Satay; the breast meat was so tender it was literally falling off the skewers as he picked them up! The Chicken was lovely and moist with a delicate creamy flavour that provided the perfect backdrop for the coarse-textured, spicy Satay sauce to pop against. Needless to say, his plate was just as clean as mine, and our server was very happy to take away a pair of squeaky clean dishes back to the kitchen.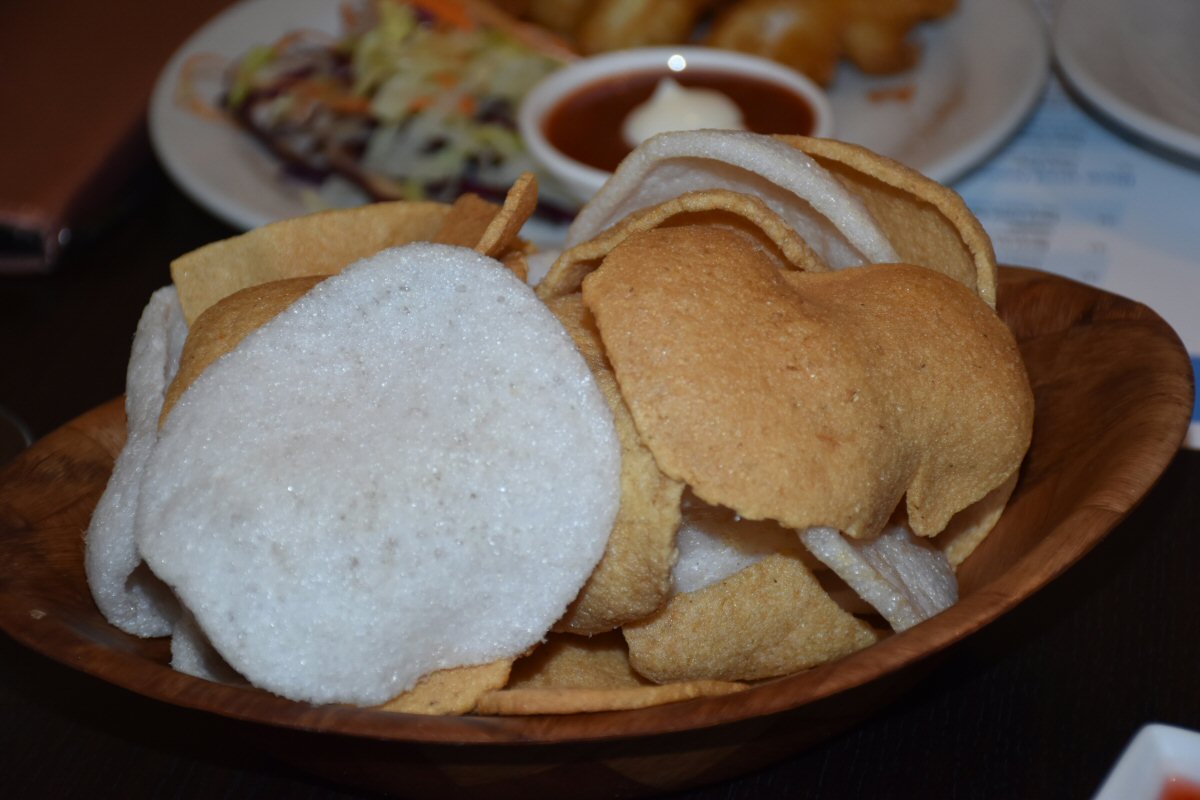 Our main courses were soon winging their way over to us; freshly prepared food doesn't take too long in Thai kitchens, especially when an experienced Chef is in charge. The Man Birds' Massaman Curry was superb: the tender strips of Beef had an excellent flavour to them and pieces of Peanut added a great textural element to the punchy sauce. Sliced, still slightly firm Onions punctuated the browny-red sauce, with Potatoes adding a softer edge when bitten into.




A good scattering of Cashews on the top added more crunch to the dish, which was more than generous in portion size – so take your appetite with you! The Sticky Rice was exactly that: sticky and wickedly glutinous, just as you want it to be. This type of rice holds its density and so provides the perfect vessel with which to scoop up thicker sauces, such as the Massaman Curry one.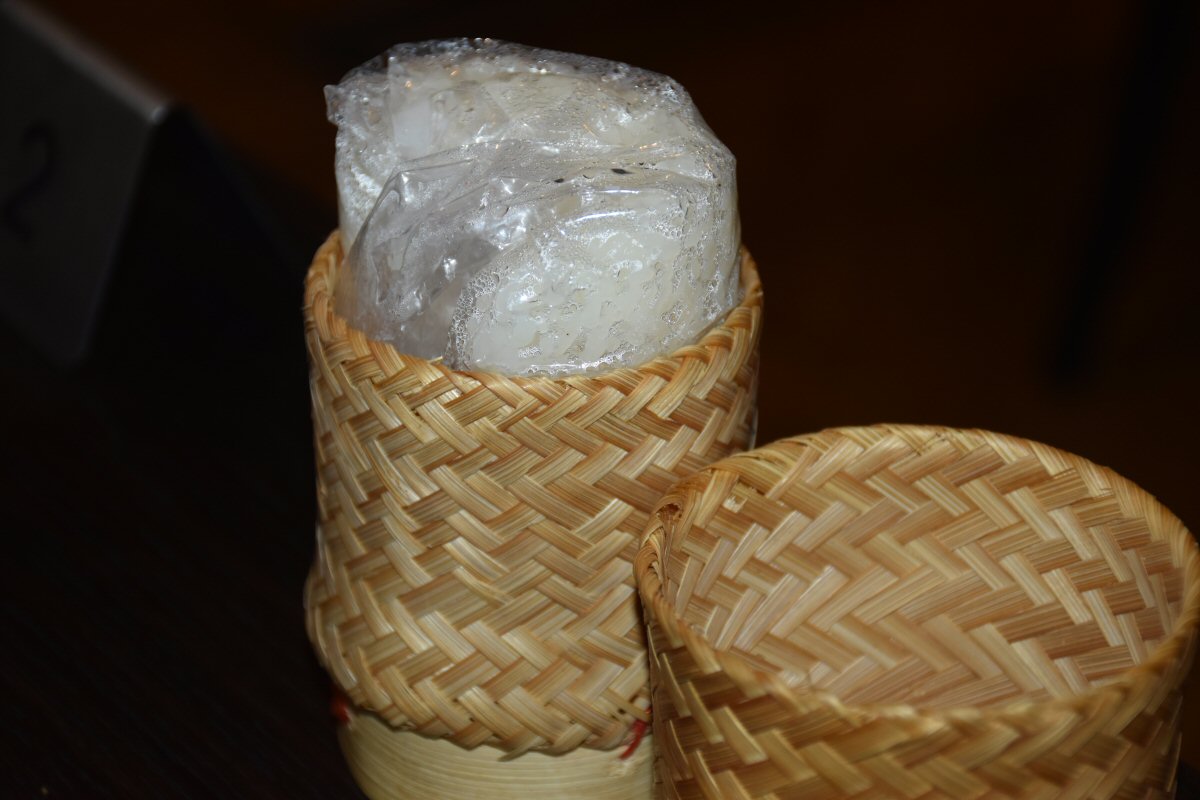 My choice of Pad See Ew is a Thai street food classic, its thick rice noodles forming the heart of this flavoursome, filling dish. The dark Soy sauce based liquor had a beautiful, rich intensity to it, clinging to the noodles, Pak Choi, Carrot, Broccoli and Prawns and imparting its salty tang onto my tongue. All the vegetables were lovely and crunchy but not raw or tough, partnering the softer, butterflied King Prawns really nicely. This was a very well put together dish, one that ticked all the boxes taste and texture-wise.




We didn't fancy dessert, which is just as well because there wasn't a pud section on the menu at Thai Cassia!! What we had had, though, was wonderful; the menu might not be as extensive as its city based Thai peers, but what was available was more than enough to satisfy fans of this type of cuisine in a smaller setting. Hot Wings awarded to this Worksop eaterie team, thank you for a tasty, midweek meal.
No incentive was provided to visit this venue
read more