Thai Cassia Bar & Restaurant
Thai Cassia is a contemporary restaurant and bar located on Park Street near the centre of Worksop.
We are 100 yards down from the Savoy Cinema and the High Street. You can park in our car park or in the public car parks behind the cinema.
We are licensed as a public house and you are welcome to pop in for a drink or dine with us in our extensively refurbished restaurant. You can select food from our menu of authentic Thai cuisine cooked by our experienced Thai chefs.
All of our dishes are prepared on the premises using only the finest ingredients along with herbs and spices which are freshly imported from Thailand.
The Sticky Beak Blog Reviews
We have not reviewed Thai Cassia Bar & Restaurant yet
News Articles
We have no news articles for Thai Cassia Bar & Restaurant yet
The Chatterbox
Thai Cassia Bar & Restaurant has not been mentioned in the Chatterbox yet
Award Badges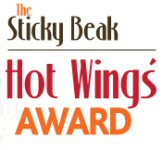 Find out more about my Award Badges
Photographs
We have no photographs for Thai Cassia Bar & Restaurant Yet