A Flock Sunday Lunch At The Red Lion, Birchover
---
Published On Wednesday 1 Sep 2021 by Sticky Beak
See Recent Dining Out Reviews | See All Recent Reviews


On a rare day where there wasn't an awful lot left to do at Mummy Birds, we decided to head out for a jaunt and then go for a late Sunday lunch at The Red Lion Inn at Birchover. The weather, whilst dry, was a bit grey and dull but at least the skies were clear so that we could enjoy the view over the hills as we climbed our way to the lovely village of Birchover. It's been quite a while since we last visited this beautiful traditional pub that sits at the heart of the village and as we stepped inside a lovely feeling of calm swept over us.
Mummy Bird had never been here before and thought it was a gorgeous setting as she settled herself into one of the chairs at our table. A really friendly lady came over and took our drinks order, returning a short while later with His Nibs' pint of Moretti and large glasses of wine for Mummy and me. The Man Bird and I had settled on having a traditional roast for lunch and thought Mummy Bird would do the same but, no, she just fancied Beer Battered Fish and Chips with mushy Peas!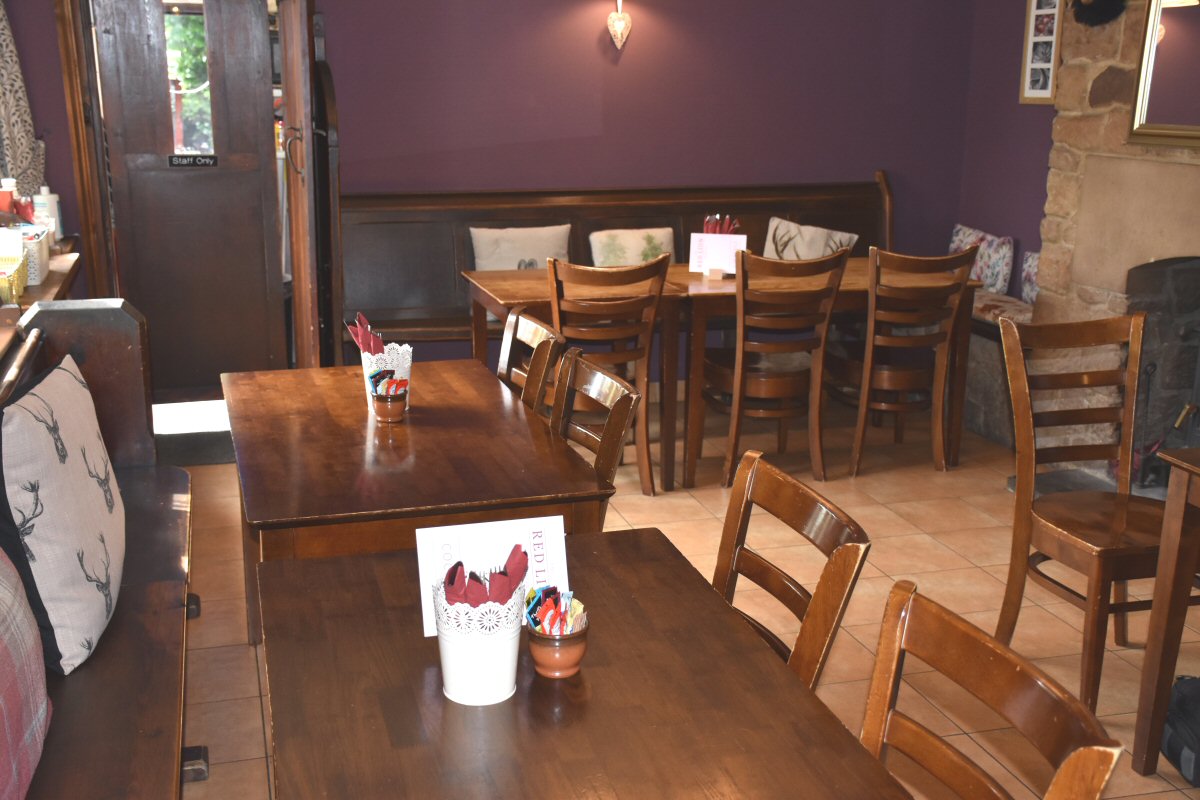 The Red Lion Inn offers a carvery-style Sunday lunch (the meats were Pork and Beef on this particular day) and it was really nice to be able to go back up to the counter and be served rather than it all come served on the plate, which Covid has necessitated. I went for the single-meat option at £11 whilst the Man Bird chose the duo of meats at £13; Mummy Bird's Fish and Chips were 11.50 – I say Fish, but it would more accurately be described as a Whale due to its size!!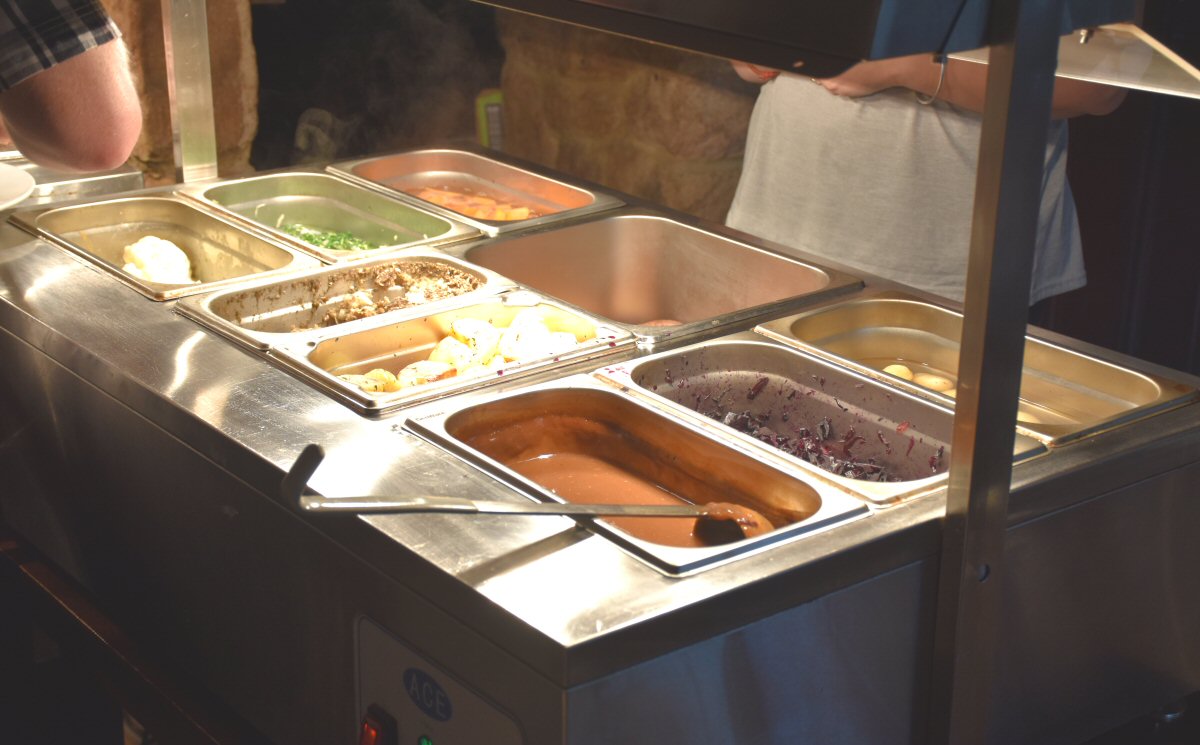 Whilst we were seated inside, there were several walkers who had perched themselves at the tables outside and it was nice to see some semblance of normality; in summer this area is usually buzzing with tourists walking the various trails or families at the nearby campsite. Last year was a complete non-starter tourism-wise really; there were restrictions on travelling out of your local area and the 'eat out to help out' scheme only ran for August. Anyhow, at least now (for the moment, and long may it continue!) we are all permitted to move around within the UK freely, so there's more of a buzz in t'hills around Birchover.




Matteo and Alyson, the husband and wife team who own The Red Lion Inn, have always striven to offer great service and food to their customers and one particular detail stuck out for us as a Flock; The Man and I would be invited up for our carveries a couple of minutes before Mummy's meal was due to be brought out, meaning that we would all be dining together and the food would all be piping hot.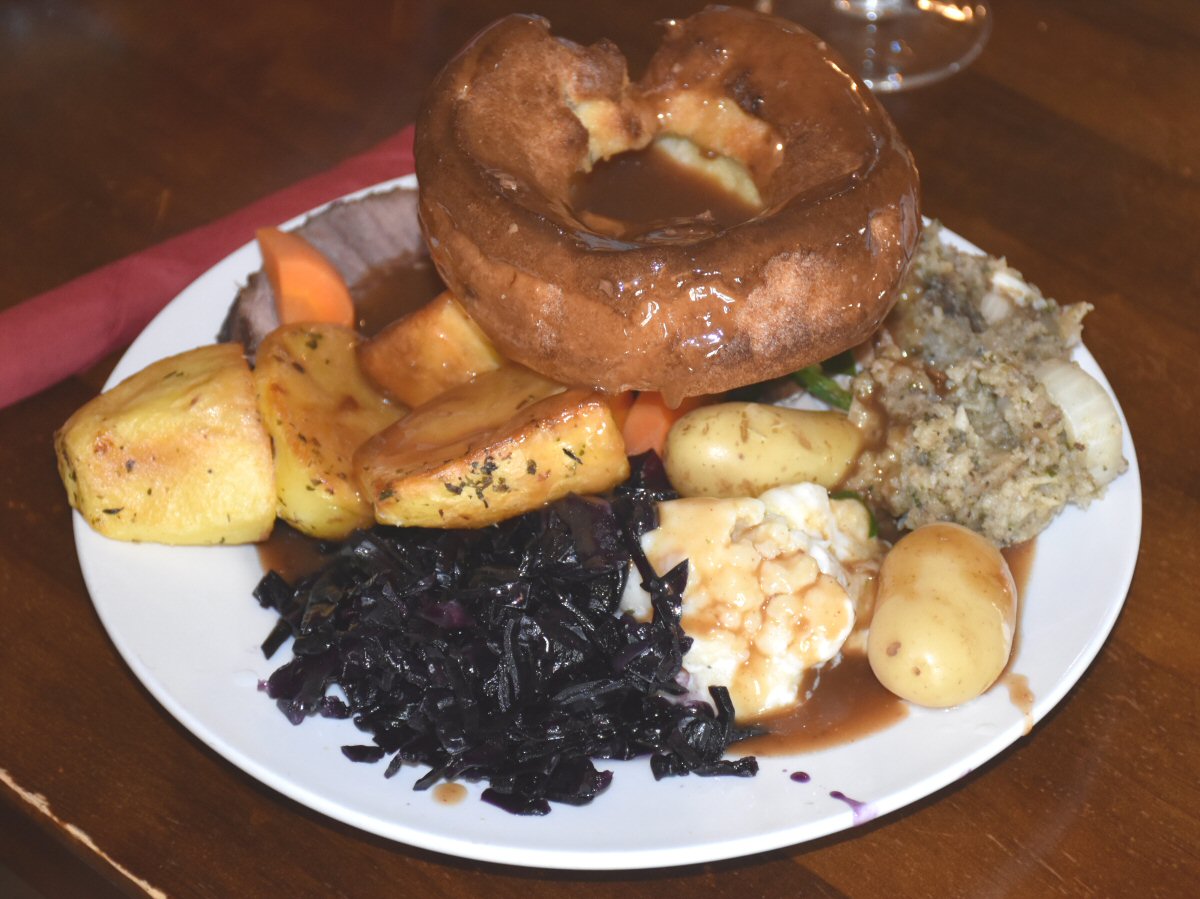 There was a superbly satisfying crunch as Mummy cut into the crisp, golden batter that cocooned the creamy flesh of the fish within its confines and she said the first bite was excellent! Now, Mummy Bird has always (until recently) battered and fried her own fish, so she knows how it's meant to be! Equally good were the chips; they were homemade ones rather than bought-in, and their beautifully sweet-yet-earthy taste complimented the sweet fish perfectly. The 'mushies' were thick enough in consistency to stop them splattering off the cutlery, but not so thick that they were dry or claggy. Given the plate was spotless when Mummy had finished, I think it safe to say that the Fish and Chips were rather good!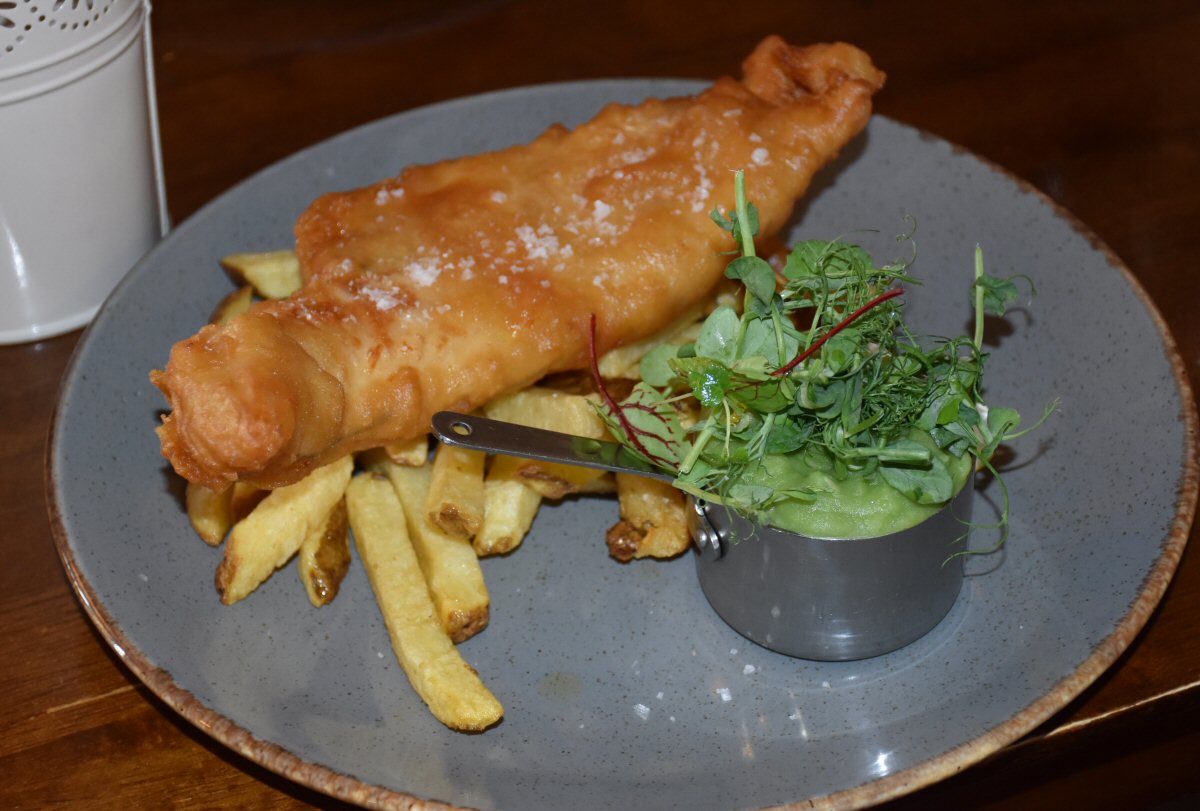 Both His Nibs and I thought the Beef was great; nice and moist, slightly pink in the middle and a good amount to savour. I tried a piece of The Man Birds' Pork too (behave, those of you who play 'innuendo bingo'!) and this was delicious too, retaining its natural juiciness and creamy flavour. Along with the meat there were huge roasties, Baby New Potatoes, Carrots, Cauliflower Cheese, spiced Red Cabbage and mixed Greens, all of which were cooked perfectly to retain some crunch and texture in the mouth. I loved the stuffing slice as well; this was gorgeously herby – I love Sage anyway - and extra Onion had been added to it for more oomph and body. If you like a proper, homemade Yorkshire pud, then you'll fall in love with Matteo's ones: as well as being mahooooosive (!), they are crisp on the outside with that softer (but not soggy) centre that hits the comfort spot smack in the bulls' eye.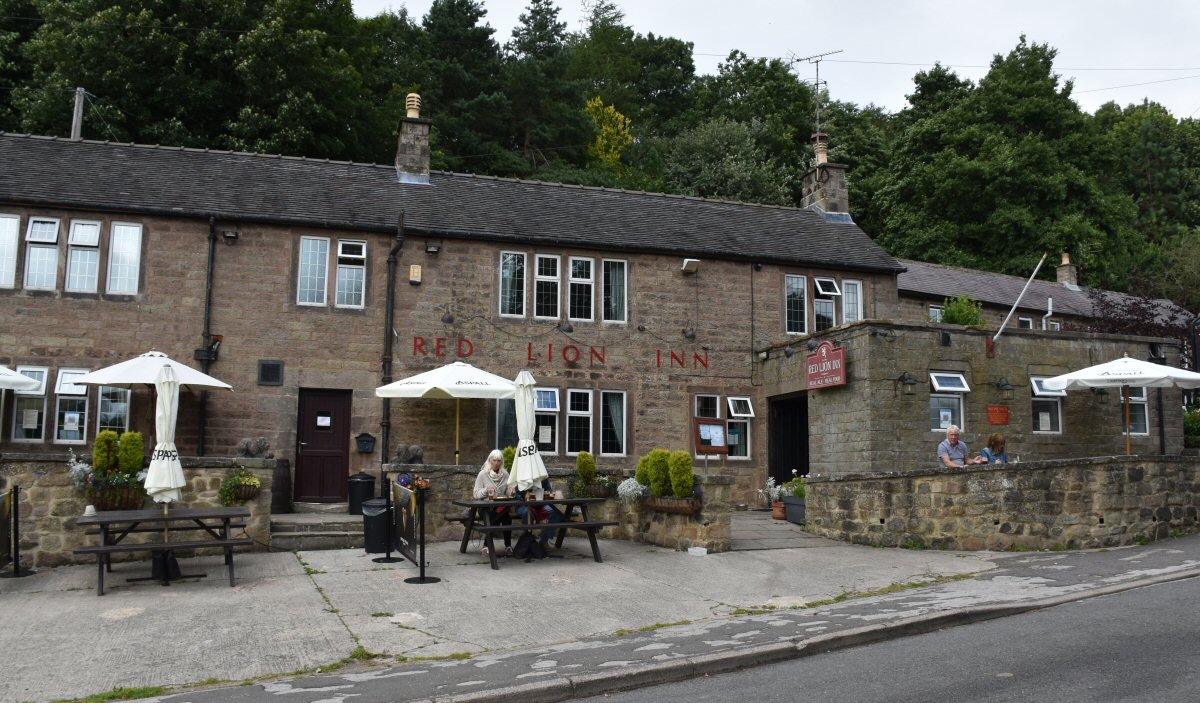 Our original intention was to have pudding but, when the time came, none of us had got room in our tummies! As Mummy Bird said though, it's a fab reason to go back. Hot Wings given to this welcoming family team, we'll definitely be back soon!
No incentive was provided to visit this venue
read more
Read Some Of Our Recent Reviews
---

Out For Dinner At The Bear Inn, Alderwasley If it's the full on, single track road, rural Derbyshire experience that gets your motor running, then the journey to The Bear Inn at Alderwasley will have you in joyous raptures. For those of you who are Read The Article

---

Lunch At The Recently Opened Chatsworth Kitchen At Peak Village, Rowsley Everyone who knows me, knows I love Chatsworth (always have, always will) so when the invitation to sample lunch at the newly opened Chatsworth Kitchen Read The Article

---

A Visit To Vietnamese Street Kitchen, Resorts World, Birmingham Way back in the day (pre-covid) Fledge had bought me and The Man Bird tickets to see Mrs Browns Boys live and finally, after a couple of false start reschedules, the day of Read The Article

---

Sunday Lunch, A Museum Tour & Painting A Piece Of Denby At Denby Pottery Village It wasn't long ago that His Nibs and I visited the Denby Pottery Village to sample the Afternoon Tea at Bourne's Coffee Shop and Bistro (it was superb Read The Article

---

Bottomless Brunch At Turtle Bay In Derby The timing of the invitation from the Turtle Bay team in Derby to go and sample their Bottomless Brunch couldn't have been better; not only was it going to be The Man Birds' birthday a couple of days later Read The Article

---

Afternoon Tea At Santo's Higham Farm Hotel & Restaurant Aaaaaarggggh, don't you love your children??!! A while back, His Nibs had spotted a great deal on Groupon (you know what a bargain hound he is!) and thought it would be Read The Article

---

Sunday Lunch At The Countryman Pub & Dining, Kirkby-in-Ashfield We finally got to visit a venue thats been on our radar for quite a while, The Countryman Pub and Dining in Kirkby-In-Ashfield! A few weeks ago we tried to book a table for dinner Read The Article

---

Dinner At The Divan Turkish Restaurant In Chesterfield Chesterfield was welcoming us back again for our latest review visit; this time to the newly opened Turkish restaurant, The Divan, on Lordsmill Street. Owner Tuncay (along with Read The Article

---

Breakfast At Marsh Green Farm Shop & Cafe, Kelstedge Ah, you've gotta love a Bank Holiday curve-ball, haven't you? His Nibs and I headed over to Mummy Birds' gaff with the intention of having a leisurely couple of hours at the Sunday Read The Article

---

Afternoon Tea at Bourne's Coffee Shop and Bistro, Denby Pottery Village You all know that The Man Bird and I do like an Afternoon Tea; I mean, who doesn't?! Just a few miles down the road from the nest is Denby, home to the world-renowned Read The Article

---