A Return Visit To Hide Burger Bar In Derby
---
Published On Wednesday 2 Jun 2021 by Sticky Beak
See Recent Dining Out Reviews | See All Recent Reviews


Having spent a fab (if very blooming wet!!) couple of hours at the Derby Market Place celebration event, we decided to grab a late evening bite to eat at Hide Burger Bar. Martyn, the owner, had squeezed us in with the promise that he would try and get us inside rather than in the marquee – although he couldn't guarantee this. Luckily, he had managed to do some gold standard jiggery-pokery and we were shown to an inside table. You'll have to forgive my rustiness; I didn't get the name of our lovely server, but if Carlsberg did them, she'd be it!! I have several black friends and am in awe of their sheer energy, and this gorgeous lady was off-the-scale with her joie de vivre, friendliness and general love of her job – if I could've brought her home, I would've (especially seeing as she got our drinks order sorted quick as a flash.
With my beloved Malbec in my hand and His Nibs clutching a half-pint glass of Curious Brew lager, we toasted our first evening back in the boundary of Derby city in what seemed an eternity, glad to feel its characteristic warmth and vibrancy again. We placed our food order: the Pakora Burger (£11) with a side of Battered Gherkins (£4) for me, and the Smoky Burger (£12.50) with a side of Epic Beer Battered Onion Rings (£4.50) for The Man. All of the Burgers come with hand cut Rosemary salted Fries included in the price, and those with smaller appetites (or kids) need not panic: you can have any burger, just smaller, for £6.95.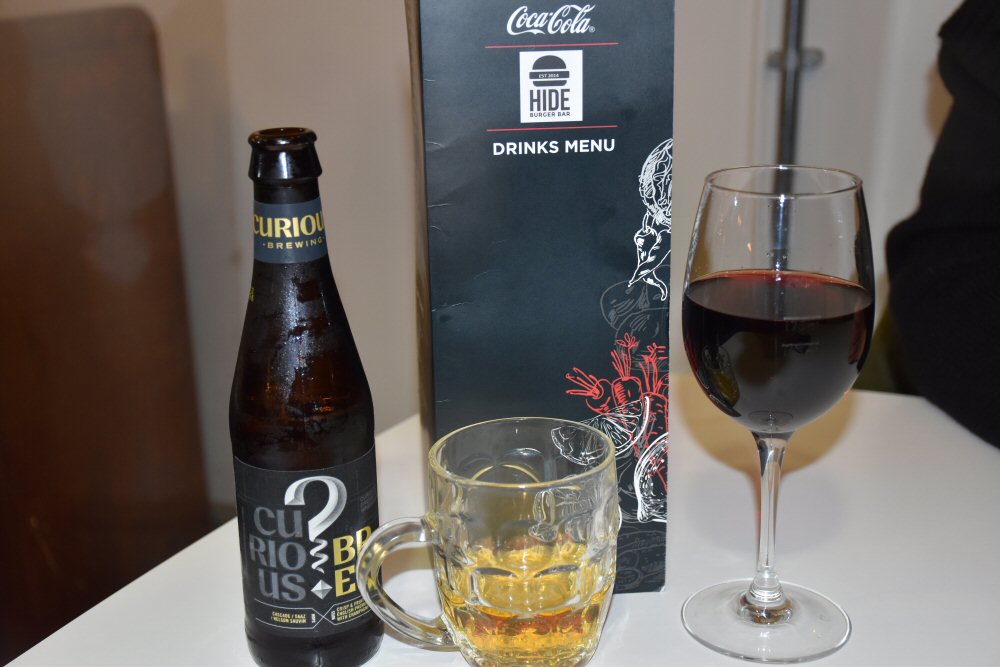 There was a great atmosphere in the venue, everyone was out for a good time, including the young lad and his family who were celebrating his birthday; needless to say, we all joined in with 'Happy Birthday'! In no time at all another of the superb Hide team brought our burgers and sides over to the table and after the obligatory photos, we tucked in eagerly.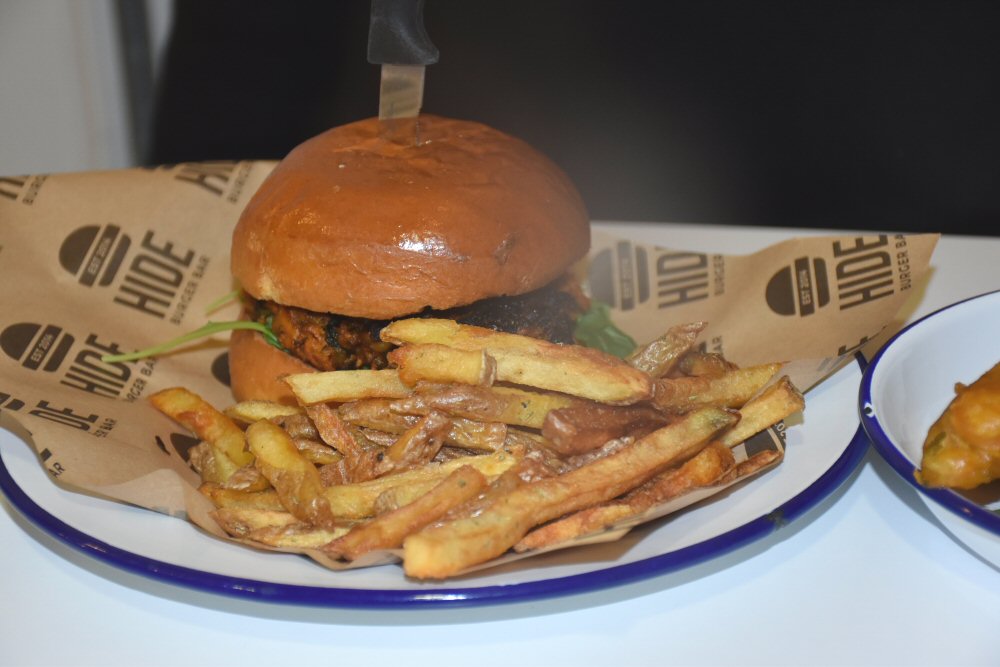 My Sweet Potato and Spinach Pakora patty had a fab kick to it, and my taste buds sprang to life as the audacious flavours frolicked over my tongue. The Mango chutney added a dollop of sweetness against the spice notes, as did the buttery Brioche bun that housed the tower of deliciousness. Marvellous layers of tang came courtesy of the Green Chilli Chutney and pickled Cucumber, with bright peppery tastes provided by fresh Rocket leaves. I really liked the Sweet Potato crisp element of the burger too; it provided a stabilising layer to the morsel as well as imparting its own gentle flavour.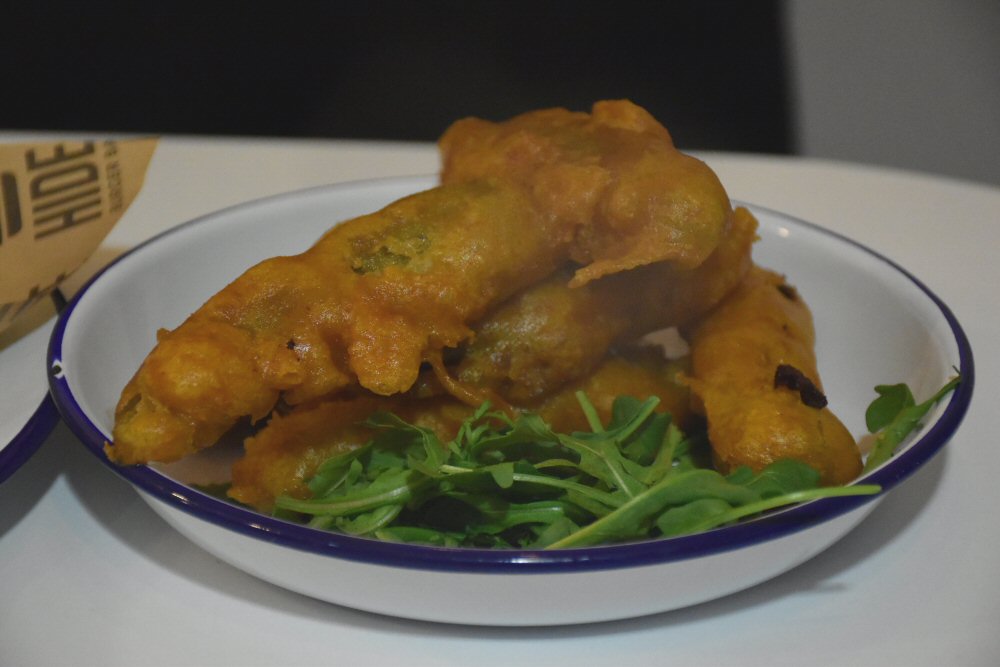 As a self-confessed glutton and gherkin aficionado, it pleased me immensely to see a generous platter full of halved, crisply battered gherkins rather than just a cursory amount. Under a completely undisguised look of disgust from His Nibs, I took a massive bite from one of the lengths of pickle and sighed contentedly as it crunched under my bite, releasing its sour, clear flavour on my palate. Gherkins are very much a 'love 'em or loathe 'em' foodstuff and I must admit that when I was younger I used to despise them; no longer though, I am now a total convert to their charms.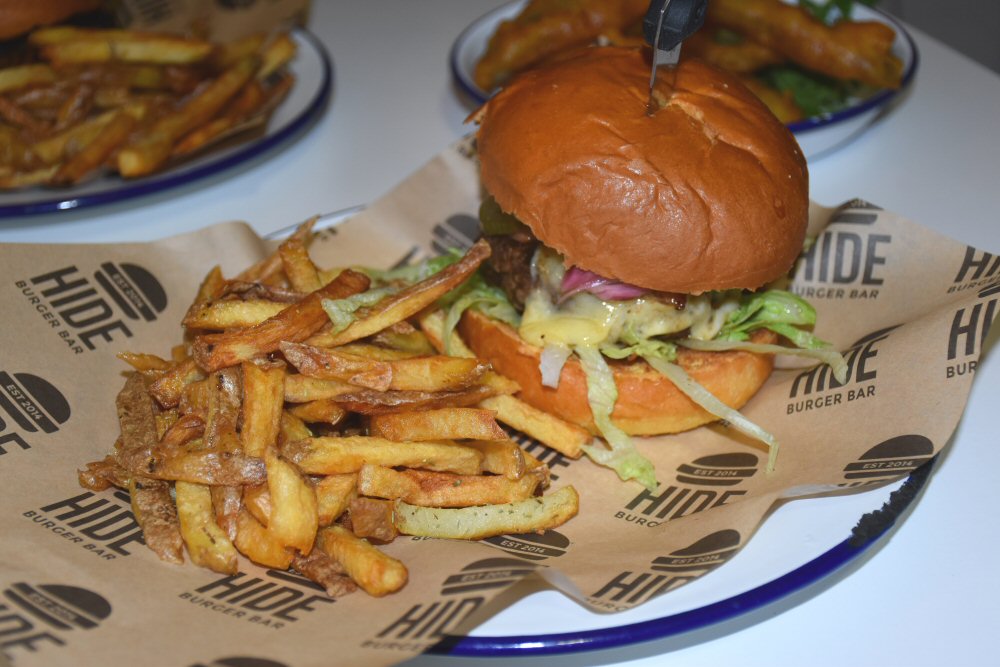 The Man Bird was equally smitten with his Smoky Burger; it was exactly as described, with a rich enticing smoky thread running through it. At the heart of this specimen is a meaty 6oz beef patty, skilfully cooked and rested so that its medium-rare state is satisfyingly juicy to the bite. Thick slices of smoky Bacon and smoked Cheddar cheese (seductively gooey and melted) guarantee to satisfy even the most ardent of hungers, and Coca-Cola Bacon jam and Holy Cow Ketchup ramp up the flavour factor to stratospheric levels! Crunch is provided by Red Onion, Iceberg Lettuce, and Pickles (well, the pickles made their way over to me!), with that all-important Brioche bun marrying it all together harmoniously.




Those that have followed the blog over the years will know that the crown for best Onion Rings in Derby adorned the morsels served at Fahrenheit in Genting's Riverlights Casino. Well, no more, I have to report: there's a new king/queen in town at Hide Burger Bar! Size-wise the Onion rings are, frankly, mahoosive - which is what you want from them - and the flavour of the vegetable still comes through clearly. It's the crisp, non-greasy batter that steals the show though; its thickness generates a distinct crunch when bitten into – one that can shamelessly be heard at adjoining tables. Own that sound is what I say!!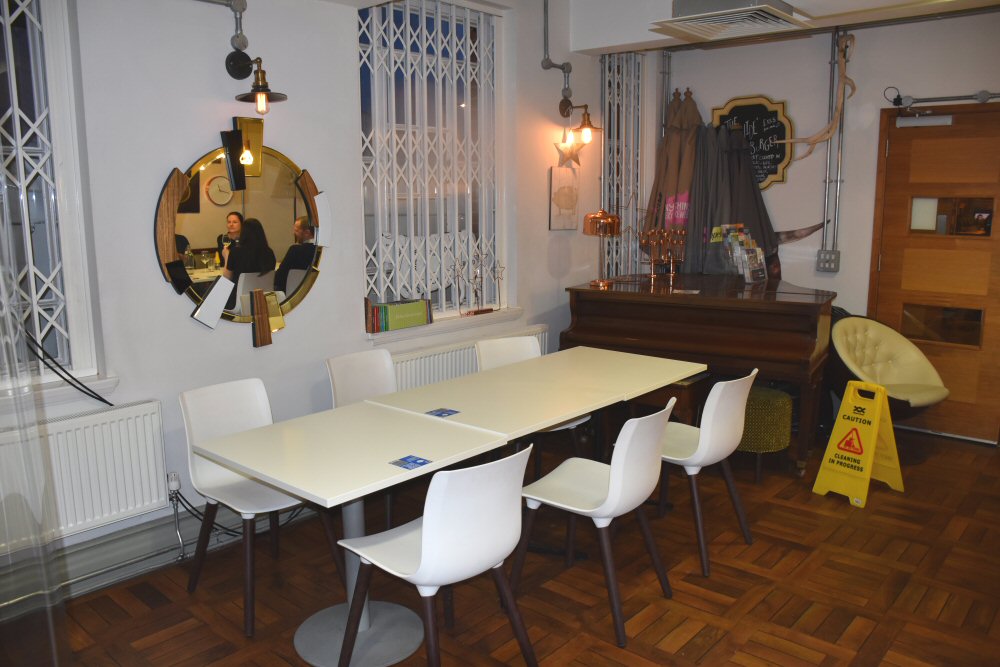 We both commented on the quality of the Rosemary salted fries; all too often fries get passed over and dismissed as a mere bit-part player in the burger-n-fries combo, when I think they play a crucial part in the enjoyment of this iconic meal. Chef at Hide Burger Bar clearly agrees, producing lovely crisp, flavoursome beauts. These fries have a wonderful, bright Rosemary kick to them that really gets the mouths attention. Yummy!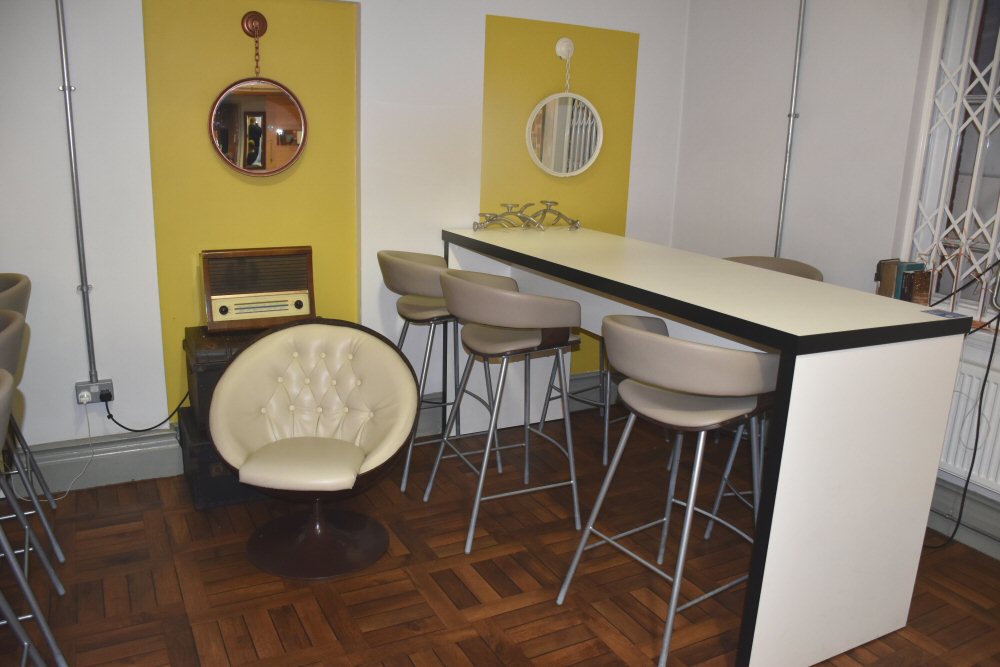 Hide's fab serving team were on top of their game, coming round and checking that the food was to our liking and keeping a discreet eye on our drinks to see if we needed more. As diners left, they were scrupulous in clearing away and cleaning down everything before re-setting the table. The usual covid safety measures were clearly in place too: masks to be worn if moving away from the table, staff wearing masks at all times, screens between tables, track and trace, and sanitiser available.

Hot Wings very well deserved here again; it was lovely to see Martyn and his team again. To indulge in one of the utterly superb burgers for yourselves just get on t'interweb at www.hideburgerbar.co.uk and book a table. Hide is open weeknights 5-9pm and weekends 5-10pm, and even serves Sunday Lunch from 11.30am-4.30pm.
No incentive was provided to visit this venue
read more