A Pre-Lockdown Visit For Tapas Tuesday At The Malt, Aston-on-Trent
---
Published On Sunday 7 Feb 2021 by Sticky Beak
See Recent Dining Out Reviews | See All Recent Reviews


A change in the Covid lockdown tier system and impending lockdown meant that The Man Bird and I had to change our dining plans at short notice, but didn't know where to go. After posting for suggestions on our site, you lovely lot came to the rescue again with recommendations; we decided, in the end, to have a run out to Aston-on-Trent (t'other (south) side of Derby) to The Malt, for their 'Tapas Tuesday' deal which runs from 5.30-8.30pm.
As with many other venues, The Malt team have decided to use their car park for outside drinking/socialising purposes, so we parked the Jalopy on the road outside and just walked back to the venue. There is also a one-way system in place to facilitate social distancing; the front entrance is currently the way out and you go in the back way (behave!) past the Gazebo. We used the automatic hand sanitisers at the doorway and scanned the 'track and trace' QR code into our phone, before going inside, where we were greeted very warmly by a lovely young lady.

The Malt is a beautiful traditional pub, imposing from the roadside and equally gorgeous inside, with a relaxed, friendly feel to it. There are two dining areas; one in the bar area and a more 'formal' one the other side, which is where we found ourselves. The wood floors are a warm honey tone with the walls being painted in a Sage Green/Grey colour that is nice and calming. Pale grey woollen curtains line the windows and the chairs are upholstered in a country green check fabric which pairs well with the pale wood tables.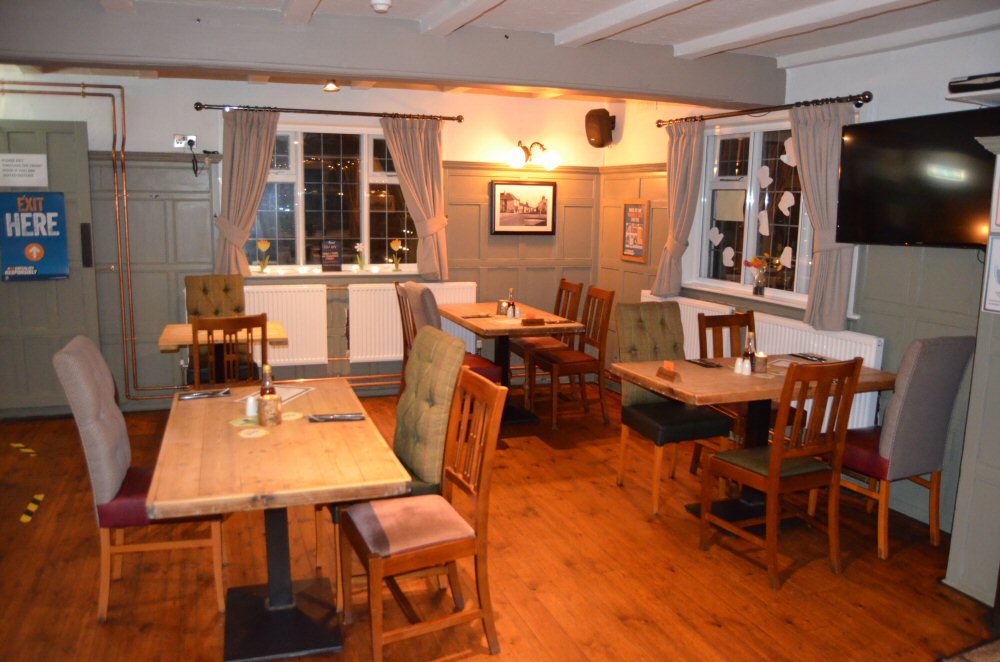 We ordered a large glass of Malbec for me and His Nibs did his bit to help drain the pumps pre-lockdown by having a pint of Beavertown IPA (!), which I have to say I wouldn't have been averse to supping on another occasion. With the necessaries out of the way, we began to choose what Tapas we fancied from the nicely varied, something-for-everyone selection. There's an easy price tier system too: £4 per dish, 2-4-£7 or 3-4-£10; this means that any group size (in normal times!) can be accommodated.

Our final choices were: Mini KFC-style bucket with Buffalo Wings, Chicken Tenders and Sweet Chilli Chicken Bites, Mini Steak, Gammon and Chicken Kebabs with Black Pepper Glaze, Honey Roasted Carrots with Cumin and Fennel, Blue Cheese Mash topped with Crispy Bacon, Honey Glazed Baby Chorizo, and Crispy Cod Bites with Tartare Sauce. There were another half dozen options to choose from if we fancied anymore Tapas after this initial round of yumminess.




The great thing about Tapas is that they just get served to you as and when Chef has finished cooking them, so they are always at their peak, temperature- and taste wise. Head Chef Mark and Sous Chef Ben were clearly working frantically in the kitchen, and the lovely serving team were darting about between all the tables serving all manner of mouth-wateringly good smelling dishes. In next to no time our first morsels were being placed before us; Cod Sticks with Tartare Sauce and the Honey Glazed Carrots with Cumin and Fennel. They came on a wooden platter and had been decorated with fresh Pea Shoots that popped against the golden tones of the Cod's batter and the sunny Carrot chunks.




We wasted no time in getting stuck in to the Crispy Cod Sticks, and boy was the batter superb; on the back of this alone, I would go back to try Fish and Chips at The Malt! The Cod inside the batter was sweet and succulent (as well as being a good portion), contrasting well with the tang of the lightly textural Tartare Sauce. His Nibs had taken a bit of convincing to have a vegetable dish, but I liked the sound of the Cumin and Fennel combo, so I got my way. Turns out that the woman was right (of course, duh!) and he really liked the bite-sized, lightly softened Carrots; he especially liked dunking the Carrot into the runny honey at the bottom of the dish! I thought the balance of the honey's sweetness, the bright anise tones of the Fennel and the earthy taste of the Cumin was superb; this was a very simple but clever combination, and one that hit the spot here.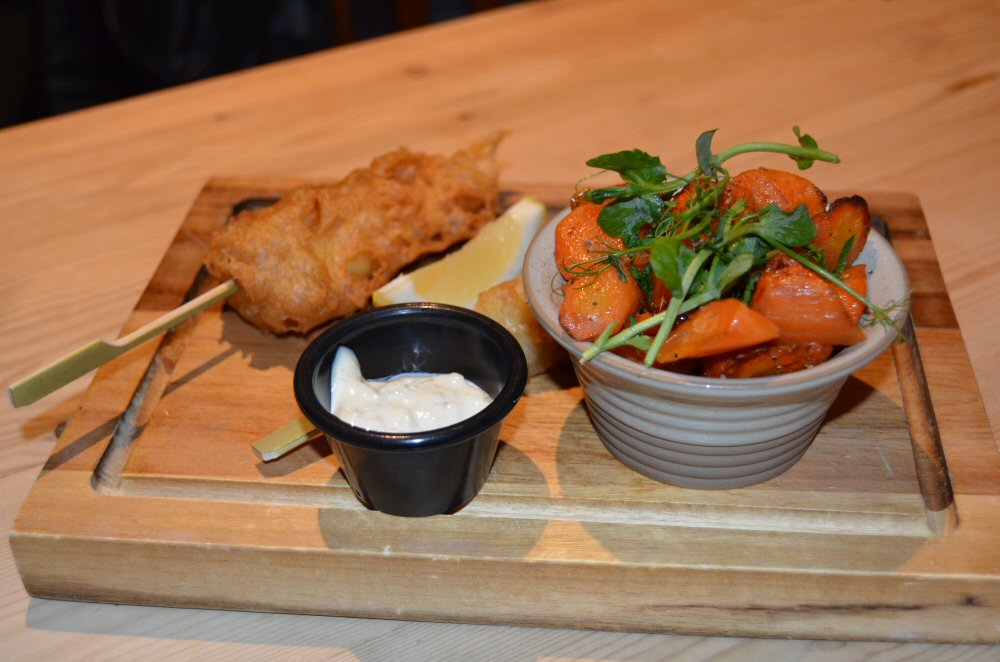 Whilst we were still chowing down on the Carrot pieces our next Tapas dish was being placed down in front of us, and the smell coming from the Mini Steak, Gammon and Chicken Kebabs with Black Pepper glaze was incredible. All three of the kebabs were very generous in size and the meats were all tender and full of flavour. My personal favourite was the Steak kebab, purely for the way it partnered with the Black Pepper glaze. It was just superb in the mouth: sweet meat and fiery Black Pepper.; if this was up-scaled, it could easily be a main course in its own right. Having said that, the Gammon and Chicken kebabs were no slouches when it came to holding their own against the glaze and we both said what a marvellous Tapas dish this was.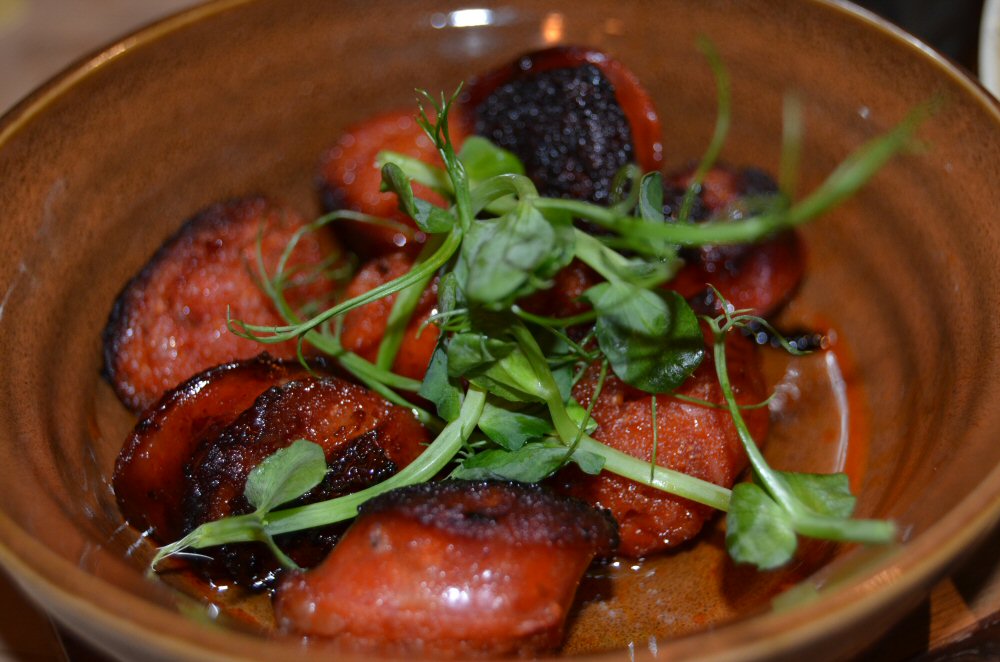 Our final trio of Tapas dishes came out in a flurry: Honey Glazed baby Chorizo, Blue Cheese Mash with Crispy Bacon, and the Mini KFC-style bucket of Buffalo Wings, tenders and Sweet Chilli Chicken bites. Needless to say, The Man dived into the Chicken selection, whilst I took my first mouthful of the Blue Cheese-pimped Mash. Both of us grinned at each other, assuming that we'd got the winner of this trio in our mouths, then saw the others' face and doubted our assertion. Dutifully, we swapped and had our first sample of the others' choice, conceding that they were both moreish. His Nibs was really surprised though by how much he liked the mash – Blue Cheese isn't something he likes usually; here though, it was quite subtle and was paired brilliantly with crunchy, crispy Bacon pieces. Not only did these two tastes go well together, but there was a contrast of texture between the smooth mash and crisp Bacon.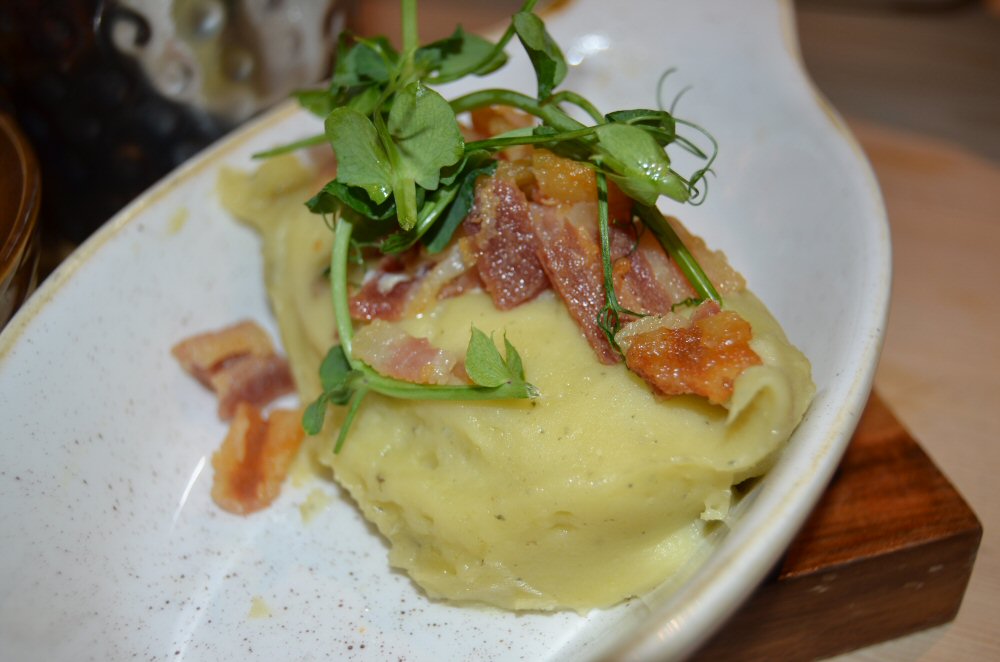 I loved the Buffalo Chicken Wings – they were absolutely kicking! The level of heat in the glaze on the wings certainly grabbed my taste buds by the scruff and got their attention – novices to spice need not bother here! The Chicken Tenders were equally fab with the thickness and crunch of the batter that surrounded them: you could audibly hear the crunch across the table when one of us bit into them. The batter wasn't at all greasy and the chicken inside was wickedly moist in the mouth. It was the lightness of the batter on the Sweet Chilli Chicken bites that surprised us – we were expecting it to be on the thicker side, like the Tenders' batter. Although it was considerably lighter in texture, it had just as determined a crunch when chomped on. Personally I think that The Malt at Aston-On-Trent team are doing themselves down by comparing their offering to KFC – yours is much better, guys!!.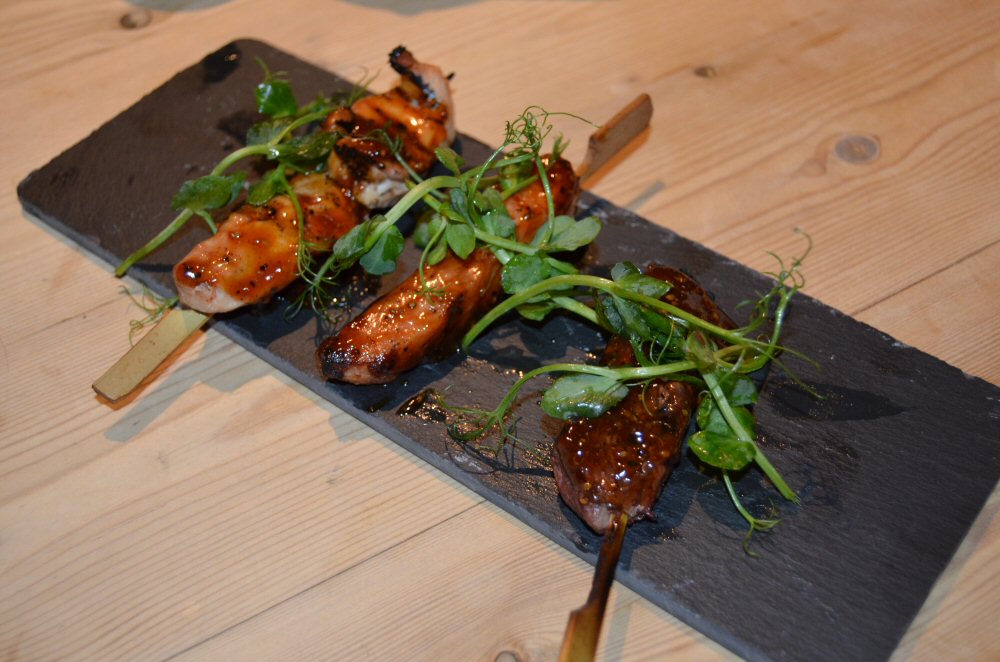 There are many different Spanish Chorizo sausages on the market (Mexican Chorizo is an entirely different beast altogether) and I'm pleased to say Chefs Mark and Ben use a top-notch one in their Tapas offering. The Chorizo has a great hit of the smoky Paprika that characterises it in Spanish cuisine and was cut into generously thick, perfect bite-size slices. Warm honey was pooled at the bottom of the dish and we both dipped the sausage into it, savouring the superb balance of savoury and sweet as it hit our palates.

Several members of the serving team had come round at various points to check that we were enjoying our food and also checked that we were ok for drinks. They also made time to stop and have a chat whenever they came over too, which made us feel even more welcome.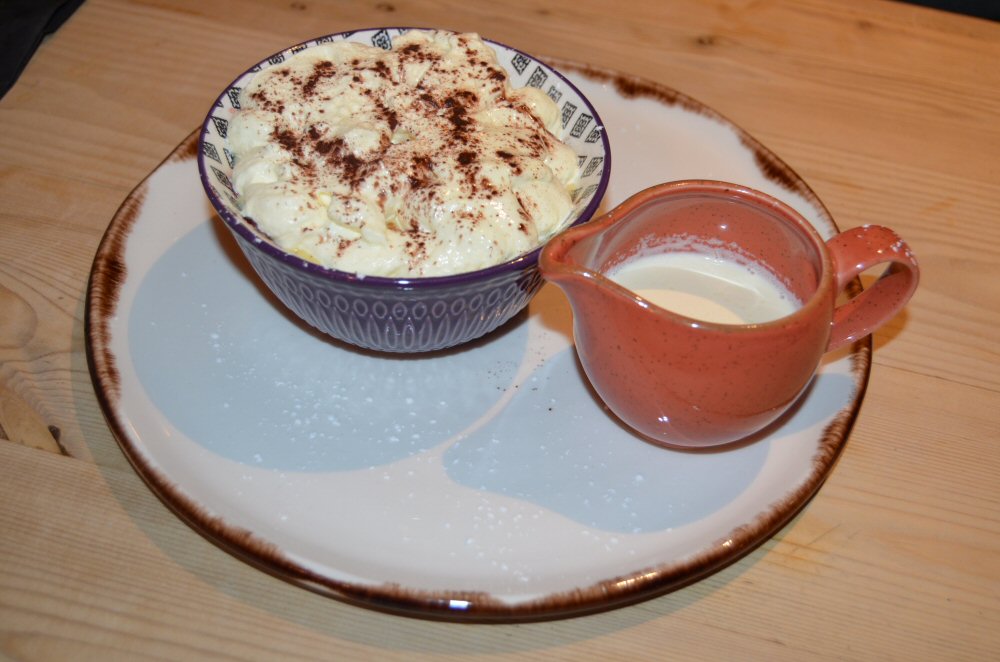 This had been such a wonderful, relaxed meal with quality oozing from it, that we decided to stay for dessert. His Nibs had spied the Golden Syrup sponge straightaway (no surprise there!) and I was very happy when I spotted the Homemade Sherry Trifle – this classic British dessert is sadly out of fashion at the moment, meaning that you don't commonly see it on dessert menus. I chose to have my Trifle with pouring cream and The Man opted to have his sponge pud with Custard.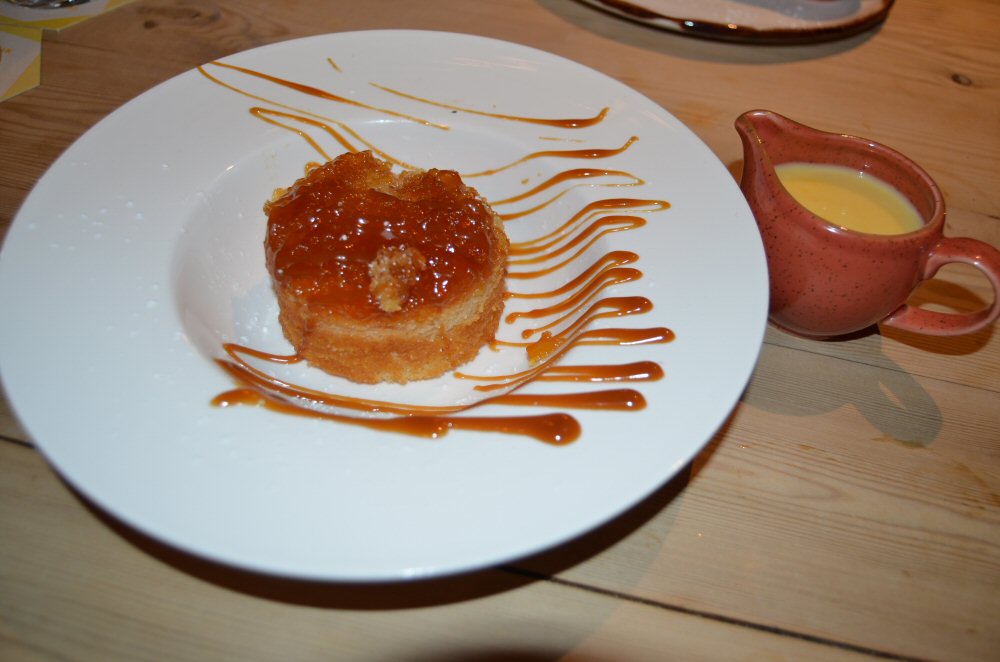 The homemade Sherry Trifle had a lovely sponge base (no soggy bottom here!) that made a comfortable bed for lots of fruit to lie on. I was so pleased when I came to the custard layer; it was perfectly soft-set rather than being rock-hard and, helped by the set cream top layer, gave that smile-inducing squelch when my spoon pierced its surface. Any self-respecting Trifle needs a bit of zhuzh on the top, and The Malt team dust theirs with cocoa for a classy finish.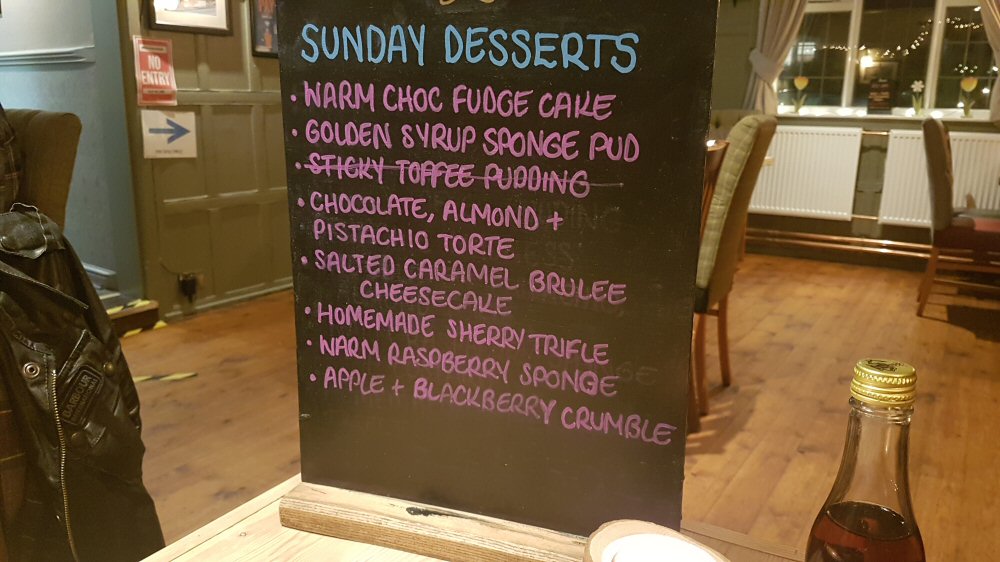 His Nibs is like a kid in a candy shop when it comes to Golden Syrup anyway, so when it's combined with a wonderfully light sponge, which is warmed up and served with creamy Custard there's no stopping him from gobbling it up! I could see just from looking that there was indulgently deep layer of glistening syrup on top of the sponge, but then the sponge was plenty deep too. A separate jug housed the piping hot custard, so you can add as much or as little as you fancy. As The Man Bird poured it out he noted that it was the perfect consistency: not too runny, not too set; I had to giggle and call him 'Goldilocks'! By the time he'd finished, the bowl was squeaky clean.

We finished off with a couple of black coffees and The Malt at Aston-on-Trent uses 200c Coffee as their suppliers, so it's a very nice brew to conclude a meal with. Hot Wings happily awarded to this super-friendly team – see you on the other side of lockdown 2.0!!.
No incentive was provided to visit this venue
read more