Sampling Tiger Gin From The Shropshire Gin Company
---
Published On Saturday 2 Nov 2019 by Sticky Beak
See Recent Food Producer Reviews | See All Recent Reviews


His Nibs and I are always keen to eak the last bit of relaxation out of the weekend, and there is no finer way than to crack open some Gin, add tonic and garnish, and sit back to enjoy. Thank goodness for Shropshire-based Tiger Gin, the passion borne of JJ Lawrence's love for this spirit!
JJ contacted us (no doubt having read of our love for Gin) and asked if he could send us some of his premium- and ruby-gins to try; obviously we said yes!! This is no ordinary story of concocting your own Gin, then getting it distilled and bottled; oh no, you have to factor in a lengthy and stressful court battle against a multi-billion pound company and have the decision made in your favour that you can call your product Tiger Gin. Gotta love the under-dog – go JJ!

Anyhow our lovely postie, Jason, rocked up bearing a parcel for us which was none other than a couple of sample bottles of said Tiger Gin. I think I might just keep saying Tiger Gin over and over, just because I (and JJ, obviously) can; Tiger Gin, Tiger Gin, Tiger Gin!! The 50cl miniatures are very distinctly labelled in a jolly stylish way, if I may say so; and they taste just as striking.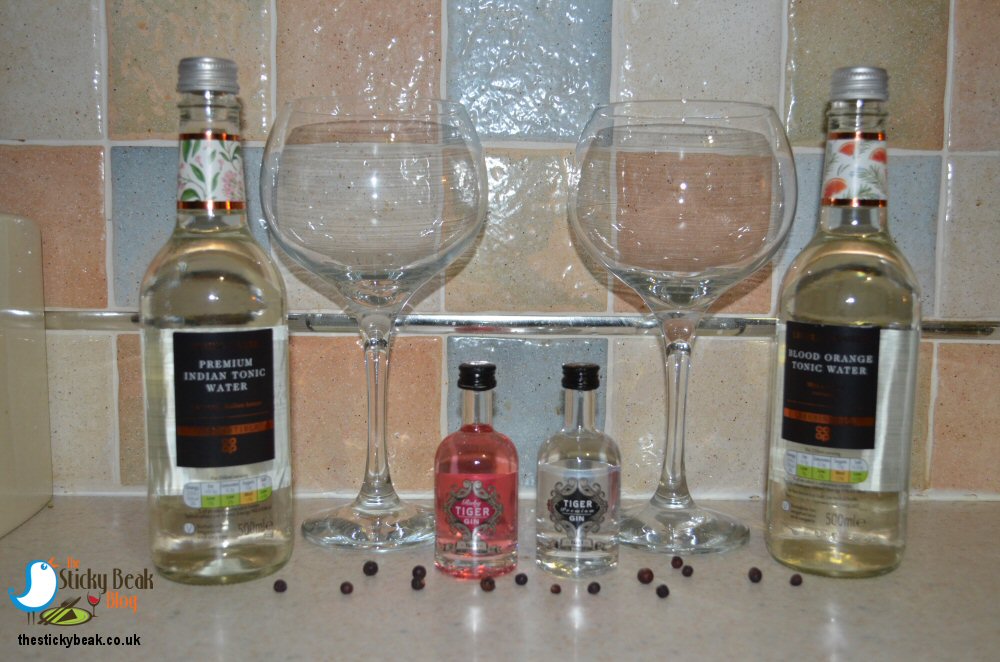 The premium gin is clean, crisp and dry, very refreshing on the palate and actually went very nicely with the Blood Orange tonic that we purchased from our local Co-op. Would you believe that we'd actually got no Fever Tree tonic in?! Rookie error, right there. No panic though, as I say we moseyed – well The Man Bird did - up to the local store and got some tonic in. Having added ice and a slice of fresh Orange to the Gin we sat back and sipped, enjoying the crispness of Tiger Premium Gin.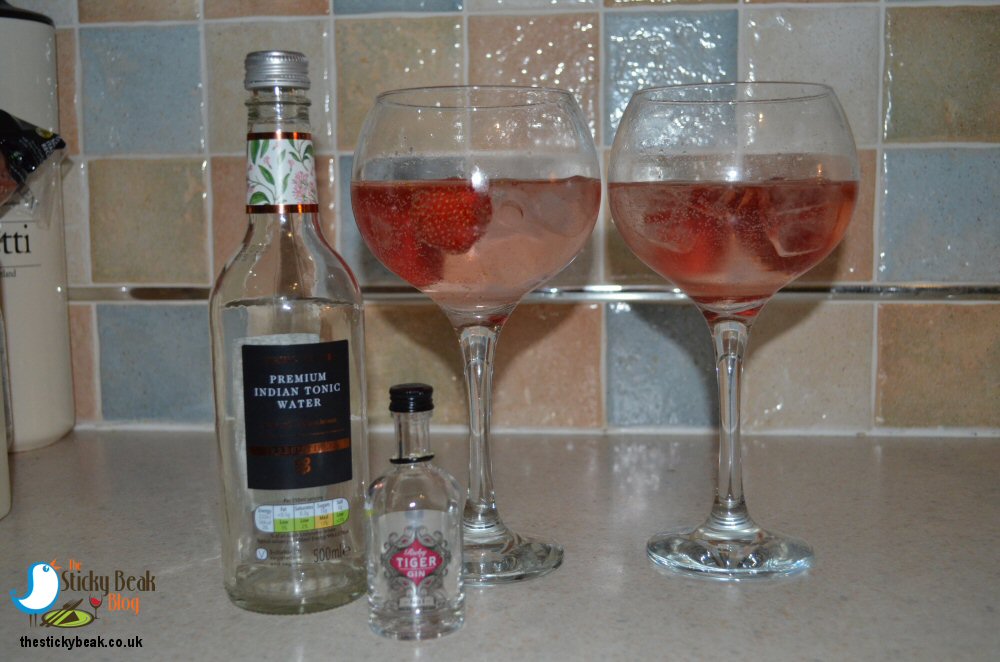 As you know, His Nibs and I have no will-power when it comes to food and we're not much better when it comes to drinking – especially when it's such a nice tipple that we got sent. Tiger Ruby Gin is a Pink Gin that contains top-notch British Rhubarb as well as botanicals, and I had a sip of this neat to see what it was like. You get a fab hit of the fruit coming through clearly on the palate and it has a beautiful sweetness to it that will appeal to a lot of folk. We then added ice, Strawberries and a light tonic to it and sipped it again. This time the botanicals came through clearer, with Rhubarbs' tarter side coming out to provide a light, balanced drink that refreshes you wonderfully well.

Yep, the weekend may just about have been over, but what a way to bid it farewell!  Thank you JJ, you have two new fans of Tiger Gin – Hot Wings happily given.