Letoonia Club & Hotel, Fethiye, Turkey With Jet2 3of5
---
Published On Friday 28 Dec 2018 by Sticky Beak
See Recent Holiday Reviews | See All Recent Reviews


DAY THREE

Sunday was another glorious day, so we decided to catch the boat taxi over to Fethiye and indulge in a bit of cafe culture. Men were casually fishing on the dockside, chatting to each other, children were playing in the parks, and groups of friends passed the time talking over coffees and a casual lunch.
We had a stroll through the town's streets, and then had a coffee ourselves before we caught the boat back.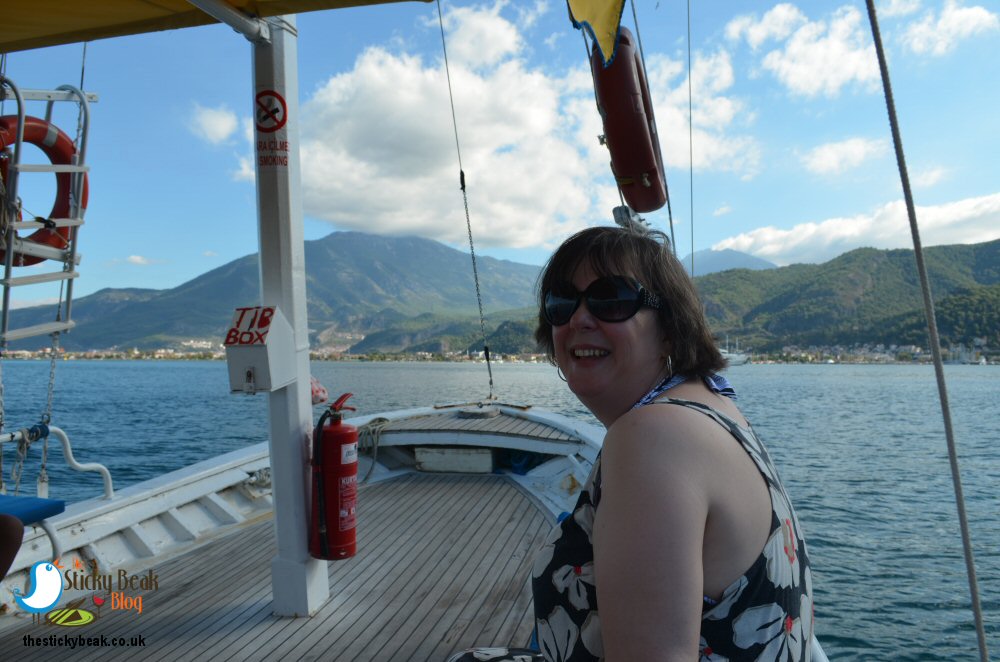 The Man Bird and I had booked the a la carte Sushi evening for the Sunday, and we headed down to the Marina Restaurant at 7.30pm. One of the waiting team that we recognised from Likya restaurant was serving us, so we were greeted with a warm smile of recognition as he showed us to our table. He knew that we like the local white wine, so two glasses were soon being poured for us, and warm blankets gently popped around our shoulders. Each table had been set with red cloths and had a striking black central runner; very Oriental . There were chopsticks on the table too, for those feeling brave.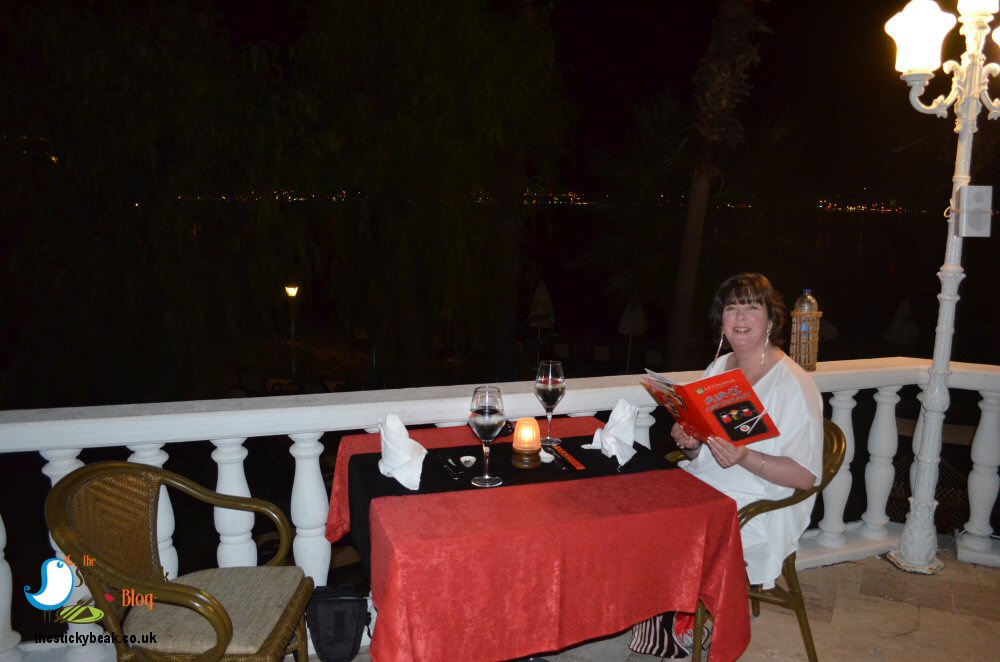 To kick things off we had steaming bowls of Corn Chicken Soup, full of flavour and packed with shreds of Chicken and Julienned vegetables. Tiny verdant rafts of Spring Onion floated gracefully on top, giving the otherwise unassuming soup some visual interest.

Our second course consisted of the mixed Sushi Platter; His Nibs had the vegetable varieties, I had the Tuna, Salmon and Prawn-containing rolls. Our server poured Soy Sauce into the integral bowls in the platters, and a Carrot baton had Wasabi on top, with another corner of the platter housing strips of Pickled Ginger. The Sushi was expertly rolled and had a lovely range of tastes and textures, providing a great introduction to those who hadn't had this type of cuisine before.




For the Hot Starter course I chose the Shrimp and Vegetable Noodles; The Man had his beloved Spring Rolls. There were plenty of juicy shrimps in my noodles and they were beautifully sweet to taste; just-crunchy vegetable strips added some texture to the soft noodles, and the seasoning was nice and punchy too. His Nibs' Spring Rolls were packed with crunchy vegetables too, as well as lots of Beansprouts; this had all been packed tightly into the filo pastry and rolled and fried to golden perfection.

Main courses saw us tucking into Plum Sauce Fish and Pepper Beef with Three colour Peppers, Onion, and Hoisin. My fish was absolutely gorgeous in taste and had been lightly battered and fried, but no trace of oil remained; just sweet, juicy, slightly crispy yumminess. The accompanying Plum sauce was delicate in favour and wonderfully sticky so that it could coat the fish without dripping everywhere when picked up.




True to its name, the Pepper Beef was pungent and spicy with pepper heat; the perfect foil for the rich tasting Beef and vegetables. The rich flavour of the Hoisin was evident in every bite, and The Man was more than a little pleased with his choice.
We both tucked into the cool, crunchy Soybean Sprout Salad with its Cabbage, Carrot, Pepper, Onion and Sprout components, savouring all the different tastes within it. Even my novice skills with chopsticks were successful, thanks to the dimensions of the vegetables and meat; nothing was too heavy, or thin for the sticks to grab.

Dessert was Banana Fritter for The Man, and Sesame fried Ice Cream for me. The fritter was comprised of several pieces of deep fried battered Banana, rather than one whole fried fruit – not that it lasted any longer in the bowl before His Nibs wolfed it down. Unusually, it came with a dark Chocolate sauce rather than Ice Cream or syrup.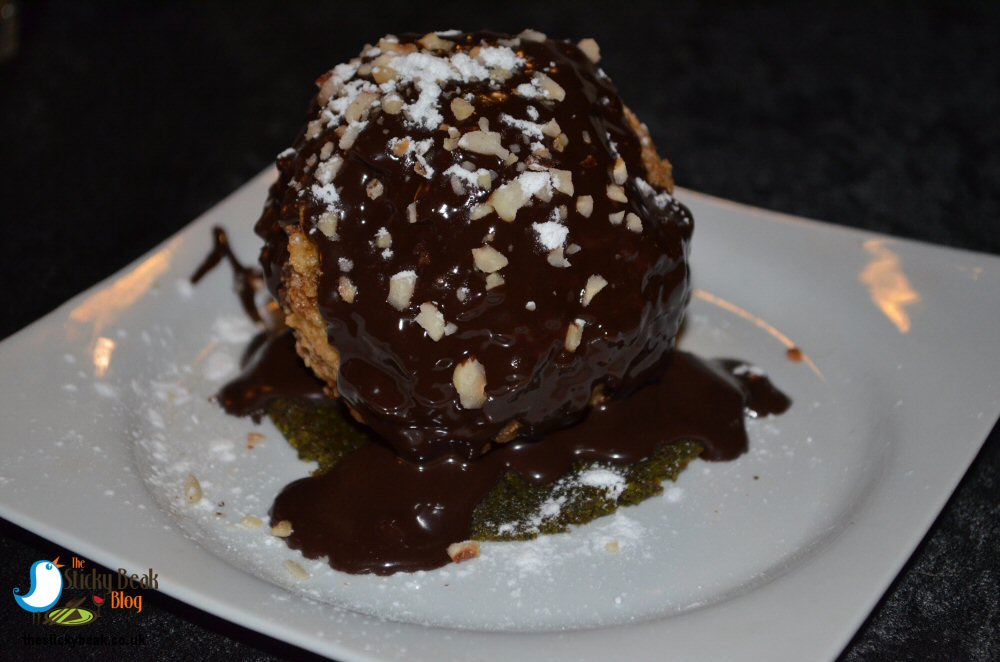 I was expecting a Ferrero Rocher sized Ice Cream Bombe-type offering for my pud – how wrong was I?! Instead, I was presented with a tennis ball-sized treat of Vanilla Ice Cream that had been coated with batter, deep-fried and scattered with lots of nutty tasting Sesame seeds. My belly couldn't quite manage it all, try as I might!

We had a couple of black coffees to bring our meal to a close and headed off for a walk to help ease the podged feeling. The bar beckoned after our night-time stroll, so a cheeky Gin and Tonic served as a night cap before it was time for slumber.
Read Part 2 Of This Article | Read Part 4 Of This Article