Letoonia Club & Hotel, Fethiye, Turkey With Jet2 2of5
---
Published On Friday 28 Dec 2018 by Sticky Beak
See Recent Holiday Reviews | See All Recent Reviews


DAY ONE

Super comfy beds, bedding and pillows had all worked their magic and given us a fab nights' slumber (despite us rolling in at 1.30 am from the bar!), so we awoke feeling refreshed and ready to face the excitement of our first day .
Likya restaurant was the place for breakfast, and we recognised a few familiar faces within the serving team. BB was a bit taken aback at the sheer amount of choice for breakfast; so much so that the poor soul had to go back 3 times to the various stations to sample a good selection of the offerings! He wasn't alone though, His Nibs was determined to be Alpha Bird and reign supreme in the gluttony stakes .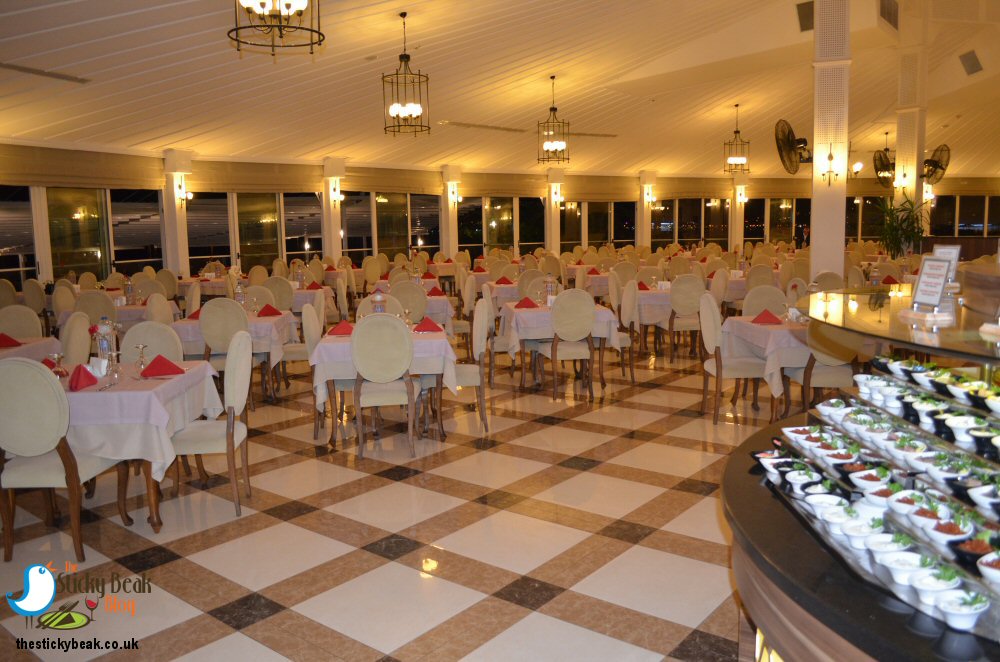 Fethiye is the Turkish region where Honey production is supreme, and I clapped my hands with sheer joy when I saw the whole Honeycomb and knife on the counter, just begging to be indulged in. I heaped my bowl with natural Yoghurt and topped it with some Honeycomb and some chopped nuts – bliss for my belly . I will confess to also having some freshly made Gozleme and the most divine Pain-Au-Chocolat known to man.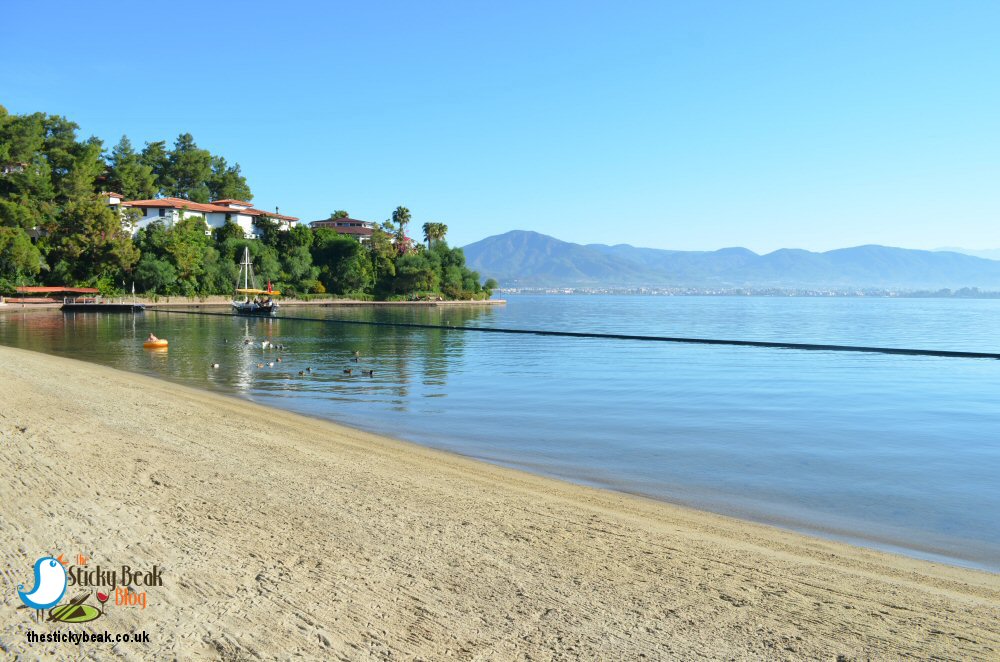 So with our tummies full, it was time to do a bit of sun-worshipping before our meeting with Jet2 representative, Mustafa. The beaches beckoned and the scenery was every bit as breath-taking as I'd remembered; damn you Euro Millions, why can't I win you - I could live here then!




Mustafa was as charming as ever and we got all the tours booked that we wanted, starting with a Hammam tomorrow – yay ! He took us through our departure details too, and left us his number in case we needed him; although he is around every day between 4-5pm.

The afternoon consisted of a bit of volleyball in the sea and general tom-foolery, then it was back to our room to wash, get changed and head out to the Turkish Kebab night at the a la Carte restaurant on Dolphin Beach.

At the entrance to Dolphin Beach, the venue for the Turkish Kebab evening, we were greeted warmly and taken to our table at the Marina's edge. Large glasses of chilled water were poured and wine orders taken, and then everyone was asked if they wanted a light blanket around their shoulders to stay warm.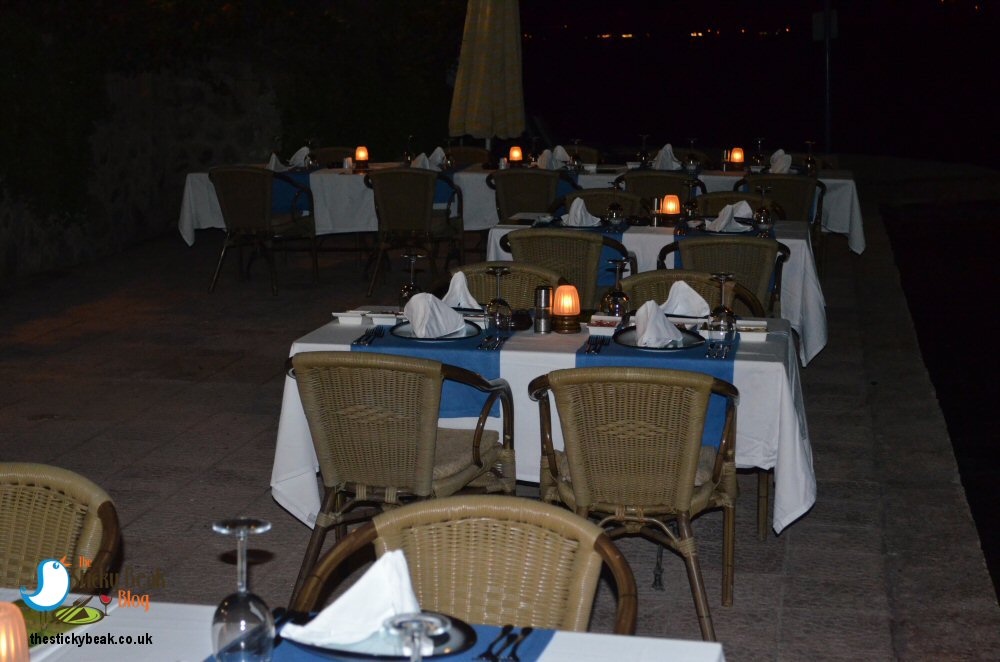 There was a large selection of dips and Hummus to nibble at, accompanied by cured meats and various breads. We all tucked in, eager to get the night off to a tasty start . For our hot starters we had Stuffed Burghul balls (minced meat), Stuffed Chard with Lamb and Yoghurt sauce, and the Albanian Liver. Everything was chock full of flavour and lovely and hot, so it didn't hang around for too long as I'm sure you can imagine!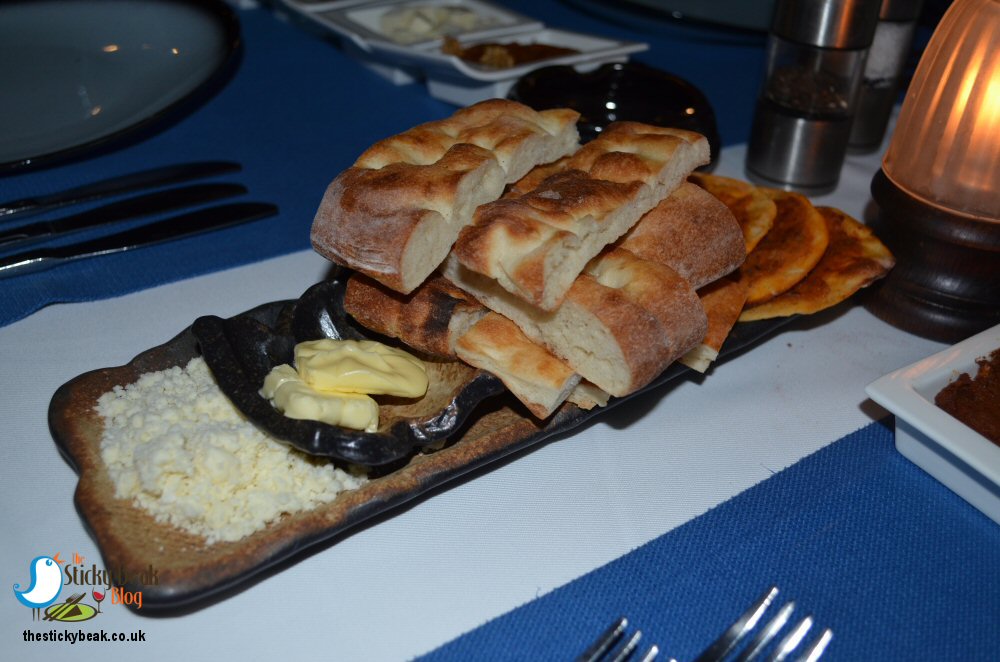 There was a large bowl of salad to go with the main courses; we'd chosen Lamb Chops (me), the Chicken Shish Kebab (Chick and BB), and Beef Shish Kebab (His Nibs). Apart from The Man's choice, which came with stuffed mushroom and spicy oven-roasted potatoes, the mains came with Meyhane rice, Sumac with Onions, and grilled Tomato Peppers.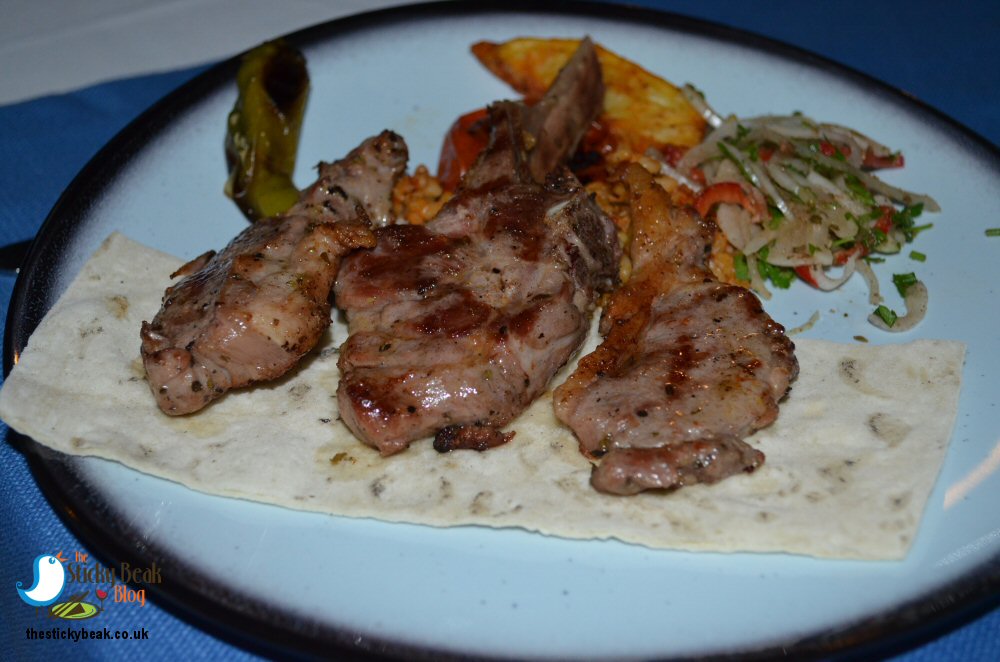 One thing that I have noticed about the food at Letoonia Club and Hotel is that the meat is all exceptionally tender and has very little fat and gristle in it; there is sometimes fat on the edge or the bone is still in, but the meat itself is top quality. Oh, and there's always plenty of it too, which explains why Chickadee and BB had to duck out of dessert; they were simply too full! The Boy Wonder and I soldiered on though, ordering Honey Peanut Pate with Afyon Clotted Cream for me and Carrot slice Baklava with Ice Cream for The Man. What a lovely meal it had been, and good value too, at only 10 Euros per person.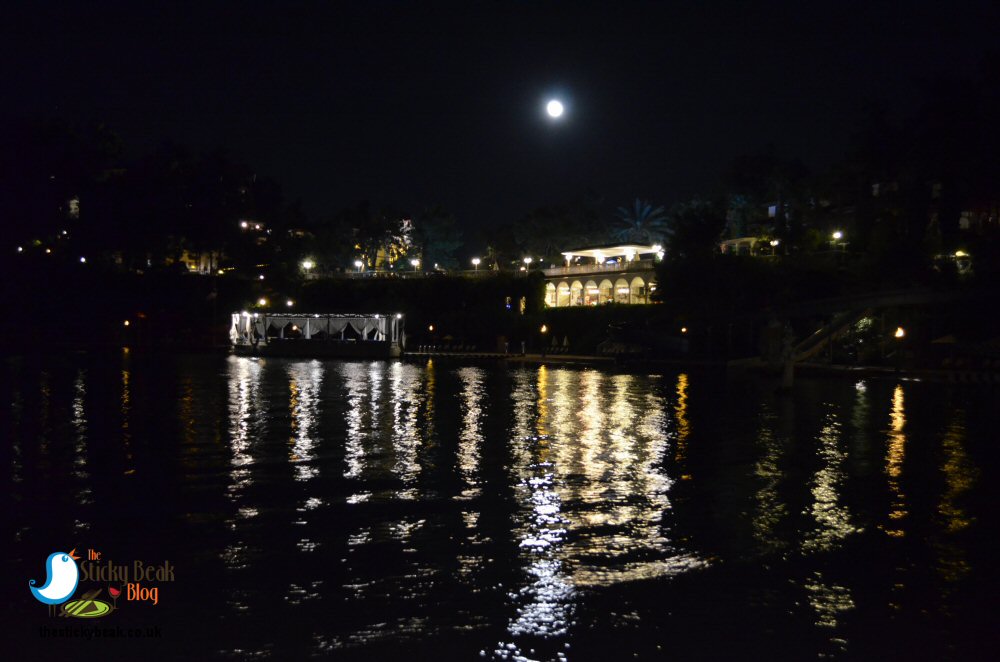 The nights' entertainment was called The Scary Family, a spoof of the Addams Family. Oh My Days, that was a good show! The dancers were slick and the routines were fab, but hats off to the brave male dancer who partnered the mad-cap Ents Manager! Donning tight tutu suits and wigs, these guys strutted, sashayed, and twerked their way through Moulin Rouge's "Lady Marmalade" to a cacophony of whistling and hollers. My eyeballs can never un-see those two nutters!

DAY TWO

We'd had a good nights' kip, and got a good breakfast down us as we were heading off to Sultan Hammam in Fethiye later that morning. BB hadn't had a Hammam experience before so we were eager to introduce him to this cornerstone of Turkish health practices. Our taxi driver got us there right on time and we were met at the door by the big, hairy security guard, also known as Pasha the Golden Labrador .

As before, we were greeted warmly by the staff and shown the changing rooms. Having got our bathers on, we went out and had our first drink of water; one thing the staff at Sultan Hammam do is ensure that you remain adequately hydrated. After that, we headed downstairs to the dry sauna for a 10 minute sweat session; Chickadee and BB managed 7 minutes, His Nibs and I stayed the whole 10 minutes.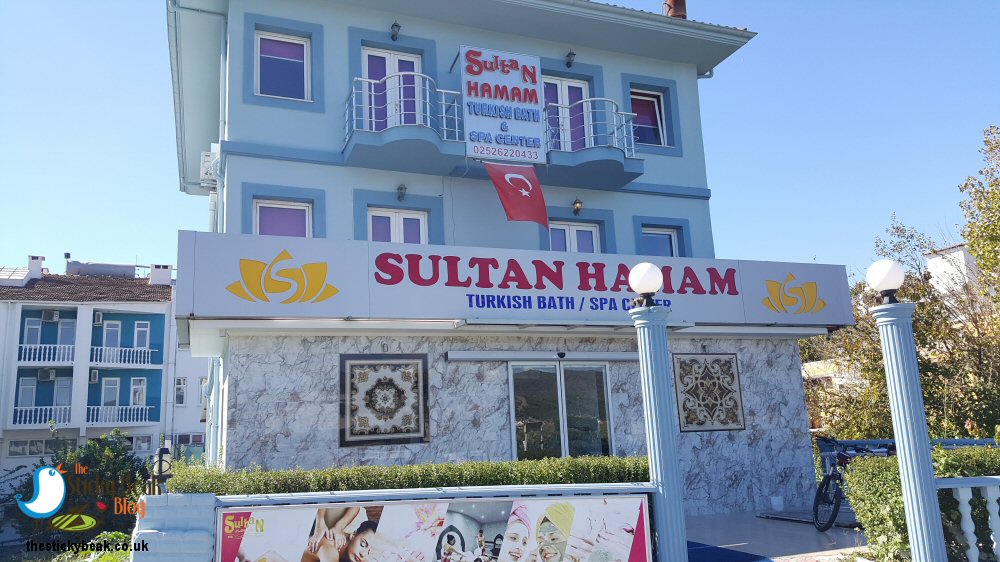 Having done that sauna, it was time to grab some more water before going into the steam room; you'd think it would be easier to sit in wet heat, but I find it quite the opposite. I did manage 7 minutes though, so I was happy enough with that.

A quartet of chaps worked their skilful magic and soaped, scrubbed and shampooed us into a blissful state, before rinsing us clean with warm water. I absolutely love having a Hammam experience and would happily go every week if I could .

We returned upstairs to the reception area where we had more water and some Turkish tea. It was nice to just relax and chill whilst our body temperature returned to normal. Our time at Sultan Hammam wasn't over yet though - we still had our full body massages to come. Four ladies came to collect us from reception and take us into our rooms for the massage; we'd specified how much pressure we wanted beforehand, so we just lay down and let the pampering commence.

There wasn't a single sore muscle or knot of tension that escaped their skilled hands, and the hour passed in what seemed 5 minutes. The method of massaging is certainly different to that in England, the masseuses climbed onto the massage table in order to get into the exact position they wanted to get to the muscle being worked on. I think at one point I had my lady sat between my legs to get a good technique on my back! It may feel strange, but it's strictly professional at all times – I think us Brits need to loosen up a bit, we'd be more open to the Hammam experience if we did .




After such a relaxing morning, there was no way I was in the mood for anything strenuous; the only place I was heading was the sunny beach and the comfort of one of Letoonia's garden hammocks. In the afternoon these havens of relaxation catch the sun's rays perfectly, and a good book beckoned to have its pages turned.
Read Part 1 Of This Article | Read Part 3 Of This Article