Back For Crab Sandwiches at The Endeavour, Newbiggin
---
Published On Saturday 15 Sep 2018 by Sticky Beak
See Recent Dining Out Reviews | See All Recent Reviews


I have to give it to Northumbria, the coastline is truly stunning and there are some beautiful beaches to walk along. Whenever my flock goes to visit His Nibs' Mummy aka Geordie Bird, we always find ourselves clocking up more than a few steps walking somewhere or other.
Bank Holiday Weekend was in full swing and the residents of Newbiggin were holding their own version of the Olympics, despite the weather doing its damndest to ruin things. There had been a few spits and spots of rain, nothing to rave about, although the breeze was picking up steadily.

The Man and I struck up a brisk trot from the church at the end of the beach and got going on our walk. One thing about Newbiggin is the friendliness of the locals, every time you meet someone there's a "hello" and a smile; the dog (s) come and say hi too, hoping you'll have a treat for them.

We said hello to the lifeboat guys who were getting the boat back up the ramp into its housing and before long we were at "the couple" sculpture, an impressively large installation in the harbour. Newbiggin beach has a lovely gentle curve to it that makes you walk further than you think you've walked and in no time at all we were approaching the far bit of beach where dogs are allowed to be exercised.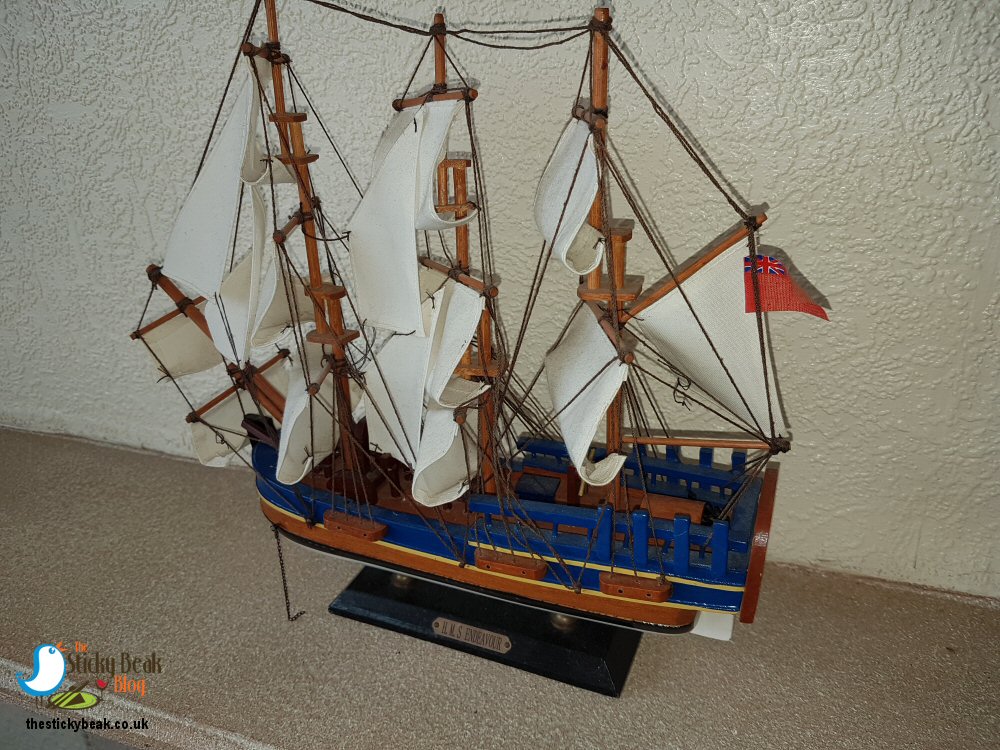 At this point you can simply about-turn and head back the way you came, or you can go up the ramp and walk back along the village and do a bit of window shopping or have a drink in one of the cafes. His Nibs and I about-turned and moseyed back to the central bit of the beach where Bertorellis cafe and The Coble pub are to be found. With it being Bank Holiday weekend, the square was given over to a kids fair ground and some craft stalls; we had a bit of a look at some before we crossed the road and went into The Endeavour.

In 2016 I had the fresh, local Crab sandwiches in The Endeavour and I remembered their deliciousness. Owner Michelle was still in the thick of things, running a tight (kitchen) ship and we sat down at a table one of the young girls had just cleaned. I ordered the Crab sandwiches again, eager to relive that glorious memory, and The Man Bird fancied a jacket spud with the BBQ Pulled Pork. Both meals come with coleslaw and salad garnish; the salad garnish isn't a garnish at all, it's a full on side salad – Michelle just likes to feed her customers well!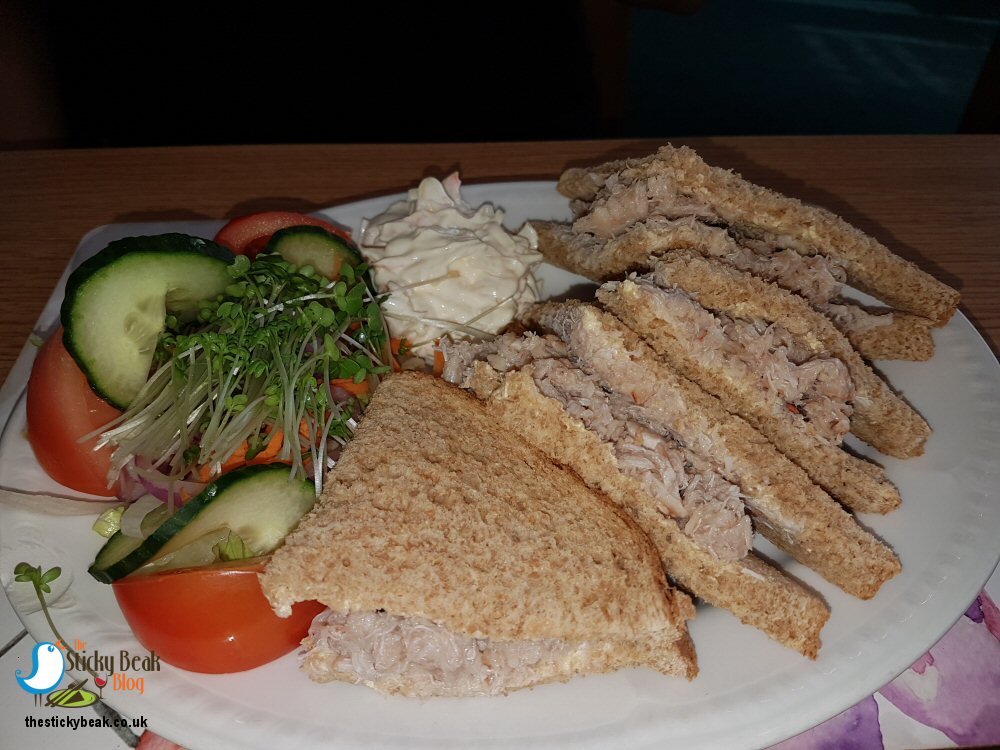 The abundance continues with the pots of tea – you easily get 2/3 cups of cha from a single pot. I had a standard breakfast tea, His Nibs had an Earl Grey for a change; he was a bit coffee'd out I think.

My Crab Sarnies were just ruddy glorious, there's no other way to describe them. Sweet, juicy crab meat had been crammed, and I mean really crammed, into triangles of wholemeal bread (you can have white if you prefer) – so much so that it was spilling out onto my plate as I picked the sandwich up! Michelle lets the local crab speak for itself; you literally do just get the crabmeat between the bread slices.

I spied some sachets of salad cream on the table, so a couple of those beauts got ripped into and their contents liberally squeezed onto the cress, lettuce, cucumber, tomato, and onion salad. A good dollop of creamy, crunchy homemade coleslaw was the final element on my plate, and the whole lot got demolished!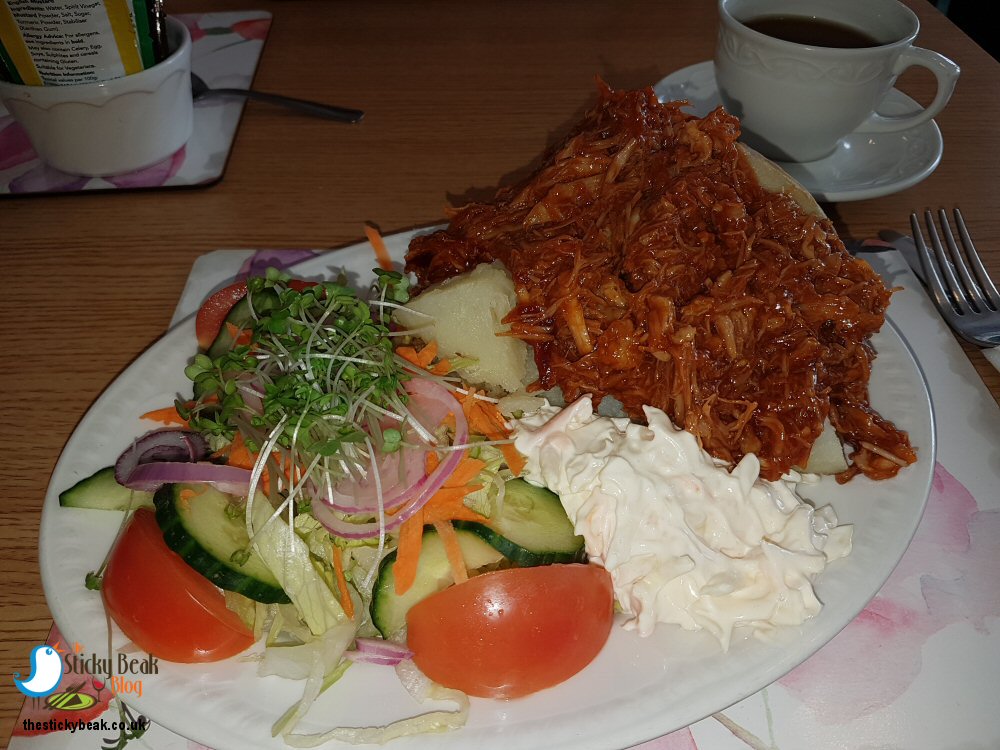 Across the table, The Boy Wonder was gobbling away merrily on his sizeable jacket potato that had a meat mountain piled on top of it. The Pulled Pork had a superb smoky smell to it from the sauce, and His Nibs said it hadn't just a hint of sweetness to it as well, making it a lovely, well-rounded BBQ partner for the pork shreddings. The meat was beautifully tender and you couldn't fault it at all.

Lady luck was shining on me as The Boy Wonder wasn't in a salad mood (apart from the onion) so I got all his salad on my plate – bonus! An elderly gent was finishing up his Banana Split; clearly a regular, as Michelle ordered him a taxi whilst one of the girls helped him and his walking frame down the step to the toilets. There was also a family having a late lunch, no doubt they'd been building sand castle on the beach and forgotten the time!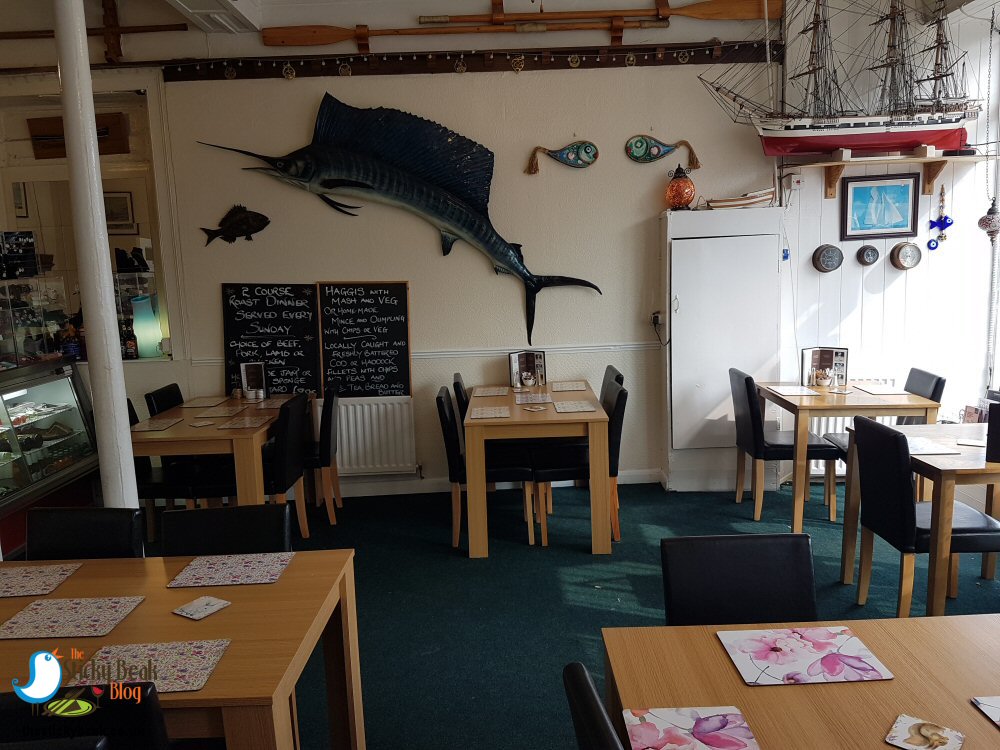 There isn't anything fancy-pants about The Endeavour, but it serves home-cooked grub and it's clean and friendly, so what does it need to be fancy for? As the saying goes "if it ain't broke, don't fix it" and Michelle and her team are clearly doing something right, as whenever we looked in the window there were several tables occupied. At peak lunchtimes it gets absolutely rammed!

Hot Wings given again for this little gem, hopefully see you next year.
No incentive was provided to visit this venue
read more