A Break From Shopping, Lunch At Giraffe, Meadowhall, Sheffield
---
Published On Wednesday 1 Aug 2018 by Sticky Beak
See Recent Dining Out Reviews | See All Recent Reviews


School's out for summer and the weather is el scorchio; so what do me and my flock do? Yep, go shopping to the indoor retail Mecca that is Meadowhall! In fairness though, we did have a purpose for this journey – holiday clothes – else we'd have been at a park picnicking.
We kicked things off with a yummy brekkie; well, with a hard day's retail therapy ahead we needed to fuel up didn't we? His Nibs was definitely getting more than a gentle workout carrying the bags around for Chick, Mummy Bird and me! I have to say that all the staff members we met in the shops were lovely, and very helpful.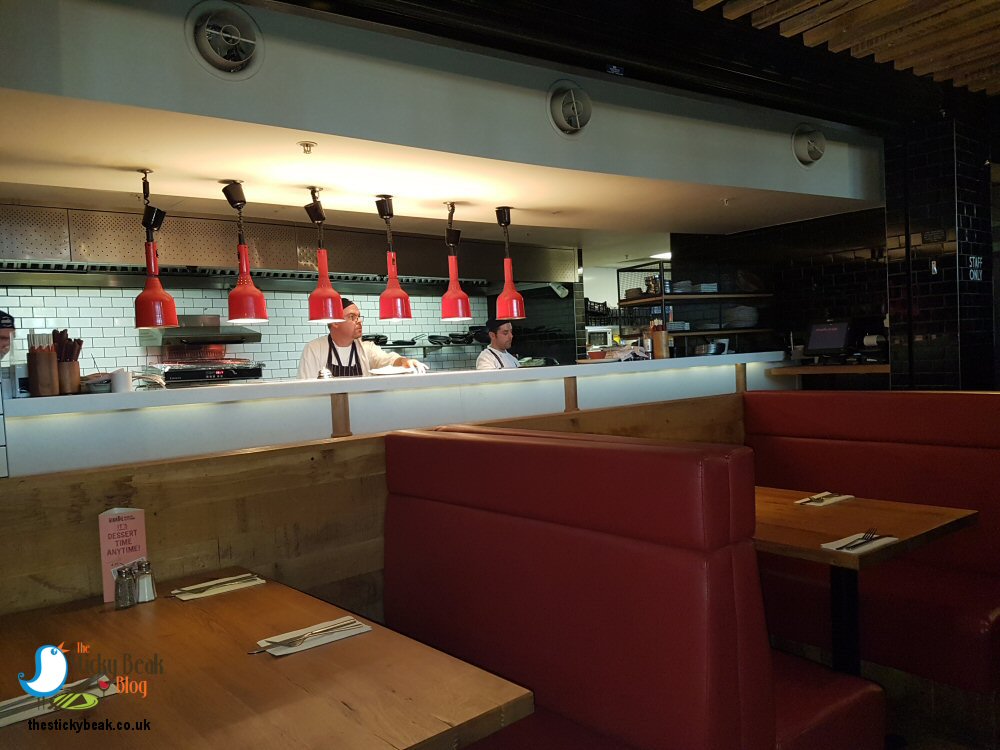 The Man Bird decided to off-load the bags to the car before we headed to Giraffe for lunch, so "us girls" waited for his return on one of the padded benches on the way to the food court. As we approached Giraffe we could see that a lot of the outer tables were taken so we were glad that we'd rung ahead and reserved a table. We were taken to a table inside that was smack-dab in front of the open kitchen – perfect!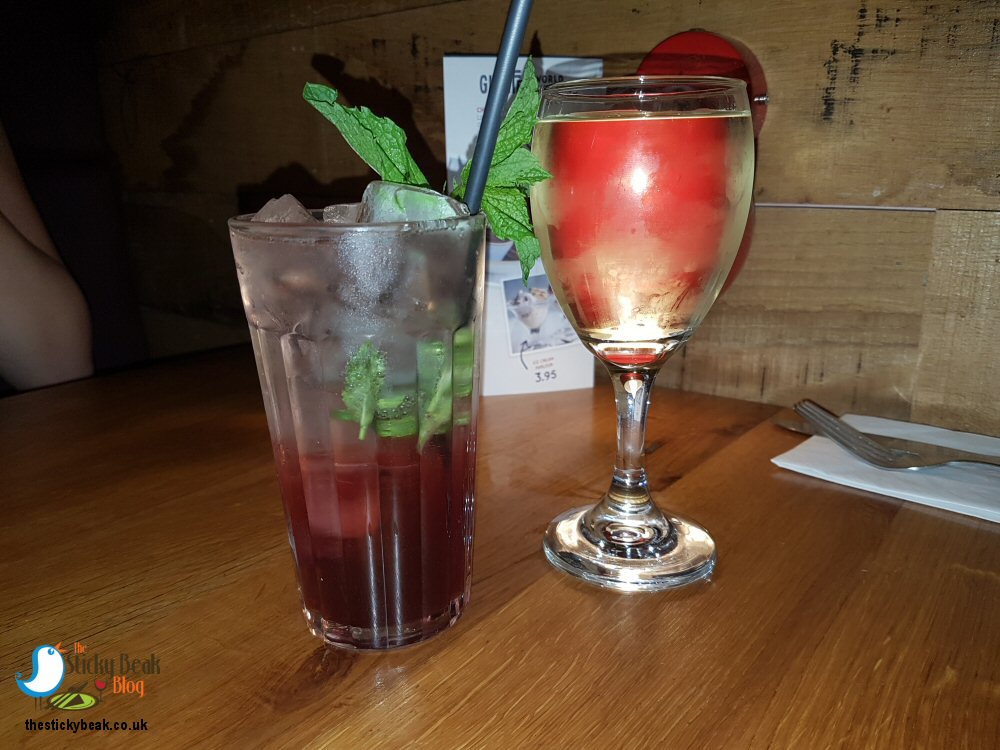 First thing on the action plan was to get some drinks ordered. It's thirsty work trying on oodles of lovely garments y'know. Chickadee fancied the Elderflower Collins, a lovely thirst-quenching drink and I had a glass of Sauv Blanc from NZ. Mummy Bird had her fave, Pinot Grigio, and The Man Bird had a large Peroni – he'd earned it bless him!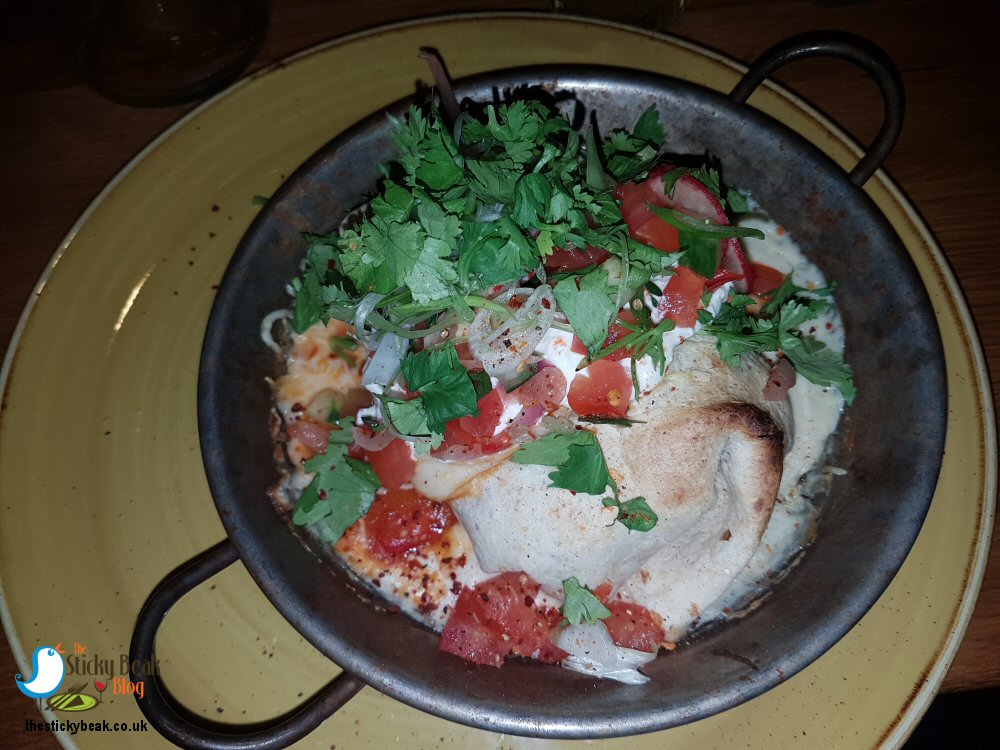 On account of having a big breakfast we all decided to skip starters, and get straight to main courses; a wise decision as it turns out, the Chef at Giraffe is certainly a feeder. Mummy Bird and His Nibs both fancied the Enchilada Chicken Tinga, Chick had the Katsu Chicken Noodles and I had the Chicken, Prawn and Mango Salad. We ordered a portion of the Homefries to share among us all.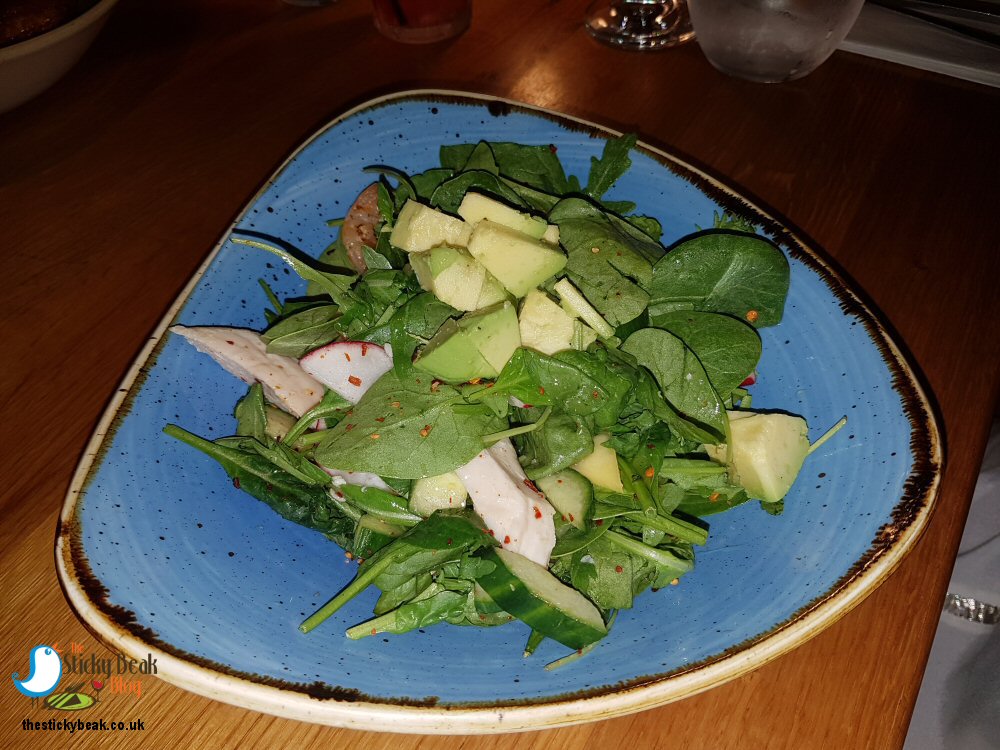 The Enchiladas were very generous in size; they had my Mummy Bird's eyes popping out on stalks! Smoky Chicken, rice and Black Beans are crammed into the tortillas, smothered in a rich, zingy Tomato sauce and covered in a generous layer of cheese. Oven baking these morsels melts the cheese into gorgeous gooeyness, then this delicious package is topped with Pico de Gallo and cooling sour cream; perfect on a warm lunchtime.

His Nibs and Mummy were both impressed by the amount of moist chicken in the dish, and really got their chops around the wonderfully zingy sauce. The whole dish was tempered nicely by the sour cream, and their verdict was one of total positivity.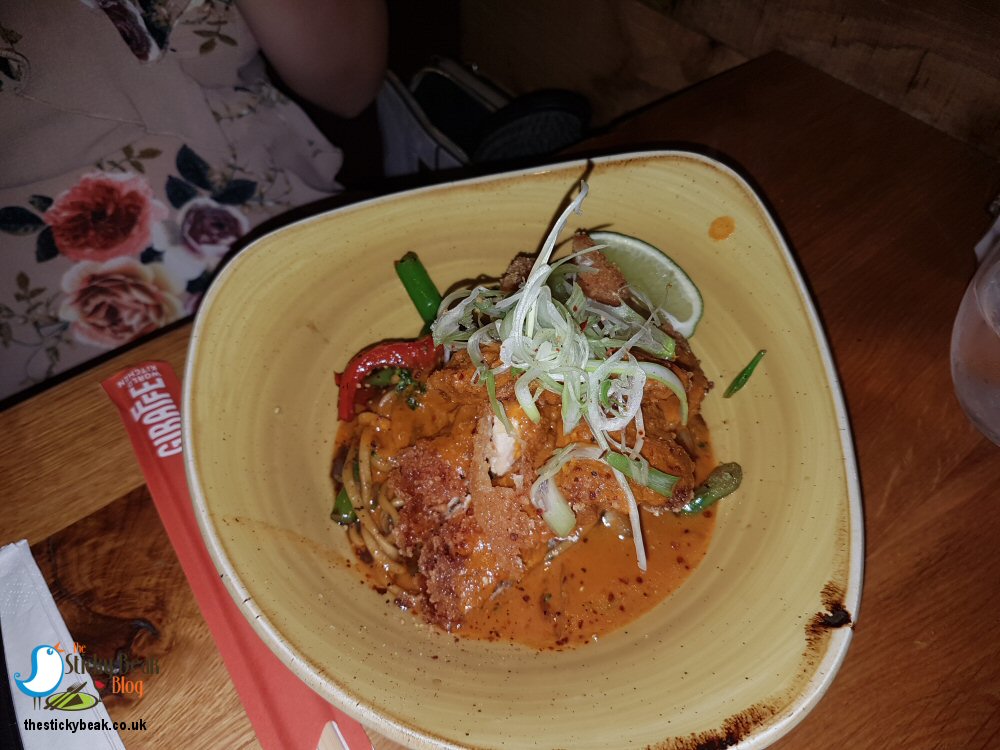 Across the table from me, Chickadee was merrily chowing down on her thick strips of Katsu Chicken that was perched on a deep bed of noodles and stir-fries veggies, all topped with wonderfully rich, creamy Katsu sauce. Such was her gusto, she abandoned the chop sticks provided and used her fork instead; much quicker and easier for a hungry fledgling! The Panko coating on the chicken was superbly crunchy, even when it had been among the sauce for a bit. The stir fried component of the dish wasn't at all greasy, so she got all the flavour and spices on her tongue.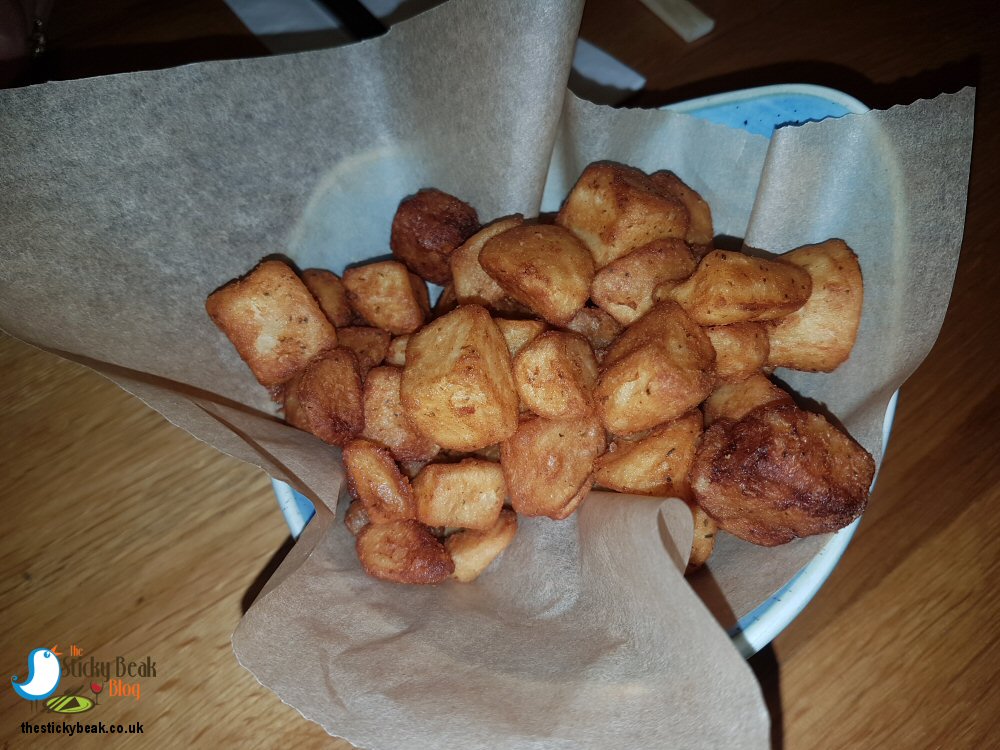 My salad was a veritable smorgasbord of taste and texture! As well as an assortment of fresh salad greens my palate was getting to grips with crunchy Radish slices, creamy Avocado cubes and sweet, aromatic Mango slices that had all been tossed in a fresh, fragrant Pineapple, Lemongrass and Ginger dressing. It was lively and bright in my mouth, and really brought the natural sweetness of the King Prawns out. The addition of succulent Chicken breast gave another element of texture and taste to the dish, and really satisfied the appetite.




It took a bit longer than usual for us to polish off the grub, as there'd only been 3 ½ hours between brekkie and lunch, but eventually there were four clean dishes on our table. We swerved dessert too, although I had been sorely tempted by the Churros! I listened to my protesting waist band on this occasion; I think that I would only have managed a couple of bites and had to leave the rest – and I really don't like to waste food.

Throughout our meal, our server had been so lovely; checking we were happy with our food, bringing a bottle of chilled, iced water out for us, and asking if she could do anything for us. We left Giraffe feeling very happy and contented; we'd happily go back to eat there again, so Hot Wings awarded to this busy team.
No incentive was provided to visit this venue
read more
Read Some Of Our Recent Reviews
---

Out For Dinner At The Bear Inn, Alderwasley If it's the full on, single track road, rural Derbyshire experience that gets your motor running, then the journey to The Bear Inn at Alderwasley will have you in joyous raptures. For those of you who are Read The Article

---

Lunch At The Recently Opened Chatsworth Kitchen At Peak Village, Rowsley Everyone who knows me, knows I love Chatsworth (always have, always will) so when the invitation to sample lunch at the newly opened Chatsworth Kitchen Read The Article

---

A Visit To Vietnamese Street Kitchen, Resorts World, Birmingham Way back in the day (pre-covid) Fledge had bought me and The Man Bird tickets to see Mrs Browns Boys live and finally, after a couple of false start reschedules, the day of Read The Article

---

Sunday Lunch, A Museum Tour & Painting A Piece Of Denby At Denby Pottery Village It wasn't long ago that His Nibs and I visited the Denby Pottery Village to sample the Afternoon Tea at Bourne's Coffee Shop and Bistro (it was superb Read The Article

---

Bottomless Brunch At Turtle Bay In Derby The timing of the invitation from the Turtle Bay team in Derby to go and sample their Bottomless Brunch couldn't have been better; not only was it going to be The Man Birds' birthday a couple of days later Read The Article

---

Afternoon Tea At Santo's Higham Farm Hotel & Restaurant Aaaaaarggggh, don't you love your children??!! A while back, His Nibs had spotted a great deal on Groupon (you know what a bargain hound he is!) and thought it would be Read The Article

---

Sunday Lunch At The Countryman Pub & Dining, Kirkby-in-Ashfield We finally got to visit a venue thats been on our radar for quite a while, The Countryman Pub and Dining in Kirkby-In-Ashfield! A few weeks ago we tried to book a table for dinner Read The Article

---

Dinner At The Divan Turkish Restaurant In Chesterfield Chesterfield was welcoming us back again for our latest review visit; this time to the newly opened Turkish restaurant, The Divan, on Lordsmill Street. Owner Tuncay (along with Read The Article

---

Breakfast At Marsh Green Farm Shop & Cafe, Kelstedge Ah, you've gotta love a Bank Holiday curve-ball, haven't you? His Nibs and I headed over to Mummy Birds' gaff with the intention of having a leisurely couple of hours at the Sunday Read The Article

---

Afternoon Tea at Bourne's Coffee Shop and Bistro, Denby Pottery Village You all know that The Man Bird and I do like an Afternoon Tea; I mean, who doesn't?! Just a few miles down the road from the nest is Denby, home to the world-renowned Read The Article

---