Dinner With Friends At The Grand Siam Thai in Eastwood
---
Published On Thursday 15 Mar 2018 by Sticky Beak
See Recent Dining Out Reviews | See All Recent Reviews


The Man Bird and I are blessed to have a wonderful circle of friends, and jumped at the chance to go and eat somewhere new with another couple. Tree Hugger and Mrs Hugger had been recommended to try the Grand Siam Thai restaurant in Eastwood by one of their (now fully fledged) Chicks, so Drew booked the table and off we tootled.
The staff were all uniformed in the stunning traditional dress of Thailand and were so polite when we arrived. Grand Siam is clearly a popular venue as the place was packed as we arrived at 7.30pm; definitely a place that you need to ring ahead and reserve a table at. There were couples, groups of couples, and groups of friends celebrating so the restaurant has a wide customer appeal; I didn't see any children there, but that could be because Thai cuisine isn't an obvious choice for young ones.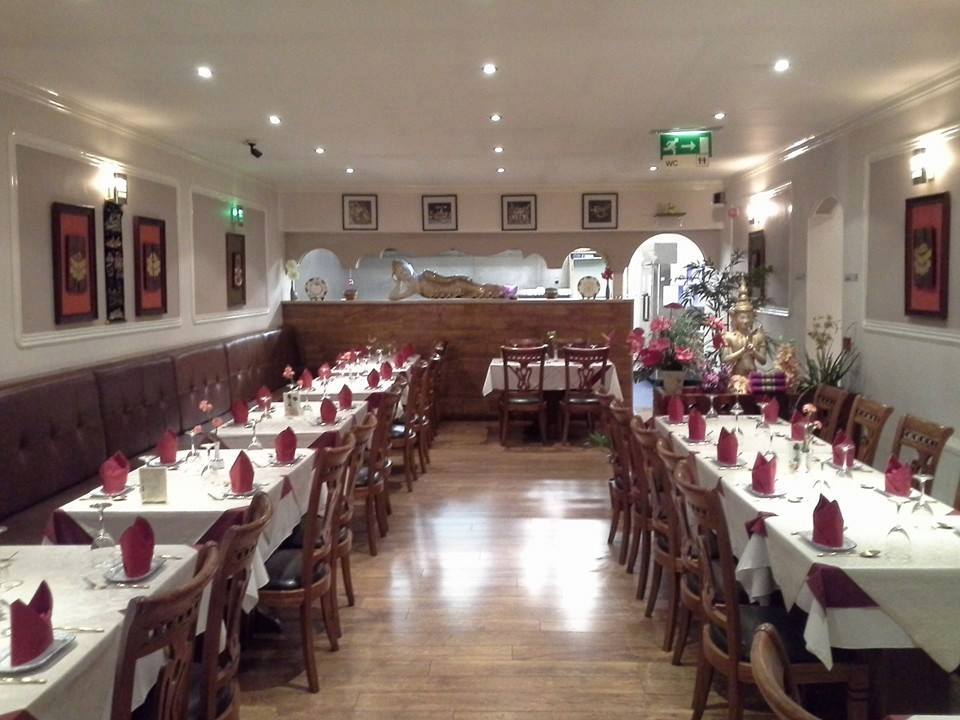 The decor is very unobtrusive, just detailed ceiling cornicing, traditional art, and stands of red Anthuriums; nothing blingy, but beautiful just the same. I remarked that the cutlery was the same design as that found at Buxton's Simply Thai venue; clearly the bamboo-inspired style of it works well at this genre of restaurant.


As well as the food menus, we were given a drinks menu with a good selection of beverages to choose from. His Nibs was the designated driver so he had diet Coke, the rest of us had a bottle (or two!) of Sauvignon Blanc. One of the lovely ladies also poured us glasses of chilled water unprompted, which I thought was a nice touch.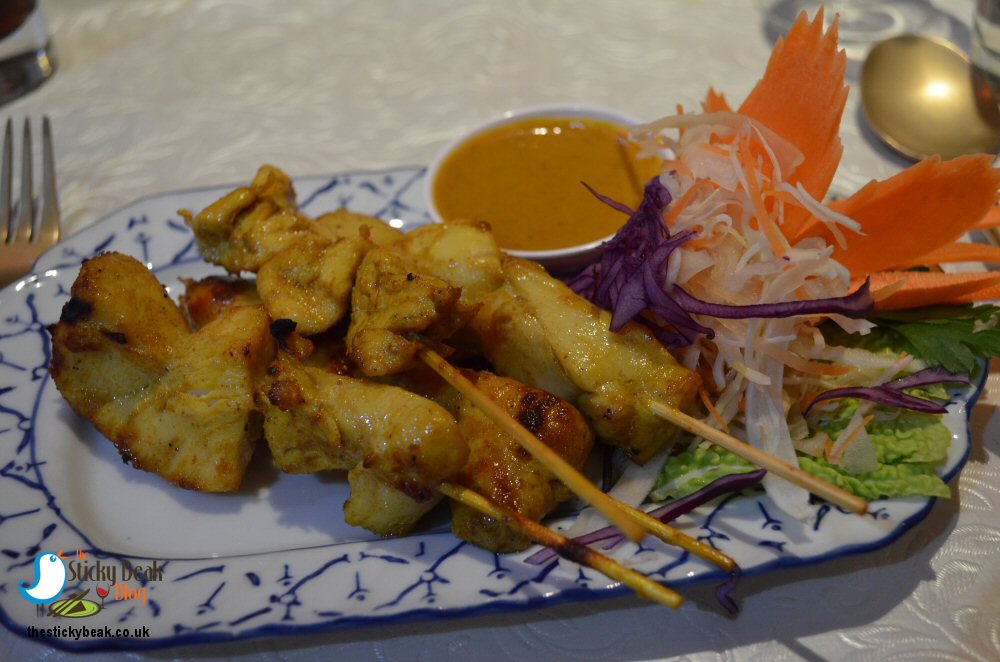 For starters the men had skewers of marinated chicken grilled over charcoal served with Peanut sauce, Mrs Hugger had Duck and Vegetable spring rolls with Hoisin sauce, and I had Tom Kha (soup) with Prawns and Mushroom. The presentation of all the dishes was lovely, especially the plated ones; these had flowers fashioned from carrot and delicate shreds of red and white cabbage. My soup had been garnished with sprigs of fresh Coriander which contrasted beautifully with the cream colour of the soup.


Usually when you get chicken skewers for a starter there's two of them; Grand Siam give you four (!) and they're the same size as normal. Luckily the lads were hungry and tucked straight in, with no hesitation. Treehugger doesn't mind a bit of spiciness although he is a little wary when trying something new, but he really liked the peanut Satay sauce and its gentle spice. The chicken was deemed to be delicious, nice and tender and plenty of flavour to it.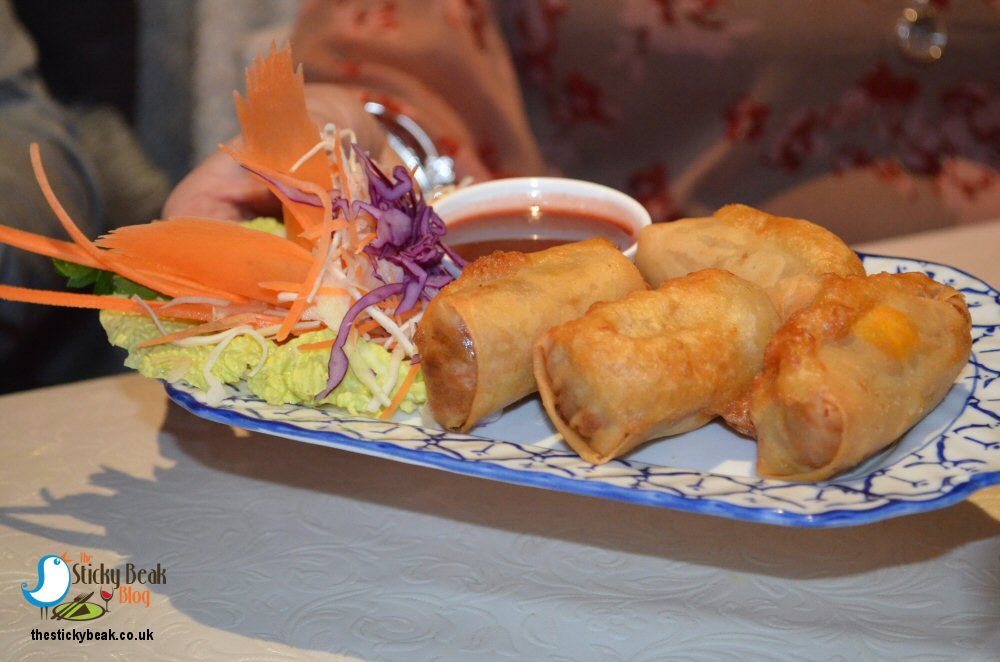 "My Susan", as I call Mrs Hugger, was a little taken aback by the size of the duck and vegetable spring rolls; rightly so, they were definitely well proportioned! They had a superbly crispy outer that was nice and thick, giving a lovely cracking sound when bitten into, and they weren't at all greasy. Grand Siam chefs must have a secret kitchen competition to see how much filling you can actually stuff into these rolls; they were rammed to the hilt with moist duck shreds and crunchy vegetables!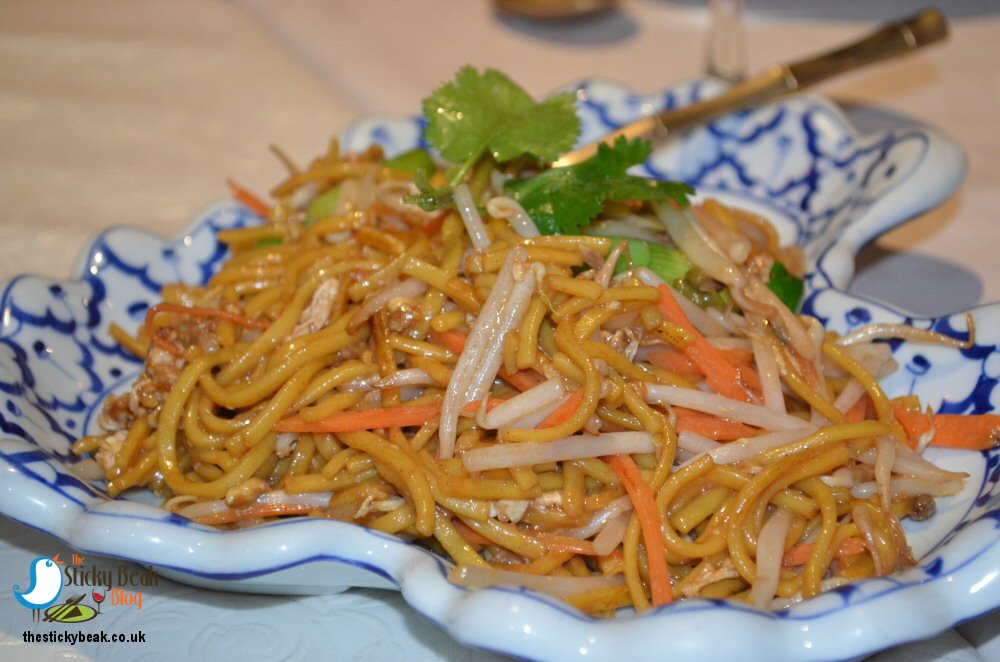 My Tom Kha was excellent, I really got the hot and sour notes from the Lemongrass, Galangal, Lime leaves and Coriander in my mouth; the Coconut milk softened these wonderfully well with its gentle mellowness. There were plenty of King prawns and quartered Mushrooms in there to provide a satisfying starter, and I couldn't wait to see what our mains would be like.


Given that Treehugger and Mrs Hugger are new to Thai cuisine they eased themselves in fairly gently; he had a Green Curry with Coconut Milk and Chicken, she had Thai style Sweet and Sour with Chicken. The Man Bird chose stir fried Squid and vegetables with Chef's special sauce, and I had one of Chef's speciality dishes –stir fried seafood in red curry paste with fine beans, bamboos shoots, peppers, courgettes and aubergine. To share amongst us all we ordered two bowls of sticky rice, two steamed coconut rice, and a stir fried noodle dish with egg, bean sprouts, carrot, and spring onion.


Again, the presentation was exquisite with lots of colours catching the eye. Mrs Hugger and I both liked the lidded bowls that held the rice dishes, they looked lovely. Each main course came with its own serving spoon, so there was no faffing about with forks trying to get bits off the dish.


Treehugger really enjoyed his green curry; he found it spicy initially but stuck with it and it didn't take long for his mouth to acclimatise :) Adding plenty of rice and noodles helped to disperse the spices too, and he was bowled over by the coconut rice's flavour, having never tried it before. My Susan had chosen her dish on the recommendation of the adjoining table; she'd liked the look of it and asked the young lady what it was. It was every bit as tasty as our fellow diner had said, so Mrs Hugger was more than happy tucking in to it; the portions are generous, so Susan didn't manage to finish her main.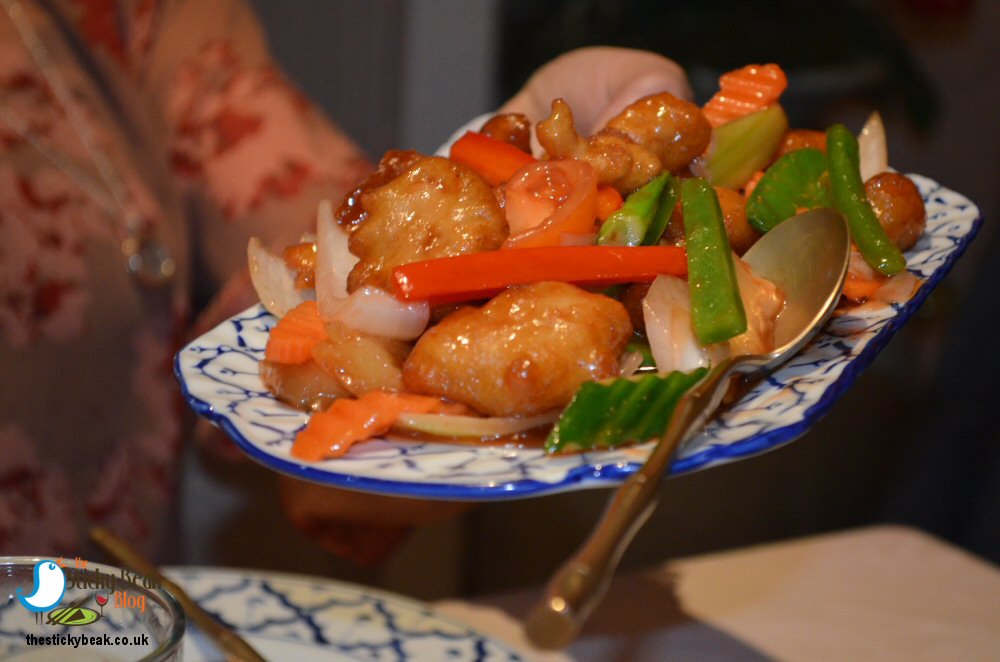 I have mentioned in previous blogs that The Boy Wonder and I are fussy when it comes to seafood being over-cooked, but there was no chance of this happening in Grand Siam's kitchens. Both our dishes had Squid in and it was fantastically soft and tender in both cases, so we had grins of joy on our mushes! His Nibs' dish was medium in terms of spiciness; it had a bite but not tongue tinglingly so, and the vegetables just had a nice bit of crunch left to them.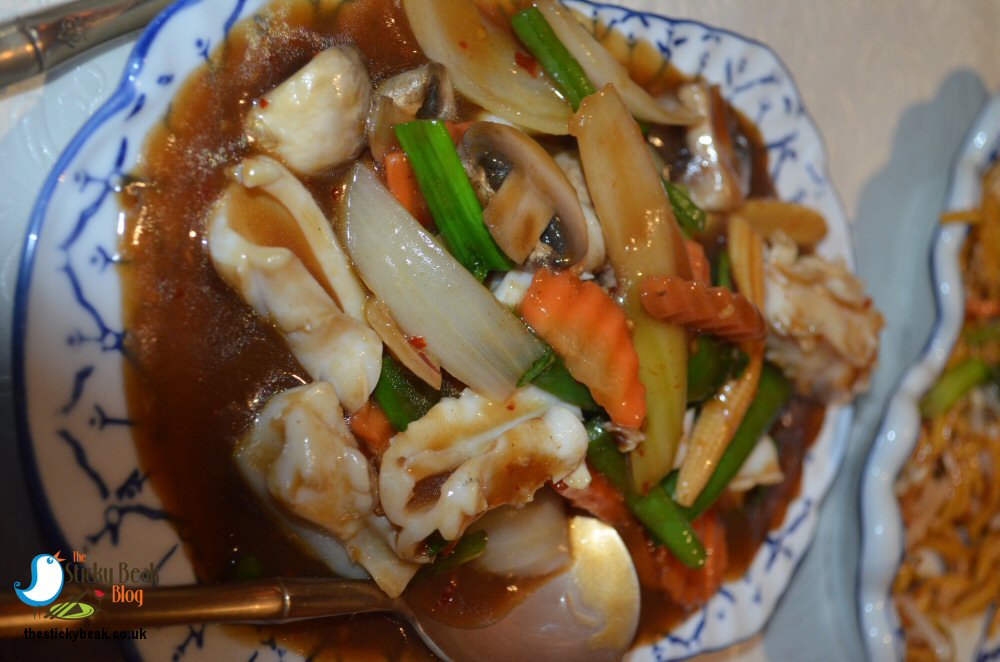 My dish was definitely the hottest on our table, deserving the two chillis rating it was given on the menu. Personally, I love spicy food, and this was a rounded heat so it wasn't at all harsh on the palate unlike some that have you reaching for the water! As well as Squid, there were lovely fat, juicy King Prawns and plump mussels in the shell for me to gobble up; all of which were simply marvellous. I used the sticky rice's denseness to my advantage, employing it to soak up as much of the aromatic sauce as possible.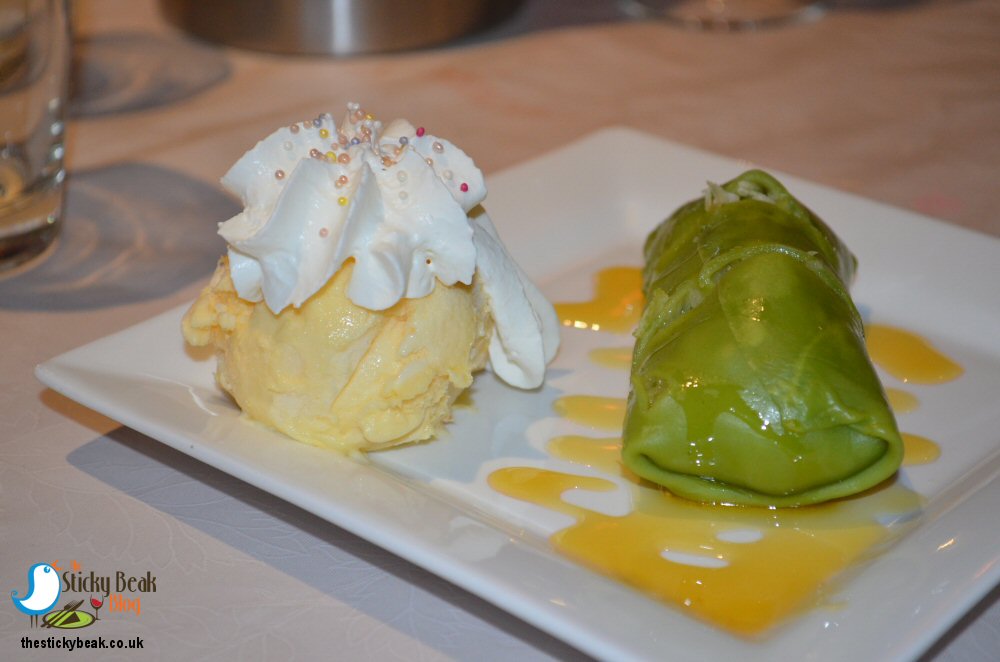 For pudding Treehugger and I both fancied the Coconut Pancakes, His Nibs had his perennial favourite, Banana Fritter, and Mrs Hugger declined as she was full. Texture-wise the pancakes were gorgeous, filled as they were with shreds of Coconut and they tasted super; not too sweet as to make them sickly, and you got the gentle fragrance of the coconut clearly on the palate. The Man Bird was most happy with the uber-sticky dish that was his fritters and syrup combo.




The fritter batter was lovely; not greasy, just thick and crunchy, revealing the soft fruit inside. All the desserts had big scoops of vanilla ice cream with them and these had a beautifully decorative scattering of iridescent sparkles on them that gently caught the light.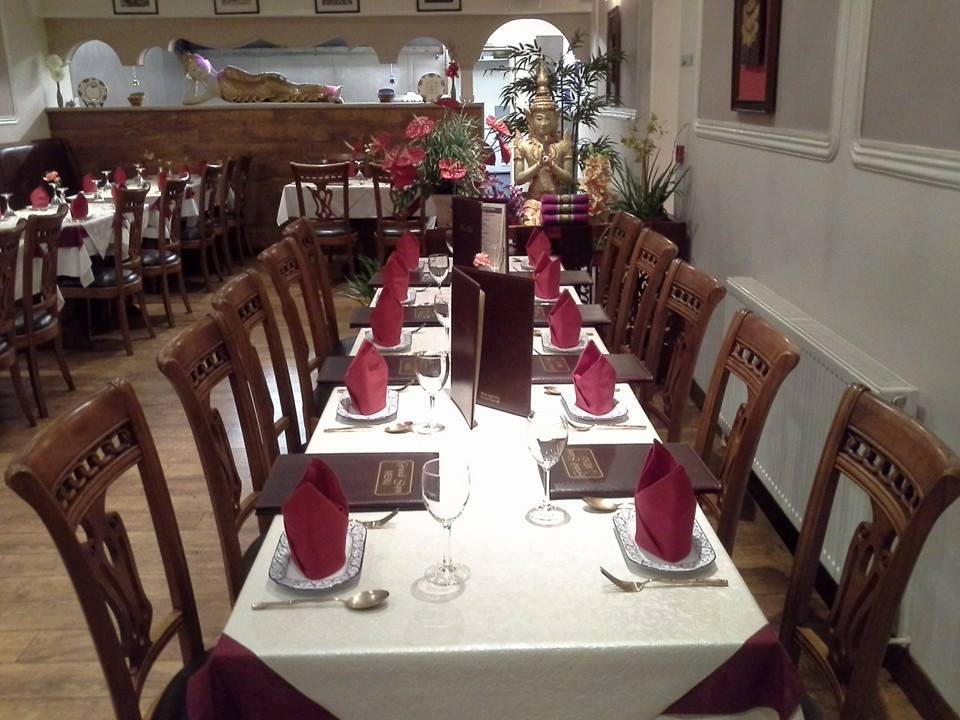 We finished things off with black coffees and couldn't stop talking about how delicious our food had been and what good service we'd had all night. If you haven't been before (and none of us had) I can thoroughly recommend it; as I said earlier though, ring ahead and reserve a table otherwise you may well be disappointed.
Grand Siam is open Monday-Thursday 5.30pm-10pm, Fridays and Saturdays Noon-2.30pm, and 5.30pm-11pm, closed all day Sunday. Hot Wings awarded here, we'll definitely be back :)
No incentive was provided to visit this venue
read more
Read Some Of Our Recent Reviews
---

Out For Dinner At The Bear Inn, Alderwasley If it's the full on, single track road, rural Derbyshire experience that gets your motor running, then the journey to The Bear Inn at Alderwasley will have you in joyous raptures. For those of you who are Read The Article

---

Lunch At The Recently Opened Chatsworth Kitchen At Peak Village, Rowsley Everyone who knows me, knows I love Chatsworth (always have, always will) so when the invitation to sample lunch at the newly opened Chatsworth Kitchen Read The Article

---

A Visit To Vietnamese Street Kitchen, Resorts World, Birmingham Way back in the day (pre-covid) Fledge had bought me and The Man Bird tickets to see Mrs Browns Boys live and finally, after a couple of false start reschedules, the day of Read The Article

---

Sunday Lunch, A Museum Tour & Painting A Piece Of Denby At Denby Pottery Village It wasn't long ago that His Nibs and I visited the Denby Pottery Village to sample the Afternoon Tea at Bourne's Coffee Shop and Bistro (it was superb Read The Article

---

Bottomless Brunch At Turtle Bay In Derby The timing of the invitation from the Turtle Bay team in Derby to go and sample their Bottomless Brunch couldn't have been better; not only was it going to be The Man Birds' birthday a couple of days later Read The Article

---

Afternoon Tea At Santo's Higham Farm Hotel & Restaurant Aaaaaarggggh, don't you love your children??!! A while back, His Nibs had spotted a great deal on Groupon (you know what a bargain hound he is!) and thought it would be Read The Article

---

Sunday Lunch At The Countryman Pub & Dining, Kirkby-in-Ashfield We finally got to visit a venue thats been on our radar for quite a while, The Countryman Pub and Dining in Kirkby-In-Ashfield! A few weeks ago we tried to book a table for dinner Read The Article

---

Dinner At The Divan Turkish Restaurant In Chesterfield Chesterfield was welcoming us back again for our latest review visit; this time to the newly opened Turkish restaurant, The Divan, on Lordsmill Street. Owner Tuncay (along with Read The Article

---

Breakfast At Marsh Green Farm Shop & Cafe, Kelstedge Ah, you've gotta love a Bank Holiday curve-ball, haven't you? His Nibs and I headed over to Mummy Birds' gaff with the intention of having a leisurely couple of hours at the Sunday Read The Article

---

Afternoon Tea at Bourne's Coffee Shop and Bistro, Denby Pottery Village You all know that The Man Bird and I do like an Afternoon Tea; I mean, who doesn't?! Just a few miles down the road from the nest is Denby, home to the world-renowned Read The Article

---