Dinner At Simply Thai in Buxton
---
Published On Thursday 8 Feb 2018 by Sticky Beak
See Recent Dining Out Reviews | See All Recent Reviews


Well, all I can say about our latest visit is better late than never - and the blame lies squarely at my tardy little feet. We have been tweeting with the lovely Mim from Simply Thai in Buxton for roughly 2 years, saying that we are going to come and eat and time has continued to run away with us. The fact that My Daddy Bird was having a jolly with his man friends spurred us into action and we suggested a night out with Mummy Bird and the Chick.
Our trusty jalopy got us safely to the picturesque town of Buxton and we made our way into the restaurant. The entrance of the restaurant is beautiful and you are instantly struck by the huge wall carving on the right hand side, as well as the fresh notes of Lemongrass infusing the air. A large bar area is located on the left hand side of the entry, away from the dining area; ideal for those wishing to have a drink as they wait for takeaway to be prepared. There is also a large aquarium filled with various Tropical fish, mesmerising as their vibrant colours catch the eye as they swim around.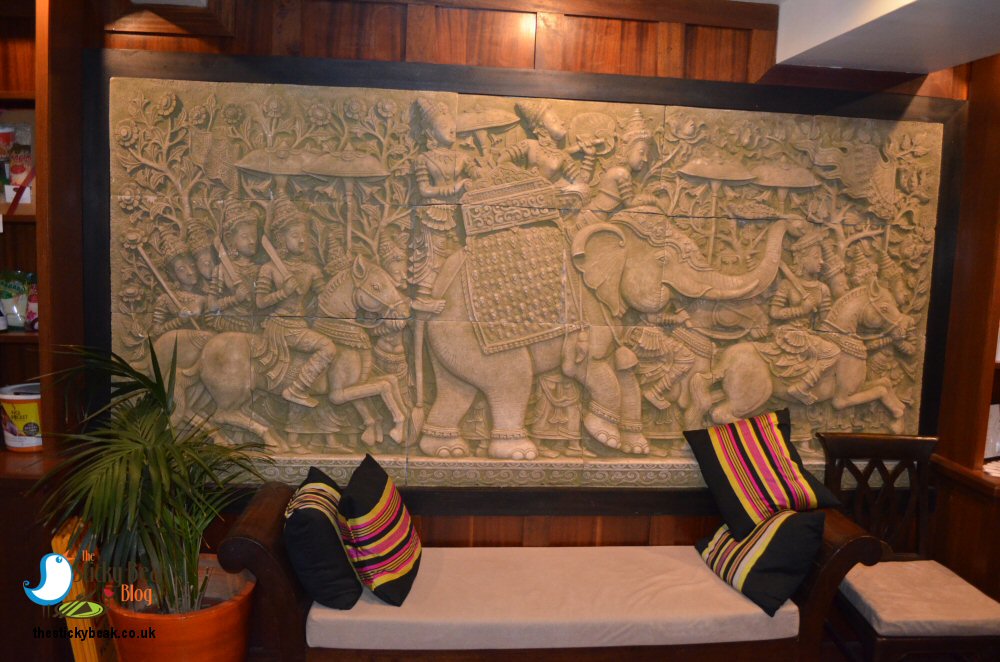 Mim greeted us like long lost friends and it was so nice to finally meet her in person; she was every bit as charming and glamorous as I had imagined :) We were escorted to our table and the downstairs area was already very busy, despite it only being 6.30pm. There is also an upstairs dining area and as we left we glanced up and saw that this was busy too.
All the staff are dressed in traditional dress with the most exquisite brooches adorning their clothes, and all evening the attention they lavish on diners is superb. We were given menus for food and drink to look at and given sufficient time to decide what we wanted. His Nibs was driving but ordered a bottle of Singha beer to have with his food, Mummy Bird and I had a very smooth bottle of Malbec, Chickadee stuck to water as she didn't want any wine.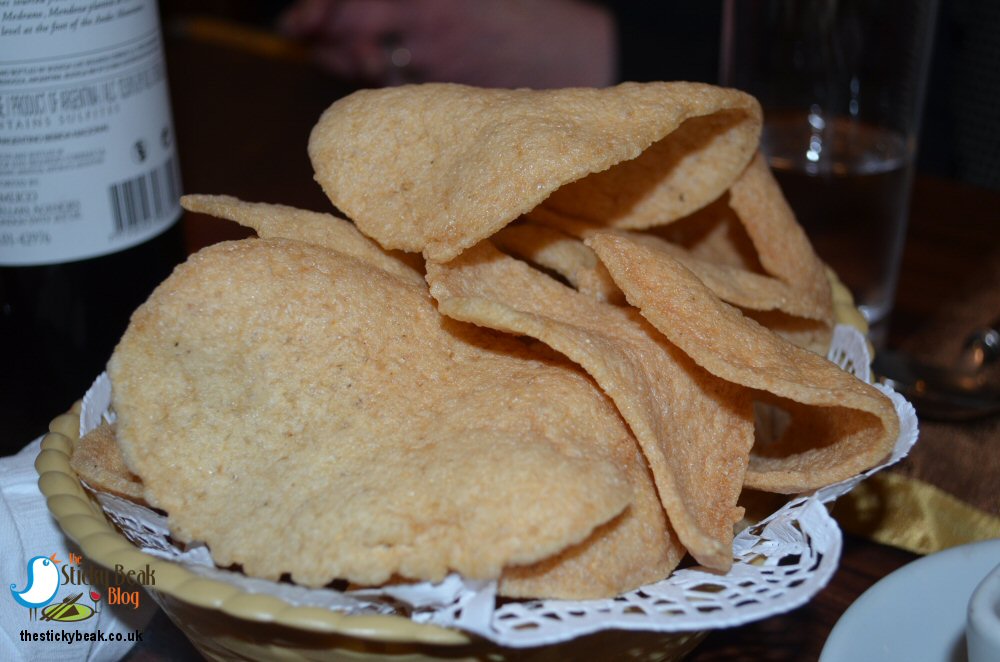 A bowl of Thai crackers was brought to the table along with a sweet Chilli dipping sauce and we eagerly munched away on those as we selected the dishes we fancied. For starters Mummy Bird and Chickadee both had dishes containing prawns with sweet chilli dipping sauce (Chick's dish also had chicken in it), I had marinated pork skewers with spicy Tamarind sauce, and The Man had homemade curry puff parcels filled with chicken, onion, and potato.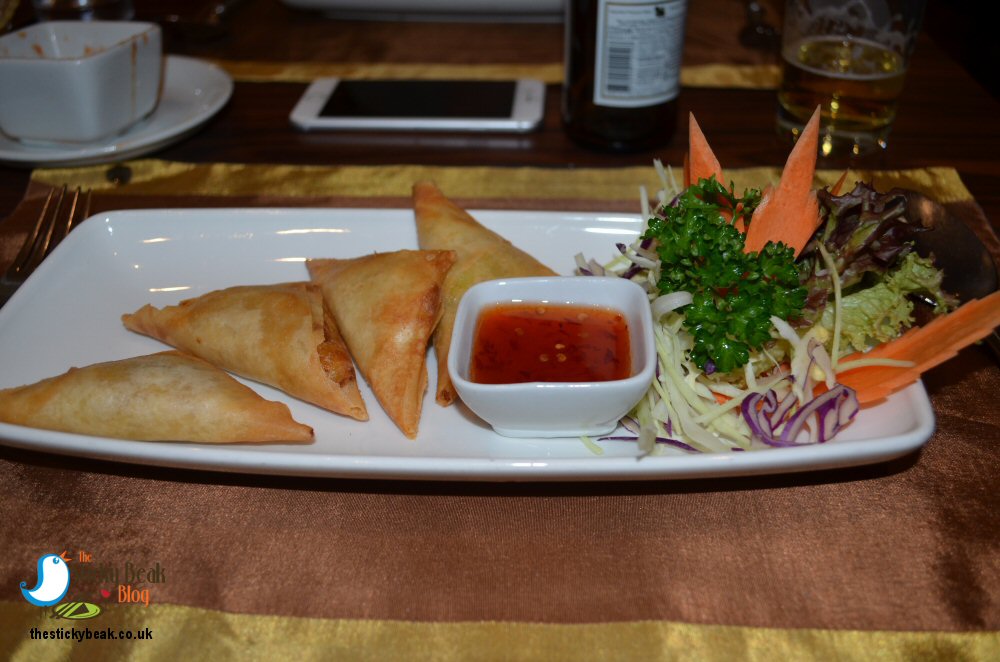 Without exception, the dishes were incredibly well presented with garnishes of carved vegetables, fresh herbs and shredded cabbage drawing the eye to them. Chickadees thin pastry parcels were full of filling and the contrast of crispy outer and soft inner was lovely in the mouth. Mummy Bird was thrilled with her deep-fried marinated prawns; as with The Chicks dish, the pastry was thin and very crispy when bitten into.


My own Pork skewers were lovely and tender, and it was a good size portion for a starter. The Tamarind dipping sauce partnered the skewers really well; its spicy, smoky flavour suited the creamy Pork taste beautifully. The Boy Wonder was munching happily away on his curry puffs, and was very pleased with how much filling was in each one.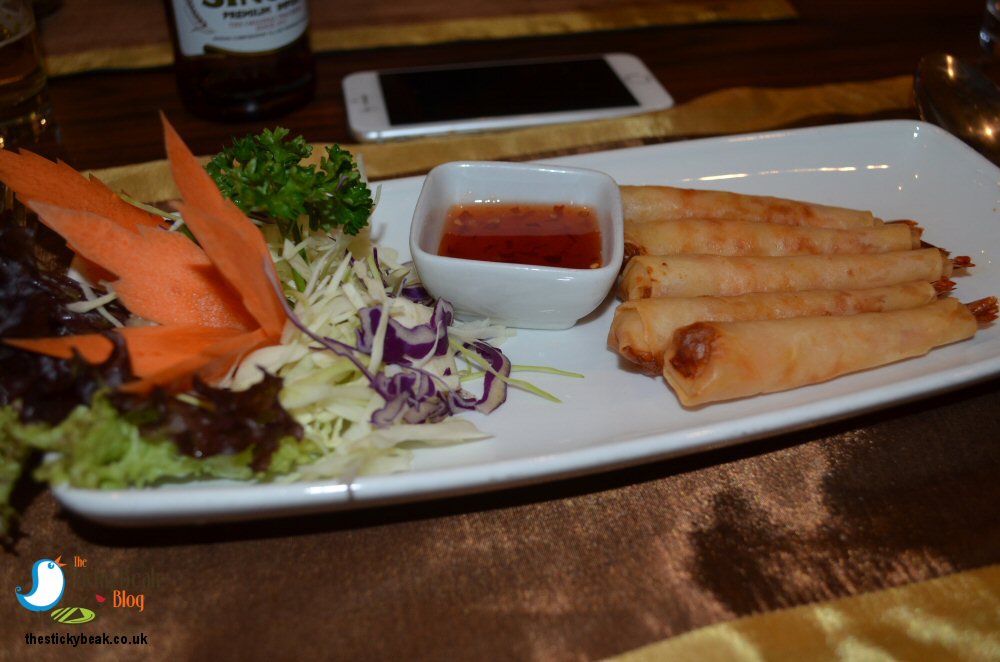 As our starters were quietly cleared away we all took time to look around at our surroundings in a bit more depth. Wood panels on the walls gave a subtle warm, calming feel to the room and there were some ornate gilded Peacock statues to admire too. Colourful Anthuriums in pots added splashes of colour; I love to see fresh blooms in a restaurant, whether it's in pots or on the tables.

It wasn't long before our main courses were being placed in front of us, and we'd been impressed with the starters' presentation but Chef had really excelled with our mains. For my main course I had chosen the Pad Ped Talay - stir fried mixed seafood (Mussels, Prawns and Squid) in a Thai curry paste, with Krachai (rhizome), Mange tout, young Thai Peppercorns, Fine Beans, Courgette, and Aubergine.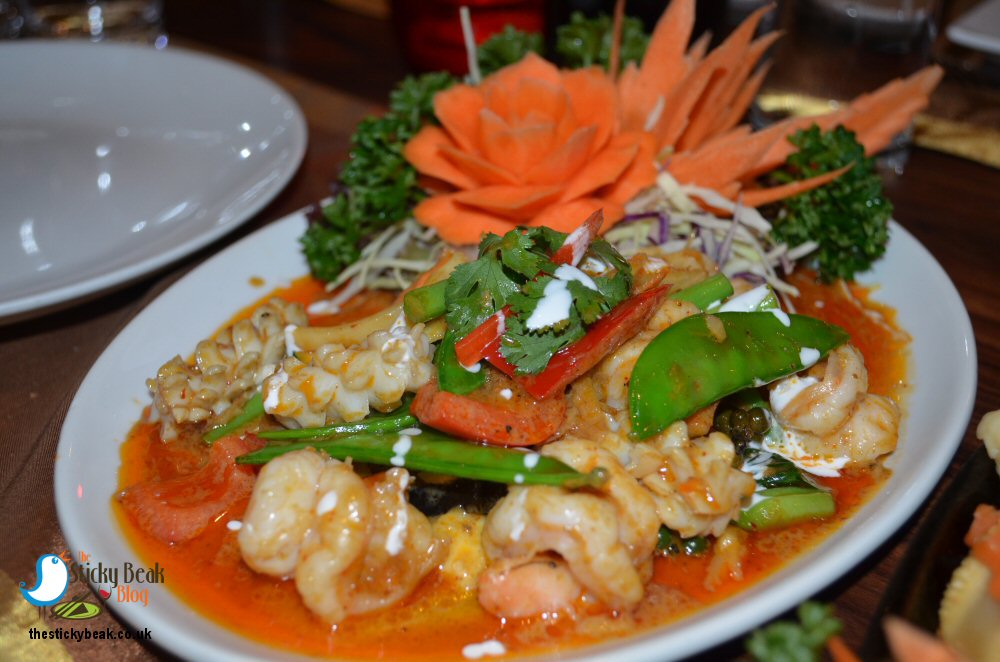 Chef had carved the most beautiful rose flower and leaves from carrot and placed it on a bed of finely shredded Cabbage and Herbs, and I had to admire it for a while. All the seafood was expertly cooked, so it was tender and full of flavour; there's nothing worse than rubbery, over-cooked seafood. I was amazed by the size of the Mussels –they're definitely the biggest I've come across! The sauce was brilliantly punchy and spicy without having my lips tingling too much.

Mummy Bird had chosen a Beef dish called Neau Loaw Dang. Pieces of Beef are stir fried in Simply Thai's own recipe red wine sauce with Onion, Carrot, and Spring Onion. I had a taste of the beef and sauce and was an instant fan; the sauce was nice and robust, sweet-yet-tangy, and the beef was superb.


Chickadee had kept things fairly simple for her main, choosing stir fried King Prawns with Garlic and ground Pepper on a bed of shredded Lettuce. The Prawns were juicy and succulent and a great size, and it was a classic clean, bright flavoured dish. Nothing complicated or fancy, just food cooked expertly; I've said on many an occasion that the simplest things can be the best if executed well.
The Man Bird had one of his favourite Thai dishes; Weeping Tiger. He is a sucker for a good Steak anyway, and the grilled marinated Sirloin is served with Simply Thai's special ground Chilli sauce, mixed vegetables and an Oyster sauce. I watched as His Nibs "cut" the steak with his fork side; seriously, it was that tender it fell apart with next to no pressure. Flavour -wise it was astounding too.


Being the bunch of greedy gannets that we are, we ordered all three varieties of Rice; Steamed Thai, Egg Fried, and Coconut. Each one came in a gorgeous little white lidded china bowl, and held enough for two greedy people, or three normal appetites. I can never resist coconut and the rice was subtly enhanced with shredded fresh coconut to give it a lovely creamy flavour. Chickadee is a connoisseur of Egg Fried rice's and said that Simply Thai's was very nice; not at all greasy, and with a fab amount of egg in it. The steamed rice was nice and fluffy, not stuck together at all, and provided a nice bit of substance to each mouthful of food it was eaten with.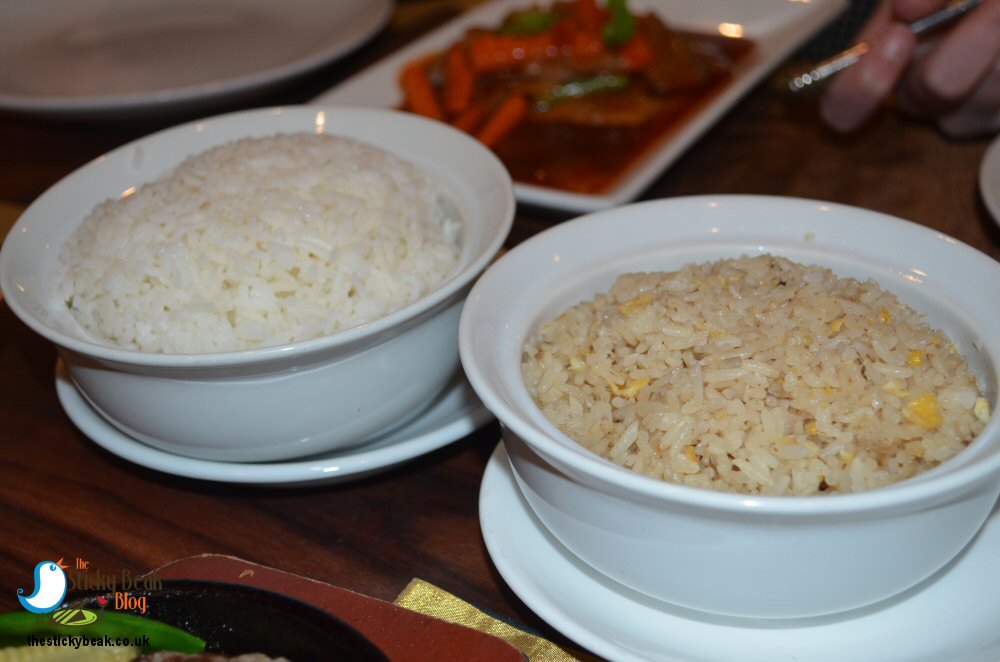 Mummy Bird and Chickadee admitted defeat after their mains, but His Nibs and I soldiered bravely on into the land of desserts. I had the intriguing Sweet Sticky Rice with Pumpkin Custard, and The Boy Wonder chose to have his perennial favourite, Banana Fritter with Ice Cream and Cream.
I was wondering what the Pumpkin custard was going to taste like if I'm honest, but having had Pumpkin Pie in the past, it had that same creamy taste and consistency. Not runny as you would imagine custard to be, more like dessert custard i.e. semi-set texture. The rice was exactly as described, sweet and sticky; perfect for a pudding. There was also a generous scoop of vanilla Ice Cream, whipped fresh Cream, and fresh Strawberries in my dessert, and it was a superb way to finish my meal.


The Man Birds' Banana fritter was lovely; length-ways slices of Banana deep fried in a gossamer light batter until crispy. There was no taste of oil at all and no trace of it either, so the fruit flavour really shone through. The contrast in temperature between the hot Banana and cold Ice Cream was excellent in the mouth, and the creaminess complimented the fritters well.


To round things off Mummy Bird had Orange Tea, The Man and I had black coffees, and The Chick had a Latte. We were all incredibly delighted with our food and the overall dining experience at Simply Thai, and I have to say how reasonably priced it is too. Our starters were all £5.95 and the most expensive main course was priced £10.45; even the wine was sensibly priced at £18.95 for a bottle of good Argentinean Malbec.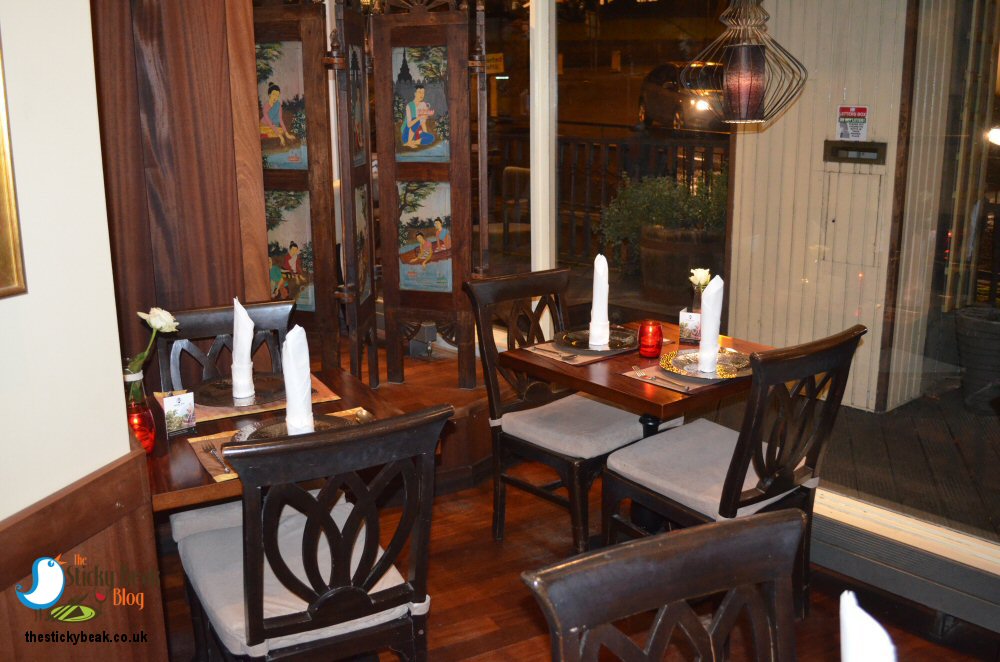 Hot Wings very happily awarded to Mim and her dedicated team J .If you haven't been before, please do go, you will have a marvellous evening. There is a misconception that Thai food is all spicy, and it's true that a lot of it is, but there is also a vast selection at Simply Thai for those that enjoy milder food. You won't find better examples of Thai cuisine in the county that is for sure; it's easy to see why it is Derbyshire's Top Thai restaurant :)
No incentive was provided to visit this venue
read more