Time For Tapas At The Black Swan, Belper
---
Published On Sunday 4 Jun 2017 by Sticky Beak
See Recent Dining Out Reviews | See All Recent Reviews


The evening saw us in Belper for an alteration appointment for The Chicks Prom Dress so we decided to check out a venue that we have been meaning to visit since before Christmas, The Black Swan. The sun had been shining all day and when we arrived there were some people having a drink outside in the evening warmth which was lovely to see; summer may finally be on its way!
The pub is nice and clean inside and we got a very friendly welcome as we walked up to the bar to get some drinks. A table by the window had been reserved for us so we all made our way over to it and started looking at the menu boards.
Before 7pm there is a cracking offer of two meals for £14 which includes all the steaks and burgers, as well as the salads and other dishes.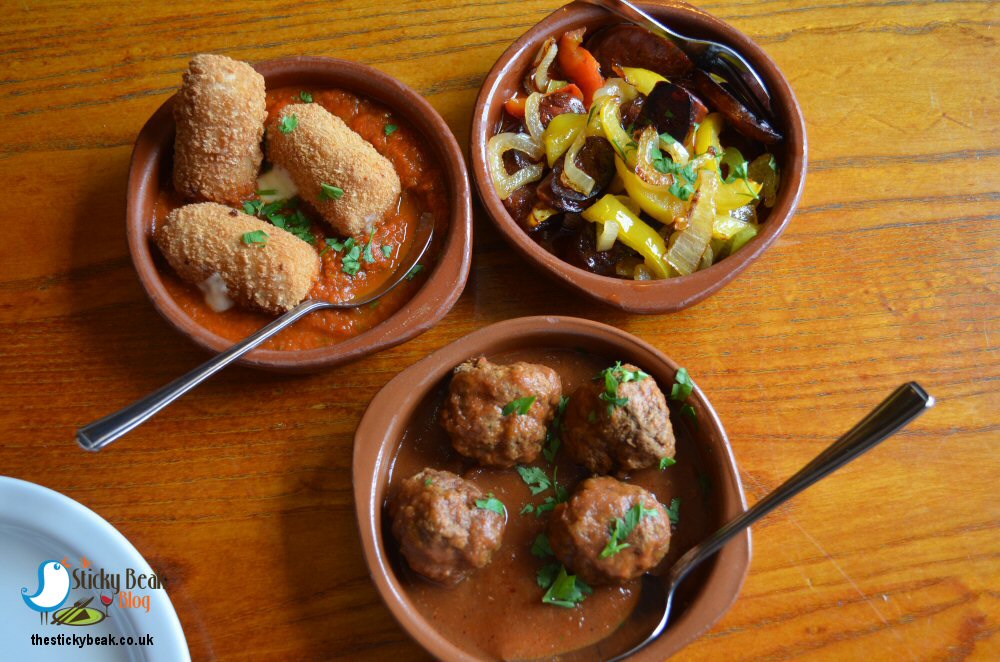 There is also the small plate/Tapas menu for you to choose from if you don't want one large meal and these are priced at £10 for 3 dishes, £16 for 5 dishes, or £30 for 10 dishes.
Chickadee was in the mood for a nibblier sort of dinner so we went for the 10 dishes of Tapas; Patatas Bravas, King Prawns in garlic oil, Whitebait with garlic aioli, Jalapeno & Cheese poppers, Chorizo, Meatballs, Piri Piri Chicken bites, Fondue baked Jalapenos, Paprika dusted Squid, and Macaroni Cheese Croquettes were duly ordered.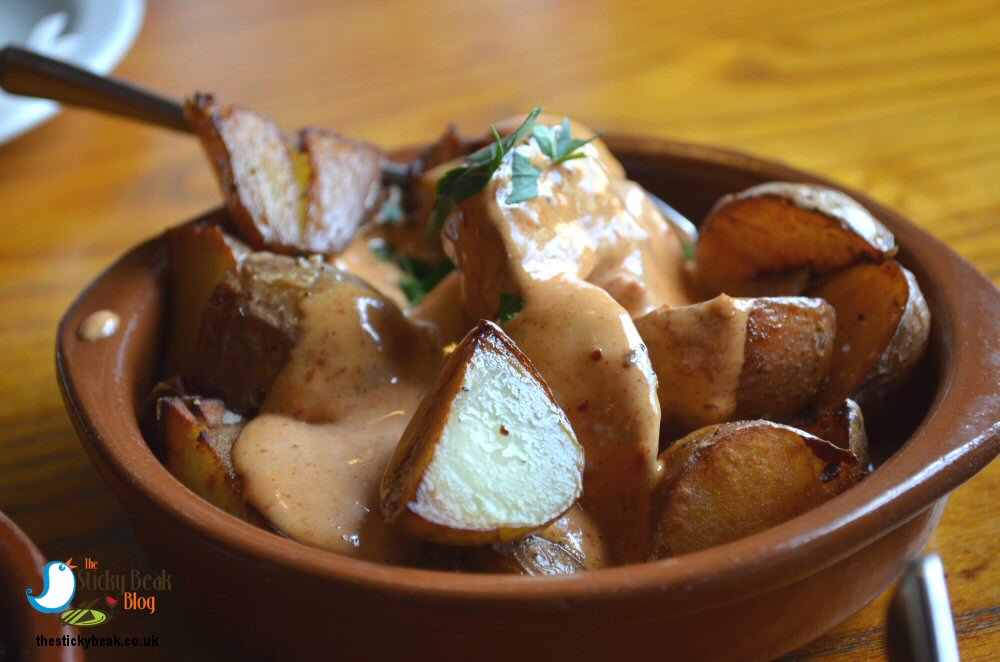 When they arrived the array of smells was divine! We all dived straight in and soon all you could hear from our table were murmurs of appreciation.

Chickadee is rather partial to Whitebait and she loved the size of the ones served at The Black Swan; they were plentiful too and accompanied by a nice tangy Tartare sauce. I did manage to swipe one of them when she wasn't looking and they were yummy. It was the King Prawns though that really got her excited and she ended up pinching some of my sourdough toast to dip into the oil to finish it off! The Patatas Bravas were brilliantly crispy on the outside, with no hint of greasiness to them, and they had a fabby piquant sauce with them.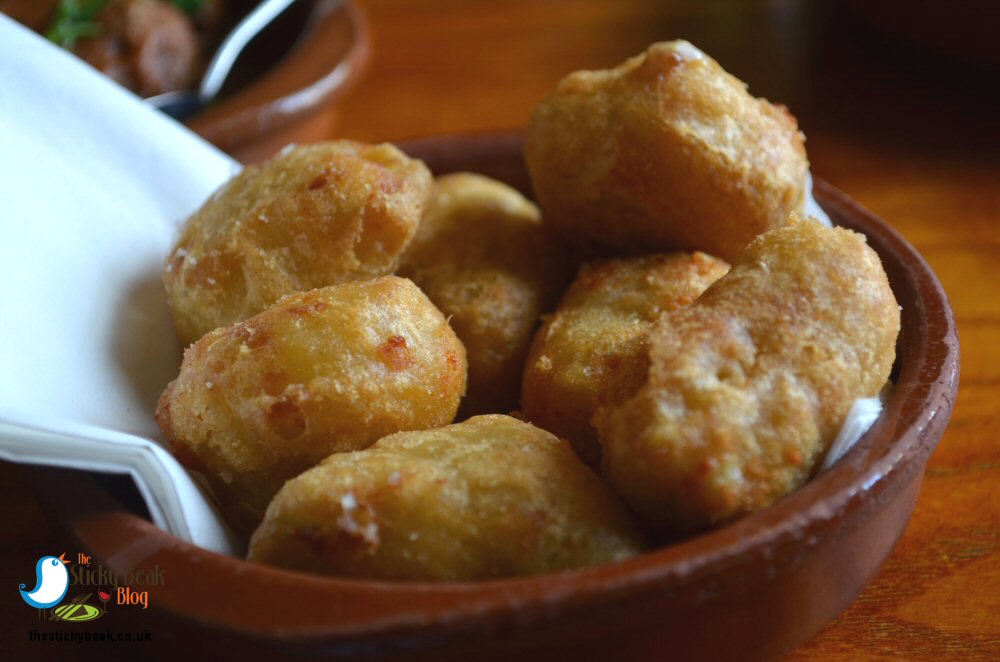 His Nibs had the Jalapeno & Cheese poppers and he said they were magnificent; piping hot both in terms of temperature and spiciness. The cheese inside was nicely soft but not completely gooey, so you still had something to chomp on.

Chorizo slices were mixed with grilled slices of Peppers and Onions to give a nice balance of smoky flavours with a hint of crunch in the mouth. Nothing beats a meatball when they're done properly; the ones at The Black Swan were a great size and came nestled in a chunky, punchy Tomato sauce that got the taste buds firing on all cylinders.


We all shared the Macaroni and Cheese Croquettes and thought unanimously how lovely they were. They had crispy outers that when cut into revealed melted cheese wrapped around Macaroni tubes; it was comfort food with a twist that hit the spot perfectly.
My Piri Piri Chicken was crazily spicy, definitely not for the faint-hearted. I absolutely loved it and kept dipping my fingers into the bowl to get every last bit of fabulously fiery sauce out. You can keep your Nando's Piri Piri; I prefer the Black Swan variety, cheers.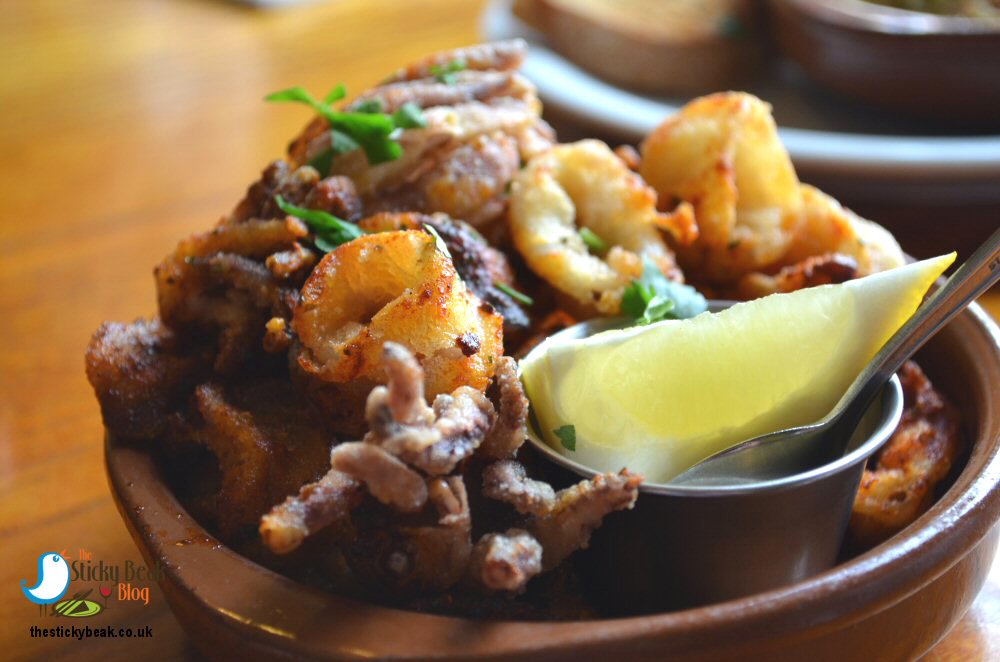 I had the Squid in my sights next, and blimey I have never seen such a large dish of Squid in my life; as you know I love seafood so I was doing a little happy dance at the prospect of putting it all in my tum! It hadn't been over-cooked so it wasn't at all rubbery, just nicely firm in the mouth.

The fondue baked Jalapenos were flipping great; the slices of Jalapeno had been covered in cheese and topped with breadcrumbs and baked, resulting in a sort of savoury crumble. There was nice texture from the crunchy breadcrumbs and satisfying softness from the melted cheese, followed by the warmth of the jalapenos themselves.


Sometimes you think that "yep, I'm stuffed, no pud for me" and that's how we all felt.... until we saw the dessert menu, then our resolve just crumbled. So it was Lemon Posset with Raspberry Coulis and shortbread for me, Mars Bar Cheesecake for The Chick, and Rob's warm Mud Pie with Vanilla Ice Cream foe The Boy Wonder.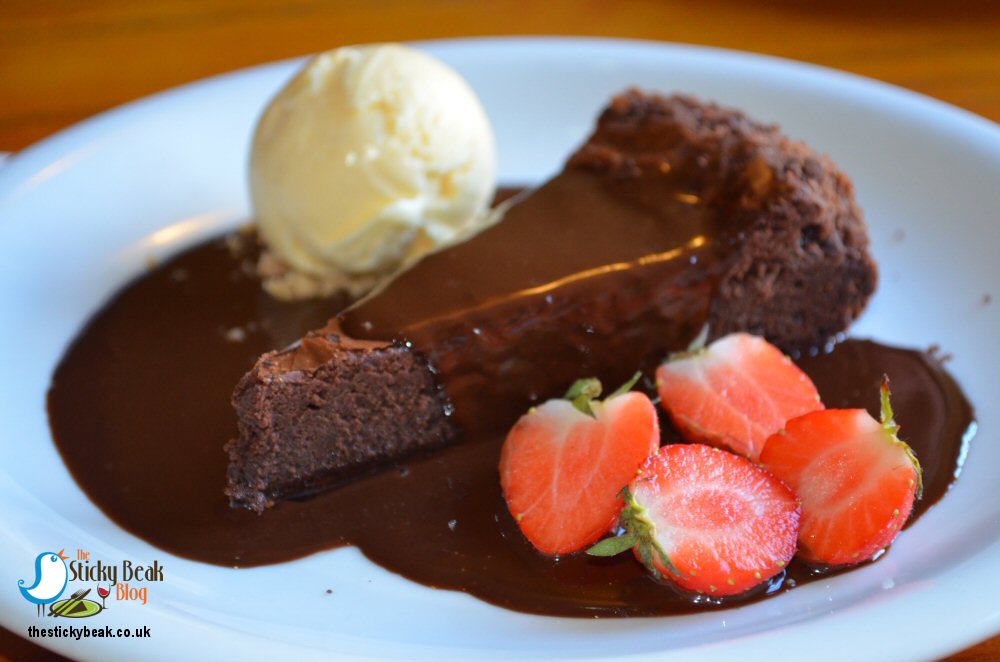 All the puddings were equally generous in portion size as the Tapas had been, especially the Mars Bar Cheesecake! Obviously my Posset was a nice, light dessert but the other two were surprisingly light too, and really, really delicious.
There was a nice mix of clientele in The Black swan; diners, drinkers, and those drinking with a meal. Groups of friends were gathering for an early evening catch up, couples were coming in for a "it's a lovely day, be diddled if I'm standing in a hot kitchen" bite to eat, and all ages were in evidence.
If you haven't been before, it's well worth going and checking it out for yourself; The Man and I are already planning our next visit, we were tempted by the 2-4-£14 offer! Hot Wings definitely deserved here.
No incentive was provided to visit this venue
read more