Dinner At The Red Lion Inn, Birchover
---
Published On Friday 5 May 2017 by Sticky Beak
See Recent Dining Out Reviews | See All Recent Reviews


I admit to not being the most techno savvy bird on the planet and my map reading leaves a bit to be desired, but you assume that SatNav knows its job, right? Let's just say that last night when The Man Bird and I were making our way to Birchover he/she decided to take us the "scenic route"! You know you're up in't'hills when the altitude makes your ears pop, and both mine went. We couldn't help but chuckle when an already very narrow road displayed a sign saying "warning: road narrows ahead"; what was it expecting to carry, ants?!
Anyhow we arrived in one piece and I have to say that Birchover is a very pretty village, not that you would expect anything less with it being in the heart of Derbyshire's Peak District. The Red Lion Inn is not lacking in kerb appeal anyway, but when you step inside it's like you've walked into a fantasy league traditional pub. Original stone walls, tick; wooden ceiling beams tick; original stone fireplace with log burning stove, tick. Bonus point for having own 30ft well insitu in the bar, boom! It was refreshing to see a venue whose character and charm had been allowed to shine through with only minimal faffing about having been done.
The tables and chairs are solid wood, no frills jobs; sturdy and comfortable enough but perhaps not the supermodels of their ilk. We sat down and ordered our drinks; a glass of Sauv Blanc for me and a pint of one of the Homebrewed real ales for His Nibs. As well as his micro-brewery (Birchover brewery) Matteo also makes Birchover Blue Cheese on site.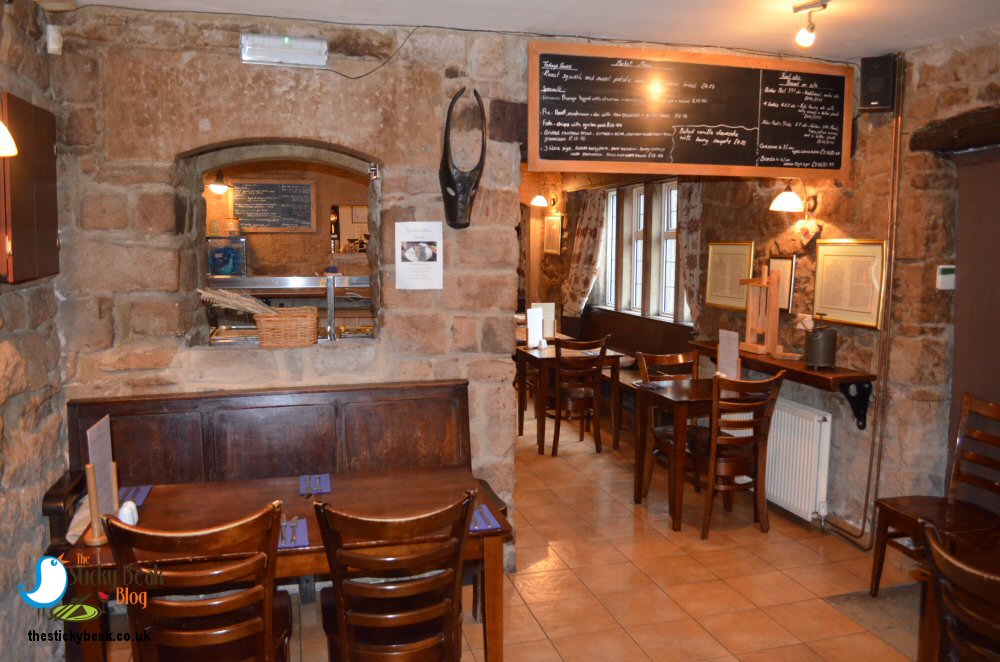 Owners Matteo and Alyson came over for a chat and it was lovely to get to know more about their lives, their adopted village and the pub that is their family home not just a business. Matteo is from Sardinia, a beautiful island that is renowned for uncomplicated dishes that burst with flavour. He and Alyson source their goods locally where possible; one of the neighbours has an amazing herb garden that she allows Matteo to use when necessary for fresh herbs in his dishes.
One of the things that struck me was the compact menu; it covers a range of meats and veggie options but is by no means a lengthy affair. I have finally found someone who thinks the same as me; better to do a few things really well than a lot of things badly. Every single dish we ate was superb in flavour and texture, its ingredients allowed to showcase their natural beauty with minimal fuss.


For starter I chose the Birchover Blue Dippers; the Birchover Blue cheese is made into a warm, creamy dipping sauce and served with bread and freshly churned butter(which was magnificent by the way), and The Boy Wonder had the rustic Pork and Chicken farmhouse Pate served with toasted bread and an Apple and Ale Chutney. They were both brought out to us by a lovely lady who had such a warm smile it lifted your spirits, and they looked super.
The Man Bird said his Pate had a great texture to it and was seasoned very nicely; there was plenty of toasted bread to slather it on to, which he took full advantage of! The chutney had a great piquancy to it and His Nibs commented on what a refreshing change it was not to have an overtly onion chutney accompanying Pate.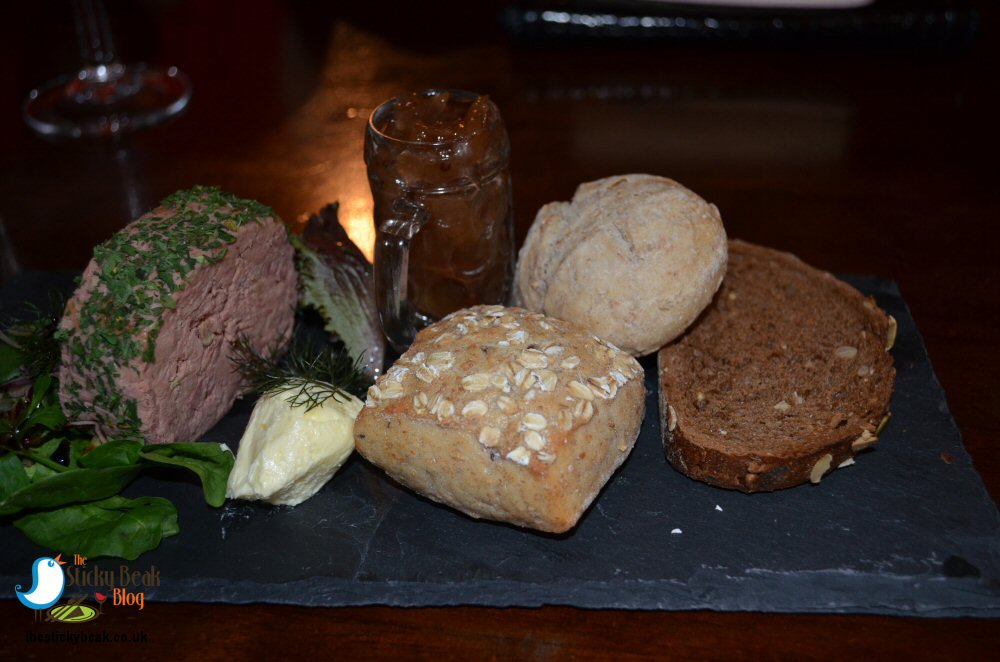 My Birchover Blue Dippers were blooming gorgeous; the unctuous melted cheese was in a little bowl that was the perfect size for dunking chunks of bread into. The tangy cheese has a lovely robust taste to it that needs little accompaniment; its true beauty is best appreciated in simple dishes like this. My Mummy Bird would be ashamed of me because I had a furtive glance around the room to check I was unobserved before tipping the bowl up to "drink" the remainder of the molten Birchover blue. Sorry Mummy but it was just too good to leave any morsel untouched!
I'm going to give special mention to the butter at this point. As we had first sat at our table the butter was literally just finishing being churned so I can confidently say that I will never taste fresher butter than I did last night at the Red Lion Inn, Birchover. I am a big fan of simple pleasures in life, as you know dear reader, and this silky, creamy butter was an absolute dream to savour. It was unsalted and pale alabaster in colour and my taste buds just twirled with joy as it melted onto them.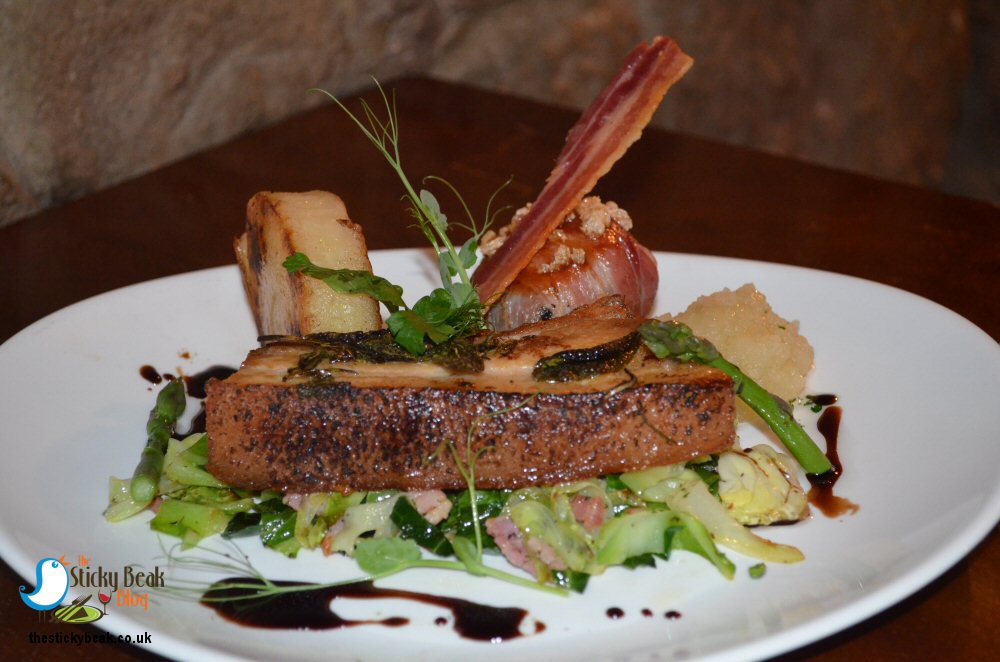 For our main courses we both chose off the specials board/ Market Menu that very often changes on a weekly basis. I had the 3 little pigs; roast Belly Pork, Pork Ballotine, and Pancetta with Savoy Cabbage, all served with Snakebite Apple sauce and The Man opted for the Venison Burger topped with Chorizo and Manchego cheese and served with chips and salad.
All three bits of Pork in my dish were in contrast to each other; the creamy Belly, the richness of the Ballotine that also had Black Pudding in it, and the crispy, salty Pancetta slice and cubes in with the Cabbage. Nice tender spears of Asparagus accompanied the shredded Savoy Cabbage along with a tasty round of Potato. I loved the texture of the Apple sauce, it made a change to be able to chew a sauce rather than it be like baby puree. Not a single bit got left on my plate, so delicious was it.


Homemade burgers tend to be colossal items and Matteos was no exception; it stood tall and proud in its skewered glory, two onion rings adorning it like a champions winning garland. When I asked how it was the reply was succinct; bloody marvellous! Further questions elicited the facts that the meat was juicy and bursting with flavour and the Chorizo was not too spicy, instead having a wonderful Paprika note to it. The chips were skin-on numbers garnished with flakes of salt that made you smack your lips. Both dishes were very nicely presented; not flashily done, just with love and care.
What struck us both was the fact that the freshness of the ingredients in each dish shone through; when you start with such a good base you don't need to fancy it up, it speaks for itself. The saying "you can't make a Silk Purse out of a Sows Ear" sprang to mind because however skilful the chef, if the ingredients aren't top-notch then it's never going to be good. Luckily at The Red Lion Inn at Birchover you have the perfect combination of incredibly fresh base ingredients and a Chef that has the passion and ability to bring out the full potential of a dish.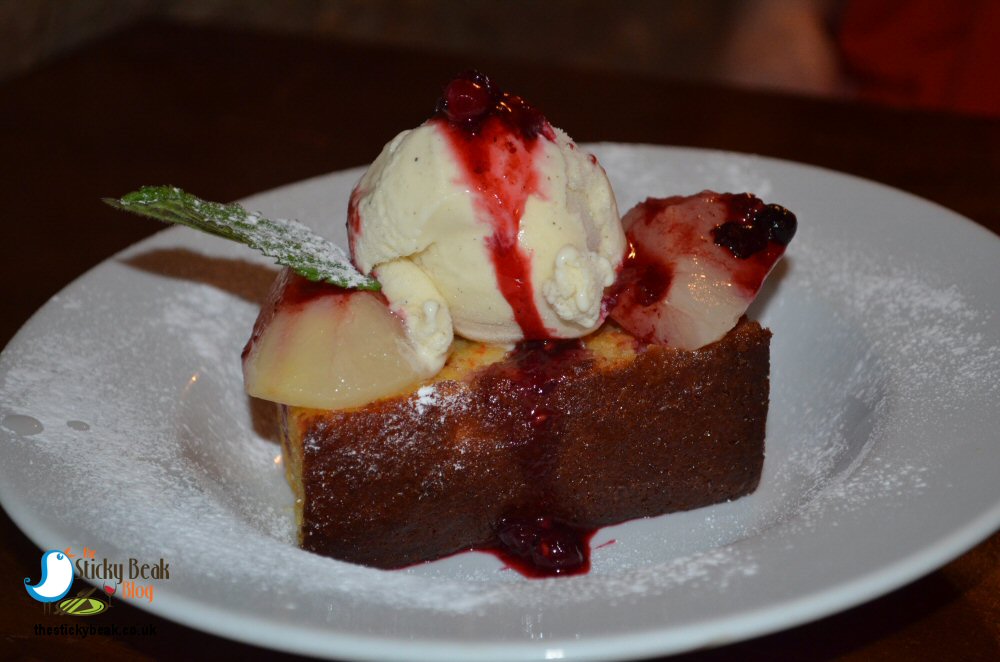 For our Puddings we both chose off the regular menu; Orange pudding cake with Poached Pear and Vanilla Ice Cream for me (gluten free), homemade Sticky Toffee Pudding with Toffee sauce, Vanilla Ice Cream and Honeycomb for The Boy Wonder. Alyson told me that the Orange Pudding cake is completely fat free – result! :) Not that I ever feel guilty when ordering pud but I definitely wasn't going to on this occasion!
There is still a misconception that gluten free food doesn't quite have the same yumminess as "normal" food , and I'm sure that there are examples out there that you can taste a difference in, but the dessert I had was totally scrummy let me assure you. The cake was moist and springy with a great vibrant Orange note to it; combine it with still-firm poached Pear sweetness and the taste of creamy Vanilla and you have a toe-tinglingly good pud.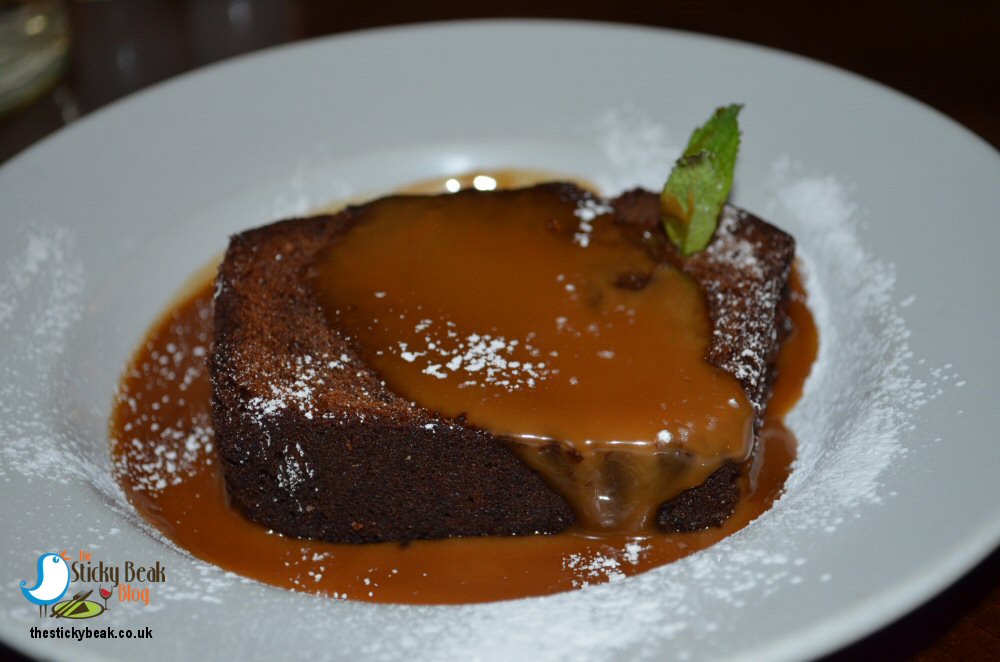 His Nibs was equally enthusiastic about his Sticky Toffee pudding saying that it was very rich, yet not heavy on the tummy and was nicely gooey. He was impressed by the generous amount of Toffee sauce that was in the bowl; even more so when he tasted it as it was blindingly good. Apparently it was so good that it deserved to be put in jars and sold separately; I'm sure Matteo would love yet another job to do (not), bless him!
A couple of black coffees saw the evening meal come to a pleasant close, and we were very happy that Matteo managed to come over and have another chat to us. A nicer chap you couldn't wish to meet. He was saying that they get a lot of walkers, campers and caravanners nearby so he'll adapt the menu for those with younger family members or do old favourites like Lasagne if desired. They also do regular Sardinian nights where Matteo really comes to life with his authentic Sardinian cuisine, often incorporating family dishes from his earlier days.


Before we left the premises though I had to purchase a wedge of Matteos Birchover Blue cheese to bring back to the nest with me. I have plans for that little beauty over the weekend with some nice biscuits and a glass of port.
Hot Wings are most definitely deserved here, and can I just say that if you're thinking "it's a bit out of the way" then the effort is more than worth it. You can take in the beautiful countryside of Derbyshire and also be assured of excellent food, win-win :)
Some form of incentive was provided to visit this venue
read more