Pizza And Gelato At The Joiners Arms, Quarndon
---
Published On Sunday 23 Apr 2017 by Sticky Beak
See Recent Dining Out Reviews | See All Recent Reviews


Speaking off the record, I must confess to rather liking this school holiday; The Boy Wonder and I have done quite a bit of gallivanting. This time it was the Joiners Arms pub in Quarndon where we chose to perch our little bottoms. Chickadee was originally coming with us but unfortunately became unwell during the afternoon and didn't feel up to it, so it was" just the two of us" as the song goes.
There is plenty of parking to be had, which always gets me in a good mood, so the signs were all positive. We walked through the door and the first thing that struck me was how dark it was; all the curtains were drawn so little wonder they had to put all the lights on. And it was still light outside!! If you're tall (i.e. over 6'4") beware of the low ceiling beams, you'll need to stoop; luckily The Man and I both fall well under this height, so no worries for us :)
The lovely Attie was our server for the night and she gave us a menu and guided us through proceedings seeing as it was our first visit to the Joiners Arms. We've been meaning to come here for absolutely ages to try out the pizzas made fresh in their authentic wood fired Pizza oven, which they imported from Italy.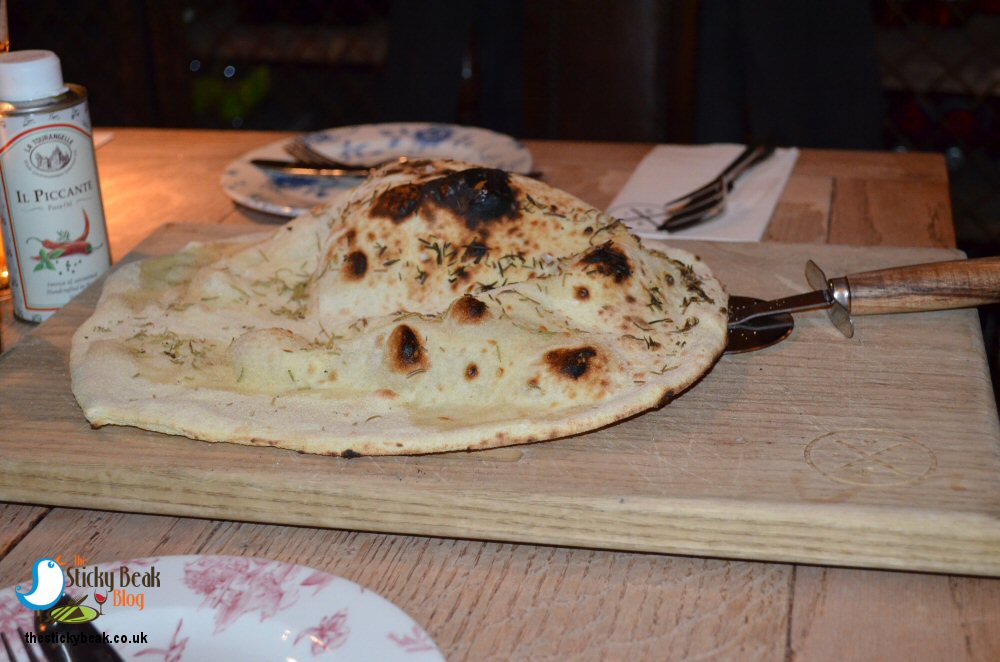 We decided to have the Garlic bread with Rock Salt and Rosemary to share as a starter, the Barbados Pizza for me and the Boston Pizza for His Nibs as mains; I also ordered the Tomato and Buffalo Mozzarella salad as a side dish.
When it came, the Garlic bread was superb. Nestled on a thin, crispy base were ribbons of garlic olive oil, oodles of fresh Rosemary leaves and a generous scattering of crunchy rock salt. All the flavours worked in harmony in the mouth and before we knew it were had polished it all off. Yum!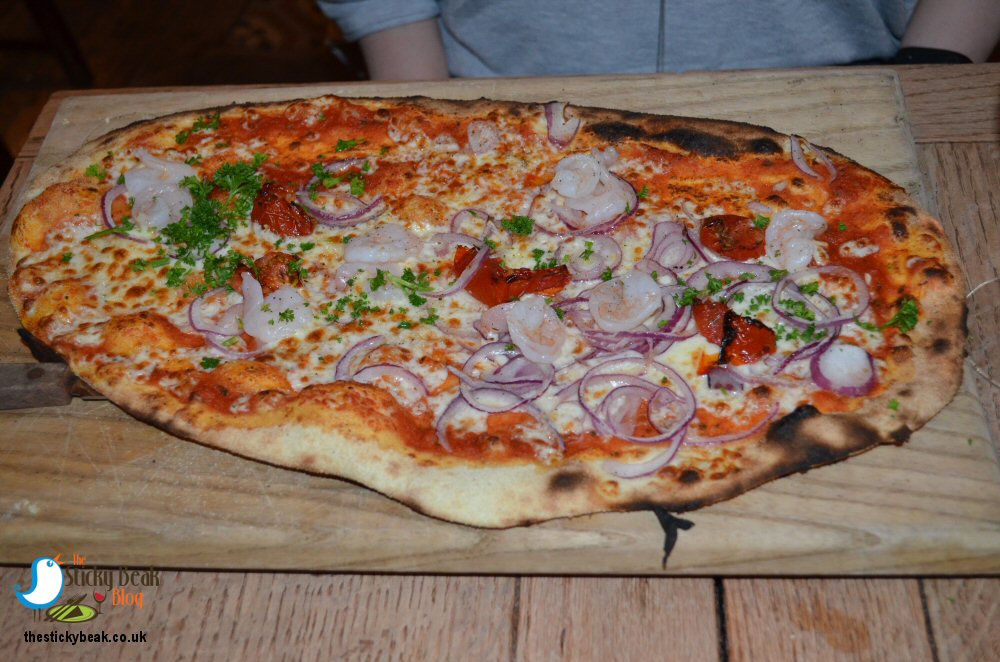 My Barbados pizza was loaded with Tiger Prawns, roasted Garlic, Red Onion, Sun dried Tomatoes, Mozzarella, Joiners Tomato sauce, and fresh Parsley. There was plenty of each ingredient on the pizza base and the range of tastes were all balanced well; I thoroughly enjoyed it.
His Nibs had opted for the Boston pizza which consisted of Orchard Farm Pulled Pork, sliced Peppers, Bacon, Red Onion, a sprinkle of Cajun, Parsley, sliced fresh Tomatoes, BBQ sauce, Joiners Tomato sauce, and Mozzarella. He was most impressed with his selection saying how meaty it was and how clean and fresh the flavours all were.


You can't beat a freshly made Pizza and the ones at the Joiners Arms are delicious and very generously sized too. Attie came to see if we were enjoying our meals and to check how we were for drinks.
I really liked the side salad, all the leaves were chilled and very fresh so they tasted as if you'd just harvested them from your own garden. The Buffalo Mozzarella had that supremely indulgent creamy mildness to it, which contrasted very nicely with the firm, fresh Tomato slices and the Balsamic dressing.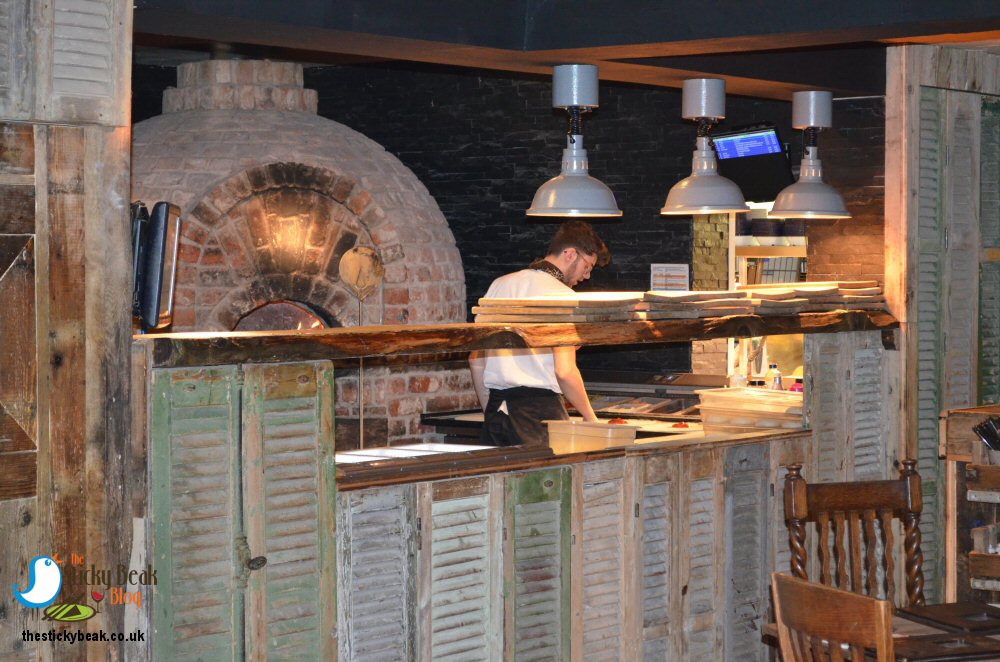 One of the unique things about the Joiners Arms (other than its pizza oven) is the fact that they make their own Gelato on the premises, freshly done every day. On the dessert menu there was an eye-boggling amount of creations to choose from so it took us both a few minutes and several mind changes to choose our desserts.
Eventually I decided to have the Black Forest Gelato. This is composed of rich Black Cherry ripple gelato, Chocolate gelato, Kirsch marinated Cherries, chunks of Guinness cake, rich Cherry syrup, hot Fudge sauce, whipped cream, fresh baked Waffle, dark Chocolate sticks, mixed wild Berries, a wafer disc, dusting of Cocoa and fresh Mint sprigs.
The Boy Wonder selected the Lemon Lush dessert with its Lemon Sorbet, Vanilla gelato, crushed Meringue, homemade Lemon Curd, Candied Lemon, Raspberry coulis, Chocolate sticks, whipped cream, fresh Waffle, Wafer disc, icing sugar dusting and fresh Mint sprigs.
Both desserts were superbly presented in gorgeous glasses and were piled sky-high with sweet temptations. Gelato by its very nature has a more intense flavour than conventional Ice Cream thanks to its lower fat content and denser texture; both of these factors intensify the flavour in the mouth.
I was completely smitten by my choice; Chocolate and Cherry is a classic combo anyway, and the addition of Kirsch soaked Cherries was the proverbial cherry on the top. My taste buds were swooning in ecstasy and they weren't alone; across the table His Nibs chops were equally blissful.
My Man Bird loved the sharp fruit flavours of the Lemon and Raspberry; the way they opposed the sweet Meringue was delightful and the homemade Lemon Curd had a great zip to it.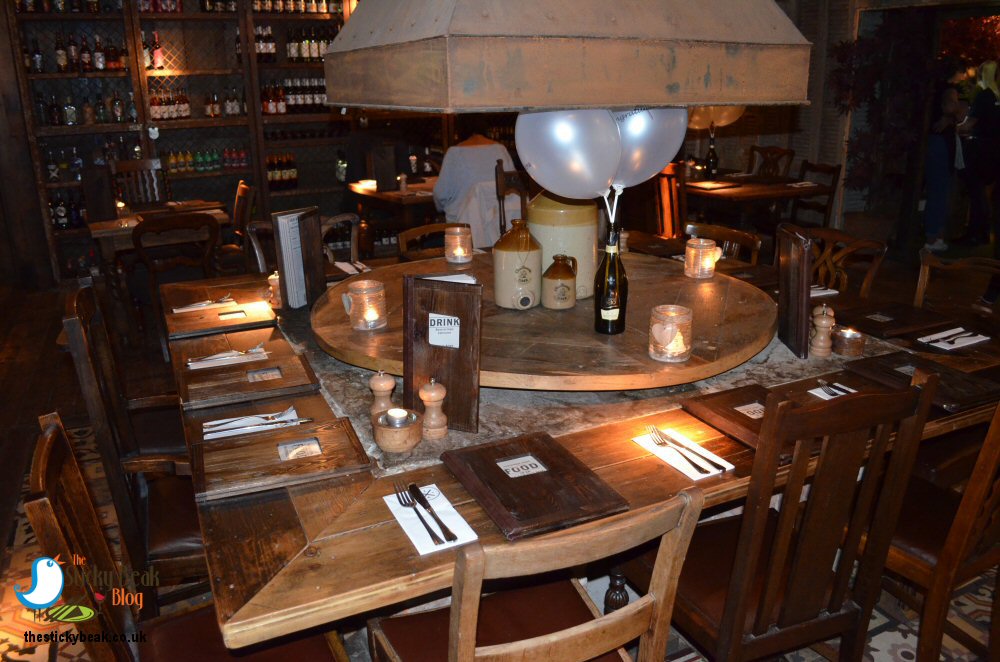 We didn't have our usual coffees to round things off for the simple reason that we had no room for anything else at all in our tummies; literally no room at all. There were plenty of celebratory groups dining at the Joiners Arms as well as couples, so the "workshop" dining area was nice and lively. A steady stream of diners seemed to be going through to the "garden room" too, so I think it safe to say that the Joiners Arms has a good reputation for food.


If you haven't been before I would definitely recommend it to you; the service and food were superb. It would perhaps be a wise move to ring ahead and reserve a table as even mid-week it was busy (or you can download and book via their phone app).

Hot Wings awarded here from this little Derbyshire foodie, well done team Joiners Arms :)
No incentive was provided to visit this venue
read more