Dinner At Lorentes Tapas Bar in Derby
---
Published On Sunday 26 Feb 2017 by Sticky Beak
See Recent Dining Out Reviews | See All Recent Reviews


My Daddy Bird has gone off for a weekend jolly to see friends "dahn sarf" so Mummy Bird, Chickadee, The Man Bird and I thought we'd go for a jaunt into the big city lights. Lorentes won the Best International category award at the 2016 Marketing Derby Food and Drink Awards so we thought we'd go and try it for ourselves.
For some reason I thought that it was going to be quite a spacious restaurant, so when we stepped inside I was really shocked. It isn't unfair or harsh to describe Lorentes as very Bijou and intimate, but you are constrained by the building itself I guess. However, despite its compact dimensions the team have worked hard to give it a wonderful, warm feel which was lovely for my Mummy Bird to experience.
The decor has been kept fairly neutral to give the impression of space but there are some fab trendy artwork canvasses on the walls to lift the feel of the room. The oiled wood tables are fab chunky affairs with high chairs at them; watching my petite Mummy jiggle her bottom up onto them provided us with some free entertainment (sorry Mum!).
There was already a lively crowd in celebrating the end of the work week and heralding the start of the weekend. Everyone was in a great mood and there were some fantastic looking dishes of food on various tables, so we were very much looking forward to sampling the food for ourselves.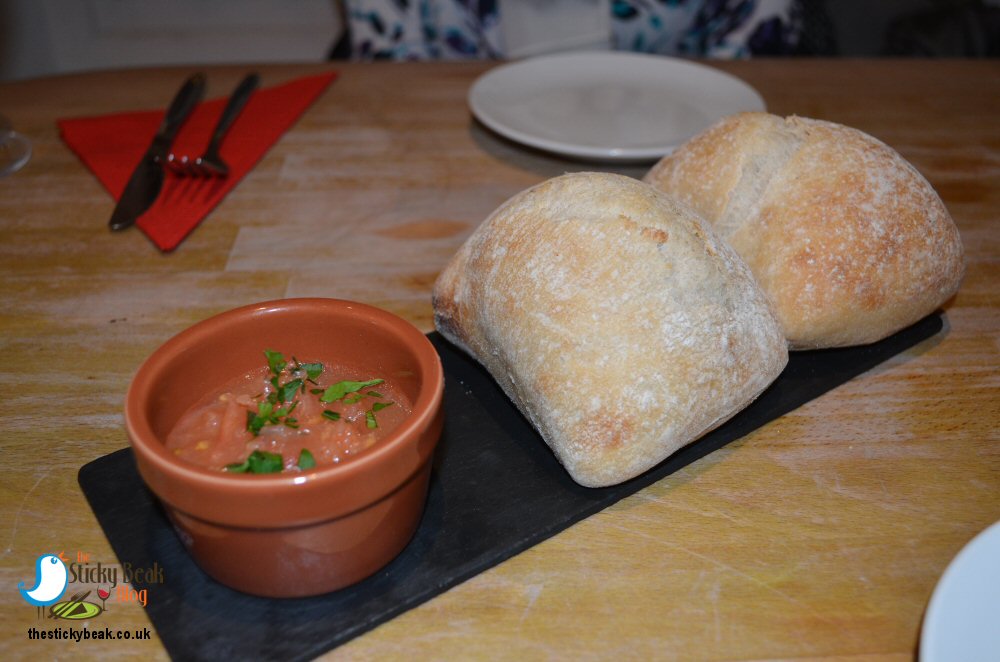 A lovely young lady came over to our table and took our drinks order, leaving us with some menus to peruse. Mummy Bird has never had Tapas before so we decided to have the Selecion de Tapas; this is a selection of Lorentes' most popular Tapas at £15 per person, for a minimum of 4 people.
The Tapas selection consists of Patatas Bravas & Alioli sauce, Pimientos de Padron, Calamares, Croquetas, Champinones, Gambas al Aljillo (prawns), Albondigas, Chorizo, Paella and Pan (bread).
Before many minutes our server was bringing out platters of fresh baked bread and bowls of finely chopped tomato, Croquetas, Champinones and Patatas Bravas with a classic spicy, smoky Tomato sauce and Alioli.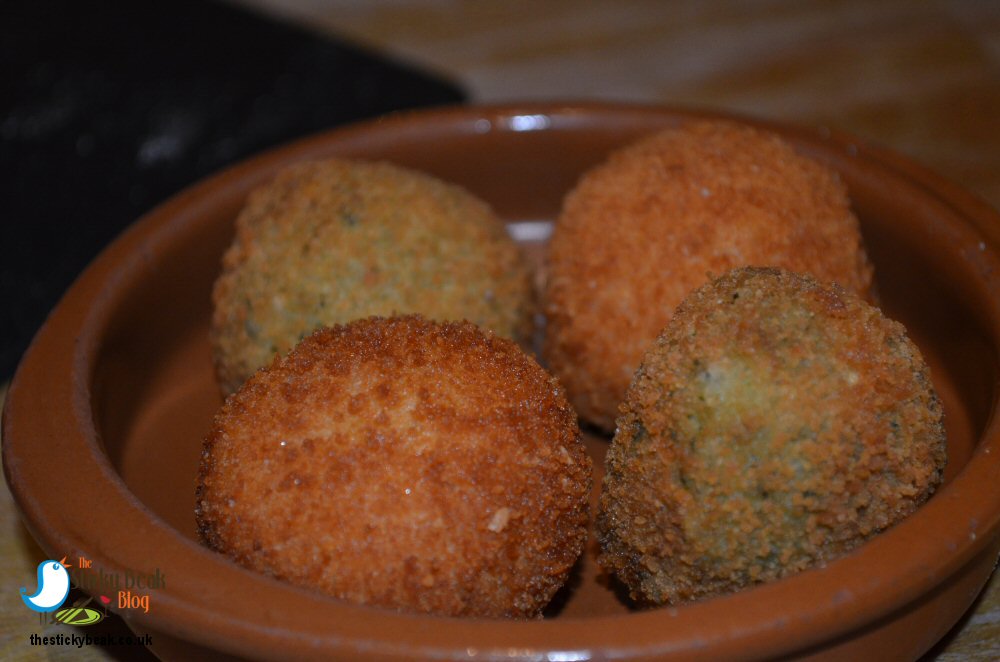 The bread was beautifully warm and tore apart very easily; dipped into the fresh salsa type Tomato it was one of life's simple pleasures to enjoy. The Croquetas were balls of creamy béchamel with Serrano Ham and Chicken, and Spinach and they had a lovely fresh taste to them; again honest, straight forward food that everyone enjoyed immensely.

Whole button mushrooms had been sautéed with Garlic, Parsley and Onion and the flavours gently mingled together in the mouth. His Nibs had spied the Patatas Bravas and dipped one of the potato chunks into spicy tomato sauce, then another chunk into the aioli; as he said "got to try them both haven't I?". Both the dips had plenty of flavour to them and we were all dipping the potato into them with much enthusiasm.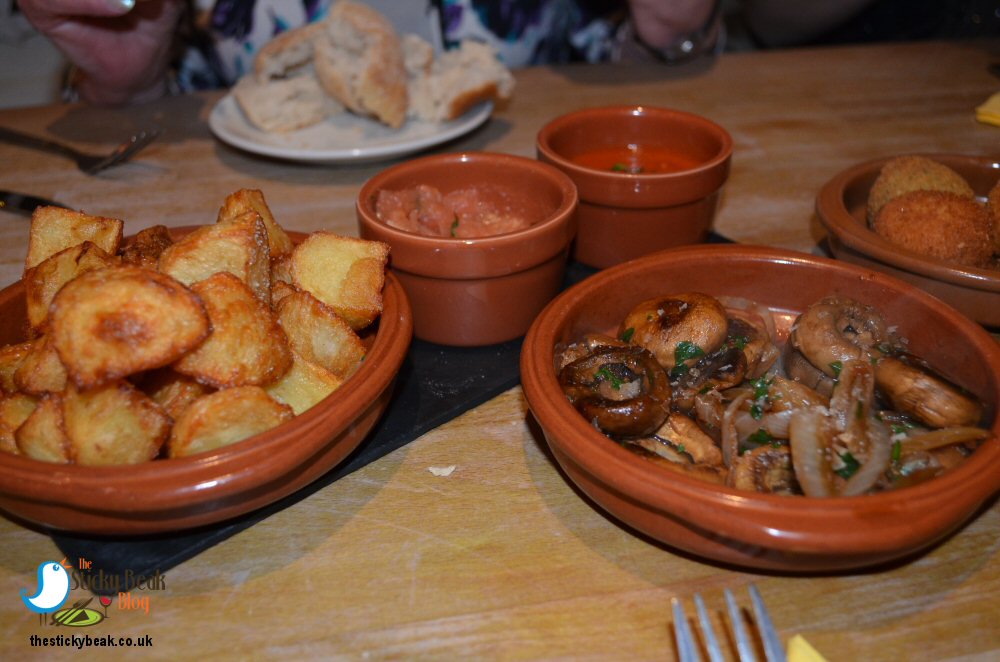 Another lovely young lady brought out dishes of King Prawns pan fried with Garlic and Chilli Olive oil, fried Padron peppers seasoned with flakes of Sea Salt, and lightly floured deep fried Squid rings with a homemade Lime Mayonnaise.
The Chickadee dived straight into the prawns; they are her most favourite food in the world, in fact she eats so many I'm surprised she doesn't look like one! My Mummy Bird and I were furiously mopping up the garlic and oil with the last of our bread; it was delicious and not too fiery either. We asked a passing staff member if we could have some more bread and they said yes, but that it would take about 6 minutes as it is always cooked fresh to order. No wonder it's so fantastic :)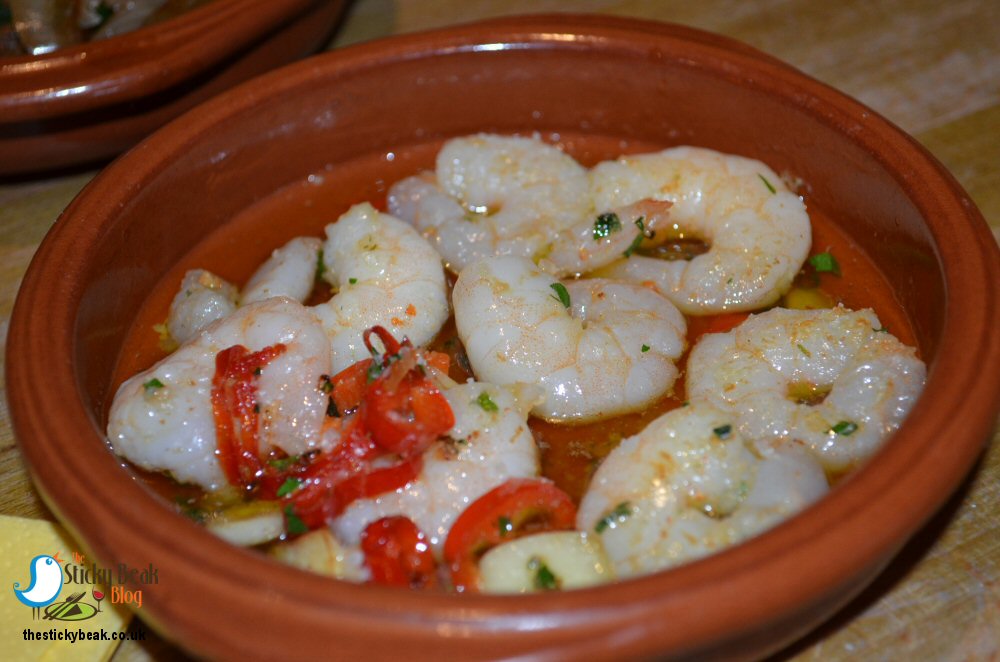 His Nibs and I had first had the fried green Padron peppers over at Casa in Chesterfield where Steve Perez told us that every so often there would be an unusually fiery fellow in with the others. Luckily we only had the milder ones in our dish; can you imagine if my Mummy Bird had one of the fiery ones?! The peppers soften nicely during their roasting and the simple seasoning allows you to completely immerse yourself in their natural flavour. Delicious.
As she tucked into a Calamari ring (that she said was gorgeous) Mummy Bird said she hadn't had this dish since the 1970s at a works 'do. The Squid was lovely and tender, not at all rubbery, and wonderfully fresh too.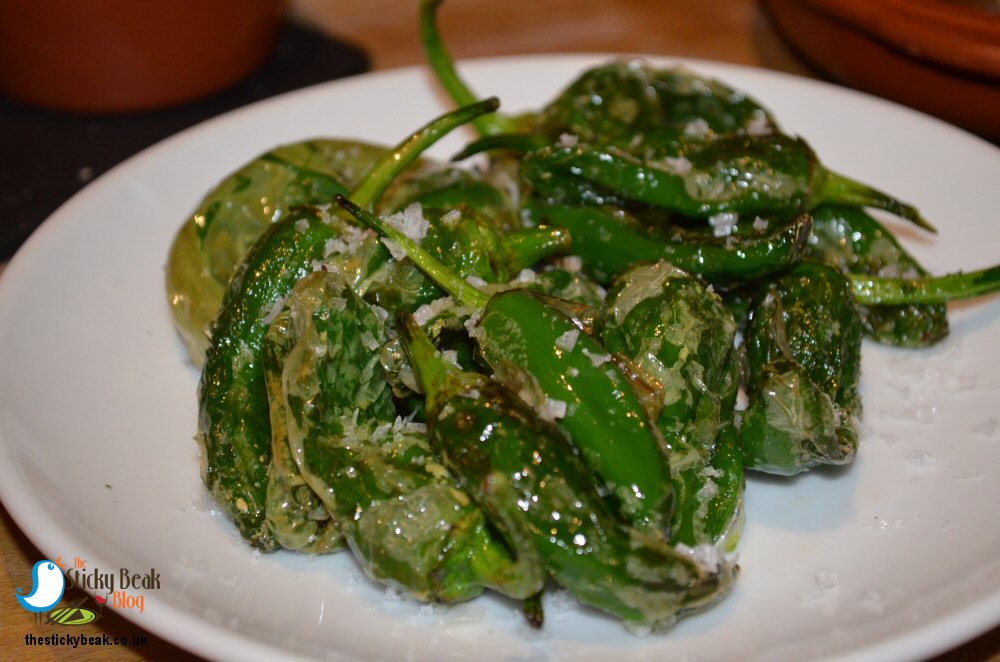 Our fresh bread was brought out to us with some more of the Tomato salsa and also the dishes of Chorizo and sautéed vegetables, and the Albondigas were brought out.
The Man Bird really does love the Spanish version of Meatballs and the Lorentes version sees them marinated and then served in Tomato sauce with mushrooms and peas. These meaty beauts had a great taste to them and it's obvious that only high quality meat was used in their making. Needless to say, they soon disappeared.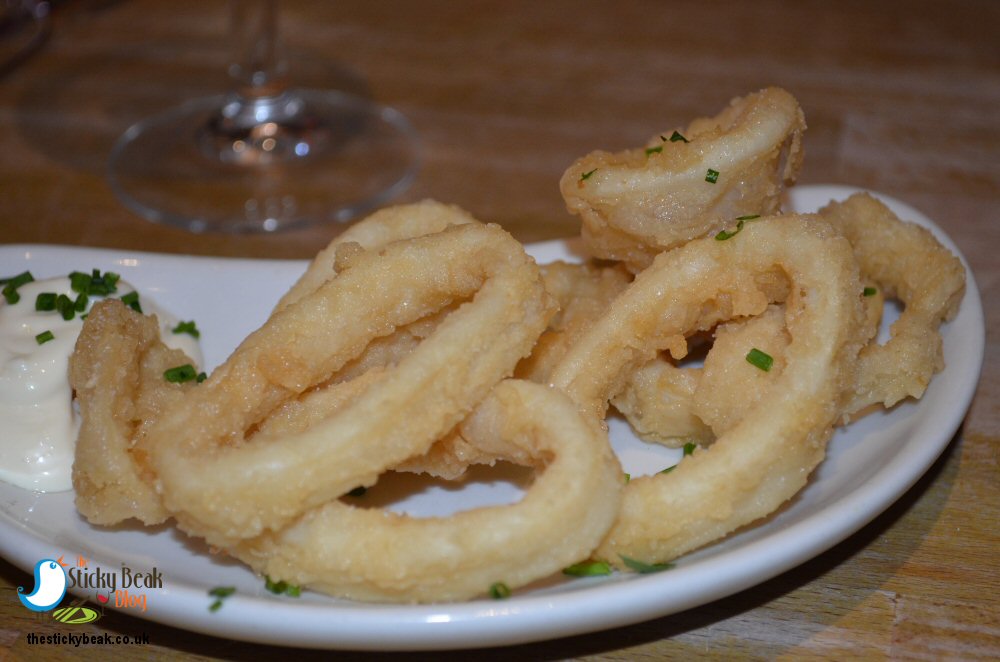 Sometimes Chorizo can be a little too spicy for some palates and a little harsh in aftertaste; but the ones that Lorentes serve were lovely and rich tasting with a great smokiness from the paprika in them. Most importantly they weren't overly spicy either, so everyone tried a bit of them. Mummy Bird and I were yet again mopping up any juices in the bowls with hunks of bread.

Last to be served to us was the Seafood Paella, Lorentes do point out that their food is freshly made and to allow 30-40 minutes for Paellas. When it arrived it looked absolutely stunning and smelled just as great. There was a bit of a scrum for the serving spoon as we all wanted to grab a bit of this! Prawns, Squid and Mussels in their shells were nestled in among plenty of vegetables and the gloriously sunshine hued rice. It was moreish, let me say dear reader.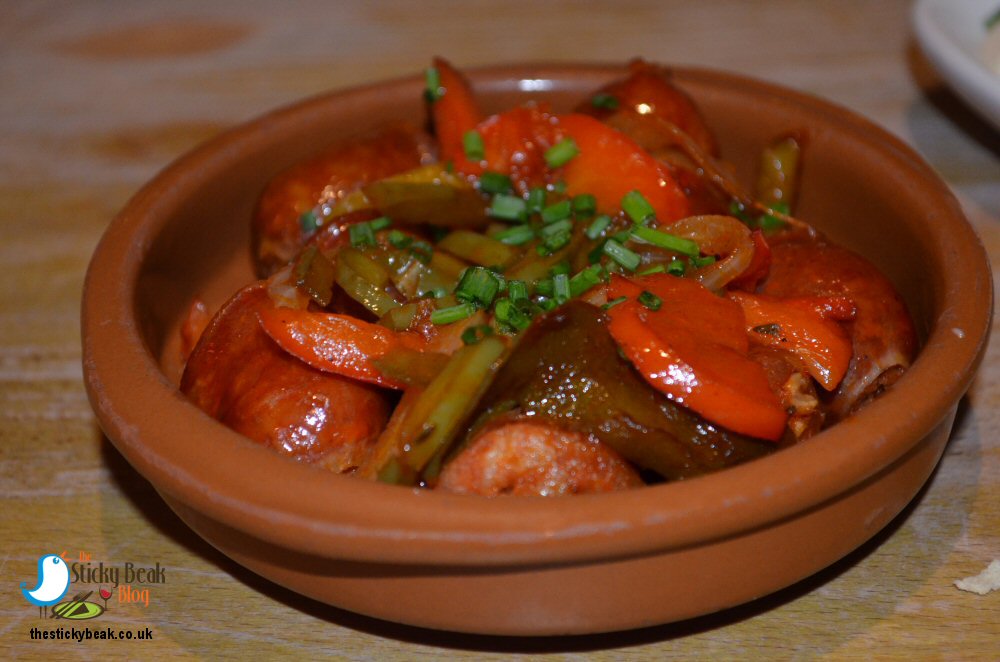 If this was served by the bucket load I would stuff myself silly on it, it really was that good. The best bit is the toasted rice at the bottom of the pan, known as Socarrat; a lot of people turn their noses up at it thinking it's burnt but it has a wonderful nutty sweetness to it in actual fact. Mummy Bird and I were taking turns to use the serving spoon to scrape the pan, religiously getting every last bit of it up.
Every time they passed, all the staff would enquire as to whether we were enjoying the meals and were rewarded with big smiles and verbal affirmation. As soon as they spotted an empty bowl it would be cleared from the table and they would ask if our drinks needed refreshing.


There are only three desserts on offer at Lorentes, all of them homemade. Mummy Bird didn't want one so the Man Bird, Chick and myself had one of each of them; Crema Catalana, Mousse de Chocolate, and Cuajada de Limon.
His Nibs' Crema Catalana is a traditional Spanish dessert made with milk eggs and Cinnamon with Caramelised sugar on top; not dissimilar to Creme Brulee. The sugar top was lovely and thick and gave a marvellous sound as it got thwacked with the spoon and the Crema itself was deliciously rich and creamy with a nice hint of spice.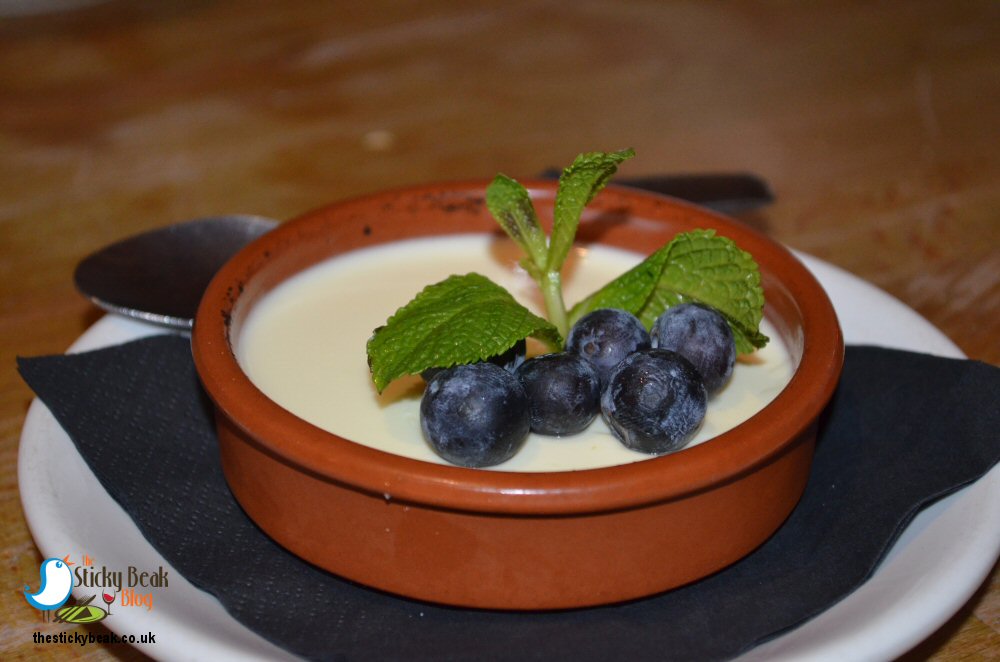 I managed to purloin a spoonful of my Chickadee's Chocolate mousse before it disappeared into the black hole that is her tummy and golly was it good! It was wickedly rich in taste but superbly light in texture so that it won't lay heavily on you at the end of a meal.
My choice of Lemon Cream was inspired, if I do say so myself. The luscious cream was delightfully full with the bright flavour of Lemon, so much so that if I closed my eyes I could imagine that I was in a Mediterranean Lemon Grove. Again it had a lovely light texture that is much appreciated at the finish of a meal out.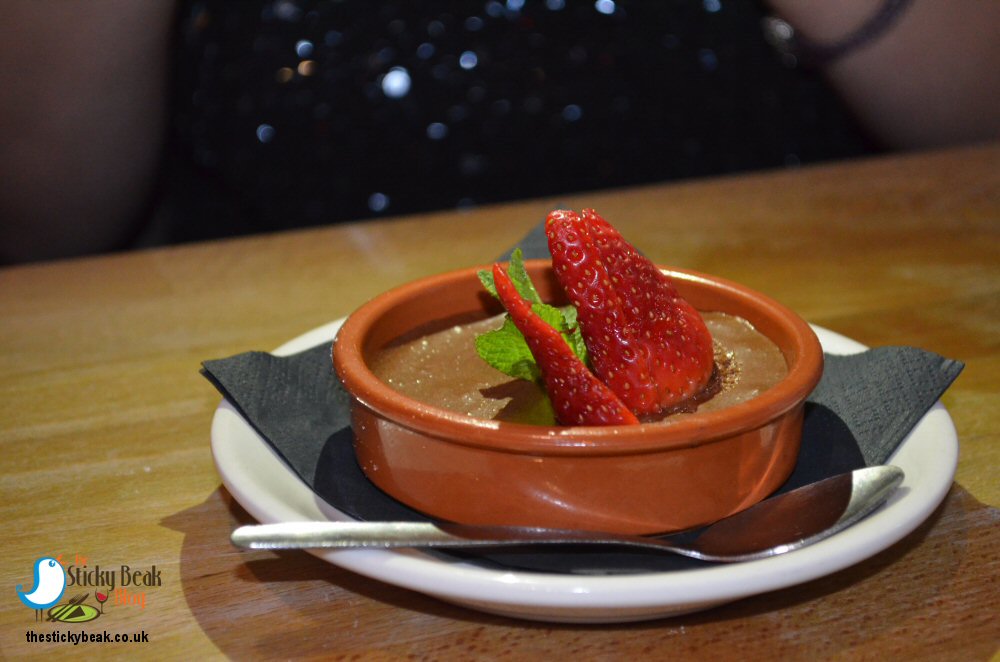 All four of us had Latte coffees to conclude our city experience at Lorentes Spanish Tapas and Wine Bar, saying how much we had enjoyed ourselves. Hot Wings definitely deserved here, the food and service were both wonderful. It's certainly worth going and checking it out for yourself if you haven't been here before, although I would reserve a table in advance due to its limited size :)
No incentive was provided to visit this venue
read more
Read Some Of Our Recent Reviews
---

Out For Dinner At The Bear Inn, Alderwasley If it's the full on, single track road, rural Derbyshire experience that gets your motor running, then the journey to The Bear Inn at Alderwasley will have you in joyous raptures. For those of you who are Read The Article

---

Lunch At The Recently Opened Chatsworth Kitchen At Peak Village, Rowsley Everyone who knows me, knows I love Chatsworth (always have, always will) so when the invitation to sample lunch at the newly opened Chatsworth Kitchen Read The Article

---

A Visit To Vietnamese Street Kitchen, Resorts World, Birmingham Way back in the day (pre-covid) Fledge had bought me and The Man Bird tickets to see Mrs Browns Boys live and finally, after a couple of false start reschedules, the day of Read The Article

---

Sunday Lunch, A Museum Tour & Painting A Piece Of Denby At Denby Pottery Village It wasn't long ago that His Nibs and I visited the Denby Pottery Village to sample the Afternoon Tea at Bourne's Coffee Shop and Bistro (it was superb Read The Article

---

Bottomless Brunch At Turtle Bay In Derby The timing of the invitation from the Turtle Bay team in Derby to go and sample their Bottomless Brunch couldn't have been better; not only was it going to be The Man Birds' birthday a couple of days later Read The Article

---

Afternoon Tea At Santo's Higham Farm Hotel & Restaurant Aaaaaarggggh, don't you love your children??!! A while back, His Nibs had spotted a great deal on Groupon (you know what a bargain hound he is!) and thought it would be Read The Article

---

Sunday Lunch At The Countryman Pub & Dining, Kirkby-in-Ashfield We finally got to visit a venue thats been on our radar for quite a while, The Countryman Pub and Dining in Kirkby-In-Ashfield! A few weeks ago we tried to book a table for dinner Read The Article

---

Dinner At The Divan Turkish Restaurant In Chesterfield Chesterfield was welcoming us back again for our latest review visit; this time to the newly opened Turkish restaurant, The Divan, on Lordsmill Street. Owner Tuncay (along with Read The Article

---

Breakfast At Marsh Green Farm Shop & Cafe, Kelstedge Ah, you've gotta love a Bank Holiday curve-ball, haven't you? His Nibs and I headed over to Mummy Birds' gaff with the intention of having a leisurely couple of hours at the Sunday Read The Article

---

Afternoon Tea at Bourne's Coffee Shop and Bistro, Denby Pottery Village You all know that The Man Bird and I do like an Afternoon Tea; I mean, who doesn't?! Just a few miles down the road from the nest is Denby, home to the world-renowned Read The Article

---