Dinner At The Elaichi Indian Restaurant in Belper
---
Published On Wednesday 12 Oct 2016 by Sticky Beak
See Recent Dining Out Reviews | See All Recent Reviews


Sometimes, just sometimes, children actually come in handy; on this occasion it was Chick and her friends having a night out and the subsequent need to be fetched from Belper that provided us with the perfect excuse for a spontaneous night out. We had been meaning to try Elaichi in Belper for absolutely ages and time had somehow run away with us, but last night we finally got there, and it was worth the wait.
Downstairs is a dedicated reception area with a bar in, perfect for a cheeky pint whilst you wait to pick up takeout or if you've arrived a little early for your reservation. A lovely man took us upstairs to the main dining area with its wooden floors and modern lighting and I love the table linen colours of crisp white accentuated by a regal purple edged in gold.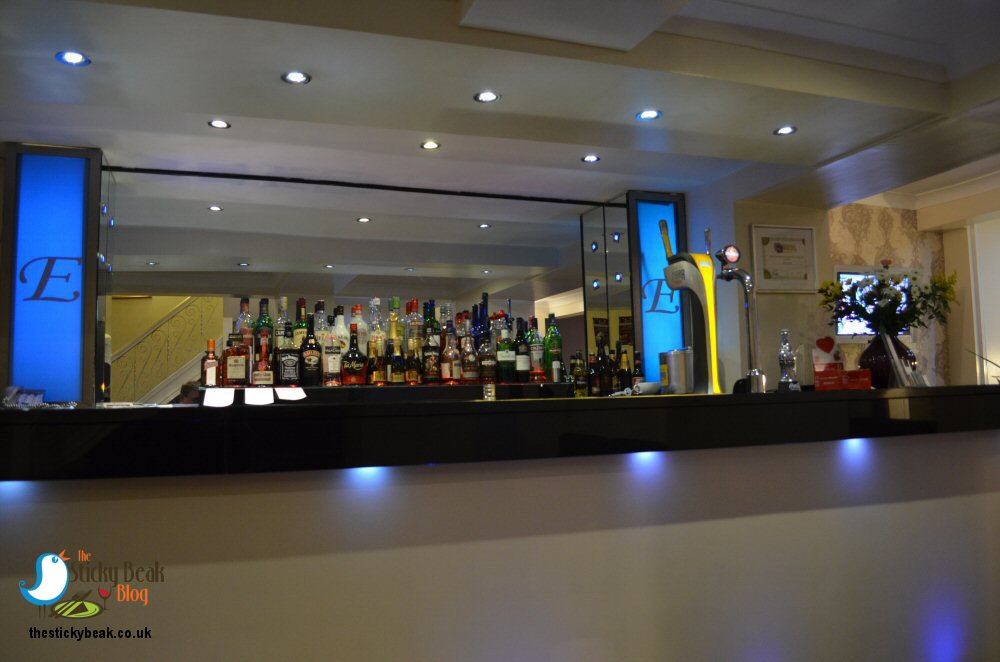 Fresh floral arrangements are on each table and the scent of incense gently perfumes the air. The restaurant was very busy, as you would expect on a Saturday evening, so there was a lively buzz of conversation and laughter ringing through the room. The Man Bird ordered a pint of Cobra lager seeing as it was on draught (apparently it tastes better than bottles) and I ordered water with lime for myself.
For starters His Nibs had the mixed platter of Chicken Pakora, Aloo Pakora, Meat Samosa and Onion Bhajee and I had the Tandoori Chicken. My chicken was nice and tasty with a very pleasing covering of the flavoursome marinade and I was thoughtfully offered fried onions separately, which I declined, but it was nice to have the choice.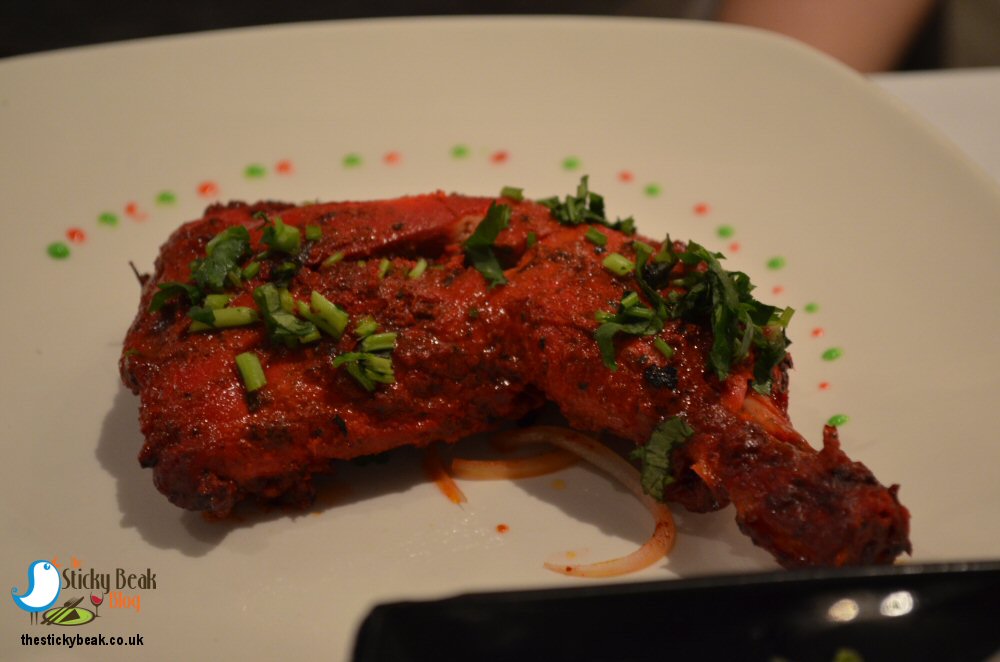 The Boy Wonder loved the selection in his platter and said that the batter, where used, was nice and light and not greasy at all. Nicely spiced Lamb was used in the meat Samosa and the potato had a good spicy kick to it as well in the Pakora. The Chicken was tender and juicy, not dried out at all, and the Onion Bhajee had plenty of taste to it as well, so he was a happy camper with his choice of starter.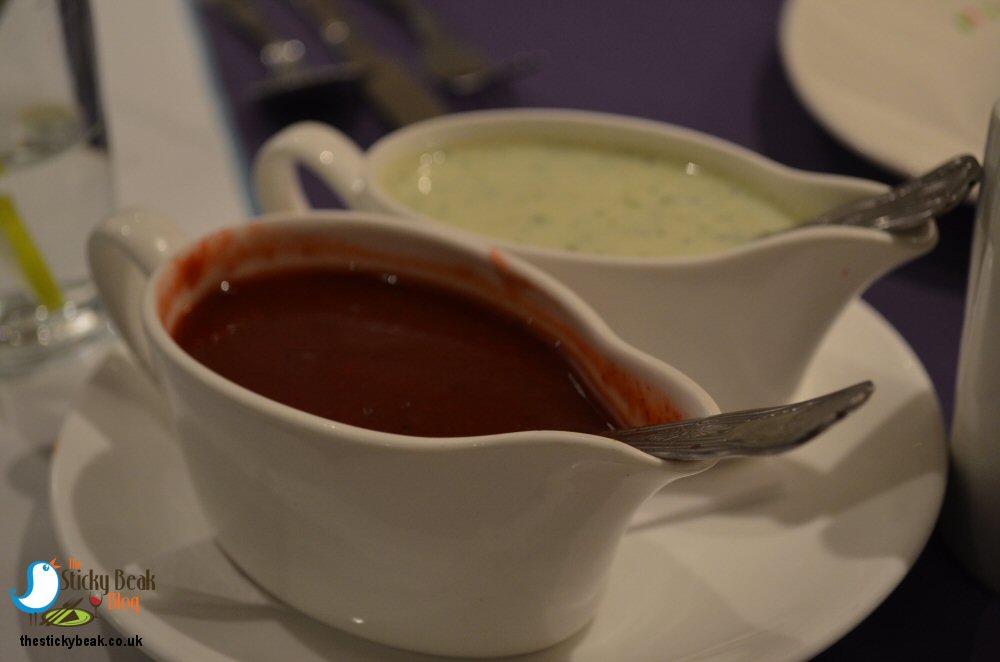 Both dishes had been beautifully presented and garnished artfully, and the mixed salad came in a separate bowl for you to add as you pleased. Two sauces, minted yoghurt and a spicier sweet chilli variety, came in little jugs for you to pour as you wanted too. Our server checked that everything was to our satisfaction and brought some fresh water to the table for me.
I had chosen Monk La Jawab for my main course; Monkfish fillets cooked in herbs, spices and Tamarind and some Pineapple Chilli rice to go with it. The Boy Wonder went for Murgh Chilli Masala and had Potato rice to go with it, and we shared a portion of Honey Naan bread between us.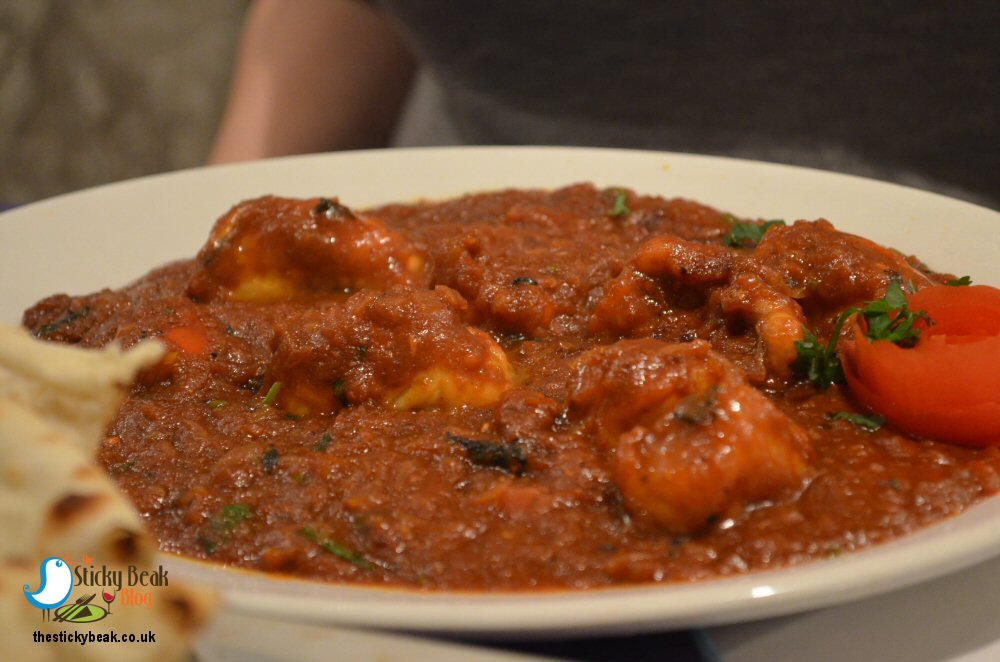 My fish was beautifully moist and thanks to its naturally firm flesh had held its shape well through the cooking process. The sauce was gorgeous with a marvellous sour note to it thanks to the Tamarind, and there was a nice amount of it too, not too much to drown the dish, but enough to scoop up with every mouthful to get the balance of flavour and textures in it.

There was a great amount of fish in this curry and to be honest, I would say it was a fantastic curry, and I've had a fair few in my time to compare it to. I enjoyed the rice too with its fresh pieces of Pineapple partnering the Chilli very nicely and the rice grains were fluffy instead of being overly greasy.




His Nibs' Chilli Masala was also a winner; it had a nice spicy Chilli flavour but not enough to burn your mouth and have you reaching for the Lassi! Again, the chicken was moist and juicy and there was plenty of it in the curry, but what he really liked was the vegetables being on top and just lightly cooked to retain plenty of taste and texture.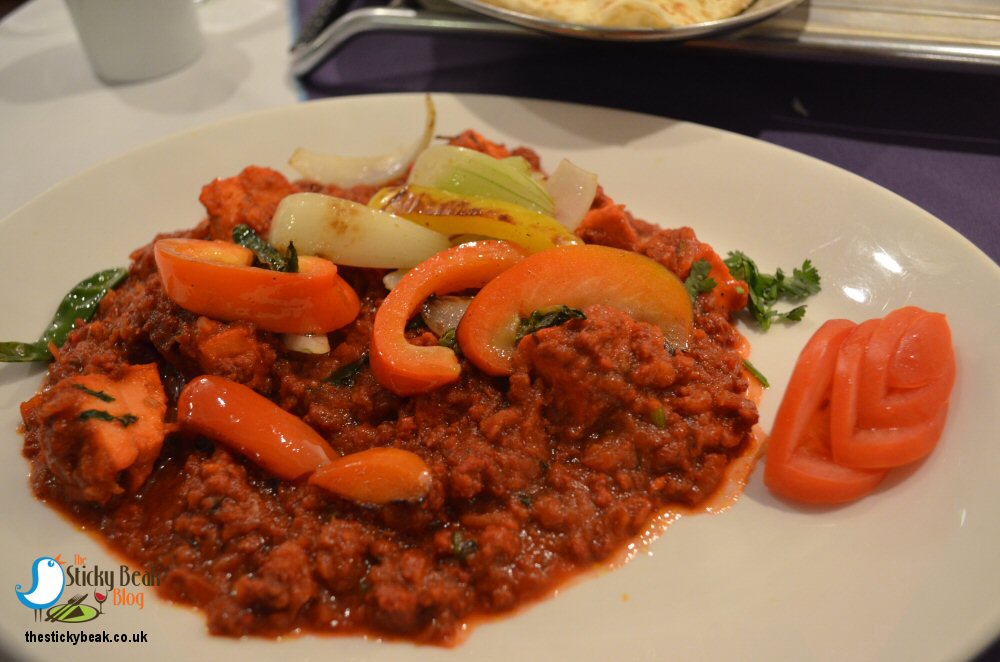 The Potato rice had been very skilfully cooked so that the potato had the merest hint of firmness left to ensure it didn't disintegrate whilst being soft enough to mingle with the rice when eaten.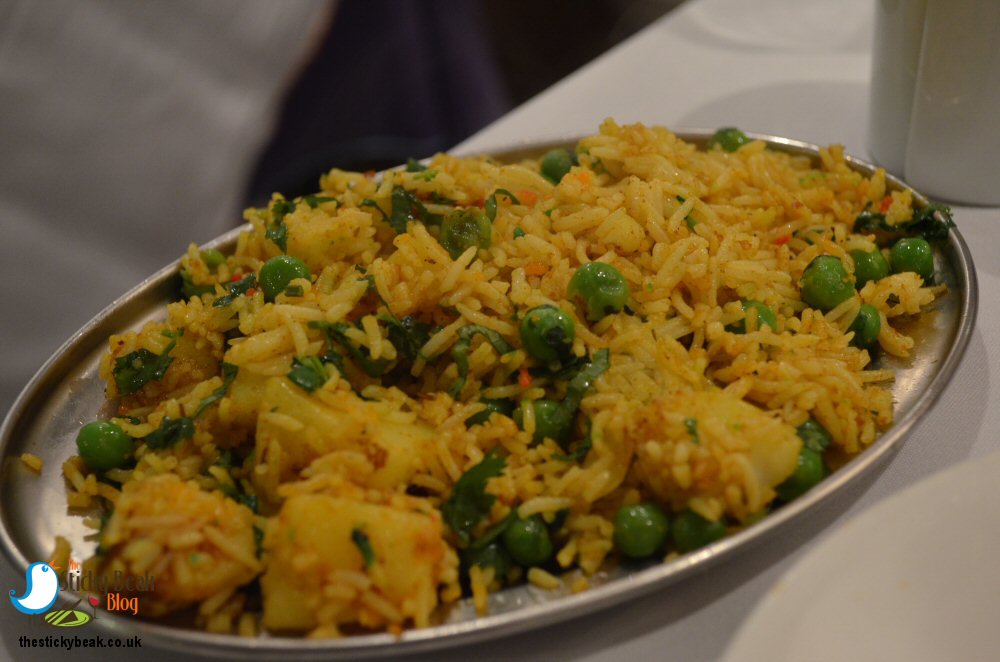 Usually we would have a Peshwari Naan or maybe a garlic version, but the Honey Nan bread just piqued our curiosity. The bread itself was gorgeous; light and fluffy, and this had then been drizzled with a beautifully fragrant honey and scattered with toasted sesame seeds which gave a lovely nutty hint and some welcome texture on the palate. It was the first time we'd had this variety of Naan bread and I have to say it was really super; if you haven't had this before it is well worth trying.




As with the starters, our server came over to ensure that we were happy with the dishes and to check if we needed any further refreshment. Another lovely gentleman came over with some hot towels for us to wipe our hands (even though I was fairly sure my vigorous finger licking had removed any trace of honey) and some fresh Orange segments to cleanse our palates with.
I decided not to have dessert on this occasion but The Man Bird ordered the Fantastica and we both had a Latte coffee to round things off. Yet again we were feeling a little glow of happiness having enjoyed a meal somewhere new to us, and if you haven't been here before I can heartily recommend it to you dear reader.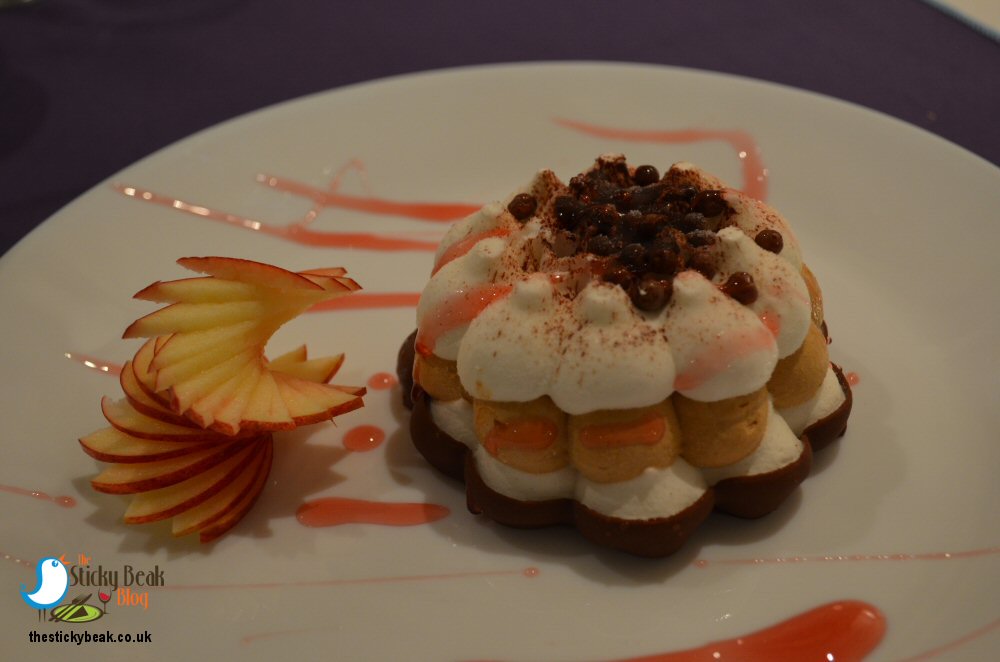 Hot Wings heading over to the team at Elaichi Indian Restaurant in Belper and very much deserved :)
No incentive was provided to visit this venue
read more
Read Some Of Our Recent Reviews
---

Out For Dinner At The Bear Inn, Alderwasley If it's the full on, single track road, rural Derbyshire experience that gets your motor running, then the journey to The Bear Inn at Alderwasley will have you in joyous raptures. For those of you who are Read The Article

---

Lunch At The Recently Opened Chatsworth Kitchen At Peak Village, Rowsley Everyone who knows me, knows I love Chatsworth (always have, always will) so when the invitation to sample lunch at the newly opened Chatsworth Kitchen Read The Article

---

A Visit To Vietnamese Street Kitchen, Resorts World, Birmingham Way back in the day (pre-covid) Fledge had bought me and The Man Bird tickets to see Mrs Browns Boys live and finally, after a couple of false start reschedules, the day of Read The Article

---

Sunday Lunch, A Museum Tour & Painting A Piece Of Denby At Denby Pottery Village It wasn't long ago that His Nibs and I visited the Denby Pottery Village to sample the Afternoon Tea at Bourne's Coffee Shop and Bistro (it was superb Read The Article

---

Bottomless Brunch At Turtle Bay In Derby The timing of the invitation from the Turtle Bay team in Derby to go and sample their Bottomless Brunch couldn't have been better; not only was it going to be The Man Birds' birthday a couple of days later Read The Article

---

Afternoon Tea At Santo's Higham Farm Hotel & Restaurant Aaaaaarggggh, don't you love your children??!! A while back, His Nibs had spotted a great deal on Groupon (you know what a bargain hound he is!) and thought it would be Read The Article

---

Sunday Lunch At The Countryman Pub & Dining, Kirkby-in-Ashfield We finally got to visit a venue thats been on our radar for quite a while, The Countryman Pub and Dining in Kirkby-In-Ashfield! A few weeks ago we tried to book a table for dinner Read The Article

---

Dinner At The Divan Turkish Restaurant In Chesterfield Chesterfield was welcoming us back again for our latest review visit; this time to the newly opened Turkish restaurant, The Divan, on Lordsmill Street. Owner Tuncay (along with Read The Article

---

Breakfast At Marsh Green Farm Shop & Cafe, Kelstedge Ah, you've gotta love a Bank Holiday curve-ball, haven't you? His Nibs and I headed over to Mummy Birds' gaff with the intention of having a leisurely couple of hours at the Sunday Read The Article

---

Afternoon Tea at Bourne's Coffee Shop and Bistro, Denby Pottery Village You all know that The Man Bird and I do like an Afternoon Tea; I mean, who doesn't?! Just a few miles down the road from the nest is Denby, home to the world-renowned Read The Article

---